1 DAY CONFERENCE
HaskellX2gether Community Day 2018
Topics covered at

#HaskellX2gether
Following up on the Haskell eXchange, we will hold a Haskell eXchange Community Day - HaskellX2gether. Everyone is welcome, beginners and experts alike, and not just participants at the Haskell eXchange, but everyone who would like to participate in a coding festival event.
Join us at the Haskellx2gether 2018 on October 13th 2018!
Let's work together on fresh Haskell ideas and projects suggested by our experts and You!
We will try to organize some ad-hoc talks and presentations to help newcomers navigate the existing codebase and to highlight interesting problems and issues to work on. If you want to come along, please register above, so we know you are coming and can send you joining instructions to the venue.
More info on Haskell eXchange 2018 can be found here.
How It Works
We'll start with a series of introductions and invite all attendees and workshop/project hosts to do 1 to 5 minute pitches for sessions they would like to attend or host. We'll collaboratively work out a timetable and then split off to attend the sessions that interest us. It's a flexible arrangement so feel free to join in to the workshops or feel free to work on individual hacking projects throughout the day. Here's a rough timetable:
Rough Timeline: Saturday 13 Oct 2018
10am - Doors open Registration & Welcome Refreshments

10.30am - Introductions and session pitches

11am - Sessions published

12.30pm - Lunch

13.30pm - Sessions resume

16.00pm - Beer Break!

16.30pm - Session Wrap Up and Presentations

17.30pm - Drinks

18.30pm #HaskellX2gether Day 1 Ends
Highlights & Expected Projects
We'll have a couple of workshops running as mentioned above. Please keep an eye out for the latest highlights on our programme page here.
How Much does a ticket Cost?
This is a free community event. There will be no charge for entry.
Skills Matter's Code of Conduct
We are delighted to welcome you to the event and appreciate you as an integral part of our community whose contributions are invaluable. Our Code of Conduct is a guideline and promise to all members of our community.
Content Disclaimer
We make no claims to ownership over any type of intellectual property you may use at the hackathon, including trademarks, copyrights, and patentable ideas.
HOLD TIGHT, PROGRAM COMING SOON!
We're currently working on a program. If you have any suggestions, topics you'd like to see covered, or experts you'd like to meet, let us know!
CodeNode
In August 2015, Skills Matter opened the doors to CodeNode, our new 23,000 sqft Tech Events and Community venue. CodeNode provides fantastic meetup, conference, training and collaboration spaces with unrivalled technology capabilities for our tech, digital and developer communities - a long held dream coming true !
With fantastic transport links and located in the heart of London's Tech City, we could not think of a better location for our 130,000 strong engineering community!
With six event rooms, including a 300 seater lecture room, thousands more community members will be able to visit CodeNode to learn and share skills, code and collaborate on projects.
CodeNode features a 5,000 sqft break-out space, complete with fully-licensed bar, plenty of power sockets, meeting and collaboration spaces and entertainment areas.
If you're interested in hiring CodeNode for your upcoming event, check out more details here.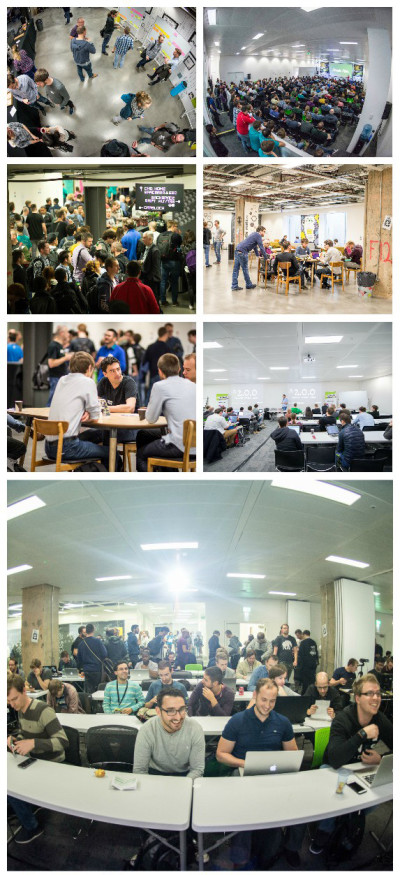 To discuss sponsorship opportunities please contact the team:
Hold tight, skillscasts coming soon!