We hope droidcon London 2017 will inspire you with lots of new ideas.
Following two days of awesome fun at Droidcon 2017, jump in right away with the latest technology on hand, join fellow droidcon attendees and some of the most talented coders and experts, for our traditional, weekend-long droidcon2gether event and create something amazing!
For more information on this weekend event and all the workshops and challenges available for you to join in, please find out more here.
THE ANDROID THINGS WORKSHOP ON SATURDAY 28 OCT 2017
During this community weekend event, droidcon2gether will provide the perfect opportunity to collaborate with members of Skills Matter community, taking part in challenges. Droidcon 2017 is excited to be working alongside Google to bring you an awesome community workshop!
Join Google's Android Things workshop this weekend, and get hands on with the NXP Pico i.MX7D developer kit. Android Things workshop will take place on Saturday, 2PM-6PM, and you'll need to REGISTER FOR FREE HERE in order to participate and pick up a kit. During the workshop, you will learn everything you need to know to prototype and build your own IoT devices, powered by Android Things. Using Android Studio and a developer kit provided, you will see how easy it is to use your existing Android knowledge to build connected hardware devices.
Workshop Details
droidcon2gether Community Weekend will run from during the day, from 9am - 7pm on Saturday 28 Oct and from 10am - 3pm on Sunday 29 Oct. Android Things workshop will run from 2pm - 6pm on Saturday only. Kindly come prepared with a laptop and all the required pre-requisites completed.
Workshop Pre-Requisites
Please complete through the setup instructions before you arrive at the workshop to get your development environment ready to go. This will reduce the time you have to spend downloading contents during the workshop.
Refreshments on the Day
The Community Weekend will be a hotbed for ideas and hands-on activities and will also include breakfast, lunch and evening refreshments, as well as beer!
Get Your Ticket
Attendance is free for registered attendees. You can reserve your place on this page.
Where
droidcon2gether Weekend will be hosted at CodeNode, Skills Matter's community venue, which features plenty of spaces to collaborate and work on projects. CodeNode features fast and reliable WIFI, all spaces come with plenty of sockets, whiteboards.
CodeNode's 9 metre long 'spacebar' will water and feed you throughout the 2 days.
How much does a ticket cost?
This is a free community event. There will be no charge for entry.
Code of Conduct
Skills Matter is delighted to welcome you to the event and appreciate you as an integral part of our community whose contributions are invaluable. Our Code of Conduct is a guideline and promise to all members of our community.
Content Disclaimer
Skills Matter makes no claims to ownership over any type of intellectual property you may use at the event, including trademarks, copyrights, and patentable ideas.
HOLD TIGHT, PROGRAM COMING SOON!
We're currently working on a program. If you have any suggestions, topics you'd like to see covered, or experts you'd like to meet, let us know!
CodeNode
In August 2015, Skills Matter opened the doors to CodeNode, our new 23,000 sqft Tech Events and Community venue. CodeNode provides fantastic meetup, conference, training and collaboration spaces with unrivalled technology capabilities for our tech, digital and developer communities - a long held dream coming true !
With fantastic transport links and located in the heart of London's Tech City, we could not think of a better location for our 130,000 strong engineering community!
With seven event rooms, including a 300 seater lecture room, thousands more community members will be able to visit CodeNode to learn and share skills, code and collaborate on projects.
CodeNode features a 5,000 sqft break-out space, complete with fully-licensed bar, plenty of power sockets, meeting and collaboration spaces and entertainment areas.
CodeNode will also see the opening of a permanent Hack Space, stacked with microprocessors and the latest tools and devices to play with. A community film studio will be opening too, which you can use to record any tutorials or demo's you may want to share with our community.
If you're interested in hiring CodeNode for your upcoming event, check out more details here.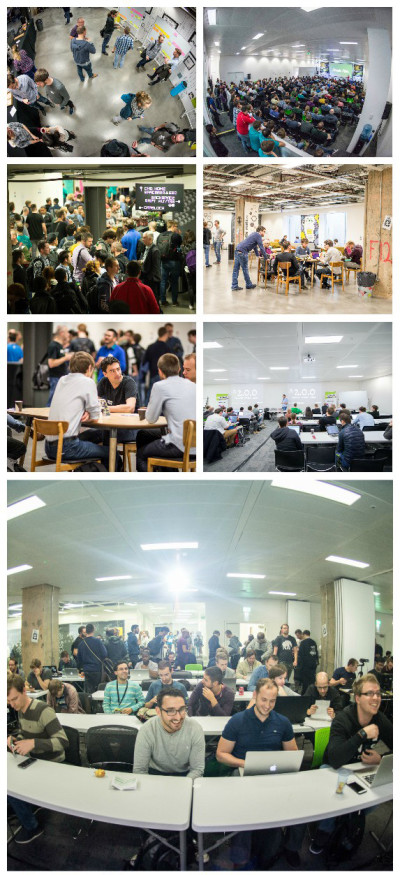 To discuss sponsorship opportunities please contact the team:
Hold tight, skillscasts coming soon!