2 DAY CONFERENCE
µCon London 2018: The Microservices Conference
Topics covered at

#mucon
Speed of change matters to anyone building software. Many engineering teams have identified Microservices as an important component of this architectural approach to designing more flexible systems that can meet the needs of their fast changing businesses. Applying this approach however, is hard. And ideas and practices are still very much evolving. To help with that, we've launched muCon - a conference to learn about emerging technologies and approaches, share challenges and evolve practices and ideas.
Join us at muCon London on November 5-6th 2018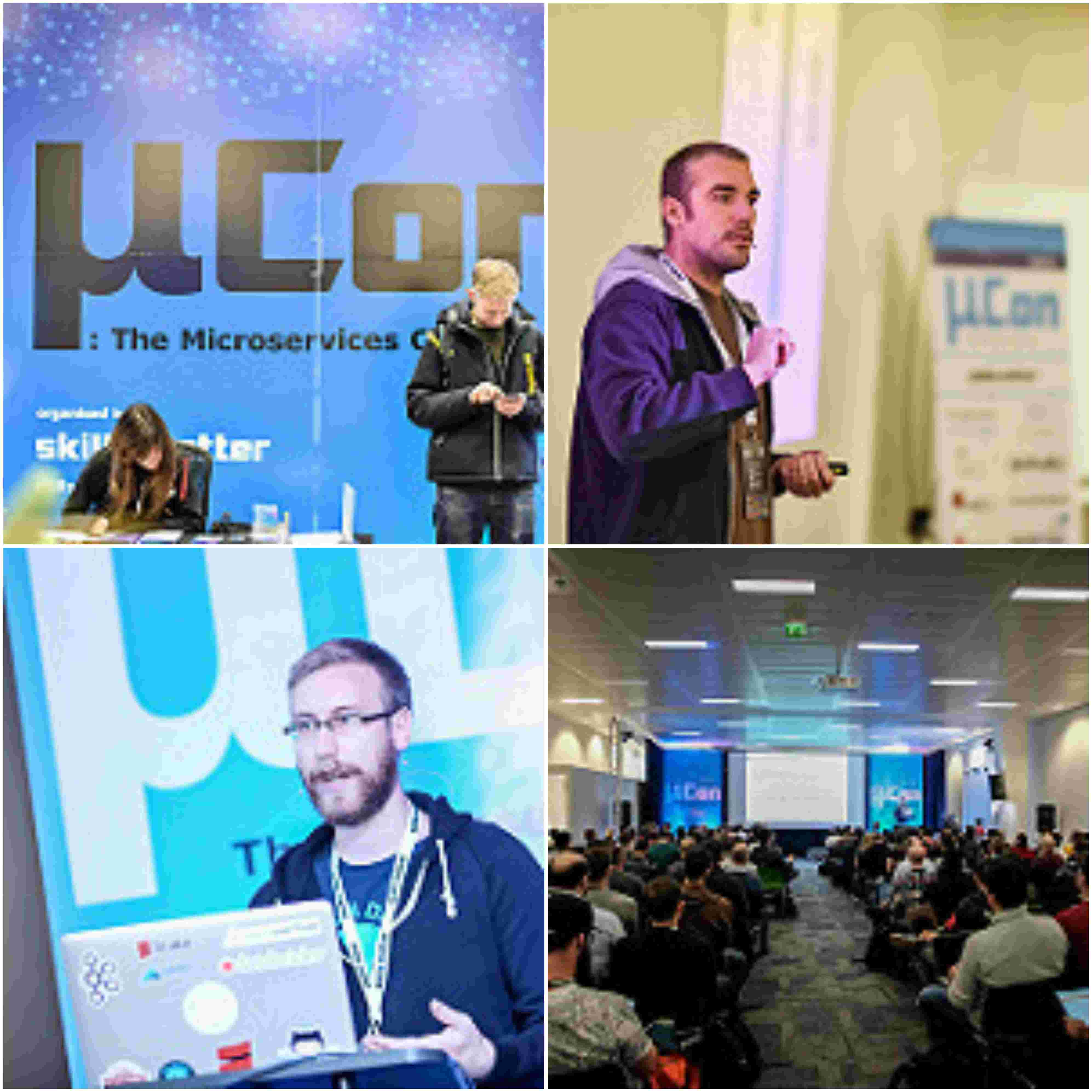 Join µCon London 2018 to learn how other teams have adopted microservices and what they learned along the way. Help shape the conversation in discussions with some of the worlds leading architects and microservices experts. Share the challenges you are facing, the technologies you are exploring and the skills you have gained with 400 other engineers passionate about creating highly flexible systems that rock. Follow us at #mucon for all the latest updates on the conference!
Thank you for making muCon London 2017 such an amazing conference! We hope you've enjoyed it as much as we did! Find below some more information, and stay in the loop!
Check out muCon London 2017's Highlights and Conversations with speakers here!
Tickets
Registration is open and we have some great Early Bird offers available so if you are planning to join us for two days packed with microservices fun, get your skates on and book your ticket today!
Call for Papers is now OPEN!
Would you like to speak at #muCon? We want to hear your talk proposals!
Talks will be selected by Skills Matter and the Programme Committee on the basis of making the conference a varied, diverse and valuable event. Submission is open to anyone, and we encourage first-time speakers to submit a proposal. Members of the Programme Committee are happy to offer coaching and assistance on talk proposals.
We strongly encourage first-time speakers to be part of our programmes, and it is our target to feature as many first-time speakers as we can at this year's muCon London. If your talk will be selected, you will have the opportunity to attend Jenny Martin's course "Giving Engaging Technical Talks at Conferences and Meetups".
Submit your proposal here.
Deadline for submissions is Thursday, 31st May 2018.
Code of Conduct
Please find our Code of Conduct here.
Get Involved
Would you like to help us facilitate a great conference? Help us set up the conference spaces, introduce talks and speakers, field Q&A questions with mics, or support some of the workshops and hacks we've got in store? Sign up as a volunteer and get a free ticket to the conference!
muCon Lodnon 2018 Diversity Scholarship Plan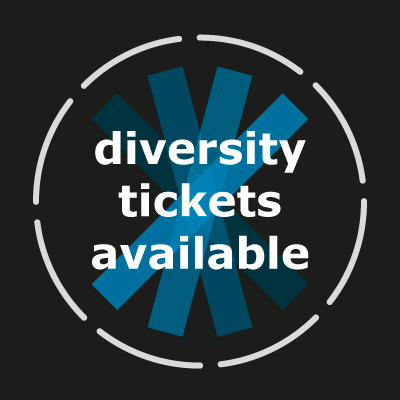 Skills Matter is proud and happy to share our muCon Lodnon 2018 Diversity Scholarship Plan. This plan is based on our commitment to help develop the skills of women and their participation in our community. It is aimed at helping women who want to enter/ re-enter the tech industry.
Find more information here!
Impressions of last year
Looking forward to Russ Miles' rock and roll Keynote!
Russ Miles is CEO of ChaosIQ.io where he and his team build commercial and open source (ChaosToolkit.org) products and provide services to companies applying Chaos Engineering to build confidence in their Cloud Native, Microservice-based systems on Pivotal Cloud Foundry, Kubernetes and more.
Very excited to have Sarah Wells' Keynote Talk!
Sarah Wells is a principal engineer at the Financial Times and tech platform lead for the FT's semantic publishing platform.
CodeNode
In August 2015, Skills Matter opened the doors to CodeNode, our new 23,000 sqft Tech Events and Community venue. CodeNode provides fantastic meetup, conference, training and collaboration spaces with unrivalled technology capabilities for our tech, digital and developer communities - a long held dream coming true !
With fantastic transport links and located in the heart of London's Tech City, we could not think of a better location for our 60,000 strong engineering community!
With seven event rooms, including a 300 seater lecture room, thousands more community members will be able to visit CodeNode to learn and share skills, code and collaborate on projects.
CodeNode features a 5,000 sqft break-out space, complete with fully-licensed bar, plenty of power sockets, meeting and collaboration spaces and entertainment areas.
CodeNode will also see the opening of a permanent Hack Space, stacked with microprocessors and the latest tools and devices to play with. A community film studio will be opening too, which you can use to record any tutorials or demo's you may want to share with our community.
If you're interested in hiring CodeNode for your upcoming event, check out more details here.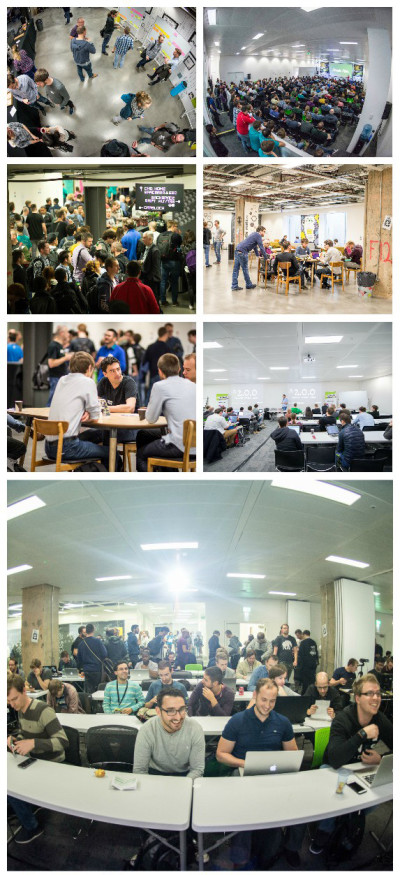 Call for Papers is OPEN!
We want to hear your talk proposals! Submit your proposal through the form below. Deadline for submissions is Thursday, 31st May 2018.
muCon London 2018 Diversity Scholarship Plan
Skills Matter is proud and happy to share our muCon London Diversity Scholarship Plan which provides support to those from traditionally underrepresented and/or marginalized groups in the technology and/or open source communities who may not have the opportunity to attend muCon London for various reasons.
Scholarships are awarded based on a combination of need and impact. Scholarship recipients will receive a complimentary ticket to the conference.
Please note, travel expenses are not covered under this scholarship and are the responsibility of the scholarship recipient.
Eligibility
Applicants should be from a traditionally underrepresented and/or marginalized groups in the technology and/or open source communities and be unable to attend without some assistance.
We look forward to having you at muCon London 2018!
To apply please fill in this form:
Volunteer at muCon London 2018!
Interested in microservices, and eager to learn the latest news? You have the chance to get a free ticket to muCon London 2018! All we need from you is some help in setting up the conference and assisting us during the conference itself! You will be free to attend the conference for the remainder of the time.
Are you ready then? Email us at conferences@skillsmatter.com and we will put your name down as a volunteer for muCon London 2018! Shifts and detailed info will be confirmed about one month prior to the conference.
Joining us for µCon London 2018 and want more? Make it a whole week of microservices learning with these fringe courses...
Call or email our team about the µCon Fringe Package for a special discount on bundle tickets!
Fast Track to RESTful Microservices with Jim Webber
29th - 31st October 2018
Are you ready to learn how to design and build microservices with RESTful APIs? Are you looking for dynamic, hands on training with in depth discussions to dig deep into your questions? Then this course is for you!
A comprehensive 3-day course comprising mixture of theory and practice at the leading edge of REST and Microservices. Course attendees will learn how to design and build microservices with RESTful APIs through examples in code, live demos and design challenges, together with lively discussion to help mature our thinking on what makes a competent microservices ecosystem.
Get your ticket here
Whether you are seeking to improve visibility of your tools, devices or projects, or simply would like to support µCon's passionate community through your engagement, our sponsorship team will be able to help you select the best sponsorship package for you! Email sponsors@skillsmatter.com or phone 0207 183 9040.
To discuss sponsorship opportunities please contact the team:
Would you like to write about muCon 2018? Do you blog on innovations on microservices? Come and join us at muCon London this year! If you blog about muCon 2018! and send us the link, we'll proudly feature you on these pages!
And if you would like to write an article or interview some of FullStack's amazing speakers, inventors and thinkers this year, contact marketing team and have a chance to win a free press pass.
Write ups about muCon!
Hold tight, skillscasts coming soon!