2 DAY CONFERENCE
P3X - People, Product & Process eXchange 2018
Topics covered at

#P3X
P3X - People, Product, & Process eXchange is the evolution of Agile Testing and BDD eXchange - Skills Matter's longest running conference. Over the last 9 years, the conference has changed (and grown) quite a bit. While our Agile Testing and BDD community continues to grow, the community's understanding of BDD is constantly progressing.
Conversations about BDD have evolved dramatically. The community's early focus was on using executable specifications to drive design. It evolved towards the importance of collaboration. People explored how BDD practices steered that collaboration and bridged communication gaps. We clarified the inner and outer loops of code-level examples and customer-level scenarios. More people developed from the outside in. Each conversation took us closer towards delivering better software that matters.
BDDX is Dead! Long Live P3X!
Get Involved- Call for Papers is now OPEN
Tickets
Registration for 2018 is open! So if you are planning to join us for two days packed with agile fun, get your skates on and book your ticket today!
Volunteer with Us!
Would you like to help us facilitate a great conference? Help us set up the conference spaces, introduce talks and speakers, field Q&A questions with mics, or support some of the workshops and hacks we've got in store? Sign up as a volunteer and get a free ticket to the conference!
Our Diversity Scholarship Plan
Code of Conduct
Please find our Code of Conduct here.
Impressions of last year
CodeNode
In August 2015, Skills Matter opened the doors to CodeNode, our new 23,000 sqft Tech Events and Community venue. CodeNode provides fantastic meetup, conference, training and collaboration spaces with unrivalled technology capabilities for our tech, digital and developer communities - a long held dream coming true !
With fantastic transport links and located in the heart of London's Tech City, we could not think of a better location for our 130,000 strong engineering community!
With seven event rooms, including a 300 seater lecture room, thousands more community members will be able to visit CodeNode to learn and share skills, code and collaborate on projects.
CodeNode features a 5,000 sqft break-out space, complete with fully-licensed bar, plenty of power sockets, meeting and collaboration spaces and entertainment areas.
CodeNode will also see the opening of a permanent Hack Space, stacked with microprocessors and the latest tools and devices to play with. A community film studio will be opening too, which you can use to record any tutorials or demo's you may want to share with our community.
If you're interested in hiring CodeNode for your upcoming event, check out more details here.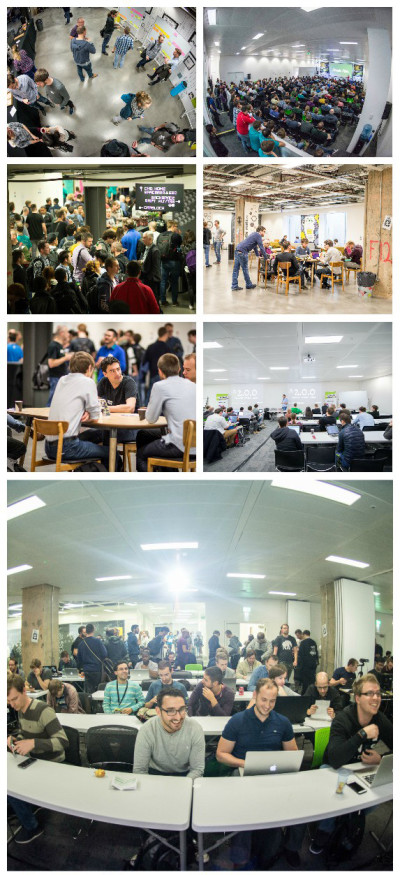 Call For Papers!
We are building the programme for our revamped conference focussed on People-Product-Process! Would you like to speak at #P3X? We would love to hear from you!
Talks will be selected by Skills Matter and the Programme Committee on the basis of making the conference a varied, diverse and valuable event. Submission is open to anyone, and we encourage first-time speakers to submit a proposal. Members of the Programme Committee are happy to offer coaching and assistance on talk proposals.
We strongly encourage first-time speakers to be part of our programmes, and it is our target to feature as many first-time speakers as we can at this year's P3X. If your talk will be selected, you will have the opportunity to attend Jenny Martin's course "Giving Engaging Technical Talks at Conferences and Meetups".
Fill in your proposal details in the form below!
Our Diversity Scholarship Plan
Skills Matter is proud and happy to share our P3X - People, Product, Process eXchange Diversity Scholarship Plan which provides support to those from traditionally underrepresented and/or marginalized groups in the technology and/or open source communities who may not have the opportunity to attend P3X for various reasons.
Scholarships are awarded based on a combination of need and impact. Scholarship recipients will receive a complimentary ticket to the conference.
Please note, travel expenses are not covered under this scholarship and are the responsibility of the scholarship recipient.
Eligibility
Applicants should be from a traditionally underrepresented and/or marginalized groups in the technology and/or open source communities and be unable to attend without some assistance.
We look forward to having you at People, Product & Process eXchange 2018!
To apply please fill in this form:
Volunteer with Us!
Would you like to help us facilitate a great conference? Help us set up the conference spaces, introduce talks and speakers, field Q&A questions with mics, or support some of the workshops and hacks we've got in store? Sign up as a volunteer and get a free ticket to the conference!
Joining us for P3X 2018 and want more? Make it a whole week of collaboration learning with these fringe courses... Call or email our team about the P3X Fringe Package for a special discount on bundle tickets!
Jenny Martin and Pete Buckney's BDD From Start to Finish - Successful Delivery through Continuous Collaboration
5th - 7th November 2018
This highly participatory 3 day workshop equips you with a toolkit to help align teams towards the quickest path to value and accelerate iterative delivery through more effective collaboration. Drawing on collaborative techniques from Lean, BDD and Specification by Example (as well as some new ones), you will gain a hands-on understanding of how to leverage examples to guide conversations and drive development throughout the life-cycle of a project and beyond, from ideas to living documentation, from analysis to Dev.
Get your tickets here
Martine Devos' Certified Scrum Product Owner
6th - 7th November 2018
Are you a product owner struggling to find the time to understand your role in a scrum or agile process? Are you faced with competing demands from inside and outside your team? Are your colleagues always looking for more information about what should be in the next sprints? And do they complain about never getting enough of your time, even though you work long hours trying to keep up? While there are very important advantages to Scrum, product owners may find it difficult to get used to the visibility and highly iterative work it involves, often longing for old processes. If any of this sounds familiar, then this is the course for you!
get your tickets here
Whole Team Approach to Agile Testing
5th - 7th November 2018
Are you part of a testing team that is transitioning to an agile development process? Are you keen to learn how to become a valued member of an agile team and contribute to delivering a continuous stream of business value? Would you like to understand how to overcome common cultural and logistical obstacles in transition? Join Janet Gregory for her Agile Testing course to learn the values and principles that help testers adopt an agile testing mindset, and how the whole team contributes to the success of practices, including automation.
Get your tickets here
Agile at Scale: Inspired by Spotify
6th - 7th November 2018
Want to build an organisation that enables agile at scale and unleashes the power of small autonomous teams? This two-day course will give you inspiring real world examples of how Spotify grew a dynamic learning organisation that continually reinforces a high-trust culture and supports engaged autonomous teams.
You will gain a deep and wide knowledge of how Spotify works under the hood, which will enable you to see more options for improving organisational design with regards to your context and boundaries. You will learn why Spotify made the decisions they made, other options which were considered, and which changes were intentional and which were emergent.
Get your ticket here
Alberto Brandolini's EventStorming Workshop
8th - 9th November 2018
Want to explore how to model a complex business process, or the whole company software landscape without being trapped in an endless boring analysis phase? Eager to tame complexity with agility, starting in the most appropriate way, with the right understanding of the big picture?
EventStorming Workshop unites agile modeling techniques and the cutting-edge event-driven approach with a uniquely engaging format, that leads to a fast problem exploration and establishes a collaborative approach between key participants.
The result is a clear tangible model, built extremely quickly with the active contribution of all involved roles. Friction points that often lead to wrong implementations are exposed early and natural, clean modelling options are highlighted.
Get your tickets here
Whether you are seeking to improve visibility of your tools, devices or projects, or simply would like to support People, Product, Process eXchange's passionate community through your engagement, our sponsorship team will be able to help you select the best sponsorship package for you! Email sponsors@skillsmatter.com or phone 0207 183 9040.
Available Packages
256-BIT SPONSORSHIP

Engagement Benefits

Exhibitor booth (4.5m x 2.5m) in central conference break-out area
8 free conference tickets, worth £795 each (subject to availability) which you can gift to your clients, your engineering team or members of Computing At School (teachers learning computing to teach the new National Computing Curriculum)
8 free exhibitor passes
6 of your #P3X related tweets retweeted by @skillsmatter before or during the conference
50 conference party drink tokens to give away at your booth
3 gifts or printed items in swag bags
4 places at speakers dinner
Your 300-word news item, interview or blog post plus visual announced on conference sneak preview pages and in social media
Your 140 char post-conference News Item & hotlinked URL shared in post-conference email shared with all attendees

Brand Visibility Benefits

Your (extra large) logo displayed on:

P3X 2018 Sponsor Pages (size relative to sponsorship level)
Your dedicated 200-word Company Profile with visual on skillsmatter.com
All P3X 2018 Conference Pages (at bottom of page)
In pre- and post conference attendee news update emails
Name badges worn by every attendee
Printed conference programme booklet
Main Stage re-Boards and on banners throughout the venue
Conference Closing Speech Sponsor Thank You Slide
Conference swag bags
Lanyards worn by every attendee
Conference t-shirt

Featured at the P3X 2018 Party

On party tickets
On beer mats
On party banners
To discuss sponsorship opportunities please contact the team:
Hold tight, skillscasts coming soon!