1 DAY CONFERENCE
ScalaX2gether Community Day 2018
Topics covered at

#ScalaX2gether
Overview
We're excited to announce ScalaX2gether, to be held on Saturday 15th December at Skills Matter's home, CodeNode. #ScalaX2gether is organised by Skills Matter and the Community. Together, we will host a day-long event with a few workshops and challenges.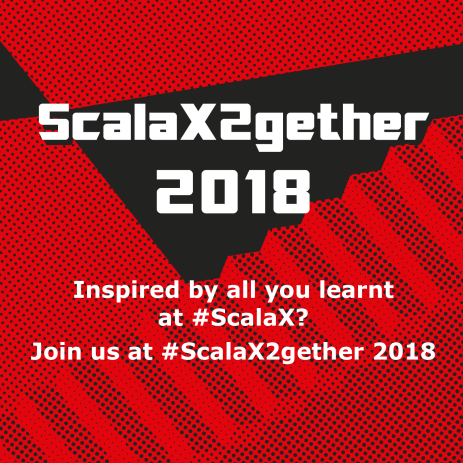 Following two days of awesome fun at Scala eXchange 2018, jump in right away with the latest technology on hand, join fellow ScalaX attendees and some of the most talented coders and experts, for ScalaX2gether and create something amazing!
ScalaX2gether will provide the perfect opportunity to collaborate with members of Skills Matter community, taking part in challenges. With industry experts available across the day and with a number of workshops taking place, join us to complete a set of challenges based around ScalaX. You can come along with your own team, but it's also cool if you're on your own - we will be putting together teams on Saturday!
Programme for the Event
Saturday 15th December: 10am to 6pm
We'll start with a series of introductions from our hosts who will discuss the challenges set. Where we'll invite all attendees create teams and decide upon sessions they would like to attend. We'll then split off to attend the sessions that interest us.
Programme for the day can be found here.
ScalaBridge Coding Session
This workshop is intended to reach out to women, non-binary people, and all underrepresented populations who are interested in learning Scala.
In this workshop, you'll learn the basics of functional programming in Scala, a powerful programming language. By the end of the day, you'll have built several doodles using Creative Scala, have a basic understanding of functional programming, and a grasp of Scala fundamentals.
Previous programming experience is NOT required.
Where
ScalaX2gether will be hosted at CodeNode, Skills Matter's community venue, which features plenty of spaces to collaborate and work on projects. CodeNode features fast and reliable WIFI, all spaces come with plenty of sockets, whiteboards.
CodeNode's 9 metre long 'spacebar' will water and feed you throughout the day.
We look forward to welcoming everyone at CodeNode!
How much does a ticket cost?
This is a free community event. There will be no charge for entry.
Code of Conduct
Skills Matter is delighted to welcome you to the event and appreciate you as an integral part of our community whose contributions are invaluable. Our Code of Conduct is a guideline and promise to all members of our community.
Content Disclaimer
Skills Matter makes no claims to ownership over any type of intellectual property you may use at the event, including trademarks, copyrights, and patentable ideas.
Programme
Day 1: Saturday 15th December
Join us for these fun hands-on workshops or share your own project ideas to work on! Schedule is still subject to changes
Track
CMD
ALT
SHIFT
TAB
Breakout Area - Improv Sessions
09:30

Doors Open - Registration & Refreshments

10:00

Introductions, Session Pitches & ScalaBridge Opening

10:30

Workshop: Getting Started With Fury!

Jon Pretty

---

scala

fury

functional-programming

scalax

scalax2gether

Day 1, 15 Dec starts 10:30 (CMD)

Workshop: Getting Started With Fury!
Jon Pretty

Fury is still in beta, but it already makes it very easy to write builds for Scala. In this workshop, your will learn about the process of creating, publishing and maintaining a build for a Scala project using Fury. Jon will describe Fury's model of workspaces, projects and modules. He will cover adding source and binary dependencies, compiler parameters, and show how Fury's schemas help to make maintaining cross-builds easier. Finally, you will explore less common features like using compiler plugins and running source-code generation during a build.

Workshop Requirements

Please bring your laptop and make sure that it's running Linux or Mac OS X. You will not need anything installed; the first step will be to install Fury.

scala fury functional-programming scalax scalax2gether

---

About the speaker...

Jon has been having fun riding the bleeding edge of Scala for over a decade, and he's not finished yet. While he's not travelling the world attending Scala conferences, or organizing Scala World, Jon spends his time working on a variety of open-source Scala libraries, and providing professional Scala training services.

×

Workshop: Functional DB access in Scala with Doobie

Albert Pastrana

---

scala

scalax2gether

db

sql

database

-sql

-database

-db

doobie

Day 1, 15 Dec starts 10:30 (ALT)

Workshop: Functional DB access in Scala with Doobie
Albert Pastrana

Accessing a database is something many applications need and most of developers have do to during their career. During the past 20 years, (relational) database access in the JVM world hasn't changed that much. Luckily for you, despite some of the limitations the JDBC spec has, there are now some libraries that give you the ability to access the database in a complete different way. This workshop will be an introduction to accessing a database using a functional paradigm using Doobie, a ""pure functional JDBC layer for Scala"".

It will cover the following:

Introduction, concepts

Basic queries (select, insert, update)

NULL handling

Auto-mapping to case classes

Joins

Transactions

Workshop Requirements

Laptop with Scala, sbt and some editor installed .

Code (and some slides) can be found at here.

Docker or Postgres installed locally.

scala scalax2gether db sql database -sql -database -db doobie

---

About the speaker...

During his professional life Albert has worked in different sectors with many different technologies and languages (including Java, Scala, TypeScript, Ruby, PHP, Javascript...). That's why he likes to think of himself as a polyglot developer. He is currently Head of Engineering of Intent HQ and has been working in Scala for the past 4 years.

×

Workshop: Scala with Cats

Dave Gurnell

---

scala

scalax2gether

cats

scala-cats

Day 1, 15 Dec starts 10:30 (SHIFT)

Workshop: Scala with Cats
Dave Gurnell

This workshop will be a cut down version of Underscore's Scala with Cats training course https://underscore.io/training/courses/advanced-scala/. You will cover a subset of the material from the full course based on the attendees' interests.

Scala with Cats is aimed at experienced Scala developers who want to take the next step in engineering robust and scalable systems. The full course covers the key abstractions of monoids, functors, monads, monad transformers, applicative functors, and traversals.

Workshop Requirements

For this workshop, you should bring a laptop running an up-to-date version of Scala and SBT and an editor of your choice. Follow the instructions in the README at https://github.com/underscoreio/cats-seed.g8 to set up an empty project for the course.

scala scalax2gether cats scala-cats

---

About the speaker...

×

ScalaBridge: Learn Scala!

---

scala

scalabridge

Day 1, 15 Dec starts 10:30 (TAB)

ScalaBridge: Learn Scala!


This workshop is intended to reach out to women, non-binary people, and all underrepresented populations who are interested in learning Scala. In this workshop, you'll learn the basics of functional programming in Scala, a powerful programming language. By the end of the day, you'll have built several doodles using Creative Scala, have a basic understanding of functional programming, and a grasp of Scala fundamentals.

×

Feel free to share your workshop ideas or work on your own individual projects!

---

scala

scalax2gether

Day 1, 15 Dec starts 10:30 (Breakout Area - Improv Sessions)

Feel free to share your workshop ideas or work on your own individual projects!


×

12:30

Lunch

13:30

Workshop: Meet Akka gRPC

Renato Cavalcanti

---

scala

scalax2gether

akka

grpc

Day 1, 15 Dec starts 13:30 (CMD)

Workshop: Meet Akka gRPC
Renato Cavalcanti

In this workshop, you will explore Akka gRPC and how it can be integrated with Akka Http, Play and Lagom. gRPC is a schema-first RPC framework, where your protocol is declared in a protobuf definition, and requests and responses will be streamed over an HTTP/2 connection.

Based on a protobuf service definition, akka-grpc can generate:

Model classes (using plain protoc for Java or scalapb for Scala)

The API (as an interface for Java or a trait for Scala), expressed in Akka Streams Sources

On the server side, code to create an Akka HTTP route based on your implementation of the API

On the client side, a client for the API.

scala scalax2gether akka grpc

---

About the speaker...

Renato is a software developer at Lightbend where he works in the Lagom Framework Team. Scala aficionado since 2009, he has been hacking in Scala and related technologies for fun and profit. He has a special interest for Event Sourcing/CQRS, DDD and Microservices Architectures. He's the founder of BeScala (Belgian Scala User Group) and maintainer of Lagom Framework.

Check out BeScala

×

Workshop: Type-Oriented Programming: Building and Using Libraries for Self-Assembling Programs

Jeremy Smith

---

scala

machine-learning

scalax

Day 1, 15 Dec starts 13:30 (ALT)

Workshop: Type-Oriented Programming: Building and Using Libraries for Self-Assembling Programs
Jeremy Smith

Scala's type system is unique and under-appreciated, in that its support for dependent types and its elegant abstraction of type classes into the higher-level idea of implicits can allow engineers to build libraries that self-assemble into complete programs when given the appropriate data types. You will explore what implicits mean, how to understand them, how *not* to use them, and how to build libraries that leverage them to allow downstream users to have their programs largely be written for them – as long as they provide their domain-specific types. You will use examples in machine learning, but no prior experience with ML is required. Along the way, you will learn some basics of Shapeless, but no prior experience with Shapeless is required.

Workshop Requirements

Laptop with SBT, an editor or IDE, and git.

scala machine-learning scalax

---

About the speaker...

Jeremy is a senior software engineer in the Algorithms Engineering group at Netflix, where he works on building machine learning applications and libraries. As a longtime Scala enthusiast, Jeremy also works to evangelize functional programming techniques and type level approaches. He is active in the open source Scala community, and makes a regular hobby of asking and answering questions on Gitter, contributing to open source projects, and maintaining a few (with varying degrees of success).

×

ScalaBridge: Keep Learning Scala!

---

scala

scalabridge

Day 1, 15 Dec starts 13:30 (TAB)

ScalaBridge: Keep Learning Scala!


This workshop is intended to reach out to women, non-binary people, and all underrepresented populations who are interested in learning Scala. In this workshop, you'll learn the basics of functional programming in Scala, a powerful programming language. By the end of the day, you'll have built several doodles using Creative Scala, have a basic understanding of functional programming, and a grasp of Scala fundamentals.

×

Feel free to share your workshop ideas or work on your own individual projects!

---

scala

scalax2gether

Day 1, 15 Dec starts 13:30 (Breakout Area - Improv Sessions)

Feel free to share your workshop ideas or work on your own individual projects!


×

15:30

Free Hacking and Individual Projects continue

16:30

ScalaBridge Closing Talk and Retrospective

17:00

Drinks at SpaceBar!

18:00

#ScalaX2gether 2018 Wraps!
Sponsors
To discuss sponsorship opportunities please contact the team:
SkillsCasts
Hold tight, skillscasts coming soon!
Other Years