2 DAY CONFERENCE
F# eXchange 2019
Topics covered at

#FsharpX
Overview
Join us at the F# eXchange London on April 4th and 5th 2019!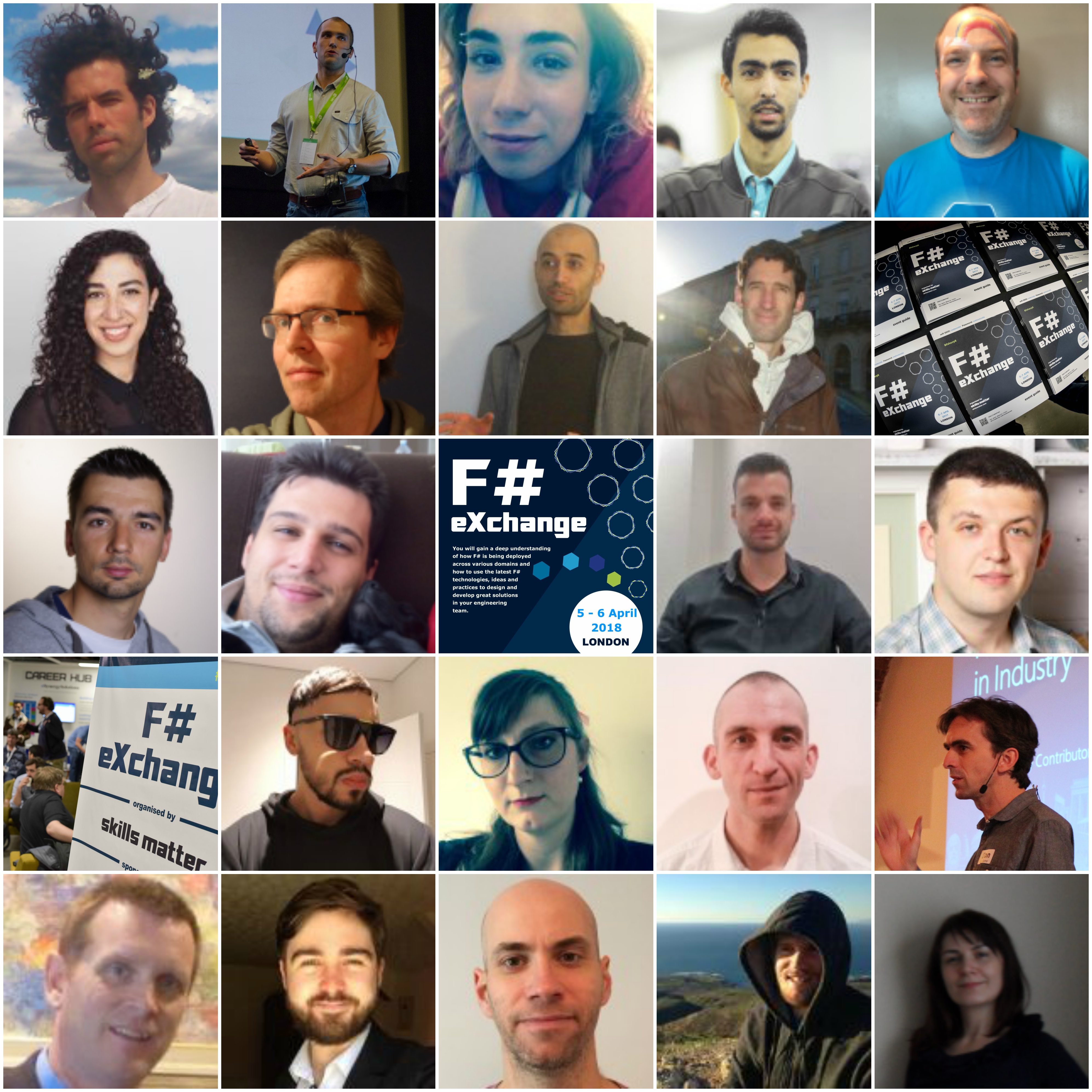 Join F# eXchange 2019, the go-to conference to discover and learn all the latest developments in the F# world. Curious about running F# on .NET Core, compiling it to Javascript, deploying F# actors with Akka.NET on Docker, creating cross-platform Xamarin apps, and much, much more? Then come and join us at the F# eXchange in London: meet the international F# community and bring your skills to the next level with some of the world's top experts.
We are excited to announce that Evelina Gabasova and Kit Eason will be sharing keynotes at F# eXchange 2019. We're looking forward to learning from these F# champs and we hope you are too!
Check out the latest updates to the line-up on our Programme Page.
Tickets
Registration is open and we have some great Early Bird offers available so if you are planning to join us for two days packed with F# fun, get your skates on and book your ticket today!
Volunteer at F# eXchange 2019
Enjoy a free ticket to F# eXchange by volunteering. Help us set up the conference spaces, introduce talks and speakers, field Q&A questions with mics, or support some of the workshops and hacks we've got in store.
Email us at conference-team@skillsmatter.com and we will put your name down as a volunteer.
Code of Conduct
Please read our Code of Conduct.
Impressions of the previous editions
Programme
Day 1: Thursday 4th April 2019
Don't miss these amazing talks!
Track
ALT/TAB
CMD
08:30

Registration & Breakfast Refreshments

09:00

Welcome to #FsharpX 2019 Day 1!

09:15

Keynote: Why F# Changes Lives

Kit Eason

All levels

---

.net

data-visualisation

big-data

fsharp

10:15

Tea & Coffee Break

10:30

F#: Write Once, Run (nearly) Anywhere!

Tomasz Heimowski

Beginner

---

f#

dotnet

x-plat

mobile

web

desktop

f# dotnet x-plat mobile web desktop

---

About the speaker...

As a Senior Software Developer at D atto he applies F# to tackle problems from various areas.

In his free time, apart from contributing to OSS projects and learning new tech stuff, he enjoys lifting weights as well as dancing.

×

A Fable about Fish

Einar Høst

Intermediate

---

f#

art

recursion

composition

fable

11:15

Tea & Coffee Break

11:30

Communication Strategies with Programming

Alfonso Garcia-Caro

Beginner

---

f#

semantics

languages

functional-programming

Functions as Interfaces: Extend Everything!

Erik Novales

Intermediate

---

f#

resiliency

composability

functional-programming

12:15

Tea & Coffee Break

12:30

Do-It-Yourself: Event-Sourcing

Roman Sachse

Intermediate

---

f#

functional-programming

architecture

event-sourcing

In this session, Roman wants to take you on a journey that will eventually enable you to build your own Event-Sourced system. Together you will define the requirements and he is going to give you ideas and approaches to fulfil those requirements. Eventually, you will see, why a language like F# is such a perfect fit for this kind of architecture.

×

Build Cross-Platform Mobile Apps Using Fabulous

Jim Bennett

Intermediate

---

f#

mvu

cross-platform

mobile

Now there is a new MVU framework for building mobile apps - Fabulous. It's a community-driven open source framework, combining the simplicity of an MVU framework, with 100% native API access for both iOS and Android, all built with F#.

In this session, Jim will start with an overview of MVU, discussing how it works and why it is such a great architecture. He will then move on to building a first Fabulous app that runs on iOS and Android. Next up more features will be added to the app whilst the app is running on a device, showing the hot reload capabilities of Fabulous for both UI and app logic. Finally he will look at the underlying architecture, see how to use all of the iOS and Android APIs, see how to easily use native components such as cocoa pods or jars, and look at the massive range of libraries that this framework has available to it to do all manner of UI and application logic things. Jim will even explore how to use it on macOS and Windows, including being able to build iOS apps on Windows (with the help of a networked Mac, Apple licensing rules and whatnot).

When looking at naming for this framework, someone suggested Fabulous. By the end of this session, you will see why that name stuck.

×

13:15

Lunch

14:15

Simulating Charles Babbage's Analytical Engine in F#

John Stovin

Beginner

---

f#

functional-programming

f# functional-programming

---

About the speaker...

He lives in the heart of the Peak District and currently works for 3Squared in Sheffield, developing novel applications for the UK Rail industry. He has spent the last 20 years working for various companies in and around Sheffield, working on systems as diverse as Marine Navigation, DVD production, and Educational Administration. He has also taught part-time at the Department of Computer Science at The University of Sheffield, and at Sheffield Hallam University.

He regularly attends and occasionally presents at the Sheffield .NET User Group and at (def_shef), the Sheffield Functional Programming interest group. In addition, he has presented at DDDNorth, DDDSouthWest and other regional user groups, and also at NDC London in

×

From Concept to Creation in a Week with Fabulous

Kunjan Dalal

Beginner

---

f#

xamarin

xamarin.forms

cross-platform

mobile-development

fabulous

Fabulous is a new cross-platform mobile library which mixes Xamarin-Forms and Elm Architecture. The Elm language and architecture were not new to him. He has been using it for a year and it had left a positive impression on him. So, it was only natural that Fabulous attracted his attention. The first time he tried it after it got launched, he wasn't impressed by its performance, but recently he gave it another try for a production application and he was amazed. Kunjan was able to create a complete app.

In this talk, Kunjan will tell you why he chooses Fabulous instead of other Cross Platform mobile development options for his app. He will walk you through all the mobile-specific changes he made to get Fabulous working in a performant way for iOS and Android and explain to you how you can use in combination with third-party plugins.

×

15:00

Tea & Coffee Break

15:15

Reinventing MVC pattern for Web Programming with F#

Krzysztof Cieślak

---

f#

mvc-pattern

functional-programming

f# mvc-pattern functional-programming

---

About the speaker...

He's author of Ionide, Saturn, Forge, Fornax, project owner and maintainer of VSCode-Elm and contributor to many OSS projects. Chris is also international speaker, that tries to convince developers around the world that OSS and FP are good, pragmatic choices for writing software. You can find him on Twitter as @k_cieslak, GitHub - @Krzysztof-Cieslak and read his blog at http://kcieslak.io

×

Dungeons, Dragons and Functions

Mathias Brandewinder

Beginner

---

domain-modeling

gaming

f#

functional-programming

domain-modeling gaming f# functional-programming

---

About the speaker...

His other professional interests are applied math and probability. If you want to know more about him, you can check out his blog at or find him on Twitter as @brandewinder.

×

16:00

Tea & Coffee Break

16:15

Lightning Talk: Powerline Oriented Programming

Dennis Grimminck

Intermediate

---

domain-modeling

f#

electrical-modelling

mechanical-modelling

overhead-lines

energy-transition

fslab

Lightning Talk: Let's talk about Types

Rumyana Neykova

Beginner

---

sessiontypes

refinementtypes

distributed-system

compiler

types

f#

functional-programming

16:30

Lightning Talk: Sneaking F# into your Organization

Roman Provazník

Beginner

---

f#

qa

guerilla-fsharp

sales

f# qa guerilla-fsharp sales

---

About the speaker...

With his background of 3 years as a local radio station presenter (which proves IT is not only for introverts), he is always ready to chat about the things he loves: F#, functional programming, domain-driven design, event sourcing systems, web development and drums. You can often see him hanging around the F# community he helps to maintain and grow.

×

Lightning Talk: F# support in JetBrains Rider

Eugene Auduchinok

---

f#

functional-programming

Day 1, 4 Apr starts 16:30 (CMD)

Lightning Talk: F# support in JetBrains Rider
Eugene Auduchinok

×

16:45

Lightning Talk: Cloud Infrastructure as F#

Mikhail Shilkov

Beginner

---

cloud

f#

automation

pulumi

infrastructure-as-code

infrastructure

Lightning Talk: Build an ASP.NET Core Web App with F#? You must be having a Giraffe!

Stuart Lang

Beginner

---

f#

functional-programming

aspnet

giraffe

17:00

Lightning Talk: JSON (de)serialization in F#

Vladimir Sapronov

Intermediate

---

f#

serialization-deserialization

json

Vladimir will share how serialization/deserialization should look like to call it F#-friendly. Then he will explore some of the existing libraries: JSON type providers, adoption of Newtonsoft, also more F#-targeted libraries: Chiron, FSharpLu.Json and created by author FSharp.Json: https://github.com/vsapronov/FSharp.Json

×

Lightning Talk: How To Give Amazing Technical Presentations

Gina Marie Maini

All levels

---

f#

functional-programming

17:15

Beer Break

17:30

Keynote: Probabilistic Programming: The What, Why and How

Maria Gorinova

All levels

---

stan

probabilistic-programming

f#

functional-programming

18:30

#FsharpX Party!

21:00

End of #FsharpX 2019 Day 1! See you tomorrow!
Day 2: Friday 5th April 2019
Don't miss these amazing talks!
Track
ALT/TAB
CMD
08:30

Registration & Breakfast

09:00

Welcome to #FsharpX 2019 Day 2!

09:15

Keynote: The Bottom of the Iceberg: Enabling Data Science Research with F#

Evelina Gabasova

All levels

---

f#

artificial-intelligence

data-science

machine-learning

10:15

Tea and Coffee Break

10:30

Durable F#unctions

Mikhail Shilkov

Intermediate

---

cloud

f#

workflows

serverless

azure-functions

azure

How F# helped us build a more Robust Application

Rune Ibsen

Beginner

---

f#

fromcsharptofsharp

enterprise

realworldf#

The presentation stands out for two reasons:

It is a complete story, that plays out over almost three years on a real, customer facing application.
Our team didn't have F# as an end goal, so the presentation is focused on solving some common issues in C# - that in turn led us to F#.

×

11:15

Tea and Coffee Break

11:30

Taming Types in the Cloud

Isaac Abraham

Intermediate

---

cloud

f#

type-systems

type-providers

bigdata

data

azure

functional-programming

Ask Not What Government Can Do For Tech

Gina Marie Maini

All levels

---

f#

functional-programming

HHS modernization & DHS high-level project overviews (asylum generator & MPSM)
High level open source wish list

claims processing
data specifications
paper is the problem
forms modernization

- single signon

agile contracts
server-less products & contrainerization
devops & design in government
how to get involved in civic tech

×

12:15

Lunch

13:15

Workshop: Practical Machine Learning with F#

Sudipta Mukherjee

Intermediate

---

f#

machine-learning

Day 2, 5 Apr starts 13:15 (ALT/TAB)

Workshop: Practical Machine Learning with F#
Sudipta Mukherjee

Sudipta will take several examples from his F# for Machine learning book (F# for Machine Learning Essentials, published by Packt)

You will be learning how to use F# and .NET machine learning frameworks like Accord.NET to solve problems in supervised learning, sentiment analysis and recommender systems.

By the end of the workshop, you will feel confident about solving a machine learning problem with F# and other related .NET frameworks.

Pre-requisites for the workshop:

Visual Studio Express Edition with F#

×

Workshop: Up and Running with the SAFE Stack

Anthony Brown

Beginner

---

f#

safe-stack

Day 2, 5 Apr starts 13:15 (CMD)

Workshop: Up and Running with the SAFE Stack
Anthony Brown

Pre-requisities for the workshop are listed here.

×

15:15

Tea and Coffee Break

15:30

F# and GraphQL - How We Did It

Bartosz Sypytkowski

Intermediate

---

f#

webdev

rest

web-services

graphql

F# SAFE Stack: Current State

Tomasz Heimowski

Beginner

---

f#

dotnet

javascript

web

f# dotnet javascript web

---

About the speaker...

As a Senior Software Developer at D atto he applies F# to tackle problems from various areas.

In his free time, apart from contributing to OSS projects and learning new tech stuff, he enjoys lifting weights as well as dancing.

×

16:15

Tea and Coffee Break

16:30

Towards F# 5.0

Don Syme

Beginner

---

f#

future

fsharp-5.0

f# future fsharp-5.0

---

About the speaker...

His main responsibility is the design and implementation of the F# programming language and he contributes to its tooling and community. He has also worked on the design of virtual machines and the C# language, being co-responsible for C# and .NET generics, and the design of language-integrated asynchronous programming in F# and C#.

Don regularly blogs about F#.

×

17:15

Beer Break

17:30

Park Bench Panel hosted by Don Syme

Don Syme

All levels

---

f#

functional-programming

f# functional-programming

---

About the speaker...

His main responsibility is the design and implementation of the F# programming language and he contributes to its tooling and community. He has also worked on the design of virtual machines and the C# language, being co-responsible for C# and .NET generics, and the design of language-integrated asynchronous programming in F# and C#.

Don regularly blogs about F#.

×

18:15

#FsharpX 2019 Closing Ceremony and Wrap Up!

18:30

End of #FsharpX 2019!
SkillsCasts
Keynote: Why F# Changes Lives

In this talk, Kit explains why F# has such a transformative effect on people who use it. Kit established that any programming language can be thought of as a belief system, helping us make sense of and manipulate the world. He explores why F# is such an effective belief system. To prove his case,...

.net data-visualisation big-data fsharp

Lightning Talk: Powerline Oriented Programming

At Petersburg Consultants in Doorwerth (the Netherlands), they develop in-house software for structural mechanical and electrotechnical modelling of overhead lines, electricity power stations, and underground cables. With the energy transition gaining momentum, data and its transformation are key...

domain-modeling f# electrical-modelling mechanical-modelling overhead-lines energy-transition fslab

Lightning Talk: JSON (de)serialization in F#

A programming language cannot be widespread without supporting widely used data formats, like JSON. One of the main problems of F# is not the language itself but lack of libraries choice and specifically lack of libraries designed with F# language in mind. This talk will cover how to...

f# serialization-deserialization json

Keynote: Probabilistic Programming: The What, Why and How

f(x) = y, but y = 5. What's the probability that x =1? Probabilistic programming is the idea of describing probabilistic models as programs, to then automatically infer how our beliefs about model parameters change given observed data. In recent years, probabilistic programming languages...

stan probabilistic-programming f# functional-programming

Simulating Charles Babbage's Analytical Engine in F#

In the 1840s Charles Babbage proposed, but never built, an entirely mechanical, Turing-complete computer that he called the Analytical Engine.

The designs were sufficiently complete that Ada, Countess of Lovelace (among others), was able to design 'programs' for it; this also means that...

f# functional-programming

Taming Types in the Cloud

Working with cloud-based data sources often means giving up some of the benefits we're used to when working with conventional relational data stores such as schemas and local access.

This talk will focus on how you can make use of F#'s type system in tandem with distant data sources in order...

cloud f# type-systems type-providers bigdata data azure functional-programming

Functions as Interfaces: Extend Everything!

In a functional world, you can often dispense with explicit interface definitions, because a function's inputs and outputs are an implicit interface. Combining this idea with F#'s automatic generalization gives you a powerful tool for easily bolting on useful features, anywhere in your...

f# resiliency composability functional-programming

Lightning Talk: Let's talk about Types

Rumyana will give a (very) brief history of types and will discuss some (new and not that new) type systems, such as session types (types for distributed programs), refinement types (types with predicates). In this talk, she will challenge you to think how (and why) you can stretch the notion of...

sessiontypes refinementtypes distributed-system compiler types f# functional-programming

Dungeons, Dragons and Functions

Dungeons & Dragons, or D&D, is the grand-daddy of all role-playing games. While playing D&D is great fun, the rules are a bit daunting for the beginner. The basic rulebook, the PHB, clocks in at a solid 300 pages, and can be extended with multiple additional rule sets. This should...

domain-modeling gaming f# functional-programming

Keynote: The Bottom of the Iceberg: Enabling Data Science Research with F#

When you hear terms like data science and artificial intelligence, you probably imagine fitting fancy mathematical models to data. Well, this is only the tip of the metaphorical iceberg of data science. In practice, it is also the part that ultimately amounts to calling a one-line function from...

f# artificial-intelligence data-science machine-learning

Build Cross-Platform Mobile Apps Using Fabulous

In recent years there has been a shift in the way websites and mobile apps are being built - moving to architectures with immutable models and virtual UIs based on the MVU (model-view-update) pattern. This has led to great new frameworks like ELM and React for web, and ReactNative for mobile.

f# mvu cross-platform mobile

Communication Strategies with Programming

Programming has evolved from listing mechanical instructions for a computer to writing gigantic works in evolved languages that sometimes remind their natural counterparts. However, more often than not we forget this connection and look at other fields like Mathematics in the search for models to...

f# semantics languages functional-programming

A Fable about Fish

This is a live coding session based on a classic 1982 paper by Peter Henderson. The paper shows the decomposition and reconstruction of Escher's woodcutting "Square Limit", a beautiful recursive tessellation of interleaving fish, using functional programming. Einar will define a set...

f# art recursion composition fable

Lightning Talk: Sneaking F# into your Organization

Roman has been happily working as fulltime F# developer for nearly three years now. How did that happen that desperate C# developer turned into F# lover turning his passion into money and fun? What can you do in your company to convince your boss to give F# a shot? And how to sell F# to...

f# qa guerilla-fsharp sales

F#: Write Once, Run (nearly) Anywhere!

F# is becoming more and more universal nowadays. Not only when it comes to problem domain but also to where one can run it. Desktop, Web, Mobile, IOT, Serverless - those are just examples of F# runtimes. For the purpose of this talk Tomasz will steal the (un)famous "Write once, run...

f# dotnet x-plat mobile web desktop

Durable F#unctions

Serverless architecture is the future of the cloud. Initially, the serverless tech focused on running small isolated tasks in response to cloud events. The next evolutionary step is to compose complex applications out of those small components.

Azure Durable Functions provides powerful...

cloud f# workflows serverless azure-functions azure

Lightning Talk: Cloud Infrastructure as F#

Modern cloud applications consist of many moving parts, so they are hard to manage without employing Infrastructure-as-Code approach.

Traditionally, tools like CloudFormation, ARM templates and Terraform employ text-based templates, which tend to be tedious, repetitive and difficult to reuse.

...

cloud f# automation pulumi infrastructure-as-code infrastructure

From Concept to Creation in a Week with Fabulous

Having worked in mobile app development for years Kunjan can say one thing for sure: creating a mobile application is hard. Creating a cross-platform mobile application is even harder. Which is why he was interested when Fabulous came out.

f# xamarin xamarin.forms cross-platform mobile-development fabulous

How F# helped us build a more Robust Application

In this presentation, Rune will start out by outlining a series of C# problems that he encountered working on a big music streaming service with 100.000+ simultaneous users. The presentation details the actual journey of a team of extremely quality conscious developers and how they ended up...

f# fromcsharptofsharp enterprise realworldf#

Towards F# 5.0

Later this year, F# 5.0 is intended to be delivered. This is the first major language bump in quite some time, and with that bump comes a certain understanding that bears explanation!

In this talk, you'll learn about the various features that will make it into F# 5.0, some of the behaviour...

f# future fsharp-5.0

Do-It-Yourself: Event-Sourcing

So you heard so much stuff about Event-Sourcing. Now you want to know what all the hype is about but you don't know where to start. Everything sounds quite complicated and there are many new concepts to learn. Do you need to use one of the available frameworks? Do you really need solutions for...

f# functional-programming architecture event-sourcing

F# SAFE Stack: Current State

Bootstrap web apps quickly using advanced dotnet template. Use the power of F# to build rich client without ever touching bare JS. Extract common code to reuse between front and back end in the same language. Deploy to a selected cloud provider using built-in supporting scripts. Sounds exciting?...

f# dotnet javascript web

Reinventing MVC pattern for Web Programming with F#

The MVC pattern has been one of the most important architectural patterns for server-side web development - it has been implemented and popularized by frameworks like Ruby On Rail or ASP.NET MVC. However, this pattern was traditionally coupled with object-oriented programming. In the talk,...

f# mvc-pattern functional-programming

Lightning Talk: Build an ASP.NET Core Web App with F#? You must be having a Giraffe!

In this lightning talk, Stuart will share with you what Giraffe is, how it works, what a Giraffe application looks like, and a look at some of the features.

f# functional-programming aspnet giraffe

F# and GraphQL - How We Did It

In this talk, Bartosz will briefly cover how GraphQL standard can change your perspective on building web services. Next, he'll share about its tradeoffs over standard REST applications, and how they decided to address them in the F# implementation of GraphQL server (known as...

f# webdev rest web-services graphql
Photos
Other Years
---
Thank you to our sponsors and partners
Platinum
Gold
Silver
Additional