2 DAY CONFERENCE
The Best TLS Training in the World
Topics covered:
Designed by Ivan Ristic, the author of the much acclaimed Bulletproof SSL and TLS, this practical training course will teach you how to deploy secure servers and encrypted web applications and understand both the theory and practice of Internet PKI. The course will be delivered by Scott Helme. On Day 1, we'll focus on what you need in your daily work to deliver best security, availability and performance. And you will learn how to get an A+ on SSL Labs! On Day 2, we will start with the basics and the theory, then discuss how the PKI is implemented in the real world, and finish with a practical example of a realistic private certification authority.
Why This Course is for You
Understand threats and attacks against encryption
Identify real risks that apply to your systems
Deploy servers with strong private keys and valid certificates
Deploy TLS configurations with strong encryption and forward secrecy
Understand higher­-level attacks against web applications
Use the latest defence technologies, such as HSTS, CSP, and HPKP
Learn about key PKI standards and formats
Understand where practice differs from theory
Analyze certificate lifecycle in detail
Evaluate PKI weaknesses and how they affect you
Deploy robust protection using public key pinning
Learn about what's coming in the future
Practise what you've learned
Target Audience
This course is for system administrators, developers, and IT security professionals who wish to learn how to deploy secure servers and encrypted web applications and understand the theory and practice of Internet PKI.
Level:​ Intermediate
Duration:​ 2 days
Extras:​ Lunch and refreshments included
About a month prior to the course we'll send you a digital copy of Bulletproof SSL and TLS, our comprehensive guide to SSL/TLS and Internet PKI. You'll get the paper copy on the day. We'll also give you a bunch of exercises and a hardcopy of the slides.
Prerequisites
Basic Linux command line skills: moving about, invoking commands, editing configuration files.
A laptop with a SSH client, which you will only need to connect to your assigned virtual server.
HTTP/HTTPS on ports 80 and 443
SSH on port 22
You should be comfortable using a command-line editor.
About Feisty Duck
Feisty Duck is a London-based provider of computer security training and publisher of fine computer security and open source books. Our practical hands-on courses are held in small classes and led by industry experts. Topics include SSL/TLS, Internet PKI and Apache/Modsecurity.
About the trainer
Scott Helme is a security researcher, consultant and international speaker. He can often be found talking about web security and performance online and helping organisations better deploy both. Founder of report­uri.io, a free CSP report collection service, and securityheaders.io, a free security analyser, Scott has a tendency to always be involved in building something new and exciting.
About the author
Ivan Ristic is a security researcher, engineer, and author, known especially for his contributions to the web application firewall field and development of ModSecurity, an open source web application firewall, and for his SSL/TLS and PKI research, tools and guides published on the SSL Labs web site. He is the author of three books, Apache Security, ModSecurity Handbook, and Bulletproof SSL and TLS, which he publishes via Feisty Duck, his own platform for continuous writing and publishing. Ivan is an active participant in the security community and you'll often find him speaking at security conferences such as Black Hat, RSA, OWASP AppSec, and others. He is currently working on Hardenize, a brand-new comprehensive security posture analysis service that makes security fun again.
HOLD TIGHT, PROGRAM COMING SOON!
We're currently working on a program. If you have any suggestions, topics you'd like to see covered, or experts you'd like to meet, let us know!
CodeNode
CodeNode is the UK's largest venue dedicated to Technology events and was designed to provide a space for Skills Matter's community of software professionals to come together and enjoy meetups, conferences, training and networking events. With fantastic transport links and located in the heart of London's Tech City, Codenode welcomes thousands of engineers each year, who come together to learn and share skills, exoerience and collaborate on projects.
CodeNode features six dedicated event spaces, a large break-out area, complete with fully-licensed bar, reliable wifi, plenty of power sockets, and 6 dedicated event and collaboration spaces.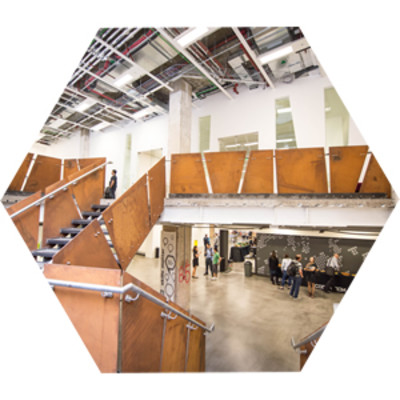 To discuss sponsorship opportunities please contact the team:
Hold tight, skillscasts coming soon!