3 DAY CONFERENCE
CloudNative London 2019
Topics covered at

#CloudNativeLondon
Overview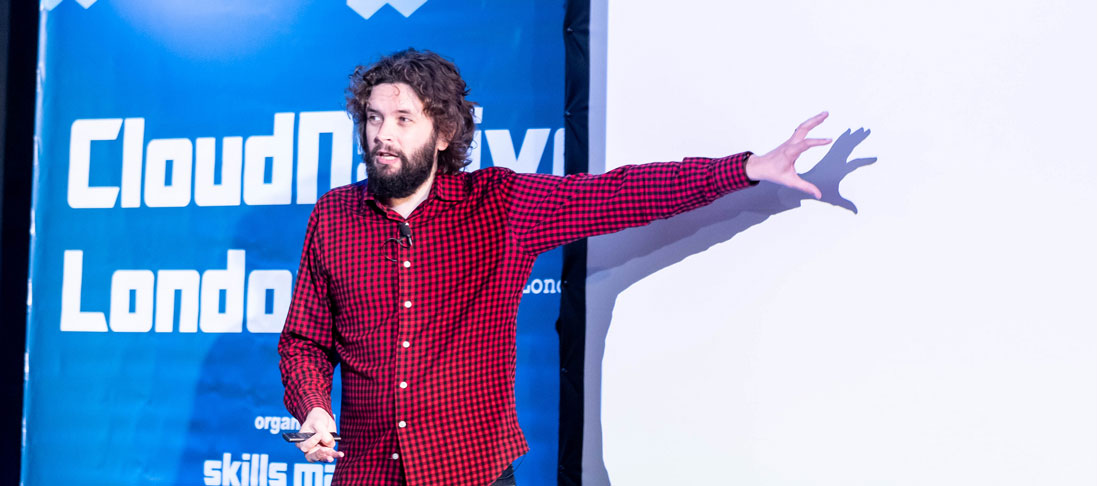 CloudNative London is sold out!
We're sorry to announce that CloudNative London 2019 tickets are now sold out, however if you would still like to register your interest for the waiting list should spots become available and find out what other cloud events we're running please fill in the form below.
Sign me up! →
A 3 day conference on everything cloud-native (Containers, Schedulers, Kubernetes, DevOps)
We are very proud to announce that Sam Newman, Liz Fong-Jones, Russ Miles, Emma Haruka Iwao, Jez Humble, Sarah Wells and John Azariah will be joining us at CloudNative London 2019!
Once again we are aiming to share the latest trends in the cloud world and cover all levels of expertise. Keep an eye on the programme for all updates on our growing line-up!
View all confirmed talks so far →
Your Experience Onsite
Teas, coffees and refreshments will be available throughout the event. If you have any dietary requirements, please notify the Skills Matter staff who will be able to assist you.
Have you checked if the sessions you'd like to attend have some special entry requirements? You might need to use your laptop or have pre-installed some software in order to fully enjoy one of the talks. Please note that all Keynotes will be live-streamed in an overflow room if the main room reaches full capacity.
Call For Papers is now CLOSED
Thanks for submitting a proposal, the response's been overwhelming and we are currently working on selecting talks. Click here to stay up to date and find out more on speakers as we'll start publishing the line-up very soon!
Video
Volunteer
Get a free ticket in exchange for some help setting up the conference and a few hours on the days of the conference.
More information here
Tweet for Us
Attend for free if you are social media guru with an interest in all things cloud.
More information here
CloudNative London 2019 Diversity Scholarship Plan
The CloudNative London 2019 Diversity Scholarship Plan is now closed, thank you to all those who applied, and please feel free to apply again next year.
Code of Conduct
We are committed to providing a friendly, safe and welcoming environment for all. Learn more in our Code of Conduct.
Tickets
Payment by major credit/debit cards, PayPal & Bank Transfer is accepted.
Book Now →
Watch Last Year's Talks
View free SkillsCast recordings of last year's talks.
View SkillsCasts →
Programme
Day 1: Wednesday 25th September
Don't miss these amazing talks!
Track
CTRL
ALT/TAB
08:00

Registration & Breakfast

09:00

Welcome to CloudNative London 2019 - Day 1

09:15

Keynote: It's a Trap! Vendor Lock-in and the Cloud

Sam Newman

All levels

---

private-cloud

public-cloud

devops

microservices

cloud-native

private-cloud public-cloud devops microservices cloud-native

---

About the speaker...

Find more info on Sam Newman's book "Building microservices" here.

You can find Sam on Twitter at @samnewman.

×

10:15

Tea & Coffee Break

10:30

Just What Is A "Service Mesh", And If I Get One Will It Make Everything OK?

Elton Stoneman

Intermediate

---

service-mesh

istio

docker

devops

kubernetes

cloud-native

service-mesh istio docker devops kubernetes cloud-native

---

About the speaker...

×

Serverless Journey with Lessons Learned

Ebru Cucen

Intermediate

---

cloud

serverless

She will explain things done well, how the cloudnative microservice is piece by piece moved to serverless by Strangler and Branch by Abstraction patterns, as well as how Event sourcing did help when they turned more applications to serverless. You will also learn about how network design, api manager, and general understanding of serverless offerings are so important that people may ignore them. Ebru will share her experience/lessons learned so you don't have to repeat them.

×

11:00

Tea & Coffee Break

11:15

Digital transformation through GitOps and Infrastructure as Code

Andrew Horrigan

Intermediate

---

devops

cloud

gitiops

One recommended model to successfully implement DevOps in your environment leverages GitOps and Infrastructure as Code. This session is focused on how one of Andrew's teams have leveraged this model and what a powerful impact it has had. You will discover and discuss the goals of the team, what problems they had before implementing this model, then the framework of what they implemented and operational model. Digital transformation through GitOps and Infrastructure as Code has been successful. They have seen:

• Improved collaboration, resulting in means less friction. • Ops team configures software and apps rapidly and more reliably • Reduced Errors • Dev produces higher-quality code that can be tested more often and released to production faster

×

It's Not Too Late To Learn About Kubernetes

César Tron-Lozai

Beginners

---

kubernetes

devops

cloud

cloud-native

During this talk you will:

Understand the context and problem k8s is trying to solve
Learn the basic building blocks and features of k8s
Receive a list of resources to start your own journey with k8s

×

11:45

Tea & Coffee Break

12:00

Testing in Production. From DevTestOops to DevTestOps

Alex Soto

Intermediate

---

cloud

devops

microservices

testing

If you want your software to do the right things and correctly, you need to test it implacably.

The big problem is that companies see the testing phase as the bottleneck of the process, slowing down product release (which it is). To change that, there needs to be a new way of testing applications, making the release process a testing process as well, and involve everyone within the team from the beginning. QAs are not a separate team anymore (DevTestOps).

How does this affect the testing pyramid? In this session, you will discover and explore several techniques that you can use immediately following the session to start testing in production and speeding up your release cycle to unimaginable limits.

cloud devops microservices testing

---

About the speaker...

Alex is the creator of NoSQLUnit project, member of JSR374 (Java API for JSON Processing) Expert Group, the co-author of Testing Java Microservices book for MAnning, Istio RefCard and contributor of several open source projects. A Java Champion since 2017 and international speaker, having given talks about new testing techniques for microservices, continuous delivery in the 21st century and Java.

×

Finding a Needle in a Call Stack - Intro to Distributed Tracing

Josh Michielsen

Intermediate

---

cloud

distributed-system

backend-engineering

opentelemetry

tracing

observability

Of course, none of the benefits of microservices come without a cost. Networks are unreliable, and correlating thousands or millions of log entries between services can quickly become unmanageable. Therefore, understanding the source of an issue can be like finding a needle in a haystack. This is where distributed tracing comes in! Distributed tracing is the process of tracking requests through their lifetime within a complex distributed system, and has become a critical tool for debugging and understanding microservices.

In this session you will, explore the basics of distributed tracing, take a look at the OpenTracing standard (a vendor neutral framework for distributed tracing instrumentation) and finally be guided through a hands-on look at distributed tracing in action using Jaeger, a popular open source distributed tracing tool which is part of the Cloud Native Computing Foundation. By the end of this session you will not only have a good understanding of distributed tracing, but will be equipped with the knowledge and inspiration to introduce it within your own applications.

×

12:30

Lunch

13:30

Advanced Techniques for Building Container Images

Adrian Mouat

Advanced

---

container-images

cloud

docker

devops

Building Ephemeral Environments For Developers in Kubernetes

Jeff Knurek

Beginners

---

devops

cloud

kubernetes

microservices

It's become a common practice in the microservice world to rely on log statements to identify if a piece of code is behaving as intended. But tools are coming out to make it easier to add breakpoints and debug running code in a Kubernetes Pod. In this session, you will explore an overview of some of the tools that make it easy to debug applications running in Kubernetes. You'll cover a few tools used to update the code that's running in a Pod (Draft/Skaffold/Ksync). And you'll also cover how to connect your IDE to the code and set breakpoints (with examples using both IntelliJ & VS Code).

×

14:00

Tea & Coffee Break

14:15

From Containers to Kubernetes Operators

Philipp Krenn

Intermediate

---

cloud

kubernetes

However, it is not exactly that straight forward and in this session you will discover the development of Elastic's container strategy over time:

Docker images: A new distribution model.
Docker Compose: Local demos and a little more.
Helm Chart: Going from demo to production.
Kubernetes Operator: Full control with upgrades, scaling,...

Besides the strategy, you will also explore specific technical details and hurdles that appeared during the development. Or why the future will be a combination of Helm Chart and Operator (for now).

×

2

Before and After Kubernetes - Was It Worth It and Why? A joint case study

Ivan Pedrazas and Alexis Richardson

Intermediate

---

devops

cloud

cloud-native

kubernetes

devops cloud cloud-native kubernetes

---

About the speakers...

Along with Weaveworks, Alexis is a co-founder of four companies, including Rabbit Technologies Ltd. (RabbitMQ), Cohesive Networks and MetaLogic Oy. He has also been active in the cloud and web standards community, as a co-founder of CloudCamp, co-chair of OCCI (Open Cloud Computing Interface), a member of the AMQP (Advanced Message Queuing Protocol) working group, and a contributor to Google's PSHB open protocol.

In a previous life, Alexis worked as quantitative trader in fixed income derivatives after a misspent youth studying and teaching mathematics at Oxford University.

×

14:45

Tea & Coffee Break

15:00

Top Secret Cloud-Native Security Lessons

Ben Hall

Intermediate

---

cloud-native

cloud

security

cloud-native cloud security

---

About the speaker...

Ben has been working with these technologies, helping both train teams and delivering projects. Ben tweets at @Ben_Hall while blogging at blog.benhall.me.uk

×

Building a CloudPlatform at Nationwide Building Society

Aubrey Stearn

Intermediate

---

cloud-native

cloud-platform

devops

cloud

15:30

Tea & Coffee Break

15:45

Lightning Talk: How to Explain Docker to Your Grandma

Francesco Renzi

All levels

---

devops

cloud

eli5

cloud-native

docker

Learn how to explain Docker to your grandma through the story of Geeno: Geeno is a world famous Italian chef that's often called to work in kitchens around the globe. Doing that he's seen it all: poor conditions, different tools, different spoken languages. He's had enough now and he wants to find a way to bring his laboratory wherever he goes. If you don't know what Docker is you'll get an explanation in plain English, and if you know already you may have a laugh at Geeno's misadventures.

×

16:00

Lightning Talk: Serverless - When Should You and When Shouldn't You?

Nicholas Shook

Intermediate

---

cloud

iaas

devops

serverless

16:15

Beer Break!

16:30

Keynote: Preparing for the Quantum Revolution

John Azariah

All levels

---

devops

cloud

quantum-computing

17:30

CloudNative 2019 Party

22:00

End of CloudNative 2019 Day 1 - See you tomorrow!
Day 2: Thursday 26th September
Don't miss these amazing talks!
Track
CTRL
ALT/TAB
08:30

Registration & Breakfast

09:00

Welcome to CloudNative London 2019 - Day 2

09:15

Keynote: Learning To Be Successful at "Being Wrong"™ In The Cloud

Russ Miles

All levels

---

cloud

devops

cloud-native

chaos-engineering

cloud devops cloud-native chaos-engineering

---

About the speaker...

Russ is an international speaker and author, most recently having published "Antifragile Software: Building Adaptable Software with Microservices" where he explores how to apply Chaos Engineering to construct and manage complex, distributed systems in production with confidence.

In recent times Russ has brought the principles of antifragility to software architecture and design, including but not limited to how to implement microservice and reactive software. Passionate about open source software, Russ worked with SpringSource prior to the company's acquisition by VMware, leading the Spring Extensions project and helping international clients to simplify their software by effectively applying the Spring portfolio of projects.

Continuing on from this work, Russ founded the Esper Extension project for applying CEP to Spring Integration messaging and pioneered the Spring Koans open source, test-driven personal learning project.

Russ continues to be involved in the Spring community, regularly speaking on Spring and is the lead of the Spring User Group in London.

Russ is also an international speaker on techniques for helping software adapt to the ever-present force of change as well as a published author, most recently of "Head First Software Development" from O'Reilly Media. He is lead on the London Microservices User Group and heads-up the new µCon conference.

Russ' current book is being published using the LeanPub platform and is titled "Antifragile Software: Building Adaptable Software with Microservices". The book will be completed in time for the first initial run of the accompanying course, "Russ Miles' Building Antifragile Software with Microservices", now available through Skills Matter.

×

10:15

Tea & Coffee Break

10:30

FaaS composition using Kafka and Cloud-Events

Neil Avery

Intermediate

---

cloud

microservices

streaming

kafka

serverless

By leveraging well established event-driven microservice design principles and applying them to serverless functions you can build a homogenous ecosystem to run FaaS applications. Kafka's natural ability to store and replay events means serverless functions can not only be replayed, but they can also be used to choreograph call chains or driven using orchestration. Kafka also means you can democratize and organize FaaS environments in a way that scales across the enterprise. Underpinning this mantra is the use of Cloud Events by the CNCF serverless working group (of which Confluent is an active member).

cloud microservices streaming kafka serverless

---

About the speaker...

His role is as an industry expert in the world of streaming, distributed systems and the next generation of technology as the world becomes real-time. This includes working on fun things like dataflow system design, modeling, stream processing, serverless, developing crazy ideas and bending Kafka in all kinds of directions. With over 25 years of expertise in distributed computing, messaging and stream processing. He is an active member of the CNCF serverless working group. The last 16 years has been mostly in finance and helping startups. Prior to that he was at Thoughtworks, ran his own startup and was the CTO at a fin-tech.

×

Automate Kubernetes with GitOps

Bryan Boreham

Intermediate

---

cloud

kubernetes

devops

gitops

11:00

Tea & Coffee Break

11:15

You wouldn't build your own toaster, would you?

Yan Cui

Intermediate

---

cloud

serverless

containers

In his own words, he described the toaster as a partial success because "for about five seconds, the toaster toasted, but then unfortunately, the elements kind of melted itself". He is right in the sense that his audacious attempt won him fame and attention, and his TED talk was viewed more than 1M times. But judging his creation on its own, it's an abject failure that was 300 time more expensive than a commercial toaster, took too long to build and was utterly unfit for purpose.

As a business that is competing in an increasingly competitive world enabled by advancements in technology, the questions we should be asking ourselves are: "what are the business value, cost and risk in building our own infrastructure vs using a managed service?". In this session, you will take an objective look at the ongoing debate of containers vs serverless and explore the arguments of control vs responsibility, vendor lock-in and more!

cloud serverless containers

---

About the speaker...

He is an AWS Serverless Hero and a regular speaker at user groups and conferences internationally, and he is also the author of Production-Ready Serverless by Manning and keeps an active blog at https://theburningmonk.com

×

Using Kubeflow Pipelines for building machine learning pipelines

Yufeng Guo

Intermediate

---

cloud

data-engineering

data-science

kubernetes

ml

machine-learning

This session will focus on Kubeflow Pipelines, a platform to enable end-to-end orchestration of ML pipelines as well as easy experimentation and re-use. You'll learn how to build and manage machine learning workloads that can scale.

cloud data-engineering data-science kubernetes ml machine-learning

---

About the speaker...

He enjoys hearing about new and interesting applications of machine learning, share your use case with him on Twitter @YufengG

×

11:45

Tea & Coffee Break

12:00

Kubernetes Operators The Easy Way

Matt Jarvis

Intermediate

---

cloud

cloudnative

kubernetes

In DC/OS, the DC/OS commons SDK enables anyone to build service automation for DC/OS using just a declarative spec in most cases. The Kudo project can now leverage this set of automation expertise to enable automated creation of operators for Kubernetes. In this session, Matt will introduce the Kudo project, explore the conceptual similarities between Mesos frameworks and Kubernetes operators, and demo the creation of a Kubernetes operator using Kudo.

×

Istio service mesh vs AWS App Mesh: how about both?

Christian Posta

Intermediate

---

devops

cloud

application-safety

safe-deployments

istio

service-mesh

microservices

Service mesh implementations from open-source communities like Istio, Linkerd, and Consul have left us spoilt for choice. Sam Newman has defined "cloud native applications" as those applications that leverage the capabilities of the cloud-native platforms on which they're deployed. So what happens if you deploy to a Kubernetes-based platform on-premises and leverage Istio for your service mesh, but also deploy to AWS infrastructure (including EKS) for your public-cloud solution? AWS has an out-of-the box service mesh called App Mesh so should you just leverage that? In this session, you will look at the harsh reality of solving service-to-service communication between services, between clusters, and potentially between platforms/clouds and how things like security, observability, and routing can be accomplished in this hybrid environment.

devops cloud application-safety safe-deployments istio service-mesh microservices

---

About the speaker...

Christian has spent time at both enterprises as well as web-scale companies and now helps companies create and deploy large-scale, cloud-native resilient, distributed architectures. He enjoys mentoring, training and leading teams to be successful with distributed systems concepts, microservices, devops, and cloud-native application design.

×

12:30

Lunch

13:30

Keynote: Is DevOps Still Relevant In A Cloud Native World? (Enterprise Edition)

Jez Humble

All levels

---

deployment

tdd

serverless

cloud

devops

cloud-native

deployment tdd serverless cloud devops cloud-native

---

About the speaker...

Jez Humble is co-author of The DevOps Handbook, Lean Enterprise, and the Jolt Award winning Continuous Delivery. He has spent his career tinkering with code, infrastructure, and product development in companies of varying sizes across three continents, most recently working for the US Federal Government at 18F. He is currently researching how to build high performing teams at his startup, DevOps Research and Assessment LLC, and teaching at UC Berkeley.

×

14:30

Tea & Coffee Break

14:45

The State of Kubernetes Development Tooling

Ellen Korbes

Intermediate

---

cloud

devops

kubernetes

With Kubernetes emerging as the de facto standard for service orchestration, discussion is shifting from 'How does Kubernetes work?' to more specific concerns such as 'How do I achieve an optimal development workflow?' The answer lies in finding combinations of tools that work together in synergy. They should produce end to end workflows that perform effectively in the real world, while also covering a wide range of development stages—building, deploying, debugging, and so on. Goal in mind, let's dive into the tooling available in the current landscape—tools such as Helm, Draft, Skaffold, Forge, Telepresence, Garden, and Tilt. Ellen will share with you their capabilities to developer needs, then outline workflows you can use in practice right away.

×

Cloud-Native Microservices with RSocket

Arsalan Farooq

Intermediate

---

cloud

microservices

Developed by Netifi in collaboration with Netflix, Facebook, Pivotal, Alibaba and others, RSocket combines messaging, stream processing and observability in a single, lightweight solution that provides the connectivity needed for today's web, mobile and IoT applications. Unlike older technologies such as REST or gRPC, RSocket is equally adept at handling service calls as well as high-throughput streaming data and is at home in the datacenter as well as in the cloud, browsers and mobile/IoT devices.

In this session you will learn how Netifi is using RSocket to simplify the way enterprises architect for the cloud, enabling enterprise developers to build and operate complex networks of services with performance improvements of up to 400% and cost reductions of up to 90% compared to legacy technology.

cloud microservices

---

About the speaker...

Farooq was CEO and co-founder of Convirture, started in 2006, and before that he founded Oracle's Application Service Level Management division, growing it from two engineers to a multi-national organization. His career started as a software designer and in college he founded a technology consultancy. He holds degrees in Theoretical Physics and Computer Science from Reed College and Caltech.

×

15:15

Tea & Coffee Break

15:30

Lightning Talk: Serverless: Patterns, Limitations and Pitfalls

James Peet

Intermediate

---

devops

cloud

serverless

15:45

Lightning Talk: Discovery, Consul and Inversion of Control for the infrastructure

Pierre Souchay

Intermediate

---

devops

cloud

cloud-native

During this Lightning Talk Pierre will share with you how they learnt on how relying on a global discovery can leverage new ways of uncoupling infrastructure from code. They call this Inversion of control: all the organization can now push and retrieve semantics to create new services easily:

DNS/network provisioning

Automatic weighted Load-Balancing

Automatic alerting

Security Scanners

New cross-applications features

This new way of creating semantics free the SRE as well as the whole company from tools and allow the whole organization be be more agile and innovative.

×

16:00

Beer Break

16:15

Keynote: Cultivating Production Excellence

Liz Fong-Jones

All levels

---

cloud

observability

distributed-systems

devops

sre

17:15

End of CloudNative Day 2 - See you on Day 3!
Day 3: Friday 27th September
Don't miss these amazing talks!
Track
CTRL
ALT/TAB
08:30

Registration & Breakfast

09:00

Welcome to CloudNative London 2019 - Day 3

09:15

How We Broke the World Record for Computing Digits of Pi (31.4 trillion!)

Emma Haruka Iwao

All levels

---

cloud

pi

cloud-native

10:15

Tea & Coffee Break

10:30

Large scale Continuous Delivery - the building of a platform

Ádám Sándor

Intermediate

---

cloud

gitops

cloud-native

jenkins

openshift

In this session, Ádám will share his story of how he helped create an enterprise-wide Cloud Native CI/CD platform for a highly regulated company in Germany. The failures, the successes, the decisions taken and the final result - a secure, multi-cluster, Openshift-based platform serving hundreds of developers every day. Assembled from opensource components, it's flexible architecture can be reproduced and modified for use at any company.

cloud gitops cloud-native jenkins openshift

---

About the speaker...

Now he's spreading the word about Kubernetes, Continuous Delivery and Docker to all who are willing to listen. He mainly does this in his job as a Cloud Native Consultant at Container Solutions.

×

Busier than Barclaycard on Black Friday

Stew Norriss

Intermediate

---

cloud

security

hugescale

aws

data

The solution is a social responsibility project in AWS and has to be available all the time, cost effective, fast and most of all work at huge scale.

cloud security hugescale aws data

---

About the speaker...

Stewart has over 20 years experience in IT and recently has been behind the team responsible for GAMSTOP which is the largest self exclusion scheme in the world. This is a 24x7x365 project which works at massive scale. His goal is to make IT as useful and as easy as possible for everyone. Stewart is interested in the communication and convergence side of IT, which gives companies the chance to engage a wider user base and build applications and hardware that people actually want and can contribute to. Only by doing so will IT be fully embraced and become part of normal business and social interaction.

×

11:00

Tea & Coffee Break

11:15

API Gateways and Service Meshes: Opening the Door to Application Modernisation

Daniel Bryant

Intermediate

---

cloud

application-modernisation

service-mesh

api-gateway

An API Gateway can decouple applications from external consumers, by routing ingress requests from end-users and third-parties to various internal applications, and by providing cross-cutting functionality like authentication, encryption, and rate limiting. A service mesh can decouple applications from internal consumers by dynamically routing inter-datacenter and service-to-service requests, regardless of where they are exposed on the network. The core concepts behind an API gateway and service mesh are not new, but the combination of current user requirements and modern cloud native technologies provide new constraints and new opportunities.

Join this session to:

Learn the difference between using an API gateway for handling ingress, "north-south" traffic, and a service mesh for managing service-to-service, "east-west", traffic
Understand how these technologies could be used within application modernisation programs, the trade-offs with deploying them, and when not to use a service mesh
Explore how these technologies impact application architecture (such as the use of the sidecar pattern), and get an overview of the networking cross-functional requirements that these technologies provide
Explore how the open source Envoy Proxy project has driven massive innovation within this space, and understand how it differs from existing proxies
Gain a high-level overview of technology options currently available
Watch a brief demo of the open source Ambassador API gateway and Consul service mesh being configured to work together in collaboration using a simple Kubernetes-based application

cloud application-modernisation service-mesh api-gateway

---

About the speaker...

My Work

Independent Technical Consultant at Big Picture Tech

Social and Blogging

×

2

How to Break Builds and Influence People - Ordnance Survey's Ongoing Cloud Native Journey

Phil Peters and Andy Bridle

Intermediate

---

cloud

dx

devops

11:45

Tea & Coffee Break

12:00

Kubernetes Scalability: Federation & Cluster API

Katie Gamanji

Intermediate

---

clusterapi

federation

cloud

kubernetes

devops

Serverless 2.0: Get Started With The PLONK Stack

Alex Ellis

Intermediate

---

serverless

cloud

cloud-native

docker

12:30

Lunch

13:30

2

Keynote: Introducing Ecstasy: A Cloud Native, General Purpose Programming Language

Gene Gleyzer and Cameron Purdy

All levels

---

programming-language

cloud

ops

cloud-native

ecstasylang

14:30

Tea & Coffee Break

14:45

Monolithic Transformation - Changing the Culture of Large Organizations, or, What To Do When Your Meatware Stinks

Michael Coté

Intermediate

---

cloud

monolith

devops

Cloud Native Patterns

Jamie Dobson

Intermediate

---

cloud-native-patterns

devops

cloud

Takeaways * An understanding of design patterns in relation to building and deploying Cloud Native systems * An understanding of where each pattern maps to the different elements of Cloud Native systems * Patterns and their relationship to strategic formulation and design * An understanding of success (and failure) at companies that succeed with Cloud Native and are not unicorns

×

15:15

Tea & Coffee Break

15:30

Keynote: Quality for 'Cloud Natives': What Changes When Your Systems Are Complex And Distributed?

Sarah Wells

All levels

---

cloud

cloudnative

distributed-system

The complexity in complex distributed systems isn't in the code, it's between the services or functions. And a lot of failures are hard to predict and maybe even hard to detect.

When your system is made up of multiple microservices or a bunch of lambdas and some queues, how do you know whether it's working the way you think it should?

Quality in these systems isn't so much about testing up front: if you're releasing 20 times a day, you can't pay the cost of running full regression tests every time. You need to have a risk-based approach and focus your testing effort on the things where it really matters. And more importantly, you need to be able to quickly find out when things are going wrong, and quickly fix them.

Your production system is the only place the full complexity comes into play, so you should be doing a lot of your quality work there. Make sure you can find out about problems as early as possible and do as much 'testing' here as you can.

During Sarah's keynote you will learn about:

the importance of observability - building in log aggregation, metrics and tracing so you can tell what's up
business-focussed monitoring, including synthetic monitoring
why documentation is important and how to encourage people to keep it up to date
how chaos experiments help

You should go away knowing more about what it takes to make your complex distributed systems easier to build and to run with high quality and stability.

cloud cloudnative distributed-system

---

About the speaker...

Before that, I led work at the FT on building a semantic publishing platform, making it easy to discover and access all the FT's published content via APIs in a common and flexible format. That project meant a focus on Go, microservices, containerisation, and how to influence teams to do the right things.

Find Sarah on twitter: @sarahjwells

×

16:30

CloudNative 2019 Wrap Up Presentation

16:45

End of CloudNative London 2019 - See you in 2020!
SkillsCasts
Monolithic Transformation - Changing the Culture of Large Organizations, or, What To Do When Your Meatware Stinks

Large organization are desperate to become "tech companies." They drool at these tech companies ability to grow and change quickly. Despite mastering agile over the past 20 years, IT as a whole is too slow and unreliable. "It's the culture," everyone says. Changing culture...

cloud monolith devops

Kubernetes Scalability: Federation & Cluster API

In the past years, Kubernetes has been the nucleus of container orchestration frameworks. With the growing number of microservices in a cluster, scalability is one of the core pillars for a fault-tolerant application. Additionally, from a technological landscape standpoint, the cloud platform...

clusterapi federation cloud kubernetes devops

Lightning Talk: Serverless - When Should You and When Shouldn't You?

Serverless computing can be a great way to not think about DevOps and let IaaS providers take on the vast majority of that work. However, moving your software to serverless is not always the right answer. During this Lightning Talk Nicholas will share with you costs - both in time and money,...

cloud iaas devops serverless

Finding a Needle in a Call Stack - Intro to Distributed Tracing

Microservices have transformed the way people think about software architecture and design. They enable developers to rapidly extend application functionality in the form of additional services, each of which can be scaled and deployed independently. Many highly successful software companies;...

cloud distributed-system backend-engineering opentelemetry tracing observability

Automate Kubernetes with GitOps

Join Bryan Boreham, Director of Software Engineering at Weaveworks, as he explores the core principles of GitOps, the Cloud Native transformation, war stories, and how you too can make your life easier by automating Kubernetes using GitOps.

cloud kubernetes devops gitops

Cloud-Native Microservices with RSocket

Enterprises are moving to the cloud and microservices, but few are prepared for just how complex it can be in a cloud-native environment to achieve something as simple as, reliable, performant and secure, communication between services. This is changing with RSocket, an open source networking...

cloud microservices

How We Broke the World Record for Computing Digits of Pi (31.4 trillion!)

Emma and her Team have calculated 31.4 trillion digits of Pi in 2019 and broke the world record in the Pi computation. The process took about four months and 200 TiB of storage. Record-breaking Pi calculations have traditionally been done on supercomputers and special-made hardware, but they did...

cloud pi cloud-native

2

How to Break Builds and Influence People - Ordnance Survey's Ongoing Cloud Native Journey

When your organisation has a lot of history, making changes to embrace new practices can be hard. Cloud adoption and DevOps can't be successful with automation and technical tooling alone; it requires changes in how people work together and communicate. Ordnance Survey is an organisation with...

cloud dx devops

Cloud Native Patterns

Cloud Native is much more than on-demand infrastructure in the cloud. It is, in fact, a complete methodology encompassing architecture, design, process, infrastructure, and even organisational culture.

It is also still very much an emerging technology, complicated by the fact that Cloud Native...

cloud-native-patterns devops cloud

Keynote: It's a Trap! Vendor Lock-in and the Cloud

The growth of the public cloud market is obvious to everyone. But what's less well known is that enterprises are still growing the infrastructure and services they run for themselves. A common reason cited for the continual growth in private cloud rather than adopting public cloud offerings are...

private-cloud public-cloud devops microservices cloud-native

Just What Is A "Service Mesh", And If I Get One Will It Make Everything OK?

Communication is the backbone of distributed applications. Imagine you could control that backbone independently of all the components, so your application code just makes simple calls to other services, and your communication backbone does all the complex non-functional work. Load balancing,...

service-mesh istio docker devops kubernetes cloud-native

Keynote: Learning To Be Successful at "Being Wrong"™ In The Cloud

In this keynote, Russ Miles, CEO of ChaosIQ, will explore how you can turn the turbulence of cloud native systems into a super power for your organisation. Touring a collection of chaos experiments, Russ will show how you and why chaos engineering is a key deliberate practice for learning how to...

cloud devops cloud-native chaos-engineering

Keynote: Is DevOps Still Relevant In A Cloud Native World? (Enterprise Edition)

With the increasing trend towards abstracting away infrastructure into platforms, has DevOps become obsolete? Jez thinks not, and in this talk he'll take an evidence-based approach to the design and implementation of compute platforms and the applications that live in them, based on DevOps...

deployment tdd serverless cloud devops cloud-native

From Containers to Kubernetes Operators

Containers are the new ZIP format to cloud native applications" is a fitting description of today's world.

cloud kubernetes

Serverless 2.0: Get Started With The PLONK Stack

You've heard of LAMP, JAM, and MEAN, but what is the PLONK stack? And why should you be considering it for your Cloud Native Applications? How is Serverless 2.0 with the PLONK stack any different from its previous incarnations and how could it benefit you? In this talk, Alex will introduce you to...

serverless cloud cloud-native docker

Lightning Talk: Serverless: Patterns, Limitations and Pitfalls

During this talk James will share with you 5 painful lessons learned from designing and deploying cloud functions in high volume production environments.

devops cloud serverless

Istio service mesh vs AWS App Mesh: how about both?

Service mesh is a separate layer on top of your deployment platform that solves the challenges around resilient, secure, and observable service-to-service communication.

devops cloud application-safety safe-deployments istio service-mesh microservices

Testing in Production. From DevTestOops to DevTestOps

DevOps has grown in popularity over last years, particularly in (software) companies that want to reduce their lead time to be measured in days/weeks instead of months/years without compromising quality.

cloud devops microservices testing

FaaS composition using Kafka and Cloud-Events

Serverless functions or FaaS are all the rage.

cloud microservices streaming kafka serverless

Serverless Journey with Lessons Learned

In this session, Ebru will talk about how a migration project to Serverless partly failed.

cloud serverless

API Gateways and Service Meshes: Opening the Door to Application Modernisation

Modernising applications by decoupling them from the underlying infrastructure on which they are running can enable portability and innovation (shifting workloads to the cloud), reduce costs, and improve security. Cloud native infrastructure, container technology, and orchestration frameworks...

cloud application-modernisation service-mesh api-gateway

Using Kubeflow Pipelines for building machine learning pipelines

Kubeflow is an open-source project dedicated to making deployments of machine learning workflows on Kubernetes simple, portable and scalable.

cloud data-engineering data-science kubernetes ml machine-learning

Kubernetes Operators The Easy Way

Kubernetes Operators are the next phase of the journey towards automating complex applications in containers. Many Operators that exist today handle initial deployment, but they don't provide automation for tasks like binary upgrades, configuration updates, and failure recovery. Implementing a...

cloud cloudnative kubernetes

Large scale Continuous Delivery - the building of a platform

Are you struggling to get Continuous Delivery adopted at your company? Or find it challenging to create a unified platform for software teams?

cloud gitops cloud-native jenkins openshift

Busier than Barclaycard on Black Friday

In this session, Stew will share how a small company in Leeds, built and supported a cloud based solution, which handled more than 10 times the record number of hits Barclaycard saw on Black Friday.

cloud security hugescale aws data

Digital transformation through GitOps and Infrastructure as Code

Software delivery teams are looking to increase speed of innovation without compromising quality. There are many approaches but when you break it down, all roads lead to DevOps and continuous delivery.

devops cloud gitiops

2

Before and After Kubernetes - Was It Worth It and Why? A joint case study

During this talk Alexis and Ivan will share with you five real world stories of Kubernetes adoption. What did they learn? What should you do, or not do?

devops cloud cloud-native kubernetes

Advanced Techniques for Building Container Images

Docker's slogan is 'Build, Ship And Run Any App Anywhere', but in the last couple of years the 'build' part seems to have stagnated. That all changed with the release of buildkit, which is now part of Docker 19.03. During this talk Adrian will share with you a tour through the...

container-images cloud docker devops

Keynote: Preparing for the Quantum Revolution

Quantum Computing is all over the news these days. Lots of mysterious words like superposition and entanglement, and unfamiliar physical phenomena.

How do you tell fact from fiction in the news? What do these things really mean? How does quantum computing work? Why do you care? Where will it make...

devops cloud quantum-computing

2

Keynote: Introducing Ecstasy: A Cloud Native, General Purpose Programming Language

What would a programming language look like if it were explicitly designed for the world of serverless clouds, distributed computing, flash storage, 5G networks, and 64-bit multi-core devices? This is the world that we're building applications for, but you're hobbled by medieval languages...

programming-language cloud ops cloud-native ecstasylang

Building a CloudPlatform at Nationwide Building Society

During this talk Aubrey will share a walk through of how Nationwide built a cloud platform, the tech, the culture, the initiatives that made it possible, and some of the valuable failures taught them new lessons.

cloud-native cloud-platform devops cloud

It's Not Too Late To Learn About Kubernetes

In this Cloud-Native era, it is difficult not to have heard about Kubernetes (k8s). Social media are flooded with technical articles on Kubernes and it is a popular topic at many cloud-related conferences. Major internet companies, such as Reddit or AirBnQ, have been switching their production...

kubernetes devops cloud cloud-native

You wouldn't build your own toaster, would you?

In 2011, Thomas Thwaites spent 9 months and 1187.54 and built his own toaster.

cloud serverless containers

Lightning Talk: Discovery, Consul and Inversion of Control for the infrastructure

Discovery is as hard as naming, meaning still a complicated problem in large infrastructure. Many systems exists, but few outside a given ecosystem.

Pierre and his Team have been using HashiCorp's Consul at large scale for several years (more than 250k services on 35k+ machines in 9...

devops cloud cloud-native

Keynote: Cultivating Production Excellence

Taming the complex distributed systems we're responsible for requires changing not just the tools and technical approaches we use; it also requires changing who is involved in production, how they collaborate, and how we measure success. In this talk, you'll learn about several practices...

cloud observability distributed-systems devops sre
Photos
Other Years
---
Thank you to our sponsors and partners
Platinum
Gold
Silver
Bronze