2 DAY CONFERENCE
BeyondTech 2019
Topics covered at

#BeyondTech
Overview
Don't miss BeyondTech 2020!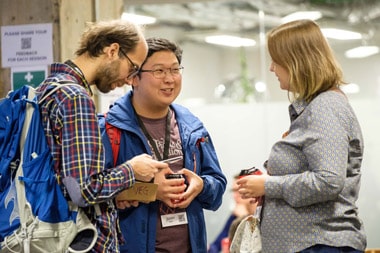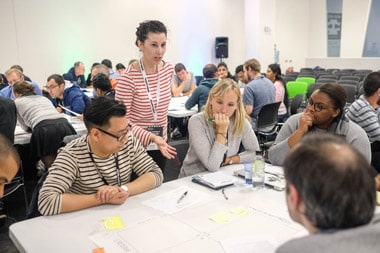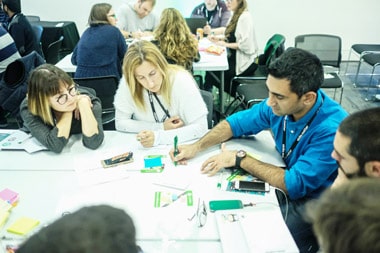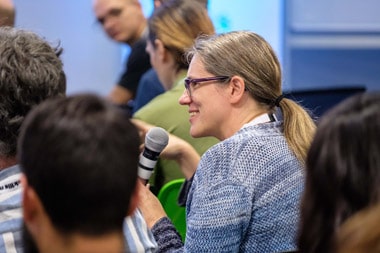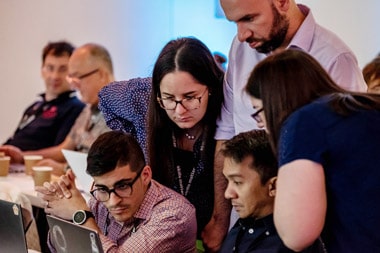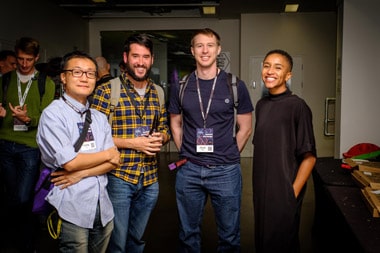 Going BeyondTech - Responsible AI, Diversity & Inclusivity, Tech for Good & Closing the Skills Gap
Today, every business is a tech business. The biggest change we have witnessed as a community has been tech's shift from a standalone industry to one that permeates almost every aspect of modern society, and we are just at the starting line.
If you are not a part of the conversation about change, you cannot affect it. This is where BeyondTech comes in. We want to find real actions that individuals and companies can make to guide tech forward. To this end, we have broken the conference up according to four themes: Responsible AI, Diversity & Inclusivity, Tech for Good and Closing the Skills Gap.
Across two days of talks, and round tables, BeyondTech aims to do four things: take a deep look at the ways in which we frame discussions around the ethics of automation and AI; promote real actions that can be taken to create a diverse and inclusive ecosystem; see how tech can be used to solve some of societies biggest problems and meet the challenge of bridging the skills gap in tech head on.
Keynotes Announced
We are thrilled to announce that Jamie Bartlett, Jaya Chakrabarti MBE and Russ Shaw will be joining us to all give a Keynote Talk at BeyondTech 2019!
Check out the rest of Conference talks here
Accessibility at BeyondTech 2019
As BeyondTech strives to be as accessible and inclusive as possible for our attendees we have gathered all the information regarding access
here
.
Diversity Scholarship Plan
The BeyondTech 2019 Diversity Scholarship Plan is now closed, thank you to all those who applied, and please feel free to apply again next year..
Call for Papers is now CLOSED!
The Call for Papers is now closed! Thanks for submitting a proposal, the response's been overwhelming and we are currently working on selecting talks. Click here to stay up to date and find out more on speakers as we'll start publishing the line-up very soon!
Code of Conduct
We are committed to providing a friendly, safe and welcoming environment for all. Learn more in our Code of Conduct.
Programme
Day 1: Wednesday 1st May
Don't miss these amazing talks!
Track
Track 1: CTRL
Track 2: TAB

09:00

Invalid Time

Invalid Time

Registration and Breakfast Refreshments

09:30

Invalid Time

Invalid Time

Welcome to BeyondTech 2019 Day 1!

09:45

Invalid Time

Invalid Time

KEYNOTE




Keynote: Networking at Conferences for Autistic People and Introverts

Dennie Declercq

Diversity & Inclusivity

---

diversity

networking

people

keynote

For people who are introverted or have autism, it can be more difficult. Dennie kicks off the conference with plans, tips and tricks to networking that you can then apply throughout the conference. For those who already feel comfortable networking, learn how to be a better ally and support system to those who are introverted or autistic.

diversity networking people keynote

---

About the speaker...

In daily life Dennie is president and developer at DDSoft, a nonprofit that connects IT to people who are less tech-savvy. Dennie invented technical solutions and systems to help people with disabilities to participate in their daily life. Thanks to his autism he's the right man at the right spot to contribute as a volunteer in function of people with disabilities.

×

10:45

Invalid Time

Invalid Time

Tea & Coffee Break

11:00

Invalid Time

Invalid Time

Just Add Diversity - Why a Diverse Tech Industry Isn't Enough

Sapphire Mason-Brown

Diversity & Inclusivity

---

inclusivity

diversity

ethics

And with increasing popularity of bootcamps, a new focus on increasing the number of girls pursuing STEM subjects at school and countless diversity initiatives, we appear to be on course to increase the number people from underrepresented groups in the industry. Problem solved right?

But what happens when people from these groups actually join the industry? How can we ensure that the tech industry is one that people of colour, women, LGBTQ people and disabled people want to continue working in and develop?

In this talk, Sapphire will explore how those of us who work in the industry on a day to day basis, or organise tech events can ensure that those from underrepresented groups are both welcomed and know they belong.

inclusivity diversity ethics

---

About the speaker...

She is also an organiser of Afrotech Fest a tech festival by and for black people of African and Caribbean heritage.

Having studied Psychology and Linguistics, she is interested in how teams work together and how team members effectively communicate with each other.

×

Data for the public good.

Reema Patel

Responsible AI

---

diversity

ethics

responsible-ai

artificial-intelligence

This talk sets out how narratives and frames about data (such as data ownership, data stewardship, data citizenship, and data rights) seek to achieve data for the public good, and outlines how they might connect to each other, as well as what these approaches might look like and mean in practice.

diversity ethics responsible-ai artificial-intelligence

---

About the speaker...

She is an experienced policy professional who has led various citizen engagement and participation initiatives on complex and controversial policy areas in the UK, including the Royal Society of Arts (RSA) Citizens' Economic Council, which successfully worked with and influenced the Bank of England's public engagement strategy. Reema has consulted for a variety of international organisations, including the Danish Board of Technology Foundation and Nextdoor.com, San Francisco based technology social media start-up.

×

11:30

Invalid Time

Invalid Time

2

Round Table Session: Diversity & Inclusivity

Isabel Chapman and Holly Rafique

Diversity & Inclusivity

---

diversity

inclusivity

roundtable

Day 1, 1 May starts 11:30 (Track 1: CTRL)

Round Table Session: Diversity & Inclusivity
Isabel Chapman and Holly Rafique

diversity inclusivity roundtable

---

About the speakers...

Isabel has extensive experience and specialises in reducing risks for young people, supporting young people into EET and reaching their individual goals. Isabel has successfully trained and supported people from wide-ranging backgrounds into careers across the luxury, finance, retail and recruitment sectors, amongst others.

Isabel is considered an expert in the Gender Equality field and is a qualified Safe Lives Young People's Violence Advisor & an Independent Sexual Violence Adviser, specialising in Domestic Abuse and Sexual Assault. Isabel is an established public speaker, regularly speaking at events and conferences; this includes chairing debates in parliament and speaking on the 'Women in Tech' panel at the Parliamentary Internet Conference. Isabel also gave a TEDxClapham talk on sexual assault in 2015.

After over a decade as an IT Consultant in Financial Services, Holly took some time out to focus on building Lego and cardboard swords with her two boys, rather than building software systems. Now Holly has rediscovered a life-long curiosity for how things work and is reapplying her skills to new technology challenges and helping others to educate themselves in all things digital.

×

Round Table Sessions: Responsible AI

Sam Mercer

Responsible AI

---

diversity

responsible-ai

data

ai

ethics

Day 1, 1 May starts 11:30 (Track 2: TAB)

Round Table Sessions: Responsible AI
Sam Mercer

×

12:00

Invalid Time

Invalid Time

Psychological Safety: Overprotection or Not?

Gitte Klitgaard

Closing the Skills Gap

---

diversity

ethics

inclusivity

psychological-safety

In Project Aristoteles, Google researchers looked into what makes a team effective and discovered that the main factor was feeling psychologically safe. Creating this workspace helps grow effectiveness, innovation, and learning.

And yet it's importance is still debated.

Gitte takes a look into ownership of psychological safety in the workplace, how our industry is under-protected and why you need to focus on psychological safety to make your work life better and more effective.

diversity ethics inclusivity psychological-safety

---

About the speaker...

She has great interest in how people function, how we communicate, how the brain works, what motivates us, how we can feel better about ourselves, and how to be perfect in our imperfections.

Working in different companies in Europe and developing training as needed, her expertise now centre on soft skills, as she has found this to be something missing in many organisations. The past few years she has been focusing on creating psychological safety.

Since 2013 Gitte has been speaking and doing workshops, and keynoting at international conferences across three continents (mainly for developers, agile professionals and testers). Her talks are often about the topics we don't talk about: stress, mental health, inclusion, vulnerability and courage.

Follow Gitte on Twitter @nativewired.

×

It's Just Data

Nathalie Christmann-Cooper

Responsible AI

---

transparency

startup

ethics

data

diversity

But do you ever stop and think about the ramifications of simplifying and brokering data without responsibility?

Because this is just data, right?

transparency startup ethics data diversity

---

About the speaker...

During her career break, Nathalie undertook a self-directed learning path to master HTML, CSS and Javascript through various online courses, all from the kitchen table. Nathalie worked remotely under the branding of SheCodes, building bespoke websites for individuals and SMEs as well as providing digital training for non-tech individuals in managing the presence of their website and social media platforms.

Nathalie co-founded TreatOut, a greenfield food tech startup project which is tackling the issues faced when trying to dine out with food allergies and intolerances. She was accepted onto the 5th cohort of Google Campus for Mums Startup Programme at Campus London in October 2015 and was named one of the 15 small business owners joining the FSB's national taskforce established to promote women in enterprise in July 2016. To step up to the role of technical co-founder Nathalie undertook a Full Stack Bootcamp with Le Wagon London in 2016 and has since become a passionate advocate for Women in Tech.

Outside of work, Nathalie blogs about her career development from a solo, self-taught coder to becoming an agile software engineer. You can often find her painting in a field with a glass of whiskey and a packet of chocolates somewhere deep in the Kent countryside.

×

12:30

Invalid Time

Invalid Time

Tea & Coffee Break

12:45

Invalid Time

Invalid Time

Designing a Feminist Alexa: An Experiment in Feminist Conversation Design

Dr. Charlotte Webb

Responsible AI

---

feministtechnology

alexa

voicetech

ethicalai

feministinternet

diversity

tech-for-good

ethics

The team were tasked to design a workshop for UAL's Creative Computing Institute that would allow participants to prototype feminist conversational interfaces. There were three questions that had to be answered. WTF is a feminist conversation? What kind of exchange between a human and a technology would qualify as 'feminist'? How could the feminist nature of the technology be measured? Dr Charlotte Webb will delve into the learning programme and how participants developed their ideas of a Feminist Alexa.

feministtechnology alexa voicetech ethicalai feministinternet diversity tech-for-good ethics

---

About the speaker...

Recently nominated by the Evening Standard as one of the most influential people in Technology and Science in London, she has been interviewed by media organisations including the BBC, Evening Standard, and Marie Claire magazine for her opinions on the internet, feminism and gendered AI.

She has presented at conferences around the world including TedX, Internet Age Media, Cannes Lions Festival of Creativity, Barbados Internet Governance Forum and Online Educa. Described as a 'deviant academic', Dr Webb's PhD was a creative exploration of how the internet has transformed artistic authorship and cultural production.

She has also written for the Huffington Post, Eye on Design and Furtherfield and has +10 years' experience working in art and design higher education, including the University of the Arts London, Europe's largest art and design university.

×

Effective Ethics for Busy People

Kingsley Davies

Tech for Good

---

ethics

leadership

techforgood

As a means of discovering more about the relationship between the two domains, Kingsley founded and ran Good Tech Conference in Brighton in November 2018.

This presentation gives the story that conference, the findings uncovered from it, and some concrete tips and techniques for attendees to evolve to work and live in a more ethical ways. If you have ever wanted to learn a little more about tech ethics and how to make an impact minimal available time and energy, then this is the talk for you.

ethics leadership techforgood

---

About the speaker...

While working to make things better, he's seen a steady evolution towards functional programming, a sharper focus on development operation teams and tools and decomposing big things into smaller composable things commonly called services.

Most recently he's also dived into the ethical tech and tech for good pools and is keen to encourage and support initiatives in these areas.

×

13:15

Invalid Time

Invalid Time

Lunch

14:15

Invalid Time

Invalid Time

KEYNOTE




2

Keynote: Closing the Skills Gap: Russ Shaw in Conversation with Sarah Luxford

Sarah Luxford and Russ Shaw

Closing the Skills Gap

---

leadership

digital-skills

fireside

diversity

tech-for-good

keynote

closing-the-skills-gap

The primary challenge is to bring more people into tech but with over a third of UK consumers feeling that they lack the digital skills to tackle current realities – we are in need of a fresh approach. Russ and Sarah will discuss the role of both the private and public sectors in helping to upskill and reskill workers, education reform and a robust approach to training that is accessible to everyone in society.

Russ Shaw, founder of Tech London Advocates and Global Tech Advocates, and Sarah Luxford, leader of TLA Women in Tech, will discuss the prevailing gap in digital skills, offering insight to one of the greatest challenges the tech industry faces.

leadership digital-skills fireside diversity tech-for-good keynote closing-the-skills-gap

---

About the speakers...

Since then he has been championing London as a global tech hub and campaigning to address some of the biggest challenges facing tech companies in the UK – diversity, digital skills, immigration, infrastructure and access to funding.

Key achievements for Tech London Advocates (TLA) include successfully campaigning for the introduction of a Chief Digital Officer for London and placing digital jobs on the Shortage Occupation List for the first time.

Russ is a founding partner of London Tech Week, a London Tech Ambassador for the Mayor of London and Advisory Board member for Founders4Schools and the Government's Digital Skills Partnership. He is a Trustee for Modern Muse Charity, which supports young women and girls who want to study STEM subjects.

He is one of the world's leading experts on the success of London's tech ecosystem and has been invited to tech hubs around the world to share his experience. In 2016, Russ created Global Tech Advocates, which now licenses the TLA operating model to countries around the world, including Scandinavia, Belfast, the Bay Area, the North of England, Singapore, Shanghai, Spain and Bogotá.

Russ was previously the Chairman of The Marketing Group of Great Britain following senior positions at Skype, Telefónica, O2 and CEO of a later stage startup called Mobileway. In his role as Marketing Director for O2, Russ brokered the relationship with The O2, the most successful indoor venue in the world.

He is an angel and venture investor and has been non-executive director of a number of high growth businesses, including Dialog Semiconductor and Unwire.

He has a BS from Washington University in St. Louis and an MBA from Harvard Business School.

×

15:15

Invalid Time

Invalid Time

Round Table Session: Youth-Led Inclusion

Femi Owolade-Coombes

Closing the Skills Gap

---

diversity

young-coders

inclusion

skills-gap

Day 1, 1 May starts 15:15 (Track 1: CTRL)

Round Table Session: Youth-Led Inclusion
Femi Owolade-Coombes

Femi will start with a talk about how he set up South London Raspberry Jam, running Autism and Tourette's' Syndrome friendly coding events and how this helped to establish a youth-led Young Coders MeetUp (YCM) that has gender parity and shows diversity by reaching out to communities that are under-represented in the wider Tech industry. The use of crowd-funding, being Open Source, creating an Open organisation and developing Corporate partnerships can also be discussed. Femi can talk about his own experience, having a successful business (hackerfemo.com) at the age of 13 and about having two young coders join the YCM who are deaf - looking at the challenges but also how its enriches the community.

diversity young-coders inclusion skills-gap

---

About the speaker...

He has his own business and website, hackerfemo.com and has helped develop a Young Coders MeetUp which is hosted at Red Hat's Open Innovation Labs in London. Presently he has partnered with Imran Hassan to develop an App to help Deaf children with literacy. He also presents inspiring Keynote talks on the topics of Young Coders, Cybersecurity and Open Source community.

×

Round Table Session:Tech for Good

Tom Wagstaff

Tech for Good

---

diversity

roundtable

tech-for-good

Day 1, 1 May starts 15:15 (Track 2: TAB)

Round Table Session:Tech for Good
Tom Wagstaff

diversity roundtable tech-for-good

---

About the speaker...

By day, Tom is a data scientist at charity focused-agency, Raising IT. He brings with him a wealth of social sector experience, having previously worked on a variety of issue areas, including global poverty, international development, and UK homelessness.

×

15:45

Invalid Time

Invalid Time

Inspire and Engage Digital Makers of All Ages and Backgrounds

Alan O'Donohoe

Closing the Skills Gap

---

diversity

digital-makers

closing-the-skills-gap

stem

Each of us bears some responsibility towards supporting the next generation of , developers and creatives thereby ensure greater representation, balance and diversity in tech and STEM industries. Far from being a burden, there are many rewarding ways that we can all play our part.

This session will share examples of initiatives you might seek to engage digital makers of all ages and backgrounds, ranging from national programmes and strategies to simple low-cost strategies you can try yourself.

Expect to leave this session feeling inspired about small, practical steps you can take to ensure greater diversity and representation in tech.

diversity digital-makers closing-the-skills-gap stem

---

About the speaker...

To increase access and opportunity to young digital makers, Alan organises events that include Hack To The Future, Hack Jams and in 2012 established the Raspberry Jam community for people of all ages and backgrounds with an interest in Digital Making. Raspberry Jam events now take place worldwide every week and Preston moves closer to celebrating it's 100th Raspberry Jam event. In 2015, with the support of Bradford based Exa Networks, Alan diverted his energy to setting up Exa.Foundation to continue his work to inspire, engage and support teachers and learners. exa.foundation @exafoundation.

×

Neurodiversity in Tech

Ray Coyle

Diversity & Inclusivity

---

neurodiversity

diversity

inclusivity

beyondtech

neurodiversity diversity inclusivity beyondtech

---

About the speaker...

Ray joined the board of auticon Limited from Grow Software, a DRM developer for the additive manufacturing sector, where he was CEO. Prior to that, Ray has been a director of Osborne Clarke, the European law firm and the UbiQ Group, an OEM software supplier. Ray is a qualified UK solicitor and has a Masters Degree in Intellectual property law and brings over 20 years of experience in IT and professional services to auticon. Ray has a longstanding interest in social enterprise and founded the IMPACT team at Osborne Clarke. He also serves as a non-executive director of AltEnergis, an alternative energy tech incubator.

×

16:15

Invalid Time

Invalid Time

Tea & Coffee Break

16:30

Invalid Time

Invalid Time

Hate Speech as a Service

Timothy Quinn

Tech for Good

---

ai

data

diversity

data-analytics

big-data

content-moderation

hate-speech

nlp

This talk will focus on real-world solutions to implementing moderation workflows, as well as on balancing free speech against legal and financial liabilities being imposed by governments. Although some technological material will be presented, anyone with an operational interest in content moderation will benefit from attending.

ai data diversity data-analytics big-data content-moderation hate-speech nlp

---

About the speaker...

They manage the world's largest structured repository of multilingual hate speech, have been profiled in Wired and New Scientist (among others), and are supporting research on hate speech at several leading universities, including Harvard, Stanford, Princeton and Cornell.

In addition to leading Hatebase, Timothy is CTO at Canadian eprocurement platform OMX, Director of Technology at The Sentinel Project, and an eGovernance expert with the Canadian Executive Service Organization. He's taught at New York University and the City University of New York, and has presented at several conferences.

×

Diversity in Tech: Throwaway or Here to Stay?

Emma Obanye

Diversity & Inclusivity

---

inclusion

diversity

In this talk, Emma draws on her own experiences exploring this, tokenism vs impact and recent trends in free speech that may threaten the very foundation of this movement.

inclusion diversity

---

About the speaker...

Emma previously co-founded and sold the award-winning, music-focused loyalty and influencer platform BuddyBounce. With over 70K users, BuddyBounce connected fans, bands and brands, attracting a wealth of clients including all three major labels, O2 and Penguin Random House.

Aside from her work at Capital Enterprise Emma also enjoys working on her two current ventures Mindful Team and The Retrospective Game (a tech platform and card game respectively). Both products focus on allowing businesses to measure and improve the culture of their teams. In her spare time, she advises and mentors a number of individuals and startups.

×

17:00

Invalid Time

Invalid Time

Drinks Break

17:15

Invalid Time

Invalid Time

KEYNOTE




Keynote: Digital Activism - Saving the World with Open Data

Jaya Chakrabarti MBE

Tech for Good

---

supplychaintransparency

modernslavery

opendata

tech-social-enterprise

diversity

supplychaintransparency modernslavery opendata tech-social-enterprise diversity

---

About the speaker...

Jaya set up social enterprise TISCreport.org (Transparency In Supply Chains Report) in 2016, to tackle slavery in supply chains. In 2018 TISCreport was a finalist for two anti-corruption technology awards and is arguably the world's largest anti-slavery register.

She serves as a member of the DCMS Digital Economy Business Advisory Group and the Home Office Transparency in Supply Chains Modern Slavery Strategy & Implementation Group. Jaya was named one of the top 100 Corporate Influencers in Modern Slavery 2018, and also top 100 Asian Stars in Tech 2018 and whole-heartedly believes that transparency data will help to save the world.

×

18:15

Invalid Time

Invalid Time

BeyondTech 2019 Party with Pizza & Beer!

22:00

Invalid Time

Invalid Time

End of BeyondTech 2019 Day 1. See You Tomorrow!
Day 2: Thursday 2nd May
Don't miss these amazing talks!
Track
Track 1: CTRL
Track 2: TAB

09:00

Invalid Time

Invalid Time

Registration & Morning Refreshments

09:30

Invalid Time

Invalid Time

Welcome to BeyondTech 2019 Day 2!

09:45

Invalid Time

Invalid Time

KEYNOTE




Keynote: Can Democracy Survive the Internet?

Jamie Bartlett

Responsible AI

---

emerging-technologies

internet

democracy

diversity

tech

ethics

emerging-technologies internet democracy diversity tech ethics

---

About the speaker...

He is also a regular commentator on national and international media outlets and recently presented the two-part BBC documentary series 'The Secrets of Silicon Valley'. His Ted Talk about the dark net has had over 3 million views.

×

10:45

Invalid Time

Invalid Time

Tea & Coffee Break

11:00

Invalid Time

Invalid Time

Why Ethics Matter And What we Forget About Our Past

Stella Windsor

Responsible AI

---

diversity

education

whitefragility

postcolonialism

history

ethics

Stella delved into case studies of racial tension and unrest in UK and other places that people are often unaware of, the fact that race is a social construct, and the failure to recognise our society as based on white supremacy and patriarchal values. Stella brings learnings from historical events, especially relatively recent ones. It is exploring our past that we can understand the importance of privacy and ethics in tech. In this session, you will explore your intentions and awareness, gain a better understanding of how you came to think how you do and why societal justice bends toward certain people and against others.

×

2

Altruistic Algorithms? Data for Good Done Right

Tom Wagstaff and Christine Henry

Tech for Good

---

diversity

ethics

tech-for-good

beyondtech

Their projects often involve the evaluation of outcomes achieved by different service users, based on sensitive personal information. How can you ensure that the models you build using this data are used in a positive way to enhance service delivery, and aren't used to marginalise already vulnerable and disadvantaged groups?

diversity ethics tech-for-good beyondtech

---

About the speakers...

By day, Tom is a data scientist at charity focused-agency, Raising IT. He brings with him a wealth of social sector experience, having previously worked on a variety of issue areas, including global poverty, international development, and UK homelessness.

She holds a PhD in physical chemistry from the Australian National University, and a law degree. Christine is passionate about making tech with users in mind, and investigating the ethical and social impacts of new technologies and data. She has volunteered with DataKind UK since 2017, and in 2019 is heading up the new Ethics working Group.

×

11:30

Invalid Time

Invalid Time

Round Table Session: Tech for Good

Ellie Hale

Tech for Good

---

diversity

roundtable

tech-for-good

ethics

Day 2, 2 May starts 11:30 (Track 1: CTRL)

Round Table Session: Tech for Good
Ellie Hale

diversity roundtable tech-for-good ethics

---

About the speaker...

Over the past four years, CAST has worked with over 500 nonprofits and their funders to embed digital across their services, strategy and culture.

Ellie leads CAST's programme of Design Hops, a series of nationwide free, half-day workshops that offer an accessible introduction to digital service delivery and how charities can take their first steps. She previously ran CAST's Digital Fellowship, a comprehensive digital learning programme for charity leaders, and is CAST's Community Champion, collaborating with other leading organisations to run regular events including the 8,000-strong Tech for Good London, NetSquared London and a number of other Meetups.

×

Round Table Sessions: Responsible AI

Ali Chaudhry

Responsible AI

---

diversity

roundtable

ethics

data

ai

Day 2, 2 May starts 11:30 (Track 2: TAB)

Round Table Sessions: Responsible AI
Ali Chaudhry

diversity roundtable ethics data ai

---

About the speaker...

Ali is also running a charity named Renaissance which operates number of charity schools for the disadvantaged communities in Pakistan. His schools focus on quality education where technology is thoroughly integrated in classrooms and day-to-day operations. He has also launched a number of AI-based technology products in Pakistan, disrupting the Agriculture sector through Qurbani App and Education sector through Naseem Education.

×

12:00

Invalid Time

Invalid Time

The Cost of Code

Dylan Beattie

Responsible AI

---

real-cost-of-the-code

codebase

ethics

tech

leadership

diversity

The world uses our code to book flights, pay taxes, talk to friends and family… and before too long, our code might be driving cars, diagnosing illnesses and convicting criminals. Code runs the world. And when our code goes wrong, the solution is almost always… more code. We ship millions of lines of code every day - and, in these days of smartphones and networks and IOT, a single line of code could be running on millions of devices within minutes of us deploying to production. But have you ever stopped to consider the real cost of those lines of code? Your code might end up running in production for years, maybe decades.

It'll become one small part of a giant global codebase that's using literally trillions of processor cycles and hundreds of billions of kilowatt-hours of electricity every year. A codebase that's hiding countless vulnerabilities, flaws and dependencies. A codebase that's driving users to buy millions of new laptops and smartphones and tablets every year because the old ones are too slow, or won't run the latest apps. A codebase that is literally changing the world we live in - and not always for the better. Join Dylan Beattie at BeyondTech 2019 for a stark, sobering look at the real cost of the code we're shipping every day. What's the real cost of code - to our organisations, to our society, to our environment? How can we help our teams and users understand that cost? And what can we do to reduce it?

real-cost-of-the-code codebase ethics tech leadership diversity

---

About the speaker...

Dylan is actively involved in the international software development community. As well as his work with Skills Matter, he runs the London .NET User Group, he's on the programme committee for NDC Conferences, and he's a frequent speaker at conferences and technical events around the world.

Dylan grew up in southern Africa, moving to the UK with his family when he was ten. He's a Microsoft MVP on the Visual Studio and Developer Tools programme, and he holds a degree in Computer Science from the University of Southampton. He's a guitar player and songwriter, known for creating musical parodies about software development. He's into skiing, scuba diving, Lego, cats, travel and photography, and he's normally found hanging around user groups, pubs and rock bars in London wearing a big black hat.

Read Dylan Beattie's blogs:

The Horrors Lurking in your Legacy Codebase

×

Social Problems have Social Solutions: A Case Study with Homelessness

Alex Stephany

Tech for Good

---

employment

work

training

socialimpact

diversity

closingskillsgap

crowdfunding

homelessness

techforgood

employment work training socialimpact diversity closingskillsgap crowdfunding homelessness techforgood

---

About the speaker...

Beam lets anyone be part of the long-solution to homelessness by funding employment training for a homeless person. Beam is partnered with the Mayor of London and leading homeless charities who refer individuals to the platform. The world's first platform of its kind, Beam has won 1st Prize in the London Homelessness Awards and Best Use of Technology in the Homeless Sector. Beam was named by The Guardian as one of the most important social tech innovations of 2018 and the Financial Times as one of Europe's 100 digital champions. Before Beam, Alex was CEO of JustPark where he led what was the largest ever crowdfunding round for a tech startup. He is also the author of The Business of Sharing, a leading book on the sharing economy, and a tech advisor to the city of Seoul.

×

12:30

Invalid Time

Invalid Time

Tea & Coffee Break

12:45

Invalid Time

Invalid Time

UKBT Presentation – Making the UK the most diverse tech sector in the world

Mark Martin

Diversity & Inclusivity

---

diversity

inclusivity

tech

diversity inclusivity tech

---

About the speaker...

Mark is an international speaker travelling to different countries advocating tech for good and digital skills. Also Mark is actively involved in the UK tech sector, supporting tech companies and promoting cultural diversity within organisations.

×

Knowing Me Knowing you.... Ahaaaaa!

Jenny Martin

Diversity & Inclusivity

---

psychology

people

flow

diversity

This can be very demoralising. Perhaps we should stop trying so hard to be rounded individuals and work on having rounded teams instead?

A strengths-based approach to performance development helps us flourish and be happy.

In this talk Jenny explores the psychology of flow and how celebrating our differences and individuality brings unity, cooperation and harmony to teams.

psychology people flow diversity

---

About the speaker...

Jenny believes that great teams are built on collaboration, shared responsibility and by embracing individuality and diversity. Jenny is active in the software development community as an expert in team collaboration and effectiveness and a regular speaker at events across Europe. She has 20+ years of leadership experience delivering large scale projects on multiple platforms, tools and technologies in the customer loyalty, retail and finance sectors.

×

13:15

Invalid Time

Invalid Time

Lunch

14:15

Invalid Time

Invalid Time

KEYNOTE




Panel Discussion on Diversity and Inclusivity in Tech hosted by Nancy Evbuomwan

Nancy Evbuomwan

Diversity & Inclusivity

---

panel

inclusivity

tech-for-good

diversity

ethics

beyondtech

panel inclusivity tech-for-good diversity ethics beyondtech

---

About the speaker...

×

15:00

Invalid Time

Invalid Time

Tea & Coffee Break

15:15

Invalid Time

Invalid Time

2

Lightning Talk: From Prison to Start-Up Entrepreneur; Digital Solutions that Pave the Way in Social Tech

Sabine Vreugdenhil and Michael Vreugdenhil

Closing the Skills Gap

---

diversity

pinkumbrellastudios

code4000

digital

social-impact

coding

inclusivity

This 10-minute lightning talk will introduce Code 4000 and Pink Umbrella Studios, their roads into existence, as well as provide practical insights as to how you can use technology to create a social impact network.

diversity pinkumbrellastudios code4000 digital social-impact coding inclusivity

---

About the speakers...

Sabine is in an entrepreneurial couple with Michael Vreugdenhil, who have set up Pink Umbrella Studios to empower (ex)offenders with the means to create their own future using tech. As a result, charities and social enterprises benefit from a professional website at minimum costs. Together, they share a passion for entrepreneurship and campaign for equality in digital tools.

Michael is in an entrepreneurial couple with Sabine Vreugdenhil, who have set up Pink Umbrella Studios to empower (ex)offenders with the means to create their own future using tech. As a result, charities and social enterprises benefit from a professional website at minimum costs. Together, they share a passion for entrepreneurship and campaign for equality in digital tools.

×

Lightning Talk: Putting Top Coding Challenge Solutions to Work

Angela Bates

Tech for Good

---

diversity

data-driven

callforcode

tech-for-good

In 2018, 'Call for Code' captured the world's imagination with over 100,000 developers from 157 countries stepping up to solving critical problems caused by natural disasters.

Hear how developers - using the power of code - changed the world for the good of everyone, with some of the best solutions being deployed in the field right now. This year, Call for Code are focusing on individual health and community well being, and are looking for solutions to ensure that the vulnerable are kept safe and healthy in the event of a natural disaster. Be inspired to build something amazing with code to help answer the call.

diversity data-driven callforcode tech-for-good

---

About the speaker...

Born to a family of entrepreneurs and co-founder of two businesses Angela has a passion for innovation. Today she has the privilege of helping developers, be successful with IBM technologies. Angela formulates programmes that build trust and respect via developer advocacy, promotes corporate-to-startup engagement, builds relationships with technical community influencers and defines strategies that support new digital routes to market.

×

15:30

Invalid Time

Invalid Time

How Continuous Learning Helps Closing the Skills Gap In Software Engineering and Development

Wendy Devolder

Closing the Skills Gap

---

diversity

tech-for-good

closing-the-skills-gap

diversity tech-for-good closing-the-skills-gap

---

About the speaker...

I am very proud of the thriving ecosystem our community has evolved into over the years, the depth and breadth of skills and expertise shared here every day is simply incredible! I look forward to the years ahead, when we will be launching ever more channels and ways to share this expertise with the global engineering community, and love to hear your thoughts and ideas to make it happen.

×

Lightning Talk: Diversify your Company: Providing Skills and Employment to People from Disadvantaged Backgrounds

Richard McMenamin

Tech for Good

---

diversity

employment

training

disadvantaged

asylum-seekers

refugees

In this talk, Richard McMenamin will look at how providing training and employment to people from disadvantaged backgrounds can help them find a place in society. He will explore what organisations can gain from providing employment and mentoring, and what considerations and learnings Capgemini discovered along the way. He will also hear from someone from a refugee background, now in full-time employment as a web developer.

diversity employment training disadvantaged asylum-seekers refugees

---

About the speaker...

×

15:45

Invalid Time

Invalid Time

Lightning Talk: Quality Education for 25 Million Out of School Kids

Ali Chaudhry

Closing the Skills Gap

---

diversity

tech-for-good

closing-skills-gap

In this talk, Ali Chaudhry will share his journey of starting a charity school in the slums of Islamabad when he was only 18. The challenges his team faced and how they overcame them. You will learn how his team is using technology to ensure checks and balances in day to day operations of the schools and how this model will be scaled to address the education emergency in Pakistan.

diversity tech-for-good closing-skills-gap

---

About the speaker...

Ali is also running a charity named Renaissance which operates number of charity schools for the disadvantaged communities in Pakistan. His schools focus on quality education where technology is thoroughly integrated in classrooms and day-to-day operations. He has also launched a number of AI-based technology products in Pakistan, disrupting the Agriculture sector through Qurbani App and Education sector through Naseem Education.

×

Lightning Talk by Sara Shahvisi

Sara Shahvisi

Diversity & Inclusivity

---

diversity

inclusion

She will invite you to go beyond mainstream conceptions of inclusion and design, urging you to think historically, confront power, subvert paradigms and engage at the system level.

×

16:00

Invalid Time

Invalid Time

Round Table Session: Diversity & Inclusivity

Jennifer Riggins

Diversity & Inclusivity

---

diversity

roundtable

inclusion

Day 2, 2 May starts 16:00 (Track 1: CTRL)

Round Table Session: Diversity & Inclusivity
Jennifer Riggins

diversity roundtable inclusion

---

About the speaker...

Currently based in London, she writes around tech ethics, agility, accessibility, diversity and inclusion, testing, DevOps, happiness at work, API strategy, the Internet of Things, microservices and containers, developer relations, and more. Follow her on Twitter @jkriggins.

×

Round Table Session: Closing the Skills Gap

Nathalie Christmann-Cooper

Closing the Skills Gap

---

diversity

roundtable

inclusion

ethics

skills-gap

Day 2, 2 May starts 16:00 (Track 2: TAB)

Round Table Session: Closing the Skills Gap
Nathalie Christmann-Cooper

diversity roundtable inclusion ethics skills-gap

---

About the speaker...

During her career break, Nathalie undertook a self-directed learning path to master HTML, CSS and Javascript through various online courses, all from the kitchen table. Nathalie worked remotely under the branding of SheCodes, building bespoke websites for individuals and SMEs as well as providing digital training for non-tech individuals in managing the presence of their website and social media platforms.

Nathalie co-founded TreatOut, a greenfield food tech startup project which is tackling the issues faced when trying to dine out with food allergies and intolerances. She was accepted onto the 5th cohort of Google Campus for Mums Startup Programme at Campus London in October 2015 and was named one of the 15 small business owners joining the FSB's national taskforce established to promote women in enterprise in July 2016. To step up to the role of technical co-founder Nathalie undertook a Full Stack Bootcamp with Le Wagon London in 2016 and has since become a passionate advocate for Women in Tech.

Outside of work, Nathalie blogs about her career development from a solo, self-taught coder to becoming an agile software engineer. You can often find her painting in a field with a glass of whiskey and a packet of chocolates somewhere deep in the Kent countryside.

×

16:30

Invalid Time

Invalid Time

KEYNOTE




Keynote: Walking the Walk - Moving from the Why to the How

Sinead Bunting

Diversity & Inclusivity

---

digitalskills

inclusion

diversity

keynote

digitalskills inclusion diversity keynote

---

About the speaker...

Sinead's 'day job' is in marketing, specialising in digital performance marketing and creative brand transformation. Most recently she was VP of Marketing for Monster in Europe, the global jobs website. Passionate about encouraging diversity and success in business, she not only created the TTC but also the 'Monster Confidence' programme and tour, working with social enterprise Stemettes for the last three years, helping school children and university students gain greater confidence to achieve and realise their huge potential in a STEM career.

Twitter: @sineadbunting

×

17:30

Invalid Time

Invalid Time

BeyondTech 2019 - Final Wrap-up

17:40

Invalid Time

Invalid Time

End of BeyondTech 2019 - See you in 2020!
SkillsCasts
The Cost of Code

Coders code. That's what we do. We write functions and classes and modules and we conjure amazing systems out of thin air. Electrons dance at our command; with a few keystrokes we can solve the most complex calculations, find hidden patterns in the data of our everyday lives, and send information...

real-cost-of-the-code codebase ethics tech leadership diversity

2

Keynote: Closing the Skills Gap: Russ Shaw in Conversation with Sarah Luxford

The tech sector has witnessed unprecedented growth in recent years and is of increasing significance to the performance of the UK economy. The pace at which the sector continues to expand means that demand for skilled digital workers is outstripping supply – tech companies are confronted with a...

leadership digital-skills fireside diversity tech-for-good keynote closing-the-skills-gap

Neurodiversity in Tech

Auticon has developed a unique process to attract, assess, train and retain highly skilled autistic adults as IT consultants. Ray will share their process and the experience that some of their clients have had in working with consultants on the spectrum as part of neurodiverse teams.

neurodiversity diversity inclusivity beyondtech

Hate Speech as a Service

Moderating discriminatory user content is a significant challenge for many online communities, especially in today's climate of polarized ideologies and increased xenophobia. Timothy Quinn, technology lead at Hatebase, will discuss some of the ways Hatebase has devised to identify and analyze...

ai data diversity data-analytics big-data content-moderation hate-speech nlp

Keynote: Networking at Conferences for Autistic People and Introverts

Networking is something that can help our career progression. Whether it be at conferences or in the office, learning and building rapport helps people learn about each other.

diversity networking people keynote

Why Ethics Matter And What we Forget About Our Past

Just as tech can empower, there are dangerous ideas that can be quickly spread. In order to combat this, you need education from early on, to encourage young people to become adults who challenge and ask why and say NO - even when your CEO says you should.

diversity education whitefragility postcolonialism history ethics

Keynote: Walking the Walk - Moving from the Why to the How

Sinead will discuss the work of the Tech Talent Charter, what its signatories are doing their improve inclusion and diversity and what has been learned so far. She will share insights, ideas and examples that the audience can use to move the dial on diversity and thus deliver success in their own...

digitalskills inclusion diversity keynote

UKBT Presentation – Making the UK the most diverse tech sector in the world

Mark Martin will present the story of UKBT and how they became one of the most Influential diversity groups within the UK. He will share their unique journey and how they had taken to raise the representation of BAMEs in tech. Also, he will provide some practical solutions for creating an...

diversity inclusivity tech

Keynote: Can Democracy Survive the Internet?

Jamie Bartlett will examine the current long term threats to democracy and society from current and emerging technologies, before then looking at the changes needed to rescue it.

emerging-technologies internet democracy diversity tech ethics

Keynote: Digital Activism - Saving the World with Open Data

Jaya will talk about her journey as a Norm Entrepreneur, from digital agency to tech social enterprise, and how we all need to go beyond tech to save the planet.

supplychaintransparency modernslavery opendata tech-social-enterprise diversity

Diversity in Tech: Throwaway or Here to Stay?

For every 1 of venture capital investment in the UK, just 1p goes to all-female led teams. Diversity initiatives and a government agenda are now in place to counter this long-lived trend. But do they have a backbone or are they just well-meaning Initiatives that only scratch the surface of the...

inclusion diversity

Inspire and Engage Digital Makers of All Ages and Backgrounds

If you're not already passing it on down - what sort of legacy will you leave?

diversity digital-makers closing-the-skills-gap stem

How Continuous Learning Helps Closing the Skills Gap In Software Engineering and Development

Wendy will share how a culture supportive of community-led continuous learning helps close skills and talent gaps in your engineering team.

diversity tech-for-good closing-the-skills-gap

Lightning Talk: Quality Education for 25 Million Out of School Kids

Pakistan has 6th largest population of the world with more than 25 million out of school children. More than 50 million children study in government schools where the quality of education is below average with no focus on developing 21st Century Skills.

diversity tech-for-good closing-skills-gap

Data for the public good.

How can we move beyond private enclosure models of data ownership towards developing models of the use of data that can help frame and secure the public good?

diversity ethics responsible-ai artificial-intelligence

Lightning Talk: Putting Top Coding Challenge Solutions to Work

Hurricanes, floods, wild fires, earthquakes and other natural disasters claim thousands of lives every year. Although you can not prevent natural disasters, in today's data-driven world, it is developers and technologists that hold the key to preparing for them and mitigating their...

diversity data-driven callforcode tech-for-good

2

Lightning Talk: From Prison to Start-Up Entrepreneur; Digital Solutions that Pave the Way in Social Tech

Technology is readily available and cheap as ever. Yet, a large number of people struggle with digitally illiteracy and are not able to fully harness and capture the benefits that technology has to offer. Code 4000 and Pink Umbrella Studios are two examples of digital solutions that pave the way...

diversity pinkumbrellastudios code4000 digital social-impact coding inclusivity

Just Add Diversity - Why a Diverse Tech Industry Isn't Enough

In recent years there has been a near universal acknowledgement that the tech industry is not a diverse one.

inclusivity diversity ethics

Designing a Feminist Alexa: An Experiment in Feminist Conversation Design

The Feminist Internet is a collective whose work pushes to create a fairer and more equal internet for all.

feministtechnology alexa voicetech ethicalai feministinternet diversity tech-for-good ethics

Panel Discussion on Diversity and Inclusivity in Tech hosted by Nancy Evbuomwan

Join us for a panel session to discuss Diversity and Inclusivity in Tech hosted by Nancy.

panel inclusivity tech-for-good diversity ethics beyondtech

Psychological Safety: Overprotection or Not?

Psychological safety is being able to show and employ one's self without fear of negative consequences of self-image, status or career" (Kahn).

diversity ethics inclusivity psychological-safety

Knowing Me Knowing you.... Ahaaaaa!

In our constant pursuit of success and self-improvement, we find ourselves focusing on our weaknesses and comparing ourselves to our peers.

psychology people flow diversity

It's Just Data

Nathalie has spent the past three years working on an ambitious tech project and she's been told she'll fail. Why? "Because it's too hard. Because it's too big a problem to solve." She has been told to simplify, to get data on board quickly, to create the illusion of success to gain...

transparency startup ethics data diversity

Effective Ethics for Busy People

Ethics are increasingly being discussed in the World of technology.

ethics leadership techforgood

2

Altruistic Algorithms? Data for Good Done Right

DataKind is a global network of pro bono data scientists, helping charities do good with data.

diversity ethics tech-for-good beyondtech

Social Problems have Social Solutions: A Case Study with Homelessness

Hear from Alex Stephany, Founder and CEO of Beam: an innovative way of helping homeless people for the long-term. Working with the Mayor of London and leading charities, Beam is the world's first platform that crowdfunds employment training for homeless people.

employment work training socialimpact diversity closingskillsgap crowdfunding homelessness techforgood

Lightning Talk: Diversify your Company: Providing Skills and Employment to People from Disadvantaged Backgrounds

Capgemini has partnered with Code Your Future, a non-profit coding academy, to provide digital and team-working skills and employment opportunities to refugees and other disadvantaged groups.

diversity employment training disadvantaged asylum-seekers refugees
Photos