2 DAY CONFERENCE
Haskell eXchange 2019
Topics covered at

#haskellX
Back for an eighth instalment, the Haskell eXchange is an annual conference created for and by the Skills Matter community. An opportunity for Haskellers to meet, learn and share skills, discover emerging technologies and help evolve the Haskell ecosystem. Everyone is welcome to join, whether you are an expert or a beginner, whether you are a commercial user, an academic or a hobbyist, we'd love it if you join us this year at the Haskell eXchange!
Keynote: We are Thrilled to have Philip Wadler Keynote Haskell eXchange 2019!
Join Philip for a Keynote at this years HaskellX!
Philip Wadler has contributed to the designs of Haskell, Java, and XQuery, and is a co-author of XQuery from the Experts (Addison Wesley, 2004) and Generics and Collections in Java (O'Reilly, 2006).
Keynote: We are Thrilled to have Simon Peyton Jones back to Keynote Haskell eXchange 2019!
Come and join Simon for a Keynote at HaskllX 2019!
Simon Peyton Jones, MA, MBCS, CEng, graduated from Trinity College Cambridge in 1980. Simon was a key contributor to the design of the now-standard functional language Haskell, and is the lead designer of the widely-used Glasgow Haskell Compiler (GHC). He has written two textbooks about the implementation of functional languages.
CodeNode
CodeNode is the UK's largest venue dedicated to Technology events and was designed to provide a space for Skills Matter's community of software professionals to come together and enjoy meetups, conferences, training and networking events. With fantastic transport links and located in the heart of London's Tech City, Codenode welcomes thousands of engineers each year, who come together to learn and share skills, exoerience and collaborate on projects.
CodeNode features six dedicated event spaces, a large break-out area, complete with fully-licensed bar, reliable wifi, plenty of power sockets, and 6 dedicated event and collaboration spaces.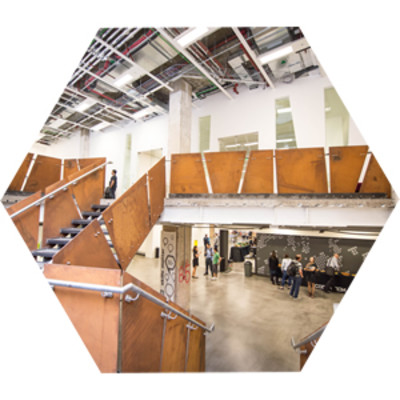 Help Us Shape the Conference - Share your ideas here!
We'd love your ideas on how we can better create the next edition! Let us know what kind of conference you would enjoy, share with us which experts you would like to learn from and contribute to the direction of the event! Share your ideas in the form below.
Volunteer at Haskell eXchange 2019!
Want to help us facilitate a great conference? Help us set up the conference spaces, introduce talks and speakers, field Q&A questions with mics, or support some of the workshops and hacks we've got in store? Sign up as a volunteer and get a free ticket to the conference!
We ask all volunteers to help us with the set up of the conference on 10 October (the day before the conference) and and some hours of your time during the conference, for example to compare the talks or help field questions with mics.
If that sounds like fun, email conferences@skillsmatter.com and we'll be in touch shortly to sign you up to this year's volunteering team.
<
Haskell eXchange Scholarship Plan
Skills Matter is proud and happy to share our Haskell eXchange Diversity Scholarship Plan which provides support to those from traditionally underrepresented and/or marginalized groups in the technology and/or open source communities who may not have the opportunity to attend Haskell eXchange for various reasons.
Scholarships are awarded based on a combination of need and impact. Scholarship recipients will receive a complimentary ticket to the conference.
Please note, travel expenses are not covered under this scholarship and are the responsibility of the scholarship recipient.
Eligibility
Applicants should be from a traditionally underrepresented and/or marginalized groups in the technology and/or open source communities and be unable to attend without some assistance.
We look forward to having you at Haskell eXchange 2019!
To apply please fill in this form:
Whether you are seeking to improve visibility of your tools, devices or projects, or simply would like to support Haskell eXhange's passionate community through your engagement, our sponsorship team will be able to help you select the best sponsorship package for you! Email sponsors@skillsmatter.com or phone 0207 183 9040.
Available Packages
128-BIT SPONSORSHIP

Engagement Benefits

Exhibitor booth (3m x 1.5m) in central conference break-out area
6 free conference tickets, worth £650 each (subject to availability) which you can gift to your clients, your engineering team or members of Computing At School (teachers learning computing to teach the new National Computing Curriculum)
6 free exhibitor passes
4 of your #HaskellX related tweets retweeted by @skillsmatter before or during the conference
25 conference party drink tokens to give away at your booth
2 gifts or printed items in swag bags
2 places at speakers dinner
Set one of the Hack Challenges and award a prize to the winner of your challenge, at the Haskell Hackathon 2019
Your 300-word news item, interview or blog post plus visual announced on conference sneak preview pages and in social media
Your 140 char post-conference News Item & hotlinked URL shared in post-conference email shared with all attendees

Brand Visibility Benefits

Your (large) logo displayed on:

Haskell eXchange 2018 Sponsor Pages (size relative to sponsorship level)
Your dedicated 200-word Company Profile with visual on skillsmatter.com
All Haskell eXchange 2018 Conference Pages (at bottom of page)
Haskell Bytes Meetup pages, which feature monthly community events leading up to the conference
In pre- and post conference attendee news update emails
Name badges worn by every attendee
Printed conference programme booklet
Main Stage re-Boards and on banners throughout the venue
Conference Closing Speech Sponsor Thank You Slide
Conference swag bags

Featured at the Haskell eXchange 2019 Party

On party tickets
On beer mats
To discuss sponsorship opportunities please contact the team:
Hold tight, skillscasts coming soon!