2 DAY CONFERENCE
Clojure eXchange 2019
Topics covered at

#clojurex
If you're looking for the best place to learn about Clojure, Functional Programming and network with like-minded people, then Clojure eXchange 2019 is the conference you simply can't miss. Meet with the world's leading experts on Clojure and learn the latest concepts and applications of Clojure to help your teams in their projects.
Excited to have Chris McCormicks joining us this year for a Clojure eXchange keynote!

Chris McCormick is an artist, musician, and hacker working at the interface of code and the arts. For three decades he's been doing weird things with computers and has presented work at Euro Python, Freeplay Independent Game Developers Conference, Electrofringe, Linux.conf.au, and other game/art/tech conferences.

What will you be sharing this year? What inspired you to give this talk?

I'll be giving an update on Thumbelina, the pocket-sized MIDI controller which I spoke about last year; using ClojureScript to build web decentralization tools; and building games tech with ClojureScript and Infinitelives.
Which other talks from Clojure eXchange are you excited about? And why?
Only a couple of other talks are up but I'm especially excited to hear what Mr. Tellman has to say.
What made you want to be a part of Clojure eXchange this year?
Last year was my first Clojure eXchange and there was so much interesting and thought-provoking material and everybody seemed so nice and welcoming.
Do you have any blog posts/podcasts or materials you think people might enjoy reading before coming along to your talk?
Here is a Hacker News post about a games tech thing I built with ClojureScript. It really blew up this week with retweets from e.g. Daniel Higginbotham of "Joy of Clojure" fame:
https://news.ycombinator.com/item?id=20723366
More on the game's tech we've been building: http://infinitelives.github.io/
Info about the Ferret/Clojure-driven MIDI controller can be found here: https://bzzt.studio/
Tools for decentralization and freedom of expression:
https://github.com/chr15m/dirc https://github.com/chr15m/bugout
If you could use code/software development to fix anything I society what would it be and why?
Since the time of Pericles, freedom of expression has been a strong foundation of liberal democracy. I am hoping to build more things that play a small part in protecting freedom of expression for human beings.
Catch Chris McCormick at Clojure eXchange London this December! More info on our Programme Page
---
CodeNode
CodeNode is the UK's largest venue dedicated to Technology events and was designed to provide a space for Skills Matter's community of software professionals to come together and enjoy meetups, conferences, training and networking events. With fantastic transport links and located in the heart of London's Tech City, Codenode welcomes thousands of engineers each year, who come together to learn and share skills, exoerience and collaborate on projects.
CodeNode features six dedicated event spaces, a large break-out area, complete with fully-licensed bar, reliable wifi, plenty of power sockets, and 6 dedicated event and collaboration spaces.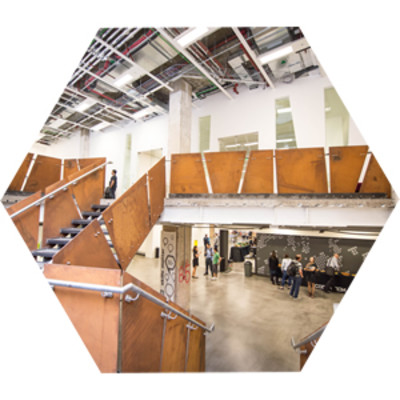 Call for Papers is now CLOSED
Thanks for submitting a proposal, the response's been overwhelming and we are currently working on selecting talks. Click here to stay up to date and find out more on speakers as we'll start publishing the line-up very soon!
Volunteer at Clojure eXchange London 2019!
Interested in Clojure, and eager to learn the latest news? You have the chance to get a free ticket to Clojure eXchange London 2019! All we need from you is some help in setting up the conference, and some hours of your time on the days of the conference! You will be free to attend the conference for the remainder of the time. Are you ready then?
Email us at conference-team@skillsmatter.com and we will put your name down as a volunteer for Clojure eXchange London 2019! Shifts and detailed info will be confirmed closer to the conference.
Clojure eXchange London 2019 Diversity Scholarship Plan
Skills Matter is proud and happy to share our Clojure eXchange London Diversity Scholarship Plan which provides support to those from traditionally underrepresented and/or marginalised groups in the technology and/or open source communities who may not have the opportunity to attend Clojure eXchange London for various reasons.
Scholarships are awarded based on a combination of need and impact. Scholarship recipients will receive a complimentary ticket to the conference.
Please note, travel expenses are not covered under this scholarship and are the responsibility of the scholarship recipient.
Applicants should be from a traditionally underrepresented and/or marginalized groups in the technology and/or open source communities and be unable to attend without some assistance.
We look forward to having you at Clojure eXchange London 2019!
To apply please fill in this form:
Available Packages
To discuss sponsorship opportunities please contact the team:
Press Pass Registration
Skills Matter gives out Press Passes to both in-house and freelance editors, journalists, bloggers and influencers. We encourage those who have a genuine passion for tech and love to share great stories with tech communities and industries to apply.
Hold tight, skillscasts coming soon!