FullStack 2020 conference returns to New York City for its second edition abroad following the success of FullStack NYC 2019 and FullStack London. Join us and learn from the foremost experts in JavaScript, NodeJS and IoT fields.
Join us at FullStack NYC 2020 on May 14th - 15th
FullStack conferences are rooted in expert stories and case studies in the JavaScript, Node, Angular and IoT spaces. For the second year running, we will be heading to NYC to work with the US community of FullStack devs and IoT makers. Other topics explored will include ES6, CSS3, Machine Learning, Functional Programming, Software Craftsmanship, Testing and various frameworks including D3js, React, Angular, Node, Babylon, Ember and more!
We are thrilled to announce that 2020's schedule will include keynotes from Una Kravets Alex Blom and Tomomi Imura! Keep an eye on the programme for all the updates to the line-up!
Fullstack NYC - Highlights from Skills Matter.
To get an idea of all that you can expect to learn from at FullStack NYC 2020, check out FullStack NYC 2019's Highlights and SkillsCasts.
Follow #FullStackNYC on twitter and let us know what you think.
Your Experience Onsite
Teas, coffees and refreshments will be available throughout the event. If you have any dietary requirements, please notify the Skills Matter staff who will be able to assist you.
Have you checked if the sessions you'd like to attend have some special entry requirements? You might need to use your laptop or have pre-installed some software in order to fully enjoy one of the talks. Please note that all Keynotes will be live-streamed in an overflow room if the main room reaches full capacity.
Volunteer
Get a free ticket in exchange for some help setting up the conference and a few hours on the days of the conference.
More information here
Code of Conduct
We are committed to providing a friendly, safe and welcoming environment for all. Learn more in our Code of Conduct.
Impressions of previous editions
Convene - 237 Park Avenue
Convene at 237 Park Avenue is a signature meetings and events 'venue of the future', featuring a built-in fireplace, curated art, bronze bar taps, video walls, and plush lounge seating.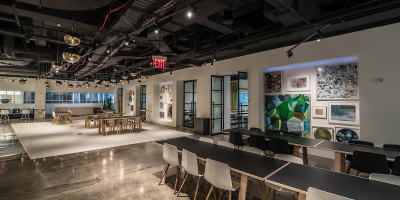 Convene - 237 Park Avenue
237 Park Avenue, Midtown, Lobby Level, Entrance on - Lexington Avenue between 45th & 46th Streets 888.730.7307, New York, 10017, US
---
View details, travel and nearby hotels
Call for Papers
Would you like to speak at FullStack NYC 2020? We want to hear your talk proposals! Talks will be selected by Skills Matter and the Programme Committee on the basis of making the conference a varied, diverse and valuable event.
Deadline for submission is COB Wednesday 7th December 2019.
To apply, head to our Call For Papers form
Call for Volunteers at FullStack NYC 2020
Would you like to help us facilitate a great conference? Help us set up the conference spaces, introduce talks and speakers, field Q&A questions with mics, or support some of the workshops and hacks we've got in store? Email us at conferences@skillsmatter.com and we will put your name down as a volunteer for FullStack NYC 2020! Shifts and detailed info will be confirmed closer to the conference.
Help Us Shape the Conference - Share your ideas here!
We'd love your ideas on how we can better create the next edition! Let us know what kind of conference you would enjoy, share with us which experts you would like to learn from and contribute to the direction of the event! Share your ideas in the form below.
To discuss sponsorship opportunities please contact the team:
Hold tight, skillscasts coming soon!