Want to catch up on the latest developments ideas, and best practices in Cucumberworld? Want to hear from the creator of Cucumber Aslak Hellesøy? We are proud to present the third annual CukeUp!, held at Skills Matter London.
Under Cucumber creator Aslak Hellesøy's expert guidance, we present a fast-paced day packed with 30-minute talks on everything Cucumber.
Tickets 2014
If you'd like to join us and 100+ other developers passionate about Cucumber, BDD, TDD and more you can find more information about Cukeup 2014 on the #Cukeup webpage.
CukeUp! 2015

Two days in London

Want to learn how BDD can help you and your team combat complex software problems? Want to network with your peers tackling similar software problems? Then join us in March for our fourth edition of this much loved conference.

cucumber bdd cucumber-pro agile ddd

CukeUp! NYC 2014 - All about BDD

Two days in New York City

This two day conference and tutorials will explore various aspects of BDD in this New York community event. CukeUp! is organised and curated in partnership with Cucumber Limited and also runs annually in London.

cucumber bdd testing gherkin acceptance-testing cukeup

CukeUp! 2014

Two days in London

CukeUp! 2014 is a fast-paced conference co-organised by Skills Matter and Cucumber Limited - the company behind Cucumber. Together, we've been assembling the community since 2011 for this intense conference - this year we've added a day of workshops to allow you explore topics in their...

cucumber bdd testing gherkin tdd unit-testing cucumber-jvm cukeup cucumber-pro ruby

CukeUp! NYC

One day in New York City

CukeUp! NY 2013 was the first ever conference all around BDD in NY.

cucumber elixir testing automated-testing bdd

CukeUp!

One day in London

Skills Matter and Aslak Hellesøy, the creator of the popular Cucumber BDD tool, have partnered to organise CukeUp! .

CukeUp! is taking place in London today (March 24th 2011). It's a one day conference packed with half hour talks about all things related to the Cucumber BDD tool and ecosystem....

cucumber bdd atdd tdd ruby java .net
The Skills Matter eXchange
Located just a five minute walk from Barbican and Old Street Stations and a 15 minute walk from Kings Cross and St Pancras Stations, the Skills Matter eXchange provides a great selection of event spaces with all the facilities you need for a vibrant, interactive and successful Tech Event.
How to contact Skills Matter
Local Hotels
We recommend the following hotels:
Please note that our company discounts vary between hotels and have individual terms and conditions and hence might not be available upon your booking.
Alternatively we find this site useful for booking hotels in London:
Fantastic space for your Tech event
Whether you are organising a hackathon, an (un)conference, a training course, product launch or meeting, our experienced event team loves to help you make your event stand out!
Fully equipped, with well working WIFI and projection facilities, and with AV, power points and white boards available in most of our space, the Skills Matter eXchange provides:
one auditorium, seating up to 125 people (theatre style)

two spacious event-, or training rooms, each seating up to 70 people theatre style or 25 people class room style

one bright training or meeting room, seating up to 14 class room style or 18 Board room style)

one training or meeting room, seating up to 8 people class room or Board room style.

two funky break-out areas serving complementary coffee & tea throughout your event.
How can we help organise your event?
We'd love to find out how we can help make your event stand out! Contact us with your requirements - and our experienced events team will start working with you, to make it happen!
Get in touch with us today!
Phone: +44 (0) 207 183 9040

Email: info@skillsmatter.com

Address: Skills Matter, 116-120 Goswell Road, London, EC1V 7DP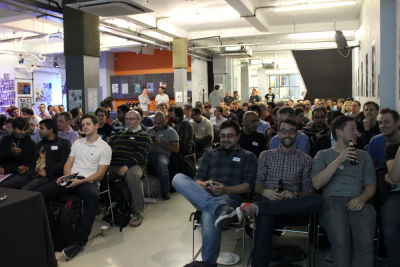 To discuss sponsorship opportunities please contact the team: