Want to take a deep dive into the world of .Net? Want to understand what a SPA app is, as well as delve into some of the choices you have in implementing one? The Progressive .NET Tutorials are the antidote to the traditional conference format where speakers have too little time to explain complex ideas or provide any depth of understanding. Over the course of 3 days, the Progressive .NET Tutorials offered a dozen four-hour sessions, allowing the speaker time to explore a topic in depth.
2013's theme: Single Page Applications (SPA)
SPA applications have become the next big thing, with MS even introducing template support for building them in Visual Studio. But for many people a SPA application still remains a mystery and the choice of libraries overwhelming. In addition, we will have a more general track that offers tutorials, as always, on best practice for .NET developers. If you want to understand the 'state of the art' our mission is to help you.
All of This year's Skills Casts have been uploaded and available below.
The Skills Matter eXchange
Located just a five minute walk from Barbican and Old Street Stations and a 15 minute walk from Kings Cross and St Pancras Stations, the Skills Matter eXchange provides a great selection of event spaces with all the facilities you need for a vibrant, interactive and successful Tech Event.
How to contact Skills Matter
Local Hotels
We recommend the following hotels:
Please note that our company discounts vary between hotels and have individual terms and conditions and hence might not be available upon your booking.
Alternatively we find this site useful for booking hotels in London:
Fantastic space for your Tech event
Whether you are organising a hackathon, an (un)conference, a training course, product launch or meeting, our experienced event team loves to help you make your event stand out!
Fully equipped, with well working WIFI and projection facilities, and with AV, power points and white boards available in most of our space, the Skills Matter eXchange provides:
one auditorium, seating up to 125 people (theatre style)

two spacious event-, or training rooms, each seating up to 70 people theatre style or 25 people class room style

one bright training or meeting room, seating up to 14 class room style or 18 Board room style)

one training or meeting room, seating up to 8 people class room or Board room style.

two funky break-out areas serving complementary coffee & tea throughout your event.
How can we help organise your event?
We'd love to find out how we can help make your event stand out! Contact us with your requirements - and our experienced events team will start working with you, to make it happen!
Get in touch with us today!
Phone: +44 (0) 207 183 9040

Email: info@skillsmatter.com

Address: Skills Matter, 116-120 Goswell Road, London, EC1V 7DP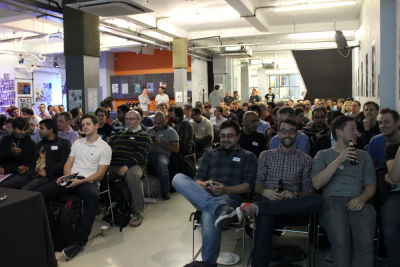 To discuss sponsorship opportunities please contact the team: