Would you like to join 100+ experts, developers and thinkers passionate about all things functional? Do you wish to learn and share common challenges and ideas across the different languages of the functional programming paradigm? The functional programming eXchange brings together the best minds in Scala, F#, Clojure, Haskell and more.
Join Simon Peyton-Jones for an adventure with types. Find out the latest in F# with Don Syme. Learn what David Pollak has been up to developing Lift 3.0 and what Robert Rees thinks about Clojure & Scala. And benefit from the experience of Robert Pickering, Nic Ferrier, Adam Granicz, Alain Frisch, and Paul Dale.
Check out the packed programme, each session offers enlightened insight and exciting ideas.
The Skills Matter eXchange
Located just a five minute walk from Barbican and Old Street Stations and a 15 minute walk from Kings Cross and St Pancras Stations, the Skills Matter eXchange provides a great selection of event spaces with all the facilities you need for a vibrant, interactive and successful Tech Event.
How to contact Skills Matter
Local Hotels
We recommend the following hotels:
Please note that our company discounts vary between hotels and have individual terms and conditions and hence might not be available upon your booking.
Alternatively we find this site useful for booking hotels in London:
Fantastic space for your Tech event
Whether you are organising a hackathon, an (un)conference, a training course, product launch or meeting, our experienced event team loves to help you make your event stand out!
Fully equipped, with well working WIFI and projection facilities, and with AV, power points and white boards available in most of our space, the Skills Matter eXchange provides:
one auditorium, seating up to 125 people (theatre style)

two spacious event-, or training rooms, each seating up to 70 people theatre style or 25 people class room style

one bright training or meeting room, seating up to 14 class room style or 18 Board room style)

one training or meeting room, seating up to 8 people class room or Board room style.

two funky break-out areas serving complementary coffee & tea throughout your event.
How can we help organise your event?
We'd love to find out how we can help make your event stand out! Contact us with your requirements - and our experienced events team will start working with you, to make it happen!
Get in touch with us today!
Phone: +44 (0) 207 183 9040

Email: info@skillsmatter.com

Address: Skills Matter, 116-120 Goswell Road, London, EC1V 7DP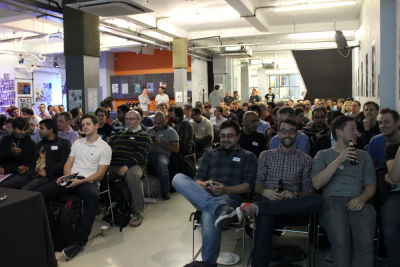 To discuss sponsorship opportunities please contact the team: