2 DAY CONFERENCE
Progressive F# Tutorials NYC 2013
Topics covered at

#progfsharp
Overview
See below for details of the 2014 edition! Skills Matter hosted the second annual Progressive F# Tutorials to New York City in September 2013.
Looking for the 2014 page? Head here - https://skillsmatter.com/conferences/1886-progressive-f-tutorials-nyc-2014
With the help of Rick Minerich we put together a super exciting programme, featuring both an advanced track and a track for beginners. Alongside Don Syme the designer and architect of F#, the conference features Tomas Petricek, Phil Trelford, and Miguel de Icaza!
Beginners Track
Having some trouble getting a handle on F# or just functional programming in general? Work through our beginner track and start from the basics. You can be confident that after two days of full time functional immersion you'll have some seriously improved skills. No prior F# experience is required whatsoever.
Meaty Track
Wishing for more meaty F# content? Our advanced track will dive deep into F# features, explore how to solve difficult problems using functional programming, and perhaps even glimpse the nature of functional programming itself. This is a rare opportunity to push yourself and learn deeply about the language you've already come to love.
Programme
Venue
DUMBO Loft
Built in 1891, during a major period of development when manufacturers were making DUMBO into one of the city's most important industrial neighbourhoods, the structure contributes to the district through its architecture, structure, and the fact that its owners played a significant role in the area's history.
Set between the Brooklyn and Manhattan bridges, DUMBO is the heart of the Tech area in NY, dubbed 'Silicon Alley'. The immediate area hosts a range of hip bars and cafes.
The space is a 5 minute walk from the York Street F and High Street A/C.
Accommodation
Brooklyn
Manhattan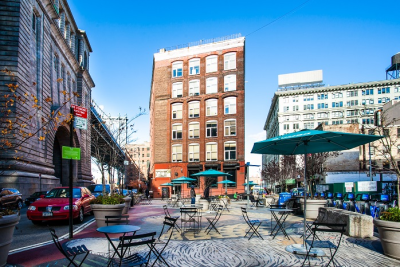 Get Involved
Sponsors
To discuss sponsorship opportunities please contact the team:
SkillsCasts
Keynote: F# in the Open Source World

Don Syme: F# is a powerful open-source language which Microsoft, other companies and the F# community all contribute to. In this talk, Don will discuss how the "F# space" has recently opened up significantly in interesting ways.

f# .net functional
Other Years