ARE YOU LOOKING FOR THE NEXT GAMECRAFT - CLICK HERE
Following the phenomenal success and excitement around Dublin GameCraft, the event is now going global with events planned in London and New York City!
What is Global GameCraft?
GameCraft is a games jam event designed around building the gaming community. We aim to create events which allow game-makers to meet, share ideas, have fun, compete for prizes and most importantly make games!
The first GameCraft took place in Dublin in February 2012 in DIT with over 120 attendees producing more than 35 games. Since then Dublin GameCraft has gone from strength to strength with events in GamesFlá Thurles, in Belfast, and even a charity GameCraft for ISPCA.
What is a Game Jam?
London GameCraft is a game jam event where folks come together to make games! Teams (or brave individuals,) get together and are given a theme early in the morning and from there have as little as 8 hours (sometimes 12 if we're feeling generous). Games are built from scratch on any platform you like, at the end of the day the games are demoed by a panel of judges who award prizes for the best contenders.
It's a great chance to flex your creative muscles, tackle some quick and dirty coding problems, and to get out there and meet other game-makers face to face.
You have 12 hours from then to make a game, followed by networking and play-testing (by the judges and your peers) and at the end winners are announced. We will provide all meals (including a beer & pizza reception in the evening) and refreshments throughout the day. Please bring your own laptop and extension leads (you always need them).
Age Restriction
This event is open to over 18s only. We will look at running an event for under 18s in the future!
Who started it?
Dublin GameCraft was started by game-dev Andrea Magnorsky and coder and tech event organiser Vicky Lee. The two met looking to create a fantastic game jam for the irish indie community, one that would become a staple part of the Irish game dev's yearly diary. Many UK-based developers started attending, including our very own Phil Trelford so we decided that it would be awesome to bring the event to Skills Matter's global community to allow all gaming developers the chance to participate!
Wanna Jam?
Check out the Resources page for a few new tools to add to your game-making belt.
HOLD TIGHT, PROGRAM COMING SOON!
We're currently working on a program. If you have any suggestions, topics you'd like to see covered, or experts you'd like to meet, let us know!
The Skills Matter eXchange
Located just a five minute walk from Barbican and Old Street Stations and a 15 minute walk from Kings Cross and St Pancras Stations, the Skills Matter eXchange provides a great selection of event spaces with all the facilities you need for a vibrant, interactive and successful Tech Event.
How to contact Skills Matter
Local Hotels
We recommend the following hotels:
Please note that our company discounts vary between hotels and have individual terms and conditions and hence might not be available upon your booking.
Alternatively we find this site useful for booking hotels in London:
Fantastic space for your Tech event
Whether you are organising a hackathon, an (un)conference, a training course, product launch or meeting, our experienced event team loves to help you make your event stand out!
Fully equipped, with well working WIFI and projection facilities, and with AV, power points and white boards available in most of our space, the Skills Matter eXchange provides:
one auditorium, seating up to 125 people (theatre style)

two spacious event-, or training rooms, each seating up to 70 people theatre style or 25 people class room style

one bright training or meeting room, seating up to 14 class room style or 18 Board room style)

one training or meeting room, seating up to 8 people class room or Board room style.

two funky break-out areas serving complementary coffee & tea throughout your event.
How can we help organise your event?
We'd love to find out how we can help make your event stand out! Contact us with your requirements - and our experienced events team will start working with you, to make it happen!
Get in touch with us today!
Phone: +44 (0) 207 183 9040

Email: info@skillsmatter.com

Address: Skills Matter, 116-120 Goswell Road, London, EC1V 7DP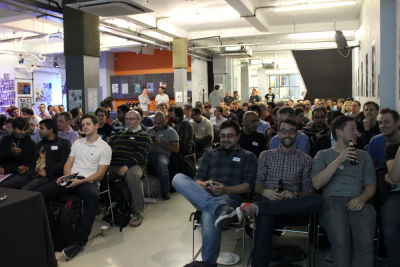 To discuss sponsorship opportunities please contact the team:
Hold tight, skillscasts coming soon!