2 DAY CONFERENCE
CukeUp! 2014
Topics covered at

#cukeup
Overview
CukeUp! 2014 is a fast-paced conference co-organised by Skills Matter and Cucumber Limited - the company behind Cucumber. Together, we've been assembling the community since 2011 for this intense conference - this year we've added a day of workshops to allow you explore topics in their entirety.
Looking for CukeUp! in New York? Head here
Format - A Day of Talks - A Day of Workshops
After four editions of CukeUp! as a one-day conference (3 in London, 1 in New York) we expanded the conference to two days; so more time for coding and meeting others using Cucumber in the workplace. For those amongst that didn't attend, the first day mirrored previous editions - day 2 was split into 3-hour tutorial sessions that aimed to go into specific BDD techniques like Real Options, Impact Mapping and different tools
CukeUp isn't just for geeks.
Product owners, testers and business analysts are fundamental to making BDD work, and our programme reflected that.
That's why we' added a full day of hands-on workshops. The workshops allowed more time to explore aspects of BDD and Specification by Example that interest you the most.
CukeUp isn't just for Londoners
CukeUp now runs in Brooklyn, New York. We return to the DUMBO Loft on September 30th for a day of talks exploring the latest innovations and developments in BDD and Cucumber. More information
Looking for CukeUp! in 2015?###
Head to the event page and get yourself booked on at an early bird rate!
Programme
Day 1: #CukeUp
CukeUp London 2014
Track
Track 1
Track 2
09:30

Welcome!

10:00

Taking Cucumber to the next level

Aslak Hellesøy

---

cucumber-jvm

cucumber-pro

cukeup

cucumber

bdd

The number of teams adopting Cucumber around the world is steadily increasing. This has created a lot more work for the team behind Cucumber. The keynote will explain what the Cucumber core team is doing to make sure the Cucumber ecosystem will stay healthy for years to come.

cucumber-jvm cucumber-pro cukeup cucumber bdd

---

About the speaker...

Aslak Hellesøy is the creator of Cucumber and co-founder of Cucumber Limited. He is a co-author of The Cucumber Book and an early adopter of XP and BDD. Aslak works as a programmer, software architect, business owner and trainer in a variety of industries, including finance, telecom and retail.

Follow Aslak at @aslak_hellesoy

×

10:45

Coffee, Tea & Refreshments

11:00

10 Years of Doing BDD All Wrong

Elizabeth Keogh

---

cukeup

cucumber

bdd

In this talk, Liz takes a look at things we said back then which we shouldn't have; ways in which we abused BDD more than we used it; and things that we're still doing all wrong today. Come along to see the mistakes, listen to the stories, and hear the apologies!

Find the slides of the talk here.

10 years ago, Dan North first came up with the idea of BDD: using examples in conversation to explore the behaviour of systems, then carrying those examples into code. Since then, we've learnt a lot about how BDD works, how it works best, and how it can fail horribly! Even the most experienced BDD practitioners have learnt a lot from their failures... but what were they? And how are we failing now?

cukeup cucumber bdd

---

About the speaker...

Liz Keogh is a Lean and Agile consultant based in London. She is a well-known blogger and international speaker, a core member of the BDD community and a contributor to a number of open-source projects including JBehave. She specializes in helping people use examples and stories to communicate, build, test and deliver value, particularly when faced with high risk and uncertainty. Liz's work covers topics as diverse as story-writing, haiku poetry, Cynefin and complexity thinking, effective personal feedback and OO development, and she has a particular love of people, language, and choices. She has a strong technical background with over 20 years' experience in delivering value and coaching others to deliver, from small start-ups to global enterprises. Most of her work now focuses on Lean, Agile and organizational transformations, and the use of transparency, positive language, well-formed outcomes and safe-to-fail experiments in making change innovative, easy and fun.

×

BDD for financial calculations: Excel vs. Given-When-Then, or both?

Gaspar Nagy

---

specflow

gherkin

cukeup

cucumber

bdd

This session describes how to use Excel combined with Gherkin-based BDD tools (Cucumber, SpecFlow, etc.) to fulfil the requirements for calculations based on project experience.

For calculations the key examples are usually given as input-output tables that describe what expected calculation result the system should provide for the different input figures. As for these applications even small mistakes can quickly cause big losses, you better describe them in a way that both the business and the development team can understand them. In our projects most of the stakeholders use and like Excel for describing these and they are masters in doing this. Excel seems to be their DSL, so let's try to use it for generating automated tests!

You can find the slides of Gaspar's talk here

specflow gherkin cukeup cucumber bdd

---

About the speaker...

Gáspár Nagy is the creator and main contributor of SpecFlow, regular conference speaker, blogger, editor of the BDD Addict monthly newsletter (http://bddaddict.com), co-author of the "BDD Books - Discovery: Explore behaviour using examples" and "BDD Books - Formulation: Express examples using Given/When/Then" .

Gáspár is an independent coach, trainer and test automation expert focusing on helping teams implementing BDD and SpecFlow. He has more than 18 years of experience in enterprise software development as he worked as an architect and agile developer coach.

×

11:30

Coffee, Tea & Refreshments

11:45

"Given When Then" considered harmful

Steve Freeman

---

cobol

cukeup

cucumber

bdd

Recently, I've seen several systems with test code that is intended to be "business facing" but that, in practice, is just getting in the way. The test code is bloated and repetitive, and the language of the tests doesn't really explain the original intent.

The tests that I see often remind me of a previous attempt to allow non-technical people to work with computers: Cobol. The features that helped to make it hugely successful, its "English syntax" and flat structure, are also barriers to abstraction and modularity--the techniques we need to cope with scale. Is writing everything out in full the only way we can get our point across?

cobol cukeup cucumber bdd

---

About the speaker...

Steve was a pioneer of Agile software development in the UK, he has built applications for banks, ISPs, financial data providers, and specialist software companies. He has given training courses in Europe, America, and Asia.

×

2

Getting the most out of ATDD - it's not just about writing tests!

Debbie Evans and Peter Thomas

---

sbe

atdd

cukeup

cucumber

bdd

Day 1, 3 Apr starts 11:45 (Track 2)

Getting the most out of ATDD - it's not just about writing tests!
Debbie Evans and Peter Thomas

2 years ago we began our journey with ATDD. We went through the painful transition of asking our users to forget what they previously knew about articulating requirements and start using examples (SBE), we then automated these using Cucumber.

The slides of the talk can be found here

A short time into our journey we started wonder if we were getting the benefits we originally envisaged.. With users still performing manual UAT, Audit still on our back, BA's creating written procedure documents, and hundreds of tests written in an mix of styles…Clearly we weren't...

This talk will go through the issues we faced, the benefits we weren't realising, and how we changed to get the most out of the ATDD process.

sbe atdd cukeup cucumber bdd

---

About the speakers...

Systems thinker, Analyst & Delivery Lead at BAML.

Peter Thomas is an independent software developer, trainer and coach. A generalising specialist, he tries to uncover better ways of developing software by doing it and helping others do it.

×

12:15

Lunch

13:15

Moving away from Legacy code with BDD

Konstantin Kudryashov

---

legacy

agile-processes

impact-mapping

cukeup

cucumber

bdd

Greenfield projects are awesome – you can develop highest quality application using best practices on the market. But what if your bread actually is Legacy projects? Does it mean that you need to descend into darkness of QA absence? Does it mean that you can't use Agile or modern communication practices like BDD?

This talk will show you how to be successful even with the oldest legacy projects out there through the usage of Agile processes and tools like Impact Mapping, Feature Mapping, Example Workshop, Story and Spec BDDs.

legacy agile-processes impact-mapping cukeup cucumber bdd

---

About the speaker...

When not speaking at conferences Konstantin Kudryashov is an Agile blogger, organiser of BDD London meetups, the creator of Behat, Mink, co-creator of PhpSpec and leads the Behaviour-Driven Development (BDD) practice at Inviqa, a leading digital consultancy in Europe. As a communication coach, he has helped teams in many organisations bridge the gap between business and IT using Agile processes and development practices like Scrum, Kanban, BDD, TDD, Collaborative Product Ownership and Deliberate Discovery.

×

2

Conversations, Examples and Living Documents

Pete Buckney and Philip Durrant

---

cukeup

cucumber

bdd

Pete Buckney and Phil Durrant explore the various conversations they want to enable, and the most useful way to capture these, based on experience on recent projects.

Along the way, they will ask a few questions:

Don't the best BDD conversations come from diagrams, maps, and examples?
How can we refactor our living document as easily as our code?
Should we be asking non-devs to write in parseable language?
How do we integrate our awesome TDD practice?

Pete and Phil will present some new tools for conversations that also readily translate into a highly usable living document that reports status and can be refactored easily.

cukeup cucumber bdd

---

About the speakers...

Pete is CTO at Railsbank - enabling fintech companies to access global banking with 5 lines of code, and driving the costs out of finance infrastructure so finance can be more inclusive and less abusive.

What makes Pete tick is working with teams to discover and build the technology a business really needs. He's passionate about using collaborative approaches, and believes in the power of examples to give all relevant experts direct involvement in the software under development.

Pete is active in the Agile/BDD community, speaking at meet-ups and conferences such as DDDX, BDDX and CukeUp. He co-authored SkillsMatter's BDD Fast Track training course with Jenny Martin, and delivers this regularly.

Follow Pete on Twitter @PeteBuckney.

Phil is a developer at Co Made, working in Java on Android and C# on everything else. Prior to that he worked in Operations at a big market research company, giving him something of a grasp on what might be called "Medium Data" and an abiding cynicism about all things research.

He's not really an expert on anything quite yet, but is working on it.

×

13:45

Coffee, Tea & Refreshments

14:00

Let me tell you a story

Seb Rose

---

user-stories

cukeup

cucumber

bdd

What's the relationship between features and stories? What is a 'user' story anyway? Where do acceptance criteria fit in? These questions (and more) are often answered badly - when they aren't ignored completely.

In this session Seb will dissect a user story and find that they come in several shapes and sizes (that change throughout the project lifecycle). He will walk through the evolution of a feature file and see why so many of the text-book examples actually encourage bad habits.

By the end of this session, attendees will walk away being able to describe the multiple uses of user stories as well as understand that misuse is commonplace. They will learn to recognise the value of user stories, appreciate the strengths and weaknesses of typical user story templates, as well as having gained in depth knowledge of the relationship between feature files and user stories. We hope also that attendees will have learnt to identify the shortcomings of typical text-book feature file examples.

user-stories cukeup cucumber bdd

---

About the speaker...

Consultant, coach, trainer, analyst and developer for over 30 years. Seb has been involved in the full development lifecycle with experience that ranges from Architecture to Support, from BASIC to Ruby. He's a partner in Cucumber Limited, who help teams adopt and refine their agile practices, with a particular focus on collaboration and automated testing.

Regular speaker at conferences and occasional contributor to software journals. Co-author of "BDD Books 1: Discovery" (Leanpub), lead author of "The Cucumber for Java Book" (Pragmatic Programmers), and contributing author to "97 Things Every Programmer Should Know" (O'Reilly).

He blogs at cucumber.io and tweets as @sebrose

×

Using ATDD to Build Customers that Care

Sam Hotop

---

atdd

cukeup

cucumber

In this experience report, Sam and Lav will present 3 different views – Developer, Tester, Business Analyst – into their implementation of Acceptance Test Driven Development in a complex, data-driven domain (natural gas pipelines).

Hear how they used ATDD to better engage product owners in the development process, to build a ubiquitous language across the team, to promote faster feedback, and to create a team culture where technologists and product owners alike were deeply invested in the quality of every deliverable and in the system as a whole.

Learning Outcomes:

How can Sam and Lav keep our teams ahead of the curve and focused on innovation? They like book clubs! Learn about the evolution of their version of ATDD, grounded in the team's lunchtime study of Domain Driven Design (Eric Evans) and Specification by Example (Gojko Adzic).
How does the 'knowledge crunch' happen in a complex domain? How can they expand the capabilities of individual team members? ""Everyone's an Engineer"" - learn about their cross-pollination approach to roles - the team jettisoned the standard expectations for roles and had every team member doing things they might not typically do.
~1300 Acceptance Tests implemented In Process - the analytical, data driven nature of the domain made testing through the UI arduous. Learn about the different approach they took, where hidden elements, sleeps, and ajax calls were the least of our worries.
Have you ever been on teams that employed 'non standard' practices? Welcome to the "Test Tent" - their transformation of the standard Test Pyramid into something useful for making s'mores. Learn about the unique challenges they faced as a result of our testing approach."

atdd cukeup cucumber

---

About the speaker...

A technologist with an appetite for destruction, Sam has made a career of seeking out and eliminating weaknesses in software.

He spends his professional life on the road, embedded in delivery teams across a number of domains, teaching clients to "bake quality in" throughout a feature's lifecycle. Sam strives to build teams without walls, where quality is everyone's responsibility and the traditional expectations of developer and tester have less weight than the idea that every engineer does what is right for the team at the time. When he isn't working, Sam enjoys travelling with his wife, playing jazz guitar, speaking Russian, and studying topics in cyber security and pen testing.

×

14:30

Coffee, Tea & Refreshments

14:45

The (Untapped) Power of User Stories

Nat Pryce

---

agile

cukeup

cucumber

bdd

For many Agile teams, "stories" are really requirements given a different name, or merely to-do list items written in an awkward format. Too often each "story" requests a specific technical implementation of a presumed solution. But it hasn't always been this way. In the beginning of years, when the world was new, there was extreme programming, and XP drew a distinction between story telling and problem solving. In this talk Nat Pryce explores the power of user stories!

agile cukeup cucumber bdd

---

About the speaker...

Nat Pryce is a co-author of Growing Object­-Oriented Software Guided by Tests. An early adopter of XP, he has written or contributed to several open source libraries and tools that support TDD and was one of the founding organizers of the London XP Day conference.

He works programmer, architect, trainer, and consultant in a variety of industries, including e-commerce, media, telecoms, finance, retail and marketing communications. He has delivered business-critical systems that range from embedded devices to large compute farms supporting global business.

×

C# Cookware

Manuel Pais

---

c#

.net

cukeup

cucumber

bdd

Join Manuel Pais as he explores C# cookware.

Learn how to

apply recipes from the Cucumber Recipes book in a .Net environment

automate tests in the ancient world of desktop apps depending on cameras, fingerprint readers and other physical devices

Come along to Manuel's session to realize that Cucumber Recipes can be cooked with C# as well. Without burning yourself. Most of the time.

c# .net cukeup cucumber bdd

---

About the speaker...

Manuel tries to get BDD right as a QA engineer by day and by night he writes about DevOps and continuous delivery for InfoQ. He aspires to democracy, collaboration and commitment in the workplace but on less philosophical terms he strives to keep improving his D's (TDD, BDD, CD, DDD) and embrace agile practices.

This ethos has lead Manuel to become lead editor for DevOps at InfoQ, where he enjoys interacting with really smart and open-minded people. Manuel dreams of more free time to hone his technical skills and spends his spare time playing football diva, long distance running and attending geek meetups. He currently tweets @manupaisable (say hi!) and presses words at aspongecake.

×

15:15

Coffee, Tea & Refreshments

15:30

The Post BDD Team

Matt Wynne

---

ruby

cukeup

cucumber

bdd

BDD might be software development nirvana. But what lies beyond? What happens when a team get really, really good at BDD? Can you get so good you don't need it anymore? Let's find out.

Leading BDD expert and co-author of 'The Cucumber Book', Matt Wynne, will explore the post BDD team.

ruby cukeup cucumber bdd

---

About the speaker...

Matt is the author of The Cucumber Book, and in 2013 he cofounded Cucumber Limited with Aslak Hellesøy and Julien Biezemans. Their company was acquired by SmartBear in 2019 and he now works as a BDD Advocate with a mission to maximise the adoption of BDD practices in the software industry.

×

Headless BDD & Responsive Test Automation

Shashikant Jagtap

---

test-automation

phantomjs

cucumber

bdd

Find that with Behaviour Driven Development, running scenarios in the real browser are brittle, hard to maintain and time consuming? Using Headless browsers like PhantomJS and Zombie, we can speed up entire BDD process. Join Shashikant Jagtap who will take you through headless drivers which can be used with popular BDD tools like Cucumber and Behat.

This live demo will cover following topic
- How BDD tools works with acceptance tests and Headless drivers
- Benefits of using Headless Drivers
- Introduction to PhantomJS & Zombie
- Up Cucumber+Capybara+Poltergeist - Setting up Behat+Mink+Zombie - Automating responsive websites with Headless drivers

test-automation phantomjs cucumber bdd

---

About the speaker...

Shashikant is a software professional, he loves automating software delivery using DevOps and test automation tools. Shashikant uses Apple Developer tools like Swift, Xcode, XCTest, Xcode Server. In addition to Open-Source Contributor and is the author of BDDfire (Ruby) and XCFit (Swift) framework.

Check out his blog about iOS Development Toolkit : XCBlog

×

16:00

Pizza and Drinks

16:30

Park Bench Panel Discussion

---

cucumber

bdd

17:00

To The Pub
Day 2: CukeUp Tutorials
Hands-on workshops to learn and share skills
Track
Track 1
Track 2
Track 3
09:30

Welcome!

10:00

Cucumber and the JVM

Aslak Hellesøy

---

jvm

groovy

selenium

cucumber-jvm

cucumber

bdd

Day 2, 4 Apr starts 10:00 (Track 1)

Cucumber and the JVM
Aslak Hellesøy

Aslak will show you how to use Cucumber-JVM with Java, Groovy or your favourite JVM language to drive both client-side and back-end code.

This session was a hands on workshop and therefore not recorded*

You'll build a web application, and along the way we'll discuss how to structure your tests to keep them fast, reliable and valuable. You will also learn how to integrate Selenium WebDriver with Cucumber-JVM and how to set up a project in an IDE such as IntelliJ IDEA or Eclipse.

jvm groovy selenium cucumber-jvm cucumber bdd

---

About the speaker...

Aslak Hellesøy is the creator of Cucumber and co-founder of Cucumber Limited. He is a co-author of The Cucumber Book and an early adopter of XP and BDD. Aslak works as a programmer, software architect, business owner and trainer in a variety of industries, including finance, telecom and retail.

Follow Aslak at @aslak_hellesoy

×

Impact Mapping

Jenny Martin

---

impact-mapping

cucumber

bdd

Day 2, 4 Apr starts 10:00 (Track 2)

Impact Mapping
Jenny Martin

Impact Mapping is a visual mind-mapping technique, which can be transformational in bridging the gap between technical and business teams.

This session was a hands on workshop and therefore not recorded*

Impact Mapping helps teams collaborate to break down and prioritise scope into increments of business value and explore options as to how to deliver business capabilities in the shortest possible time frame.

Kicking off development in this way facilitates key buy in from business stakeholders on philosophies underpinning Agile and BDD practices, particularly flexible scope.

For development teams, Impact Mapping provides a unified vision and clear line of sight between features and measurable business benefits, hence driving delivery of lean software and ensuring teams are collaborating on the highest value examples.

By the end of this highly interactive session, participants will have gained hands-on experience of Impact Mapping and an understanding of how to apply this technique to maximise the effectiveness of other BDD and Agile practices in their organisation.

You can find the slides of this session here.

impact-mapping cucumber bdd

---

About the speaker...

Jenny Martin coaches in Agile delivery, quality improvement and innovation gaming. She has a deep appreciation for business goal segmentation and the visualization of what she labels 'horizons of value' within business strategy.

Jenny believes that great teams are built on collaboration, shared responsibility and by embracing individuality and diversity.

She has 20 years experience across multiple platforms, tools and technologies in disciplines spanning the entire software development life-cycle and a demonstrable track record of delivering complex IT systems in the customer loyalty, retail and finance sectors

Jenny is a frequent speaker at Agile Testing and BDD events, and provides training in collaborative software development techniques and public speaking.

×

BDD with PHP & Behat

Konstantin Kudryashov

---

behat

cukeup

cucumber

bdd

Day 2, 4 Apr starts 10:00 (Track 3)

BDD with PHP & Behat
Konstantin Kudryashov

Many of us know that BDD is a very popular and mainstream practice in language stacks like Ruby, JS, .Net and Java. But what if your language of choice is PHP? This session will introduce you to the PHP BDD toolset and will guide you through your first steps automating your web applications user-stories.

This session was a hands on workshop and therefore not recorded*

behat cukeup cucumber bdd

---

About the speaker...

When not speaking at conferences Konstantin Kudryashov is an Agile blogger, organiser of BDD London meetups, the creator of Behat, Mink, co-creator of PhpSpec and leads the Behaviour-Driven Development (BDD) practice at Inviqa, a leading digital consultancy in Europe. As a communication coach, he has helped teams in many organisations bridge the gap between business and IT using Agile processes and development practices like Scrum, Kanban, BDD, TDD, Collaborative Product Ownership and Deliberate Discovery.

×

13:00

Lunch at #CukeUp!

14:00

2

Cucumber JS with Node, Angular and Friends

Matt Wynne and Julien Biezemans

---

cukeup

cucumber

bdd

Day 2, 4 Apr starts 14:00 (Track 1)

Cucumber JS with Node, Angular and Friends
Matt Wynne and Julien Biezemans

Matt and Julien will show you how to use Cucumber-JS to drive both client-side and back-end code. You'll build a working full-stack JavaScript application, and along the way we'll discuss how to structure your tests to keep them fast, reliable and valuable.

This session was a hands on workshop and therefore not recorded*

cukeup cucumber bdd

---

About the speakers...

Matt is the author of The Cucumber Book, and in 2013 he cofounded Cucumber Limited with Aslak Hellesøy and Julien Biezemans. Their company was acquired by SmartBear in 2019 and he now works as a BDD Advocate with a mission to maximise the adoption of BDD practices in the software industry.

Julien is a fervent BDDer who loves writing code, building well-crafted conducive software as well as sharing knowledge and techniques with other passionate people.

×

Feature Injection

Chris Matts

---

feature-injection

cukeup

bdd

Day 2, 4 Apr starts 14:00 (Track 2)

Feature Injection
Chris Matts

Chris Matts will present Feature Injection to the CukeUp family. Feature Injection has four steps (Yes, it has grown a step).

This session was a hands on workshop and therefore not recorded*

Step 1 is "Hunt the value". Step 2 is "Agile VSM" (VSM = Value Stream Mapping as Feature Injection was too obscure). Step 3 is "Break the Model". Step 4 is "User ROI" or improve the return on Investment to the User (or how does UX fit in this Agile stuff). This tutorial will cover Agile VSM and Break the Model, both of which were discovered to fit with the Given-When-Then format. He will briefly introduce "Hunt the Value" and "User ROI" but wont talk about them too much as he finds them a bit boring these days.

Chris had something to do with the Given-When-Then format but he can't really remember so he prefers to blame Dan North for everything. He writes about Real Options and IT Risk Management at theitriskmanager.wordpress.com and upsets people on Twitter using the handle @papaChrisMatts

feature-injection cukeup bdd

---

About the speaker...

Chris Matts has over 10 years of experience in investment banking including strategy work as a practitioner rather than as a consultant. His specialist areas are real options, IT risk management, business value and agile analysis. He has been working in exotic credit derivatives for the past few years.

×

BDD with Cynefin

Elizabeth Keogh

---

cynefin

cukeup

cucumber

bdd

Day 2, 4 Apr starts 14:00 (Track 3)

BDD with Cynefin
Elizabeth Keogh

We're doing BDD. We're specifying by example. We're writing scenarios down and possibly automating them. We're having conversations, and the conversations are useful!

This session was a hands on workshop and therefore not recorded*

So what's next?

In this unique tutorial we mix BDD with Cynefin, the sensemaking framework that helps makes sense of the world around you and the problems you encounter. Find out where BDD works... and where it fails. Use the patterns you already know... but at scale. Identify risk, embrace uncertainty, continuously improve and create glorious innovation - not just in software, but in the whole of your life!

(Please note that this tutorial focuses entirely on the conversational aspects of BDD, and does not touch automation or tools.)

cynefin cukeup cucumber bdd

---

About the speaker...

Liz Keogh is a Lean and Agile consultant based in London. She is a well-known blogger and international speaker, a core member of the BDD community and a contributor to a number of open-source projects including JBehave. She specializes in helping people use examples and stories to communicate, build, test and deliver value, particularly when faced with high risk and uncertainty. Liz's work covers topics as diverse as story-writing, haiku poetry, Cynefin and complexity thinking, effective personal feedback and OO development, and she has a particular love of people, language, and choices. She has a strong technical background with over 20 years' experience in delivering value and coaching others to deliver, from small start-ups to global enterprises. Most of her work now focuses on Lean, Agile and organizational transformations, and the use of transparency, positive language, well-formed outcomes and safe-to-fail experiments in making change innovative, easy and fun.

×

17:00

To The Pub
Venue
Skills Matter
---
WE'VE MOVED: Skills Matter has recently relocated to a fantastic new venue
CodeNode
10 South Place, London EC2M 7EB.
---
CodeNode provides a great selection of event spaces with all the facilities you need for a vibrant, interactive and successful tech event.
How to contact Skills Matter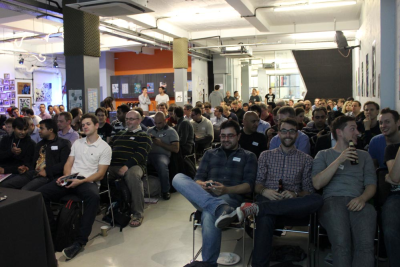 Get Involved
Sponsors
To discuss sponsorship opportunities please contact the team:
SkillsCasts
Photos
Other Years
CukeUp! 2016 - the progressive BDD conference for testers, devs and product owners

Two days in London

Want to meet the international BDD community and learn and share skills with some of the world's top experts, devs, testers and product owners? Discover the latest best practices and ideas? Then come and join us at CukeUp! 2016 in London!

cucumber-pro agile cucumber bdd

CukeUp! 2015 Waiting List

One day in London

This is the waiting list for CukeUp! 2015. Please drop your contact details to hear if a space at the event is available.

CukeUp! 2015

Two days in London

Want to learn how BDD can help you and your team combat complex software problems? Want to network with your peers tackling similar software problems? Then join us in March for our fourth edition of this much loved conference.

cucumber-pro agile ddd cucumber bdd

CukeUp! NYC 2014 - All about BDD

Two days in New York City

This two day conference and tutorials will explore various aspects of BDD in this New York community event. CukeUp! is organised and curated in partnership with Cucumber Limited and also runs annually in London.

gherkin acceptance-testing cukeup testing cucumber bdd

CukeUp! NYC

One day in New York City

CukeUp! NY 2013 was the first ever conference all around BDD in NY.

elixir automated-testing testing cucumber bdd

CukeUp! 2013

One day in London

Want to catch up on the latest developments ideas, and best practices in Cucumberworld? Want to hear from the creator of Cucumber Aslak Hellesøy?

We are proud to present the third annual CukeUp!, held at Skills Matter London.

cucumber bdd atdd tdd

CukeUp!

One day in London

Skills Matter and Aslak Hellesøy, the creator of the popular Cucumber BDD tool, have partnered to organise CukeUp! .

CukeUp! is taking place in London today (March 24th 2011). It's a one day conference packed with half hour talks about all things related to the Cucumber BDD tool and...

cucumber bdd atdd tdd ruby java .net