Overview
Join fellow Droidcon attendees for this exciting hackathon and workshop weekend, where you can make new partnerships, deep-dive into Gradle with Hans Dockter or ROM cooking with GenyMobile, create something new (and maybe win a prize!), and have a lot of fun in the process!
Programme
Venue
Skills Matter
---
WE'VE MOVED: Skills Matter has recently relocated to a fantastic new venue
CodeNode
10 South Place, London EC2M 7EB.
---
CodeNode provides a great selection of event spaces with all the facilities you need for a vibrant, interactive and successful tech event.
How to contact Skills Matter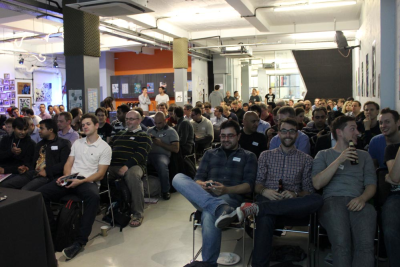 Sponsors
To discuss sponsorship opportunities please contact the team:
SkillsCasts
Hackathon : demos and prizes!

After two days of exciting workshops and over 24 hours of coding, the Droidcon Hackathon & Workshops Weekend culminates in the Hackathon demos and prizes!

android
Other Years