1 DAY CONFERENCE
DDD eXchange NYC 2014
Topics covered at

#DDDX
Overview
Want to find out about the latest and greatest in DDD? Interested in meeting the rest of the community and big names like Eric Evans, Vaughn Vernon, and Paul Rayner?
Then don't miss out on DDD eXchange 2014, where you'll discover all the newest innovations in Domain-Driven Design and get the chance to learn and share solutions and new ideas!
This eXchange brings together the Domain Driven Design community with the experts who lead it for a day of networking, sharing new ideas, creating partnerships, and learning from the best and brightest in the field.
Since Eric Evans' book over 10 years ago, Domain Driven Design has evolved dramatically, and although projects and technologies have changed, the principles of DDD remain. The eXchange will give you the chance to explore the philosophy of DDD, and how to apply this to your current and future software projects.
Early Bird Tickets Are Available - Get Yours Today!
In conjunction with the DDD eXchange, we're also running Vaughn Vernon's three day workshop, constructed to get you and your team implementing Domain Driven Design effectively in your current and future projects.
If you book on this course you will receieve a free DDD eXchange ticket! Email sales@skillsmatter.com for enquiries.
Programme
Track
Talks
08:45

Registration

09:15

Challenging the fundamental assumptions of DDD

Eric Evans

---

Day 1, 29 Sep starts 09:15 (Talks)

Challenging the fundamental assumptions of DDD
Eric Evans

DDD is a philosophy of software development. It is not a static set of patterns. As technology and project goals change, we have to go back to the deep principles and reapply them to new circumstances. We also have to look at the results we've had in previously conventional projects and scrutinize things that are not working well. Yet all that relies on the fundamentals of DDD being solid.

In this talk, Eric tries to dig down to the root assumptions, and challenge each one as well as he can. A practical philosophy such as DDD can only stay relevant if we continue to shake it up, discarding things that don't hold up and clarifying the enduring aspects.

Eric tries to shake the foundation: not to make the case for DDD, but to probe for problems. He might even convince a few people that DDD is unsound! He might inspire a few others to look for deeper insight and a fresh distillation of DDD.

---

About the speaker...

Eric Evans, author of Domain-driven Design: Tackling Complexity in the Heart of Software is a thought leader in software design, domain driven design and domain modeling and particularly focuses on strategic design.

Eric is a key contributor of dddcommunity.org and speaks at many industry conferences, e.g., InfoQ

Eric's upcoming blog will be published on his website domainlanguage.com.

×

10:30

DDD in Rails and NoSQL - A Deeper Dive

Paul Rayner

---

nosql

rails

ruby

dddxnyc

ddd

In this presentation we highlight lessons learned from porting the entire DDD sample app to Rails, using MongoDB for persistence.

We cover questions such as: How does the choice of Ruby impact implementing the DDD building block patterns? How well does Rails support doing DDD? Is using a document store for aggregate design and eventual consistency just a big mistake? And does the DDD sample app reek of the "design damage" David Heinemeier Hansson talks about?

Ruby has a rich OSS ecosystem, a vibrant agile development community, a strong commitment to design, and many talented modelers and designers. Yet using DDD to do strategic design and domain modeling is virtually unknown in the Ruby community. Bridge the gap between DDD and Ruby via a deeper exploration of what a DDD implementation can look like through Ruby/NoSQL-colored glasses,

nosql rails ruby dddxnyc ddd

---

About the speaker...

Paul Rayner is a programmer, coach, mentor, trainer, and popular international conference speaker.

With over 25 years of hands-on software development experience in a variety of industries, Paul is a seasoned agile design coach and leadership mentor, helping teams ignite their design skills. His company Virtual Genius LLC, provides training and coaching in collaborative design for agile teams. Paul is from Perth, Australia, but lives, works and plays in Denver, Colorado, with his wife and two children.

He tweets with an Australian accent at @ThePaulRayner and blogs at thepaulrayner.com.

×

11:30

Park Bench Panel Discussion

---

Day 1, 29 Sep starts 11:30 (Talks)

Park Bench Panel Discussion


This interactive discussion will allow questions from the floor to be answered and discussed by the speakers of the day and attendees. We're extremely grateful that Steve Bohlen will be chairing the discussion.

×

12:00

Lunch

13:00

2

Modeling with Actors

Vaughn Vernon and Brian Dunlap

---

actor-model

ddd

In my book, Implementing Domain-Driven Design, I stated that "DDD isn't first and foremost about technology." I then placed DDD on higher ground with the words: "At its most central principles, DDD is about discussion, listening, understanding, discovery, and business value, all in an effort to centralize knowledge." We must keep this foremost in mind as we tackle any complex software problem with DDD, and yet we are fooling ourselves if we think we can avoid paying tribute to languages and technologies. Languages and technologies tend to shape the way we express our business domain as software models, and using Actor Model is no different. In some cases the tactics we used in years past go by the wayside while others emerge as new tools of the trade.

In this talk I share ways that Actor Model shapes the expression of software models. I start out by sharing some consulting experiences and how Actor Model can be used to solve specific problems. At full flight I then turn the controls over to a DDD-newcomer to share his specific project experiences while employing both strategic and tactical design. Brian Dunlap, Tech Lead at Southwest Airlines, will share some lessons learned using DDD with Actor Model in the domain of the world's largest domestic airline.

actor-model ddd

---

About the speakers...

Vaughn is a veteran software craftsman, with more than 25 years of experience in software design, development, and architecture. He is a thought leader in simplifying software design and implementation using innovative methods.

As a tech lead at Southwest Airlines, Brian has more than 15 years of experience in domains including crew scheduling, passenger reservations, flight operations, and optimization. He is currently using DDD on a large-scale project that will replace several legacy operational systems.

×

14:00

DDD meets BDD

Aslak Hellesøy

---

bdd

ddd

BDD is heavily inspired from DDD and TDD. Following a conversation over a drink with Eric Evans at last year's event, Aslak has agreed to share his experiences with the New York DDD community. Aslak will cover the basics about how these powerful techniques can be used together to create better software.

bdd ddd

---

About the speaker...

Aslak Hellesøy is the creator of Cucumber and co-founder of Cucumber Limited. He is a co-author of The Cucumber Book and an early adopter of XP and BDD. Aslak works as a programmer, software architect, business owner and trainer in a variety of industries, including finance, telecom and retail.

Follow Aslak at @aslak_hellesoy

×

15:00

Ur Domain Haz Monoidz?

Cyrille Martraire

---

ddd

Day 1, 29 Sep starts 15:00 (Talks)

Ur Domain Haz Monoidz?
Cyrille Martraire

You probably can't imagine that Monoids (not monads) are so simple maths creatures that you can understand them in just a few minutes.

You probably can't imagine that Monoids (not monads) are so simple maths creatures that you can understand them in just a few minutes.

But you probably don't imagine either that they can help you craft elegant and powerful domain models that scale very well.

Through various examples, we will have a closer look at monoids used for domain modeling in a style that mixes the best of DDD and FP. Even in languages like Java or C#, this talk will influence your coding style forever!

'More entertaining and educational explanation of Monoids I've heard' - Martin Thompson, DDD exchange London 2014.

ddd

---

About the speaker...

Cyrille Martraire is CTO and partner at Arolla, the founder of the Paris Software Craftsmanship community and a regular speaker at international conferences.

With 17+ years of experience in startups, software vendors and banks, Cyrille still calls himself a developer. He's passionate about design in every aspect: TDD, BDD and in particular DDD.

Cyrille also has an extensive knowledge of capital market finance, and he's the author of the book Living Documentation to be published by Addison-Wesley Professional in 2018.

Cyrille tweets at @cyriux, and you can find out more about Arolla here.

×

15:45

Pizza and Drinks

16:00

Park Bench Panel Discussion

---

Day 1, 29 Sep starts 16:00 (Talks)

Park Bench Panel Discussion


This interactive discussion will allow questions from the floor to be answered and discussed by the speakers of the day and attendees. We're extremely grateful that Steve Bohlen will be chairing the discussion.

×

17:00

Party! - Drinks Reception
Venue
DUMBO Spot
Built in 1891, during a major period of development when manufacturers were making DUMBO into one of the city's most important industrial neighbourhoods, the structure contributes to the district through its architecture, structure, and the fact that its owners played a significant role in the area's history.
Set between the Brooklyn and Manhattan bridges, DUMBO is the heart of the Tech area in NY, dubbed 'Silicon Alley'. The immediate area hosts a range of hip bars and cafes.
The space is a 5 minute walk from the York Street F and High Street A/C.
Accommodation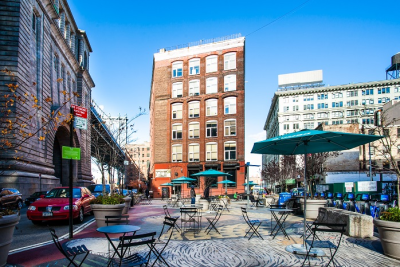 Get Involved
Check back soon to see the latest community blogs
Tweet about it
I'm going to #DDDx on Sept 30th! Join me and other developers using #DDDX
Sponsorship
Fancy being associated with some of the world's leading technologies? Want to attract attention to your own amazing projects and products? Then find out more about sponsoring a Skills Matter event here or give the team a call on +1 347-708-1529.
Call for Papers
The call for papers will be opening soon. Check back for updates.
Sponsors
To discuss sponsorship opportunities please contact the team:
SkillsCasts
2

Modeling with Actors

In my book, Implementing Domain-Driven Design, I stated that "DDD isn't first and foremost about technology." I then placed DDD on higher ground with the words: "At its most central principles, DDD is about discussion, listening, understanding, discovery, and business value,...

actor-model ddd

DDD meets BDD

BDD is heavily inspired from DDD and TDD. Following a conversation over a drink with Eric Evans at last year's event, Aslak has agreed to share his experiences with the New York DDD community. Aslak will cover the basics about how these powerful techniques can be used together to create...

bdd ddd

DDD in Rails and NoSQL - A Deeper Dive

In this presentation we highlight lessons learned from porting the entire DDD sample app to Rails, using MongoDB for persistence.

nosql rails ruby dddxnyc ddd
Other Years
DDD eXchange 2018

Two days in London

Want to hear the latest innovations in the DDD space from the world's DDD experts, and be able to share your own ideas and thoughts across great open sessions? Join us for DDD eXchange in April 2018! Skills Matter presents the 9th DDD eXchange London, the place to go if you're interested...

tdd dddd dddesign ddd eventstorming architecture

DDD eXchange 2017

Two days in London

Want to hear the latest innovations in the DDD space from the world's DDD experts, and be able to share your own ideas and thoughts across great open sessions? Join us for DDD eXchange in April 2017! Skills Matter presents the 9th edition of the DDD eXchange London, the place to go if...

software-architecture event-storming modelling example dddesign ddd domain-driven-design

DDD eXchange 2016

Two days in London

In June 2016 Skills Matter presents the 7th edition of the DDD eXchange London, the place to go if you're interested in Domain Driven Design and associated tools and processes. If you want to hear the latest innovations in this space from the world's DDD experts, and share your own ideas...

software-architect ddd dddx domain-driven-design

DDD eXchange 2015

One day in London

We return this June for another edition of the DDD eXchange. The place to go if you're interested in Domain Driven Design and associated tools and processes.

ddd dddx domain-driven-design

DDD eXchange 2014

One day in London

Want to find out about the latest and greatest ideas & practices in DDD? Interested in meeting the rest of the community and big names like Eric Evans, Martin Thompson and Greg Young ? Then don't miss out on DDD eXchange 2014, where you'll discover all the latest ideas & practices...

ddd domain-modeling reactive-applications event-driven resilient scalable responsive eventstorming domain-driven-design architecture

DDD eXchange NYC

One day in New York City

Want to keep up to date with the latest developments, in Domain Driven Design? Are you keen to learn and share skills with 200+ developers passionate about domain driven design?

dddxnyc domain-driven-design design-patterns architecture nhibernate repository-pattern cqrs

DDD eXchange 2013

One day in London

Skills Matter hosted the fifth annual DDD eXchange led by the father of DDD, Eric Evans. Experts and thought leaders joined together with 125 practitioners and enthusiasts for one of the stand out Software Architecture events in the 2K13 calendar.

dddx domain-driven-design design-patterns architecture nhibernate repository-pattern cqrs ruby-on-rails mongodb clojure

DDD eXchange 2012

One day in London

Now in its 4th year, the DDD Exchange has become one of the focal points of the DDD community. Each year, DDD thought leaders come together with 100+ enthusiasts for a truly interactive session where we delve into the tricky questions that leaders in DDD are struggling with.

domain-driven-design design-patterns architecture nhibernate repository-pattern cqrs actor-model ruby-on-rails mongodb clojure

DDD eXchange

One day in London

Intensive, intimate one day event on Domain Driven Design, bringing together both international and UK experts on Domain Driven Design, Architecture and other interesting ideas and aproaches, including Behaviour Driven Design and Example Driven Design.

domain-driven-design design-patterns architecture nhibernate repository-pattern cqrs actor-model ruby-on-rails mongodb clojure