1 DAY CONFERENCE
Haskell eXchange 2014
Topics covered at

#haskellx
Want to join the dots of the Haskell landscape? Eager to hear from those driving innovations in Haskell in various industry and academic fields? Then join Haskell experts and enthusiasts this October for London's premier Haskell conference.
Featuring a days of talks, demos and discussions, the Haskell eXchange will bring the world's top Haskell and Functional experts together with the super active, passionate and fast growing Haskell community to learn and share skills, exchange ideas and meet like minded people. Don't miss it!
Sponsorship
Fancy being associated with some of the world's leading technologies? Want to attract attention to your own amazing projects and products? Jump onto the sponsorship tab at the top or give the team a call on 0207 183 9040.
More Haskell?
In partnership with the folks at Well-Typed we run public Haskell courses in London. If you want to get up to speed with Haskell and Functional Programming, we have the 'Fast Track to Haskell' course. If you're more comfortable with the fundamentals, why not attend 'Advanced Haskell'?
We are also running a series of new one day courses, including an in-depth look at the Haskell Type System and the GHC's various language extensions.
Day 1: Day 1
Haskell eXchange
Track
Track 1
08:30

Registration

08:55

Opening & Welcome

Andres Löh

---

haskell

haskellx

Opening & Welcome
Andres Löh

Programme Lead for the Haskell eXchange and tech leader Andres Löh opens the day's proceedings .

haskell haskellx

---

About the speaker...

Andres Löh is a long-time functional programming enthusiast. He has started using Haskell in 1997 while being an undergraduate studying mathematics. He obtained his PhD on datatype-generic programming using Haskell from Utrecht University in 2004. Since then, he has continued to use Haskell in research and practice, including teaching various courses both to students and participants from industry. His main interests, next to datatype-generic programming, are embedded domain-specific languages, unleashing the full power of Haskell's type system, parallelism and applying functional languages to real-life problems. Since 2010, Andres is an independent Haskell consultant and partner at Well-Typed LLP.

×

09:00

Safe, Zero-Cost Coercions in Haskell

Simon Peyton Jones

---

functional-programming

haskell

Newtypes are the key to data abstraction in Haskell, and come with an crucial performance guarantee: it doesn't cost anything to use a newtype.

Embarrassingly, this guarantee is weak: it fails as soon as you embed a newtype'd value in a data structure. At the same time, the hugely-popular language feature "generalised newtype deriving" turns out to rely internally on a strong version of the guarantee. And, in the presence of type-level functions, the strong version of the guarantee turns out to be unsound, leading to a notorious type-soundness bug in GHC that has persisted for several years.

As is often the case in Haskell, finding a solid, principled solution to the problem turned out to be far more interesting than we expected, requiring us to distinguish two flavours of type equality (representational and nominal), with a "role system" to allow type-safe abstraction. I think the result is pretty cool. In this talk I'll explain what all the fuss is about.

functional-programming haskell

---

About the speaker...

Simon Peyton Jones, MA, MBCS, CEng, graduated from Trinity College Cambridge in 1980. Simon was a key contributor to the design of the now-standard functional language Haskell, and is the lead designer of the widely-used Glasgow Haskell Compiler (GHC). He has written two textbooks about the implementation of functional languages.

After two years in industry, he spent seven years as a lecturer at University College London, and nine years as a professor at Glasgow University before moving to Microsoft Research (Cambridge) in 1998.

His main research interest is in functional programming languages, their implementation, and their application. He has led a succession of research projects focused around the design and implementation of production-quality functional-language systems for both uniprocessors and parallel machines.

More generally, he is interested in language design, rich type systems, software component architectures, compiler technology, code generation, runtime systems, virtual machines, and garbage collection. He is particularly motivated by direct use of principled theory to practical language design and implementation -- that's one reason he loves functional programming so much.

×

10:00

Coffee, Tea & Refreshments

10:15

Categories for the Working Haskeller

Jeremy Gibbons

---

functional-programming

haskell

category-theory

data-types

generic-programming

The Haskell community is famous - perhaps infamous - for its enthusiasm for category theory. Why is this? Is it important to understand categories before you can understand Haskell programs? Is it an attempt to keep the community as pure as the language? Is it just that Haskell is a refuge for underemployed mathematicians? None of the above!

In this talk, I hope to explain a little bit about how categories can help the working Haskeller. I'll focus on two aspects: categories as an organising principle, helping us to manage generic libraries; and categories as a reasoning principle, helping us to transform programs.

functional-programming haskell category-theory data-types generic-programming

---

About the speaker...

Jeremy Gibbons is Professor of Computing at the University of Oxford, where he is director of the part-time professional master's programme in software engineering. He has been devoted to functional programming since the late eighties; his particular interests are in patterns in functional programming, in reasoning about programs, in generic programming, and in embedded domain-specific languages.

He is Editor-in-Chief of the Journal of Functional Programming, Chair of IFIP WG2.1 on Algorithmic Languages and Calculi (which designed Algol68, although he can claim none of the glory for that), and Vice-Chair of ACM SIGPLAN

×

11:00

Coffee, Tea & Refreshments

11:15

Performance Measurement and Optimization in Haskell

Bryan O'Sullivan

---

functional-programming

haskell

performance

In this talk, I'll discuss performance measurement and optimization in Haskell from the perspective of a library or application programmer.

Included will be a quick tour of some available tools and techniques, pitfalls to avoid, and illustrations about what to look for when your code isn't performing as well as you'd like.

functional-programming haskell performance

---

About the speaker...

Bryan manages the Developer Efficiency team at Facebook. They build and scale the tools that Facebook's engineering teams use to develop products.

Some highlights of their work include scaling up Facebook's source control; developing the Hack programming language; massive automated build and test infrastructure for web and mobile platforms; and automated bug detection.

×

12:00

Lunch

13:00

Rest - Building APIs Easily

Erik Hesselink

---

rest

api

functional-programming

haskell

haskellx

gadt

At Silk, we have an external REST API that people can use to interact with our product. We also have internal services that talk to each other using REST APIs. These all follow a similar structure: there are resources (users, pages), and actions to perform on them (list, get, update, delete). For each API, we also need clients in different languages, and documentation. To build all these APIs, we've written a set of libraries, which we've recently open sourced.

In this talk, I will explain how these rest libraries work. I'll show how APIs are built, how they are run using different web frameworks, and how you can generate API clients and documentation from them. I will detail some of the design choices, like the choice of existentials in resources, and the use of GADTs holding dictionaries for input and output. Additionally, I'll show some possible future directions for the libraries, providing greater extensibility as well as type safety.

rest api functional-programming haskell haskellx gadt

---

About the speaker...

Erik currently works at Silk, where he uses functional programming to build a web application to create and visualize structured data. After his physics and chemistry masters, Erik started working at a small software company building CMS and websites. Wanting to deepen his knowledge of the field, he embarked on a software technology master at Utrecht University. Many courses used Haskell, and he immediately fell in love with the elegance of functional programming. After graduating, he joined what is now Silk.

×

13:45

Coffee, Tea & Refreshments

14:00

2

Coping with change: data schema migration in Haskell

Chris Dornan and Adam Gundry

---

functional-programming

haskell

dsl

haskellx

schema

migration

It's all very well to write a beautiful RESTful web service in Haskell, but software development is an inherently dynamic activity with your specs in constant flux. We need to be able to constantly revise the API specs and data schema, communicating changes to the whole engineering team, without slowing down the development cycle or risking disaster whenever a production server is upgraded.

In this talk we will introduce api-tools, a freely available Haskell library that provides a DSL for describing and performing data schema migrations on JSON structures. It allows us to write a self-documenting, human-readable schema changelog that can be validated by developers and executed during automated deployments.

Iris Connect are developing a video sharing platform that is being deployed in over a thousand schools worldwide. We'll explain how we are using api-tools to handle change in the data model at the centre of this platform. Finally, we'll reflect on a few serendipitous design decisions and on the advantages Haskell brings us.

functional-programming haskell dsl haskellx schema migration

---

About the speakers...

Chris is Chief Engineer for Iris Connect who provide web/video platform to help professionals to record, develop and share their practice.

The core of the new platform is written in Haskell. Chris has been writing Haskell programs since the early '90s, in industry since the early '00s and makes regular contributions to the Haskell open-source eco system.

Follow Chris on Twitter @cdornan

Adam currently works as a Haskell Consultant for Well-Typed LLP. He is a keen Haskell programmer, and completed a PhD in 2013 on combining Haskell with dependent types.

Follow Adam on Github!

×

14:45

Coffee, Tea & Refreshments

15:00

2

Structural Typing for Structured Products

Peter Marks and Tim Williams

---

functional-programming

haskell

Join Tim WIlliams & Peter Marks from Barclays for a talk on structural typing for structured products.

In this talk, Peter and Tim will explain structural typing and compare it to the more usual nominal typing. They will present some code examples from an in-house external DSL, Lucid, for describing exotic equity trades and strategies. Lucid features a type-system that makes significant use of row polymorphism, specifically extensible records and their dual, polymorphic sums with extensible cases.

The pair will demonstrate the use of records and extensible cases through example code written in such a way that it can be re-used in other unanticipated contexts. And compare and contrast with other more mainstream approaches, such as object-oriented programming. Lastly, the duo will explore how row-polymorphism can be used to implement a simple effects tracking system for external DSLs.

functional-programming haskell

---

About the speakers...

Peter has been developing software for over 30 years. As an active member of the OO community, he was a regular speaker at the OT and SPA conferences. In 1999, he co-founded Connextra, pioneering many of today's main-stream Agile practices. For ten years, Peter's primary interest has been functional programming, and he now leads the FPF team at Barclays, developing languages for modelling Structured Products, and tools for pricing and managing trades, in Haskell.

Tim Williams has worked as a software developer in the finance industry for over 10 years, more recently specialising in functional programming languages. He is currently a Haskell developer in the Quantitative Analytics Equity Derivatives Group at Barclays. He holds a PhD in Physics from the University of Bristol.

×

15:45

Coffee, Tea & Refreshments

16:00

Strongly Typed Publish/Subscribe over Websockets via Singleton Types

Oliver Charles

---

haskell

types

websockets

Haskell is a language known for its type safety, but just how far can the type system go? In this talk, Oliver will demonstrate how a publish/subscribe protocol implemented over Websockets has grown from using little type information and progressed to well-typed sessions through the use of singleton types.

We'll see how one can get a lot of the benefits of dependent types in Haskell today, and how tools often seen as purely theoretical have very practical applications.

haskell types websockets

---

About the speaker...

Oliver first discovered Haskell in late 2011, mostly curious as to what this radically different language was all about. After successfully type-checking his first program, he was hooked by the language's combination of succinctness and expressivity, and fascinated by the rich amount of theory and rigour behind the concepts.

Fast forward to 2014, and Oliver is perhaps best known for his yearly 24 Days of Hackage series of blog posts, where he spends 24 days at the end of the year blogging about different Haskell libraries. Whether it's game programming, database querying, type safety, or high performant data processing - there's probably a library about it that he's blogged about!

Oliver is currently the author of a collection of Haskell libraries, a developer for CircuitHub.com, and an active speaker with the London Haskell User Group.

×

16:45

Pizza and Drinks

17:15

Park Bench Panel Discussion

---

haskell

18:00

To The Pub
Skills Matter
---
WE'VE MOVED: Skills Matter has recently relocated to a fantastic new venue
CodeNode
10 South Place, London EC2M 7EB.
---
CodeNode provides a great selection of event spaces with all the facilities you need for a vibrant, interactive and successful tech event.
How to contact Skills Matter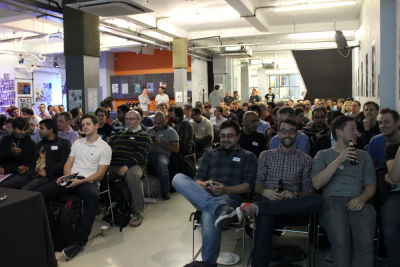 Sponsorship
Fancy being associated with some of the world's leading technologies? Want to attract attention to your own amazing projects and products? Then find out more about sponsoring a Skills Matter event here or give the team a call on 0207 183 9040.
Want your blog featured on our website? Send us a link to your content at marketing@skillsmatter.com
Skills Matter's community conferences are made possible thanks to our passionate community - who constantly feed us with their ideas - and thanks to the generous support of our amazing partners, who help us keep tickets affordable, organize great workshops and are keen to meet you at their booths, to share their projects, tools and frameworks with you.
To learn more about our partners, click on their logo!
If you want to be one of them this year, contact us on +44 207 183 9040 or take a look at the options in our sponsors pack!
To discuss sponsorship opportunities please contact the team: