1 DAY CONFERENCE
Big Data eXchange - the conference for Product Managers & Data Analysts who want to learn how to get value from data
Topics covered at

#bigdatax
Overview
We're creating and collecting more data each year than ever before, but how do we derive value from it?
Few of us have first-hand experience of mining insight out of our data, and yet increasingly our markets demand such insight, and often in real-time. There are practitioners out there in technology and allied fields who have been data-centric for years and they have the skills and insights in how to adopt modern big data technology and use it to great effect. Those are the people we now look at to help bridge the looming gap between data and insight.
Would you like to help evolve & discover technologies & practices to derive value from big data with the world's leading experts in this field?
Join us at the Big Data eXchange on November 26th!
Join the world's leading data practitioners and some 100 members of the UK data science community to learn and share insights, skills and tools and help evolve the technologies and practices in this field.
Great minds on stage
Keynoted by Robert Witoff, Head of Data Science at Coinbase, this year's Big Data eXchange will welcome world leading experts Yodit Stanton (Founder of Atomic data labs), Dr Abigail Lebrecht (Statistical Analyst at uSwitch.com),Andrew Clegg, Felienne Hermans, Tareq Abedrabbo and Jim Webber.
Throught discussions and talks, we'll gain a deep understanding of the opportunities and challenges we face when adopting modern big data technology.
Highly experienced community
You'll be able to discover, help evolve and adopt new technologies and ideas, sharing your experience and perspective with some 100 other members in our community who are tackling the challenges and opportunities of big data technology in their jobs eery day.
Registration open!
Sounds like a valuable day? Than get your ticket today!
Programme
Day 1: Day 1
Big Data eXchange
Track
Track 1
09:00

Registration and Welcome with Coffee, Tea and Pastries

09:30

Interplanetary Insights: Growing Data Science from NASA to the Moon

Robert Witoff

---

bigdatax

data

Interplanetary explorations including NASA's mars rovers, ESA's Rosetta mission and more robotic voyagers have returned some of the world's most exciting Big Data challenges to our space programs. The founder of NASA's IT Data Science team and an engineer on these missions will discuss how an advanced analytics initiative helped inject new technology into the american space program to both grow data science and amplify broad expert data access towards novel insights. Now the head of data science at Silicon Valley Startup (Coinbase), Rob will explore the approach, lessons learned and results of the initiative and pragmatic steps to replicate these successes in your startup, enterprise or national effort to the stars.

Now the head of data science at Silicon Valley Startup (Coinbase), Rob will explore the approach, lessons learned and results of the initiative and pragmatic steps to replicate these successes in your startup, enterprise or national effort to the stars.

bigdatax data

---

About the speaker...

Rob Witoff is the founding Data Scientist of NASA's IT Data Science Team, a Y Combinator startup founder and the Head of Data Science at Coinbase. He holds a Bachelors degree in Aerospace Engineering from the University of Colorado at Boulder.

In 2007 Rob founded his first software company and developed the precursor automation software used to found Apigy Inc in 2009.

Rob then joined NASA where he led development on the interplanetary data simulation and visualization software that was used to plan operations for several NASA and ESA satellites including Rosetta. Rob then spent four years leading the Launch & Space Station Systems engineering for the experimental OPALS laser communication satellite, currently in earth orbit where he was awarded JPL's highest ranking award.

In 2013 Rob merged his Startup, Software and Aerospace work to become NASA's first IT Data Scientist at the Jet Propulsion Laboratory. Rob's team incubated solutions to Big Data problems for space bound explorers, earthborn assets and the people that made them possible.

Rob is currently the Head of Data Science at Coinbase where the open and global economic dataset of bitcoin's blockchain is analyzed to fight fraud and scale a data-driven company.

Find out more about the work of NASA's IT Data Science Team and check out the latest from Coinbase.

×

10:30

Coffee, Tea & Refreshments

10:45

Automating answers to big data traffic questions

Abigail Lebrecht

---

machine-learning

bigdatax

data

r

Successful Internet commerce sites have tens of thousands of unique daily visitors, creating large quantities of noisy traffic data. In the midst of this data are insights about customer behaviour that can help form commercial strategies and data driven decision making, however deriving these insights can be a complex process. Join Dr Abigail Lebrecht to learn how to identify changes in customer behaviour.

Restricting analysis to only looking at basic measurements of traffic numbers inevitably leads to more questions from business analysts - why has traffic increased today? Why has conversion decreased? Which types of customers are coming to the site? Questions of this variety are asked regularly after viewing simple traffic results so a traffic reporting system that executes more sophisticated measurements and analyses is required. Using time series and machine learning and statistical techniques, changes in the data can be isolated to give a daily or weekly detailed snapshot of the underlying customer behaviour prompting these changes.

machine-learning bigdatax data r

---

About the speaker...

Dr Abigail Lebrecht is a Statistical Analyst at uSwitch.com focusing on using statistical and machine learning techniques to get the most value out of available data. She is passionate about encouraging the use of R statistical software techniques and an understanding of uncertainty in big or small data among both developers and commercial roles.

Follow Abigail Lebrecht on Twitter: @A_Lebrecht

×

11:30

Coffee, Tea & Refreshments

11:45

Spreadsheets: The Ununderstood Dark Matter of IT

Felienne Hermans

---

spreadsheets

data-visualization

data

Spreadsheets are used extensively in industry: they are the number one tool for financial analysis and are also prevalent in other domains, such as logistics and planning. Their flexibility and immediate feedback make them easy to use for non-programmers. But they are as easy to build, as they are difficult to analyze, maintain and check. Felienne's research aims at developing methods to support spreadsheet users to understand, update and improve spreadsheets. Inspiration was taken from software engineering, as this field is specialized in the analysis of data and calculations. In this talk Felienne will summarize her recently completed PhD research on the topic of spreadsheet structure visualization, spreadsheet smells and clone detection, as well as presenting a sneak peek into the future of spreadsheet research as Delft University.

spreadsheets data-visualization data

---

About the speaker...

Felienne is assistant professor in software engineering at Delft University of Technology, where she researches end-user programming: how can we get people without training in CS to be awesome programmers. In her PhD work she studied the world's most successful programming language: Microsoft Excel, and developed tools for testing, refactoring and measuring spreadsheets.

In her spare time, Felienne teaches a bunch of kids programming, and she loves playing board games, video games, running and dancing Lindy Hop.

×

12:30

Lunch & Refreshments

13:30

Lies, Damned Lies & Dataviz

Andrew Clegg

---

data-visualization

bigdatax

data

Data visualization is everywhere in the business world, from boardrooms to newspapers to data centres. But not all graphs and charts are as clear as they could be. Many are simply misleading, and the volume and variety of data available today can get in the way of clarity and veracity.

This talk will walk you through some of the fundamental mistakes that can obscure the message, or even result in the viewer taking away entirely wrong conclusions. Afterwards, you will be able to spot when a graphic is misleading or poorly constructed, and avoid making the same mistakes yourself.

data-visualization bigdatax data

---

About the speaker...

Andrew is Director of Learner Analytics & Data Science at Pearson, where he applies machine learning, statistical analysis and data visualization techniques to the challenges of 21st century education.

He has a masters degree in bioinformatics and a doctorate in natural language processing, from Birkbeck, University of London, and has worked in various fields including social media, biomedical research and online gaming analytics.

×

14:15

Coffee, Tea & Refreshments

14:30

Real Time Data Processing for the Internet of Things

Yodit Stanton

---

iot

internet-of-things

bigdatax

data

nosql

Day 1, 26 Nov starts 14:30 (Track 1)

Real Time Data Processing for the Internet of Things
Yodit Stanton

The era of one trillion connected devices is upon us. What will we make of this opportunity and why is everyone so excited about it? This talk is all about real time data processing for the Internet of Things.

By itself, sensor data isn't that interesting it is when the data is put into context and combined with what we already know about the world already that the power is unleashed. We will explore real world examples using data from different types of IOT devices using regression and anomaly detection to create smart environments. We will explore time series analytics to find interesting patterns.

iot internet-of-things bigdatax data nosql

---

About the speaker...

Founder of Atomic data labs, working on making apps a bit cleverer.

×

15:15

Coffee, Tea & Refreshments

15:30

The Ubiquitous Graph: Two Use Cases from the Real World

Tareq Abedrabbo

---

graphs

data-visualization

bigdatax

data

Want to hear how graphs can be used effectively to show data? Join Tareq Abedrabo for this talk as he shares two real world cases involving impact analysis and network optimisation.

There is a growing understanding in our industry of the variety of real world problems that can be modelled and approached as a graph. Indeed, graphs are naturally data-driven and therefore the possibilities are virtually unlimited. In this talk I will be sharing my real world experiences on two interesting use cases: 1) Impact Analysis: Applying graph search and pattern matching algorithms to predict the impact of failure on a large-scale telco network 2) Network Optimisation: Implementing genetic algorithms to efficiently optimise oil flow in an oil extraction network. This talk will explore these use cases detailing the approach, the rationale and the outcome of each one in a way that is applicable within a wider context.

graphs data-visualization bigdatax data

---

About the speaker...

Tareq is Chief Technical Officer at OpenCredo. He is continually involved in the delivery of innovative projects, frequently incorporating NoSQL/Big Data and Cloud platforms, to a wide range of organisations. His approach is highly pragmatic and hands-on, and focuses on problem solving and delivering value to his clients.

Tareq has a strong interest in programming languages, ranging from Scala and Python to Google Go. He has expert knowledge in a number of NoSQL technologies, including Neo4j, MongoDB and Redis. He is also co-author of Neo4j in action, the comprehensive guide to Neo4j.

Tareq has been actively involved with the Spring project since the early days, and has been a committer on Spring Web Services.

Discover more about Tareq's interests on his personal blog, found here.

×

16:15

Coffee, Tea & Refreshments

16:30

Analysing meetup data using R

Mark Needham

---

bigdatax

data

r

nosql

igraph

clojure

The majority of NoSQL meetups in London are hosted on meetup.com and luckily for us meetup.com has an API that allows us to extract all the corresponding data - groups, events, venues, members and RSVPs. In this talk Mark will show how we can use R to gain quick insights into the data using tools like dplyr and ggplot2. We'll also do some social network analysis of the attendees of London's meetup scene using igraph. Finally we'll look at how we could bring together all these insights into a brand new Clojure front end for the meetup website.

bigdatax data r nosql igraph clojure

---

About the speaker...

Mark Needham is a graph advocate and Developer Relations Engineer at Neo4j.

Mark helps users embrace graphs and Neo4j, building sophisticated solutions to challenging data problems. Mark has deep expertise in graph data having previously helped to build Neo4j's Causal Clustering system.

Mark is a co-author of the book 'Graph Algorithms: Practical Examples in Apache Spark and Neo4j', due to be released in early 2019, and writes about his experiences of being a graphista on a popular blog at markhneedham.com. He tweets at @markhneedham.

×

17:15

Pizza and Drinks

17:30

Big Data eXchange Panel Discussion

18:15

To the pub
Venue
Skills Matter
---
WE'VE MOVED: Skills Matter has recently relocated to a fantastic new venue
CodeNode
10 South Place, London EC2M 7EB.
---
CodeNode provides a great selection of event spaces with all the facilities you need for a vibrant, interactive and successful tech event.
How to contact Skills Matter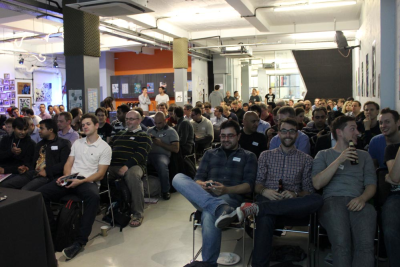 Sponsors
Skills Matter's community conferences are made possible thanks to our passionate community - who constantly feed us with their ideas - and thanks to the generous support of our amazing partners, who help us keep tickets affordable, organize great workshops and are keen to meet you at their booths, to share their projects, tools and frameworks with you.
To learn more about our partners, click on their logo!
If you would like to sponsor this conference, we'd love to hear from you!
Available Packages
64-BIT SPONSORSHIP

Engage with the Big Data community! Show off your team, projects, tools or devices at your Big Data eXchange conference booth!

Brand Visibility Benefits

Your logo (large) on the Big Data eXchange web pages
Your own dedicated partner page on skillsmatter.com
Your logo (large) on all in-venue conference banners
Visibility of your brand and your support for the Big Data eXchange in regular social media updates.

Engagement Benefits

Your own booth at Big Data eXchange (160x80cm)
Your sponsored message with hot linked logo in the Big Data eXchange post-conference newsletter
Two items (leaflet, device, pen or notepad) included in all Big Data eXchange swag bags
5 free tickets to the conference which you can gift to your clients, your engineering team or members of Computing At School (teachers learning computing to teach the new National Computing Curriculum).

32-BIT SPONSORSHIP

Brand Visibility Benefits

Your logo (medium) on the Big Data eXchange web pages
Your own dedicated partner page on skillsmatter.com
Your logo (medium) on all in-venue conference banners
Visibility of your brand and your support for the Big Data eXchange in regular social media updates.

Engagement Benefits

Your sponsored message with hot linked logo in the the Big Data eXchange post-conference newsletter
One item (leaflet, device, pen or notepad) included in all the Big Data eXchange swag bags
5 free tickets to the conference which you can gift to your clients, your engineering team or members of Computing At School (teachers learning computing to teach the new National Computing Curriculum).

16-BIT SPONSORSHIP

Brand Visibility Benefits

Your logo (small) on the Big Data eXchange web pages
Your own dedicated partner page on skillsmatter.com
Your logo (small) on all in-venue conference banners
To discuss sponsorship opportunities please contact the team:
SkillsCasts
Other Years