2 DAY CONFERENCE
iOScon 2014 - The iOS Developer Conference
Topics covered at

#iOScon
Are you an iOS developer or designer who wants to keep ahead of the curve and hear from some of the best minds in the field? Interested in meeting other developers and exploring new techniques and technologies? Keen to collaborate and create something new from scratch at a one-off iOS hacking weekend? Then join us at the first ever iOScon!
Meet top iOS thinkers
We've got a plethora of top experts coming along to share their thoughts with you, including renowned expert Daniel Steinberg as our keynote (as well as giving an exclusive introductory workshop), Martin Pilkington from M Cubed Software on the internals of Autolayout, and Simon Whitaker from Black Pixel on UIkit dynamics and animation.
iOS Hackathon
You'll be treated to four days of pure iOS: two days of practical and inspiring conference talks and labs, followed by a hackathon weekend with lightning talks from the community and great prizes from our sponsors for the best designs and ideas. You'll be able to meet and collaborate with 100+ other devs, and make something new and unique!
Register
Registration is still open, so instead of trawling forums to find the answers to your burning iOS questions you can go straight to the experts.
If this sounds like something you're interested in, get your ticket today - and don't forget to register for the hackathon too!
Day 1: #iOScon
Join Daniel Steinberg, Martin Pilkington, and more for a packed day of iOS!
Track
Track 1
09:30

Registration and Breakfast

09:55

Welcome to iOScon

Paul Ardeleanu

---

Welcome to iOScon
Paul Ardeleanu

Paul Ardeleanu welcomes you to our first ever iOS conference!

---

About the speaker...

Paul is an experienced iphone developer and software engineer with a passion for mobile utilities. He regularly speaks at the iphone user group meetups at London's iphone store and has been predicting the end of computers as we know them - touch interfaces are going to rule the world.

×

10:00

Crazy and Focused

Daniel Steinberg

---

iOS

Crazy and Focused
Daniel Steinberg

Interested to find out what Daniel Steinberg thinks about the motivations of iOS developers? Then make sure you see his keynote!

So much of the time we focus on what we do and how we do it.

We read books on coding, we come to conferences, we download open source and sample code, we read blogs and listen to podcasts.

During this session we'll explore why we do what we do and for whom. Whether you're inspired or depressed by this talk, you will think differently the next time you open Xcode and type Command-Shift-N and you'll pause before you upload your next app to the app store. Uploading is when you sign your name on your work.

iOS

---

About the speaker...

Daniel Steinberg has spent the last three decades working as a professional Swift developer. OK, he hasn't. But he's really enjoying the Swift Programming Language.

Daniel is the author of the best selling books "A Swift Kickstart" and "Developing iOS 7 Apps for iPad and iPhone" (the official companion book to the popular iTunes U series from Stanford University).

He has written apps for the iPhone and the iPad since the SDKs first appeared and has written programs for the Mac all the way back to System 7.

Daniel presents iPhone, Cocoa, and Swift training and consults through his company Dim Sum Thinking. He is the co-host of the Tiny Challenges Podcast. When he's not coding or talking about coding for the Mac, the iPhone, and the iPad he's probably cooking or hanging out with his wife and daughter.

Information on his books is available on the Editors Cut website. Details on his training, and speaking is on the Dim Sum Thinking website.

×

10:45

Refreshments

11:00

Inside Autolayout

Martin Pilkington

---

iOS

autolayout

user-interface

Want to figure out Autolayout and discover how to use it? Then hear it explained at Martin's talk!

Autolayout can seem like a mysterious and confusing technology, powered by dark magic; so much so that some developers question its benefit over the old ways of doing layout.

This talk will attempt to demystify Autolayout by showing you how it works behind the scenes, from turning a set of constraints into a layout to how intrinsic content sizes allow you to build content aware and easily localisable UIs with next to no code.

iOS autolayout user-interface

---

About the speaker...

Martin is a freelance Mac & iOS developer and the owner of M Cubed Software.

He has been writing for Apple's platforms for 10 years. He started tinkering with Autolayout when it was first released and fell in love with it straight away, so much so that he is currently writing a book on the subject called The Autolayout Guide (due out Spring 2014)

×

11:45

Refreshments

12:00

Using Third Party Code In Your Project

Abizer Nasir

---

iOS

open-source

cocoapods

git

xcode

Want an overview of how you can add code to your projects and tips on writing and publishing your own modules? Then come along to Abizer's talk!

You don't have to write all the code in your project yourself. There is an increasing number of third party open source implementations that let you avoid re-inventing the wheel.

There are also a few ways of integrating this code into your project, whether using CocoaPods, Git, Xcode Workspaces, prebuilt libraries, or just copying and pasting the code into your project structure.

iOS open-source cocoapods git xcode

---

About the speaker...

Abizer Nasir is a freelance iOS / OS X developer who has been working full-time in Swift for over a year. He has spoken on a variety of subjects related to Objective-C and Swift development at iOSCon, NSLondon, Swift London, Swift Summit and AltConf. He organises NSCoder Night London.

×

12:45

Lunch

13:45

Your iOS App and Augmenting with Real Life: Lessons Learnt

Kieran Gutteridge

---

iOS

augmented-reality

mobile-application

Do you want to find out how to make your app interact with the real world? Then come along to Kieran's talk!

In this talk, Kieran will be presenting examples and lessons learnt of how using wearables and taking advantage of augmented reality and barcode/qr scanning can offer new opportunities to interact with the users of your application.

iOS augmented-reality mobile-application

---

About the speaker...

Kieran Gutteridge is the co-founder of Intohand, as well as being a developer and entrepreneur, who works with all mobile platforms.

×

14:30

Refreshments

14:45

Advanced Grand Central Dispatch Tricks

Matias Piipari

---

iOS

libdispatch

concurrency

osx

Interested in finding out more about Grand Central Dispatch and learning best practices in how to use it? Then make sure you're at Matias' talk!

Grand Central Dispatch (GCD, or libdispatch) is a powerful concurrency framework made available by Apple for iOS and OSX. In this talk, Matias will firstly introduce you to the key GCD concepts and essentials of using it for task based concurrency.

He will then take you on a tour of a number of production proven GCD patterns.

You will learn best practices to:

design your GCD-dependent code to avoid deadlocks and other concurrency nasties
throttle IO bound parallel tasks
wait for completion of a number of tasks run in parallel
implement readers-write locking of resources in a simple way
process disk or network IO ridiculously fast
throttle UI updates using dispatch sources

Freely licensed example code is to be made available on GitHub for each of the GCD recipes presented.

iOS libdispatch concurrency osx

---

About the speaker...

Matias Piipari is the CTO of Papers at Springers Business and Media, and co-author of the Papers app. He has extensive experience on the Apple platforms and Java.

×

15:30

Refreshments

15:45

Distractedly Intimate: Your Users on Mobile

Cate Huston

---

Distractedly Intimate: Your Users on Mobile
Cate Huston

How do we build for the user's most intimate and most loved device, and allow for the intermittent, partial attention?

Building for mobile is not just a change of form factor, and web versus native is one of the least interesting design questions to answer. When everyone has a device this powerful on them all the time, everything changes. Let's talk about what that means.

---

About the speaker...

Cate Huston is a developer and entrepreneur focused on mobile. She's lived and worked in the UK, Australia, Canada, China and the United States, as an engineer at Google, an Extreme Blue intern at IBM, and a ski instructor.

Cate speaks internationally on mobile development and her writing has been published on sites as varied as Lifehacker, The Eloquent Woman and Model View Culture.

You can find her on Twitter and on her blog, Accidentally in Code.

×

16:30

Beer and Pizza

16:45

Park Bench Panel Discussion

---

Join the speakers from iOScon's first day and ask them all your burning questions!

×

17:30

To the pub!
Day 2: #iOScon
Join Simon Whitaker, Daniel Thorpe, and more for the second day of iOScon!
Track
Track 1
09:30

Registration and Breakfast

09:55

Welcome to iOScon

Paul Ardeleanu

---

Welcome to iOScon
Paul Ardeleanu

Paul Ardeleanu welcomes you to our first ever iOS conference!

---

About the speaker...

Paul is an experienced iphone developer and software engineer with a passion for mobile utilities. He regularly speaks at the iphone user group meetups at London's iphone store and has been predicting the end of computers as we know them - touch interfaces are going to rule the world.

×

10:00

Building an iOS Application Platform

Daniel Thorpe

---

iOS

singletons

application-platform

modular

Want to discover tips and tricks on how to build an iOS application platform? Come along to Daniel's talk!

Over the last 6 months Badoo has "forked" its primary product to create two very popular social networking apps. Daniel will share the tips, tricks and lessons they've learnt as they transition a single large legacy code base to a modern modular application platform.

Topics covered will include high level architectural design, class clusters and factories, effective use of singletons (gasp!), and making re-usable modules.

iOS singletons application-platform modular

---

About the speaker...

Daniel Thorpe is an iOS and Mac developer based in London. Daniel currently works at Yakatak, a cloud-based application platform that delivers innovative 'social broadcasting' services.

Check out Daniel on GitHub and follow him @danthorpe.

×

10:45

Refreshments

11:00

Introduction to UIKit Dynamics

Simon Whitaker

---

uikit

ios7

dynamics

animation

Interested in animation effects for iOS and how to use them? Then make sure you're at Simon's talk!

UIKit Dynamics, introduced in iOS 7, lets developers add subtle real-world animation effects to their UIs using a simple yet powerful physics engine.

In this talk Simon will cover the basics of UIKit Dynamics, show real-world examples of dynamics in use, and explain why you shouldn't use this stuff to build your Flappy Bird clone.

uikit ios7 dynamics animation

---

About the speaker...

Simon considers himself a software developer by nature; nothing else he's done in life has been as satisfying as writing code.

He's designed and implemented all sorts of software, from distributed systems running across data centres spanning a continent to firmware for the embedded chip in a hydraulic test rig that he debugged using an oscilloscope. Since 2010 he's been focused on writing fantastic apps for iOS.

Away from the keyboard he enjoys being a husband and dad, riding his motorbike and watching movies.

×

11:45

Refreshments

12:00

Enriching Your Apps With Emotions

Boisy Pitre

---

iOS

apps

What if your iPad or iPhone could detect your emotional state and respond in a way that enhances your day? What if an app could deliver soothing content when you're feeling upset, or play your favorite song when you're feeling happy? Find out how you could achieve this in Boisy's talk!

Every day, in multiple settings, we express ourselves through our emotions. Emotions are not only innate to our ability to communicate thoughts and ideas to others, but can also be a gateway to new experiences with our devices.

We will explore these ideas and possibilities in this brave new world of emotion-intelligent apps and devices.

iOS apps

---

About the speaker...

Boisy G. Pitre is Affectiva's Mobile Visionary and lead iOS developer.

His work has led to the creation of the first mobile SDK for delivering emotions to mobile devices for the leading emotion technology company and spin-off of the MIT Media Lab.

He also owns Tee-Boy, a software company focusing on Mac and iOS applications for the weather and data acquisition markets, and authors the monthly Developer to Developer column in MacTech Magazine.

Boisy holds a Master of Science in Computer Science from the University of Louisiana at Lafayette, and resides in the quiet countryside of Prairie Ronde, Louisiana. Besides Mac programming, his hobbies and interests include retro-computing, ham radio, vending machine and arcade game restoration, and playing Cajun music.

×

12:45

Lunch

13:45

KVO Considered Awesome

Amy Worrall

---

key-value-coding

key-value-observing

cocoa

cocoa-bindings

Want a whirlwind tour through Key Value Coding (KVC), Key Value Observing (KVO), and Cocoa Bindings? Then come along to Amy's talk!

Amy will explain what these technologies can do, when to use them, what their limitations are, and some tricks to work around common pitfalls.

KVO has had a lot of bad press recently, but when used properly it can help you separate concerns and reduce the number of lines of code required for common operations.

key-value-coding key-value-observing cocoa cocoa-bindings

---

About the speaker...

Amy is a developer who is passionate about user experience.

Amy works for Black Pixel as an iOS Developer: prior to that she worked for Agant Ltd., and was lead developer for UK Train Times and Timeline World War 2.

In her spare time Amy enjoys campanology, singing (especially Gilbert & Sullivan), and playing board games.

Adn: amy

×

14:30

Refreshments

14:45

iOS Automation with Cucumber, Appium and Saucelabs

Shashikant Jagtap

---

iOS

cucumber

Appium

saucelabs

bdd

Want to find out how you can set up a Mac OSX for iOS automation? Then don't miss Shashikant's talk!

This highly technical talk will cover:

Introduction to Appium
Appium installation and Setup
Running Appium Server with NodeJS
Setting up your Mobile App for the Appium Test (Local and Saucelabs)
Live Demonstration of Cucumber + Appium + Saucelabs

iOS cucumber Appium saucelabs bdd

---

About the speaker...

I am working in the Agile BDD environment as Developer in Test since last few years with massive interest in BDD tools. I have explored BDD tools like Behat, Cucumber and integrated it with open-source tools to use it for test automation.

Please have a look at my Blogs and GitHub projects on my website http://shashikantjagtap.net/

×

15:30

Refreshments

15:45

TDD in iOS

Tim Duckett

---

tdd

interface

iOS

Want to find out how you can use TDD on iOS? Then don't miss Tim's talk!

You'd be forgiven for thinking that TDD and touch interfaces don't really go together, but with a combination of Apple's developer tools, some open source libraries and a bit of cunning, TDD on iOS is both possible and practical.

In this talk, Tim will attempt to justify these wild promises through the medium of live code and bad puns.

tdd interface iOS

---

About the speaker...

×

16:30

Refreshments

16:45

This is a session set aside especially for you to chat with experts over a beer about whatever specific problems you might be having, as well as getting stuck in to discussions with your fellow delegates.

×

17:30

To the pub!
Skills Matter
Located in the heart of London's Tech City, we could not think of a better venue for iOScon than the Skills Matter eXchange. Skills Matter is situated right in the middle of London's budding tech start-ups, with great transport connections at Barbican, Farringdon, and Angel - it's easy to find us, and there are plenty of cafés and pubs to relax in if you're early.
---
WE'VE MOVED: Skills Matter has recently relocated to a fantastic new venue
CodeNode
10 South Place, London EC2M 7EB.
---

CodeNode provides a great selection of event spaces with all the facilities you need for a vibrant, interactive and successful tech event.
How to contact Skills Matter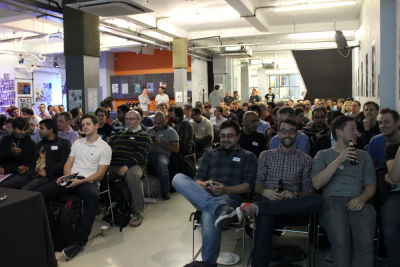 To discuss sponsorship opportunities please contact the team: