1 DAY CONFERENCE
DDD eXchange 2010
Topics covered:
Overview
The theme of this year's DDD eXchange will be architectural innovation, and particularly CQRS. We will feature leading thinkers and architects who will share their experience and Eric Evans is the programme lead.
Programme
Venue
Skills Matter
---
WE'VE MOVED: Skills Matter has recently relocated to a fantastic new venue
CodeNode
10 South Place, London EC2M 7EB.
---
CodeNode provides a great selection of event spaces with all the facilities you need for a vibrant, interactive and successful tech event.
How to contact Skills Matter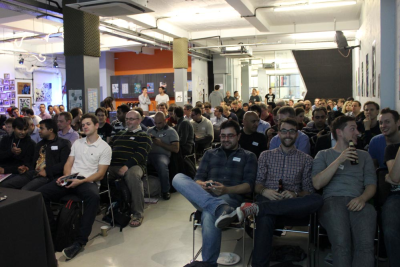 Sponsors
To discuss sponsorship opportunities please contact the team:
SkillsCasts
Other Years
DDD eXchange 2018

Two days in London

Want to hear the latest innovations in the DDD space from the world's DDD experts, and be able to share your own ideas and thoughts across great open sessions? Join us for DDD eXchange in April 2018! Skills Matter presents the 9th DDD eXchange London, the place to go if you're interested...

tdd dddd dddesign ddd eventstorming architecture

DDD eXchange 2017

Two days in London

Want to hear the latest innovations in the DDD space from the world's DDD experts, and be able to share your own ideas and thoughts across great open sessions? Join us for DDD eXchange in April 2017! Skills Matter presents the 9th edition of the DDD eXchange London, the place to go if...

software-architecture event-storming modelling example dddesign ddd domain-driven-design

DDD eXchange 2016

Two days in London

In June 2016 Skills Matter presents the 7th edition of the DDD eXchange London, the place to go if you're interested in Domain Driven Design and associated tools and processes. If you want to hear the latest innovations in this space from the world's DDD experts, and share your own ideas...

software-architect ddd dddx domain-driven-design

DDD eXchange 2015

One day in London

We return this June for another edition of the DDD eXchange. The place to go if you're interested in Domain Driven Design and associated tools and processes.

ddd dddx domain-driven-design

DDD eXchange NYC 2014

One day in New York City

Want to find out about the latest and greatest in DDD? Interested in meeting the rest of the community and big names like Eric Evans, Vaughn Vernon, and Paul Rayner?

ddd dddx domain-driven-design architecture

DDD eXchange 2014

One day in London

Want to find out about the latest and greatest ideas & practices in DDD? Interested in meeting the rest of the community and big names like Eric Evans, Martin Thompson and Greg Young ? Then don't miss out on DDD eXchange 2014, where you'll discover all the latest ideas & practices...

ddd domain-modeling reactive-applications event-driven resilient scalable responsive eventstorming domain-driven-design architecture

DDD eXchange NYC

One day in New York City

Want to keep up to date with the latest developments, in Domain Driven Design? Are you keen to learn and share skills with 200+ developers passionate about domain driven design?

dddxnyc domain-driven-design design-patterns architecture nhibernate repository-pattern cqrs

DDD eXchange 2013

One day in London

Skills Matter hosted the fifth annual DDD eXchange led by the father of DDD, Eric Evans. Experts and thought leaders joined together with 125 practitioners and enthusiasts for one of the stand out Software Architecture events in the 2K13 calendar.

dddx domain-driven-design design-patterns architecture nhibernate repository-pattern cqrs ruby-on-rails mongodb clojure

DDD eXchange 2012

One day in London

Now in its 4th year, the DDD Exchange has become one of the focal points of the DDD community. Each year, DDD thought leaders come together with 100+ enthusiasts for a truly interactive session where we delve into the tricky questions that leaders in DDD are struggling with.

domain-driven-design design-patterns architecture nhibernate repository-pattern cqrs actor-model ruby-on-rails mongodb clojure

DDD eXchange

One day in London

Intensive, intimate one day event on Domain Driven Design, bringing together both international and UK experts on Domain Driven Design, Architecture and other interesting ideas and aproaches, including Behaviour Driven Design and Example Driven Design.

domain-driven-design design-patterns architecture nhibernate repository-pattern cqrs actor-model ruby-on-rails mongodb clojure