1 DAY CONFERENCE
ADSD Unconference
Topics covered at

#
Skills Matter and Particular Software warmly invite you to the ADSD unconference at Skills Matter on June 25th.
For those unfamiliar with the format, the conference is a participant-driven meeting, comprising of talks and discussion workshops led by you, the attendees. Open format conferences allow for all attendees to lead the direction and themes of the day. Meaning you can have truly useful conversations with others.
But what can I contribute? Do I need to come with a prepared presentation?
It doesn't matter if you contribute a little or a lot, in any case, you'll be surprised at what you can achieve in this format - even if you see yourself as a beginner. It's not about 'eyes forward' presentations, so if you go to the trouble of creating such a thing, it's likely it won't get used. On the other hand, if you're familiar with some technology that others might like to learn about, we might end up asking you to show us. But not in a formal way. To sum up then, all you need is your brain!
To hold it all together Udi Dahan will be joined by London .NET UG lead, Ian Cooper.
Programme
24th June - 5pm - 8pm: We invite all attendees to come along to Skills Matter to meet with Udi and the rest of the Unconference attendees to set the agenda for the following day. Please bring along your ideas for sessions which can be discussed and will be voted on. The most popular sessions will make up the agenda for the Unconference on 25th June.
25th June - 8:45am - 5pm:
The session titles are to be defined but the timings will be as follows:
9:15-10:15 session
10:15-10:30 break
10:30-11:30 session
11:30-11:45 break
11:45-12:45 session
12:45-13:30 lunch
13:30-14:30 session
14:30-14:45 break
14:45-15:45 session
15:45-16:00 break
16:00-17:00 wrap-up session
This unconference is exclusively for those that have attended Udi Dahan's ADSD with SOA course, or are registering together with one.
HOLD TIGHT, PROGRAM COMING SOON!
We're currently working on a program. If you have any suggestions, topics you'd like to see covered, or experts you'd like to meet, let us know!
The Skills Matter eXchange
Located just a five minute walk from Barbican and Old Street Stations and a 15 minute walk from Kings Cross and St Pancras Stations, the Skills Matter eXchange provides a great selection of event spaces with all the facilities you need for a vibrant, interactive and successful Tech Event.
How to contact Skills Matter
Local Hotels
We recommend the following hotels:
Please note that our company discounts vary between hotels and have individual terms and conditions and hence might not be available upon your booking.
Alternatively we find this site useful for booking hotels in London:
Fantastic space for your Tech event
Whether you are organising a hackathon, an (un)conference, a training course, product launch or meeting, our experienced event team loves to help you make your event stand out!
Fully equipped, with well working WIFI and projection facilities, and with AV, power points and white boards available in most of our space, the Skills Matter eXchange provides:
one auditorium, seating up to 125 people (theatre style)

two spacious event-, or training rooms, each seating up to 70 people theatre style or 25 people class room style

one bright training or meeting room, seating up to 14 class room style or 18 Board room style)

one training or meeting room, seating up to 8 people class room or Board room style.

two funky break-out areas serving complementary coffee & tea throughout your event.
How can we help organise your event?
We'd love to find out how we can help make your event stand out! Contact us with your requirements - and our experienced events team will start working with you, to make it happen!
Get in touch with us today!
Phone: +44 (0) 207 183 9040

Email: info@skillsmatter.com

Address: Skills Matter, 116-120 Goswell Road, London, EC1V 7DP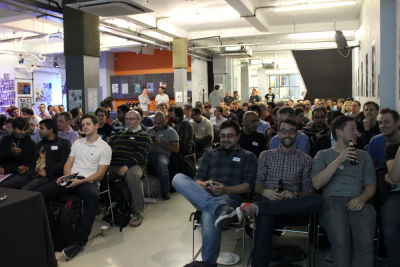 To discuss sponsorship opportunities please contact the team:
Hold tight, skillscasts coming soon!