We return this June for another edition of the DDD eXchange. The place to go if you're interested in Domain Driven Design and associated tools and processes.
With the help of Eric Evans, Alberto Brandolini, Russ Miles and the DDD community, we are forming the basis of one of the most recognised software conferences in Europe.
If you want to hear the latest innovations in this space from the world's DDD experts, and share your own ideas and thoughts, this is conference for you.
Call for Thoughts
To make these events as relevant and exciting as possible we want to hear your thoughts on what you want to see. Eager to see a topic covered? Want to recommend us a speaker you've seen? Then let us know. Fill out our 5 minute survey here.
Sponsorship
We have a limited number of sponsorship opportunities for companies that want to be associated with our community and this event. If you're interested in finding out more, email sponsorship@skillsmatter.com
Day 1: DDD eXchange
Pick your sessions!
Track
Track 1
9:00

Registration

9:45

Eric Evans

Eric Evans

---

---

About the speaker...

Eric Evans, author of Domain-driven Design: Tackling Complexity in the Heart of Software is a thought leader in software design, domain driven design and domain modeling and particularly focuses on strategic design.

Eric is a key contributor of dddcommunity.org and speaks at many industry conferences, e.g., InfoQ

Eric's upcoming blog will be published on his website domainlanguage.com.

×

11:00

When DDD meets Documentation

Cyrille Martraire

---

When DDD meets Documentation
Cyrille Martraire

How do you represent the Ubiquitous Language in practice? How do you materialize Bounded Contexts in your code? How do you document your understanding of the domain? In this talk we'll show concrete answers to these questions and some more, in a way that will make you want to get started.

And beyond mere recipes, these questions offer opportunities to get accurate feedback to improve your actual practice of DDD.

---

About the speaker...

Cyrille is the co-founder of Arolla, a French company specializing in software development techniques.

He is a passionate developer since 1999 working with startups, software vendors and banks. Still addicted to development, he dedicates a large part of his energy to hands-on coding for clients, yet is also deeply involved in business analysis in finance.

Passionate about design in every aspect (TDD, BDD, DDD), he also founded the Paris Software Craftsmanship community.

×

12:00

Domain Driven Design with the F# type system

Scott Wlaschin

---

f#

functional-programming

ddd

Domain Driven Design with the F# type system
Scott Wlaschin

Statically typed functional programming languages like F# encourage a very different way of thinking about types. The type system is your friend, not an annoyance, and can be used in many ways that might not be familiar to OO programmers.

Types can be used to represent the domain in a fine-grained, self documenting way. And in many cases, types can even be used to encode business rules so that you literally cannot create incorrect code. You can then use the static type checking almost as an instant unit test — making sure that your code is correct at compile time.

In this talk, we'll look at some of the ways you can use types as part of a domain driven design process, with some simple real world examples in F#. No jargon, no maths, and no prior F# experience necessary.

f# functional-programming ddd

---

About the speaker...

Scott Wlaschin is a .NET developer, architect and author with over 20 years experience in enterprise development.

Scott Wlaschin is an IT Architect and Developer at Liz Earle Beauty Co Ltd, creator of and blogger on the F# for Fun and Profit site and author of Understanding Functional Programming.

×

13:00

Lunch

14:00

Alberto Brandolini

Alberto Brandolini

---

Alberto Brandolini
Alberto Brandolini

---

About the speaker...

Alberto Brandolini is a 360° consultant in the Information Technology field. Asserting that problems cannot be solved with the same mindset that originated them, Alberto switches perspective frequently assuming the architect, mentor, coach, manager or developer point of view.

He's a frequent speaker in software development related conferences in Italy and across Europe, since rumors spread about his funny attitude.

Besides consulting and running Avanscoperta, he's also a trainer for UK based company Skills Matters where he teaches Domain-Driven Design.

He's also the founder of the Italian Domain-Driven Design community and of the Italian Stoos Satellite, and actively participates in debates about agile software development, lean management and new ways for entrepreneurship and collaboration.

×

15:00

DDD & Microservices from the Front Lines: Building Evolvable Software with Events, Aggregates and Friends

Russ Miles

---

cqrs

microservices

ddd

DDD & Microservices from the Front Lines: Building Evolvable Software with Events, Aggregates and Friends
Russ Miles

Microservice-based systems are getting a lot of press as they promise speed of delivery and the ability to do something that has always been a challenge in software development: Embrace, or even thrive on, change. The challenge is that designing microservices is harder than it might at first seem. Architecture, Design and DevOps has the ability, when brought together, to be a powerful force for innovation and competitive advantage… but it can also go horrendously wrong! The effective application of DDD is the key to success when designing for microservices.

In this talk Russ Miles, Chief Scientist at Simplicity Itself, will show how the strategic patterns of DDD can be applied to get the advantages of embracing system change that are a big part of the microservices promise. Drawing from the Simplicity Itself "Knowledge" that's been built up over the last half a decade in this area, Russ will share what he's learned on how to apply DDD to the microservices, pipelines and data flows of modern software applications.

Using design concepts, the Life Preserver process and too, and real-world code snippets, Russ will look at how to enable suppleness in systems by embracing 'stressors', and how CQRS and Event Sourcing really delivers in this new environment when combined with effective bounded contexts, ACLs and Bulkheads.

This talk will show you just how relevant DDD is to the new world of microservices, sharing with you a number key templates of DDD patterns that enable you to get the most out of your investment in this new approach.

cqrs microservices ddd

---

About the speaker...

"An expert is someone who has succeeded in making decisions and judgements simpler; through knowing what to pay attention to and what to ignore" – Edward de Bono, "Simplicity", 1998

Russ Miles is Chief Scientist at Simplicity Itself where he specialises in working with his clients to help deliver simple and valuable software that thrives on change.

"Complexity is the silent killer of delivering the right software, or change, at the right time; it is singly responsibly for killing many good ideas and companies. A focus on simplicity is the answer, but simplicity is not easy. Through our techniques and practices, I help software delivery organisations and teams ensure their solutions are as simple as possible while not missing the mark by over-simplifying." – Russ Miles, Formation of Simplicity Itself, 2013

Russ' experience covers almost every facet of software delivery having worked across many different domains including Financial Services, Publishing, Defence, Insurance and Search. With over 18 years experience of consultancy, coaching and training, Russ helps to change all facets of the software delivery process in order to remove unnecessary and costly complexity in everything from developer skills and practices, through applying the right processes for the job at hand, to ensuring that the right change is delivered, be it through software or otherwise.

In recent times Russ has brought the principles of antifragility to software architecture and design, including but not limited to how to implement microservice and reactive software. Passionate about open source software, Russ worked with SpringSource prior to the company's acquisition by VMware, leading the Spring Extensions project and helping international clients to simplify their software by effectively applying the Spring portfolio of projects.

Continuing on from this work, Russ founded the Esper Extension project for applying CEP to Spring Integration messaging and pioneered the Spring Koans open source, test-driven personal learning project.

Russ continues to be involved in the Spring community, regularly speaking on Spring and is the lead of the Spring User Group in London.

Russ is also an international speaker on techniques for helping software adapt to the ever-present force of change as well as a published author, most recently of "Head First Software Development" from O'Reilly Media. He is lead on the London Microservices User Group and heads-up the new µCon conference.

Russ' current book is being published using the LeanPub platform and is titled "Antifragile Software: Building Adaptable Software with Microservices". The book will be completed in time for the first initial run of the accompanying course, "Russ Miles' Building Antifragile Software with Microservices", now available through Skills Matter.

×

16:00

Talk

16:45

Pizza and Drinks

17:15

Park Bench Panel Discussion
DDD eXchange NYC 2014

One day in New York City

Want to find out about the latest and greatest in DDD? Interested in meeting the rest of the community and big names like Eric Evans, Vaughn Vernon, and Paul Rayner?

domain-driven-design architecture ddd dddx

DDD eXchange 2014

One day in London

Want to find out about the latest and greatest ideas & practices in DDD? Interested in meeting the rest of the community and big names like Eric Evans, Martin Thompson and Greg Young ? Then don't miss out on DDD eXchange 2014, where you'll discover all the latest ideas & practices...

domain-driven-design architecture ddd domain-modeling reactive-applications event-driven resilient scalable responsive eventstorming

DDD eXchange NYC

One day in New York City

Want to keep up to date with the latest developments, in Domain Driven Design? Are you keen to learn and share skills with 200+ developers passionate about domain driven design?

domain-driven-design design-patterns architecture nhibernate repository-pattern cqrs dddxnyc

DDD eXchange 2013

One day in London

Skills Matter hosted the fifth annual DDD eXchange led by the father of DDD, Eric Evans. Experts and thought leaders joined together with 125 practitioners and enthusiasts for one of the stand out Software Architecture events in the 2K13 calendar.

domain-driven-design design-patterns architecture nhibernate repository-pattern cqrs ruby-on-rails mongodb clojure dddx

DDD eXchange 2012

One day in London

Now in its 4th year, the DDD Exchange has become one of the focal points of the DDD community. Each year, DDD thought leaders come together with 100+ enthusiasts for a truly interactive session where we delve into the tricky questions that leaders in DDD are struggling with.

domain-driven-design design-patterns architecture nhibernate repository-pattern cqrs actor-model ruby-on-rails mongodb clojure

DDD eXchange

One day in London

Intensive, intimate one day event on Domain Driven Design, bringing together both international and UK experts on Domain Driven Design, Architecture and other interesting ideas and aproaches, including Behaviour Driven Design and Example Driven Design.

domain-driven-design design-patterns architecture nhibernate repository-pattern cqrs actor-model ruby-on-rails mongodb clojure
The Skills Matter eXchange
Located just a five minute walk from Barbican and Old Street Stations and a 15 minute walk from Kings Cross and St Pancras Stations, the Skills Matter eXchange provides a great selection of event spaces with all the facilities you need for a vibrant, interactive and successful Tech Event.
How to contact Skills Matter
Local Hotels
We recommend the following hotels:
Please note that our company discounts vary between hotels and have individual terms and conditions and hence might not be available upon your booking.
Alternatively we find this site useful for booking hotels in London:
Fantastic space for your Tech event
Whether you are organising a hackathon, an (un)conference, a training course, product launch or meeting, our experienced event team loves to help you make your event stand out!
Fully equipped, with well working WIFI and projection facilities, and with AV, power points and white boards available in most of our space, the Skills Matter eXchange provides:
one auditorium, seating up to 125 people (theatre style)

two spacious event-, or training rooms, each seating up to 70 people theatre style or 25 people class room style

one bright training or meeting room, seating up to 14 class room style or 18 Board room style)

one training or meeting room, seating up to 8 people class room or Board room style.

two funky break-out areas serving complementary coffee & tea throughout your event.
How can we help organise your event?
We'd love to find out how we can help make your event stand out! Contact us with your requirements - and our experienced events team will start working with you, to make it happen!
Get in touch with us today!
Phone: +44 (0) 207 183 9040

Email: info@skillsmatter.com

Address: Skills Matter, 116-120 Goswell Road, London, EC1V 7DP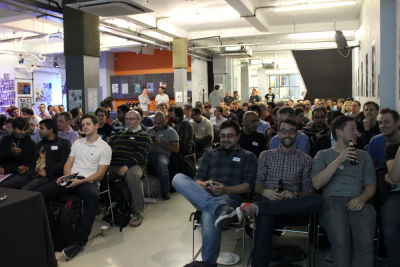 Hold tight, skillscasts coming soon!
To discuss sponsorship opportunities please contact the team: