We hope Droidcon London 2015 will inspire you with lots of new ideas. If you fancy getting stuck in straight away, join fellow Droidcon attendees and some of the most talented coders and experts, for the traditional, weekend-long DroidconHack and create something amazing!
Come along to have some fun experimenting with the latest android technologies, get your hands dirty coding on some pretty cool gadgets and devices, whilst having a chance to win some of the awesome prizes (android watches, a trip to Audi's Android Auto lab, Android Wear Watches and a Nexus5X), awarded by our DroidconHack challengers and supporters Google, Audi, Novoda and Moo.
What? When?
October 30th - 18:30-20:00
18:30 - arrival, drinks and nibbles
19:00 - presentation of the challenges
We'll kick off with a presentation of this year's DroidconHack challenges and sponsors at Skills Matter (CodeNode), whilst enjoying some drinks and nibbles, after which we all go home or to our hotels.
October 31st , starts at 09:00 - finished at 22:00
09:00-10:00 Welcome & Refreshments (bacon butties, pastries and good cup of coffee)
10:00-10:30 Instroductions of the challenges & prizes
10:30-12:30 Hacking in teams
12:30-13:30 Lunch
13:30-18:00 Hacking in teams
18:00-19:00 Drinks & pizza
19:00-22:00 Hacking in teams until 10pm on Saturday, we will come back @ CodeNode at 7am on Sunday.
November 1st, starts at 7am - finishes at 1pm
We normally present each project at around 1pm on Sunday. The jury will select the winners of the challenges and the DroidconHack finishes with an award ceremony of the prizes (which have been pretty cool most years).
Where
This year's DroidconHack will be hosted at CodeNode, Skills Matter's new community venue, which features plenty of spaces to collaborate and work on projects. CodeNode features fast and reliable WIFI, all spaces come with plenty of sockets, whiteboards.
CodeNode's 9 metre long 'spacebar' will water and feed you throughout the 2 days and night.
How
You can take part in the DroidconHack by registering on these pages.
We look forward to welcoming everyone at CodeNode!
Day 1: Friday 30th
October
Day 2: Saturday 31st
October
Track
First Session
Second Session
Third Session
09:00

Day 2 DroidconHack Kick Off

09:10

Hacking Challenges

---

droidcon

DroidconHack

Hacking in teams from 9am until 10pm on Saturday, we will come back @ CodeNode at 7am on Sunday.

×

09:30

Lean Poker

Rafael Ördög (aka DeVill)

---

devops

agile

lean-startup

continuous-deployment

DroidconHack

Lean Poker
Rafael Ördög (aka DeVill)

Lean Poker is this: you and a small group of strangers are going to develop a bot in a language of your choice, that plays poker against other bots. (Don't worry if you don't know poker, we will teach you.) All you need to do, is write a function that takes a data structure containing cards and bets your bot sees during the game, and return a single number: the amount you are willing to bet at that point.

Now here is the catch: even before you start coding the bots play a round in a matter of seconds, and if your bot wins you get points. If it comes second, you get less points. Otherwise you get nothing. The next minute another game plays, and another one, and another one… that goes on all day long, while you and your friends are desperately hacking away on the code, and keep deploying, deploying, and deploying. Don't worry about the deployment pipeline, that's already set up for you.

During this pretty intense day you will sometimes be cheering for your bot to take over, you will be deploying desperately to change the course of events when your bot keeps losing, but even more importantly you will learn how to create as much value as you can in a short period of time, while you are mostly just having fun.

Please check out http://leanpoker.org for more information.

devops agile lean-startup continuous-deployment DroidconHack

---

About the speaker...

Rafael Ordog (DeVill) is a Lead Developer at Budapest-based Emarsys and popular speaker in the Hungarian software community. As a founding member of Emarsys CraftLab - the dedicated coaching team of Emarsys - he has taught university courses and lectured at numerous conferences. His passion for short feedback loops drove him to create Lean Poker, a workshop where developers have the opportunity to experiment with continuous delivery in an artificial environment.

Take a look at Rafael's blog here.

Emarsys can be found here, and the Lean Poker meetup is here.

×

Cyanogen Workshop

Abhisek Devkota

---

ssh

sony

LG

htc

lollipop

android-os

cyanogenmod

cyanogen

DroidconHack

Cyanogen Workshop
Abhisek Devkota

Learn to build the CyanogenMod based Android OS on your own - no experience required. A step by step guide will be provided to build Lollipop for some of the most popular devices from HTC, LG, Sony and more.

Learn how to setup a build environment, sync the Android source, an overview of the Android build system and how to compile the OS for yourself. All you need to bring is an SSH capable laptop and enthusiasm!

ssh sony LG htc lollipop android-os cyanogenmod cyanogen DroidconHack

---

About the speaker...

Abhisek Devkota is the Senior Engineering & Community Manager for Cyanogen Inc., and a lead on The CyanogenMod Project (CM).

The CyanogenMod Project is an open­ source Android distribution that is community driven and created in collaboration with volunteers around the world. CM has enabled millions of users to truly own their phone by controlling their software experience through new functionality, greater frequency of updates, and enhanced security and privacy tools beyond those provided by their device manufacturer.

Before joining Cyanogen Inc. he worked on implementation of Software as a Service solutions for various US government agencies and in his spare time was himself a volunteer to the CyanogenMod project for 6 years.

×

22:00

End of DroidconHack Day 2
Track
Track 1
07:00

Breakfast

08:00

We normally present each project at around 1pm on Sunday. Whilst everyone has some lunch, the jury will select the winners of the challenges and the DroidconHack finishes with an award ceremony of the prizes (which have been pretty cool most years).

×

13:00

Closing Ceremony and Awards
CodeNode
In August 2015, Skills Matter opened the doors to CodeNode, our new 23,000 sqft Tech Events and Community venue. CodeNode provides fantastic meetup, conference, training and collaboration spaces with unrivalled technology capabilities for our tech, digital and developer communities - a long held dream coming true !
With fantastic transport links and located in the heart of London's Tech City, we could not think of a better location for our 60,000 strong engineering community!
With seven event rooms, including a 300 seater lecture room, thousands more community members will be able to visit CodeNode to learn and share skills, code and collaborate on projects.
CodeNode features a 5,000 sqft break-out space, complete with fully-licensed bar, plenty of power sockets, meeting and collaboration spaces and entertainment areas.
CodeNode will also see the opening of a permanent Hack Space, stacked with microprocessors and the latest tools and devices to play with. A community film studio will be opening too, which you can use to record any tutorials or demo's you may want to share with our community.
If you're interested in hiring CodeNode for your upcoming event, check out more details here.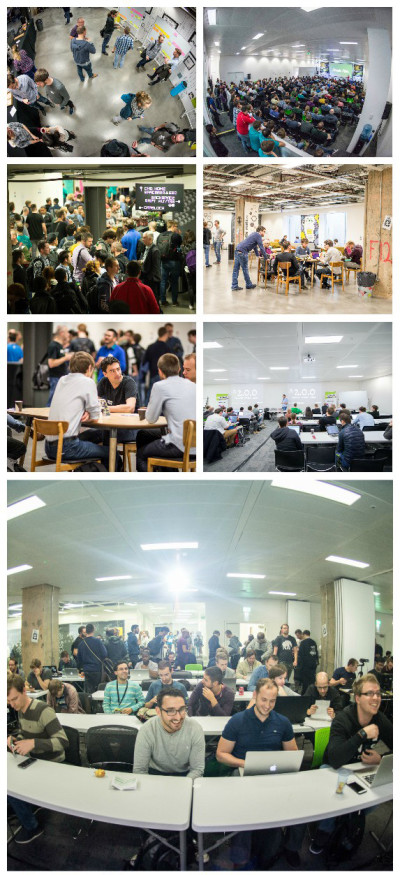 If you would like to engage some of the most talented android coders and experts with your platform, tools or devices, sponsor the DroidconHack, set a challenge, support the teams taking up your challenge and select and celebrate the winners on Sunday!
For more information about DroidconHack sponsorship options, contact [sponsors@skillsmatter.com]sponsors@skillsmatter.com
To discuss sponsorship opportunities please contact the team:
Hold tight, skillscasts coming soon!