We're excited to announce the first ever Scala Exchange Hack Day, to be held on Saturday 12th December at CodeNode in partnership with Underscore and the London Scala User Group.
The Hack Day is a friendly place where you can get involved in Scala open source. Come along to meet new people, learn new things, and contribute to your favourite Scala projects.
It doesn't matter whether you've been coding Scala for three months or three years - there'll be something for everyone. You don't even have to have attended the conference to participate.
We'll have representatives from Scala OSS projects on hand to help you get involved. Confirmed projects include: Ammonite, Ensime, Freeslick, shapeless, and uPickle, with more to be announced.
We'll be adding new participants and projects in the coming weeks. Sign up at the event page to attend, and watch #scalaxhackday on Twitter for further announcements.
Program on the day
Door will open at 9am. We'll start hacking at 10am and continue until 5pm. Lunch and refreshments will be provided.
HOLD TIGHT, PROGRAM COMING SOON!
We're currently working on a program. If you have any suggestions, topics you'd like to see covered, or experts you'd like to meet, let us know!
CodeNode
In August 2015, Skills Matter opened the doors to CodeNode, our new 23,000 sqft Tech Events and Community venue. CodeNode provides fantastic meetup, conference, training and collaboration spaces with unrivalled technology capabilities for our tech, digital and developer communities - a long held dream coming true !
With fantastic transport links and located in the heart of London's Tech City, we could not think of a better location for our 130,000 strong engineering community!
With six event rooms, including a 300 seater lecture room, thousands more community members will be able to visit CodeNode to learn and share skills, code and collaborate on projects.
CodeNode features a 5,000 sqft break-out space, complete with fully-licensed bar, plenty of power sockets, meeting and collaboration spaces and entertainment areas.
If you're interested in hiring CodeNode for your upcoming event, check out more details here.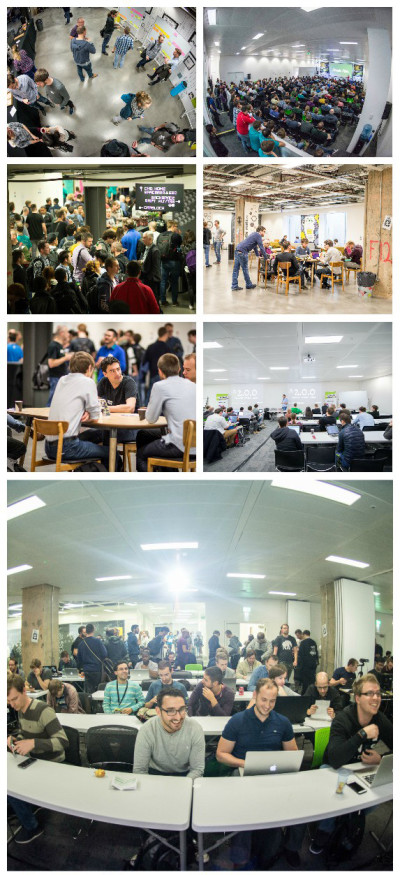 To discuss sponsorship opportunities please contact the team:
Hold tight, skillscasts coming soon!