2 DAY CONFERENCE
CukeUp! 2016 - the progressive BDD conference for testers, devs and product owners
Topics covered at

#cukeup
Overview
Want to meet the international BDD community and learn and share skills with some of the world's top experts, devs, testers and product owners? Discover the latest best practices and ideas? Then come and join us at CukeUp! 2016 in London!
Join us at CukeUp! London 2016 on April 14th and 15th!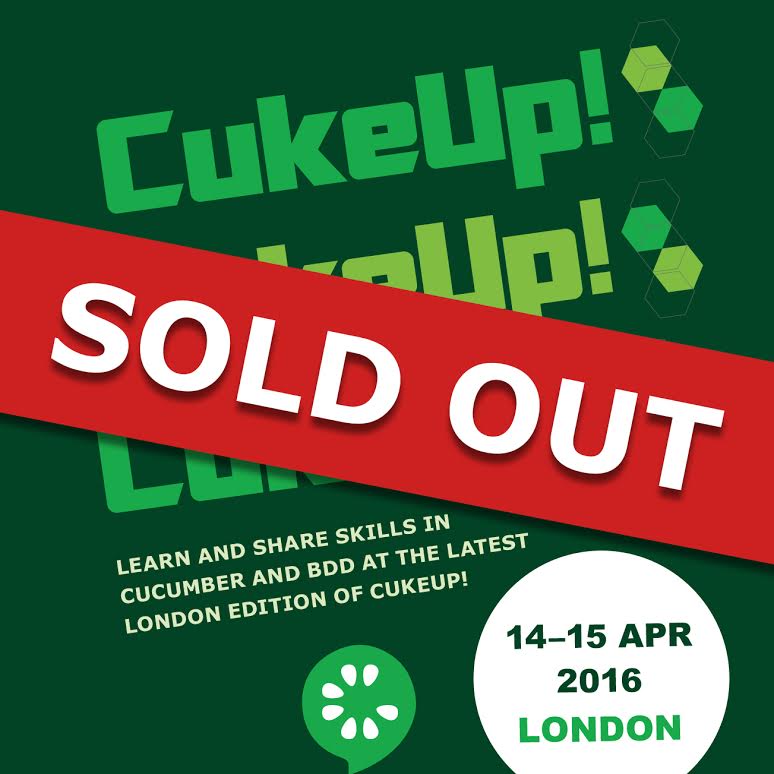 The premise behind CukeUp! is simple. We want to bridge the communication gap between business and IT to deliver precise software, faster. To do this, we need everybody in the room. CukeUp! isn't just for geeks; it's for testers, BAs and product owners too.
CukeUp! is a friendly conference with plenty of bite - welcoming impassioned speakers to deliver talks and workshops that educate and inspire. You'll learn tips and tricks to get the most out of the tools and processes you use every day. The conference is for anyone that wants to get better at Behaviour-Driven Development (BDD). So if you're in an agile team, eager to gain practical tips to implement in your existing processes, this is the conference for you.
Format
Each day has a beginning, a middle, and an end. People learn in different ways, so we mix things up, with 90-minute workshops sandwiched in-between punchy 30-minute lectures and a flurry of lightning talks. You're never bored.
CukeUp! 2016 Video
What other people said
It was one of the best conferences I've ever been to. I learnt so much in just two days. Keep up the good work.
People are friendly, it's a really nice atmosphere. Other conferences can sometimes be very technical or quite egocentric. But there's none of that here. It's very inviting. You learn a lot. You get to see a problem from various different angles. It's not just all technical, it's not just all product, it's not all just testing. So it enlightens you and opens up your eyes to other people's viewpoints on the same problem. It's really good.
If I think back to what I've learnt in the past three or four years, so many of those ideas have come from people in this community and people that have spoken at CukeUp! today.
I really liked the format, with morning and afternoon talks bookending workshops which ran before and after lunch. Technical conferences can sometimes become a strange kind of spectator sport. The workshops really helped me get out of that mode and get engaged. The crowd was really friendly and diverse, with people from all kinds of backgrounds and disciplines. I think developers may have actually been in the minority, with a lot of testers and BAs in attendance. The speakers were friendly and approachable, and I had some great conversations.
Programme
Day 1: Day 1
Thursday 14th April
Track
Ctrl
Shift
Tab
BackSpace
08:30

Registration and Breakfast

09:00

Welcome to CukeUp! 2016

09:15

Keynote: Kind of Green

Aslak Hellesøy

---

green

cukeup

bdd

BDD is like Jazz. There is no authoritative definition of what it is. It has emerged from independent practices and it is constantly evolving. Different practitioners interpret it very differently.

Since BDD is such a moving target, most newcomers struggle to understand what BDD is. Chris Matts suggested at last year's CukeUp that the best we can do to define BDD is to cut a vinyl.

Kind of Green is my vinyl. It's what BDD is like with my band, in 2016.

green cukeup bdd

---

About the speaker...

Aslak Hellesøy is the creator of Cucumber and co-founder of Cucumber Limited. He is a co-author of The Cucumber Book and an early adopter of XP and BDD. Aslak works as a programmer, software architect, business owner and trainer in a variety of industries, including finance, telecom and retail.

Follow Aslak at @aslak_hellesoy

×

09:45

Coffee Break

10:00

7 reasons why BDD is not for you

Matt Wynne

---

peak-learning

software-development

cukeup

bdd

agile

peak-learning software-development cukeup bdd agile

---

About the speaker...

Matt is the author of The Cucumber Book, and in 2013 he cofounded Cucumber Limited with Aslak Hellesøy and Julien Biezemans. Their company was acquired by SmartBear in 2019 and he now works as a BDD Advocate with a mission to maximise the adoption of BDD practices in the software industry.

×

Test Automation: how to add REAL value to a project

Edirin Atumah

---

test-automation

cukeup

bdd

testing

ui-tests

agile

The rapid adoption of Agile methodologies and increasing popularity in the continuous delivery model has amplified the requirement for test automation as part of software application development process. This shift has changed the role of testing in software projects. Testers are now expected to morph into engineers who can code in one form or another, and those that can't have more limited career growth. Most of the time emphasis is placed on the outcome of automation, without following due process on things like test case design, framework architecture and domain modelling to ensure the outcome provides value. Without these things, testing becomes another checklist item in the project.

Edirin's talk will be about how you architect a testing framework to add value to your project, where your expertise can really shape the way a project can assure quality through Agile methods.

test-automation cukeup bdd testing ui-tests agile

---

About the speaker...

Edirin Atumah is an independent software developer in test, with huge interest in the social skills of testers especially communication, designing, creating and refactoring automation framework.

He tries to uncover better ways of developing software by doing it and helping others do it.

Edirin tweets at @bongosway.

×

10:30

Coffee Break

11:00

2

Workshop: Agile product planning

John Smart and Jan Molak

---

product-planning

bpp

roadmap

cukeup

bdd

agile

Day 1, 14 Apr starts 11:00 (Ctrl)

Workshop: Agile product planning
John Smart and Jan Molak

BPP is a set of practices based on BDD that enables a product team to efficiently define, budget and prioritise a roadmap or backlog.

It's also a way to answer some questions Agile has traditionally avoided:

*How much will a set of features cost?

*How do we trade off different feature sets?

*How do we know a feature is ready to ship?

Agile works as a hill-climbing algorithm. It continuously integrates little stories into a release, and it's perfectly happy to climb a molehill of value when there's an Everest right next door.

Small projects look to a good product owner to find their Everest, but at scale, with portfolios of programs of projects, misalignment is easy and ROI is combinatorially hard.

BPP addresses this complexity by making breadth-first distinctions about business alternatives, sorting these into easily optimized piles, and iterating to locate the parts with maximum ROI. This assures consistent decisions about business alternatives at all scales, and the analysis completes quickly and efficiently, ruling out large swathes of lower ROI "business space" without wasting analysis time on their in-depth exploration.

In this workshop, we will outline the main BPP practices and practice using a few of them. The main BPP practices include:

*Feature Points, a way to reconcile budgets with story points

*Breadth First Roadmap, a way to map feature sets to high level acceptance criteria

*Backlog Bingo determines the dollar investment and relative return for a set of products and services

*Royal Cod applies Backlog Bingo to prioritize a Breadth-First Roadmap

*Release Refactoring enables product owners to make rational trade-offs between feature-sets.

product-planning bpp roadmap cukeup bdd agile

---

About the speakers...

John is an experienced author, speaker and trainer specialising in Agile Delivery Practices currently based in London. An international speaker well known in the Agile community for his many published articles and presentations, particularly in areas such as BDD, TDD, test automation, software craftsmanship and team collaboration, John helps organisations and teams around the world deliver better software sooner and more effectively both through more effective collaboration and communication techniques, and through better technical practices.

John is also the author of 'BDD in Action', 'Jenkins: The Definitive Guide', and 'Java Power Tools', and lead developer of the Serenity BDD test automation library.

Jan Molak is a full-stack developer and coach who spent last 12 years building and shipping software ranging from best-selling, award-winning AAA video games through high-traffic websites and web apps to search engines, complex event processing and financial systems. Jan's main focus is on helping organisations deliver valuable, high-quality software frequently and reliably through implementing effective engineering practices. A prolific contributor to the open-source community, Jan is the author of the Jenkins Build Monitor helping thousands of companies worldwide keep their builds green and the delivery process smooth.

×

2

Workshop: Introduction to Event storming

Julien Biezemans and Mathias Verraes

---

modelling

domain

communication

visualisation

event-storming

ddd

cukeup

Day 1, 14 Apr starts 11:00 (Shift)

Workshop: Introduction to Event storming
Julien Biezemans and Mathias Verraes

Most business domains have a temporal aspect to them. That's why, instead of modelling things and structures, Event Storming visualises events happening over time. Gradually, we add causation, business rules, dependencies, and processes, in a huge timeline.

Event Storming is a highly collaborative technique. It bridges the gap between domain experts, product owners, analysts, developers, and testers. It allows you to discover temporal effects and complexities that usually show up late in a project.

Sounds hard? It turns out it's actually a very natural and fun way of communicating. In this hands-on introduction, run by Mathias Verraes with Julien Biezemans as co-facilitator, you'll explore a real domain, and get started with the basics.

modelling domain communication visualisation event-storming ddd cukeup

---

About the speakers...

Julien is a fervent BDDer who loves writing code, building well-crafted conducive software as well as sharing knowledge and techniques with other passionate people.

Mathias Verraes advises organisations on designing and modelling software for complex environments, including architecture, analysis, testing, and refactoring "unmaintainable" systems.

He has worked with clients in Government, Logistics, Mobility, Energy, E-Commerce, and more. He teaches Domain-Driven Design courses and curates the DDD Europe conference. When he's at home in Kortrijk, Belgium, he helps his two sons build crazy Lego contraptions.

Mathias tweets at @mathiasverraes.

×

Workshop: Build your own Cucumber

Steve Tooke

---

gherkin

gherkin-3

objective-c

python

ruby

go

javascript

.net

java

cucumber

cukeup

Day 1, 14 Apr starts 11:00 (Tab)

Workshop: Build your own Cucumber
Steve Tooke

Last year saw the release of Gherkin 3, the latest version of the parser underlying cucumber.

This smaller, more portable, easier to handle library means we can now boast a Gherkin parser for several platforms:

*.NET

*Java

*Ruby

*Go

Parsing Gherkin is just the first step in having a working Cucumber. Running your features needs step definitions, and seeing results needs reporting. Come along to this workshop if you'd like to understand cucumber under the hood. We'll take a look at microcuke, a tiny Cucumber reference implementation, written in only 500 lines of Javascript – and get you started writing your own cucumber.

gherkin gherkin-3 objective-c python ruby go javascript .net java cucumber cukeup

---

About the speaker...

Steve is an independent programmer, trainer and coach. Passionate about improving his craft and helping others improve theirs. He specialises in helping teams produce business value continuously through improving communication and keeping their code maintainable. BDD is at the core of this process.

Steve has been getting paid to build software since 1997. Throughout his career he has worked with renowned organisations like Coach in a Box, the NHS and for a major UK bank. Prior to founding Heavies, Steve was a lead developer at Eden Development. Steve has been developing software in Ruby since 2006 and has been been using Cucumber and BDD since 2009. Before Cucumber, Steve created Customer Acceptance Tests using FIT.

Steve co-organised Bootstrapd, with Matt, a non-profit conference for bootstrapped startups in Europe. He was the co-founder of the Software Craftsmanship UK user group, and the HampshiRB ruby user group. Steve trains and speaks on Ruby as well as other software development topics. He has spoken at the Scottish Ruby Conference and has run workshops at the London Software Craftsmanship Community. Steve is a member of the Cucumber core team.

×

Workshop: What do you really know about your customers

Kate Gray

---

customers

cukeup

bdd

testing

Day 1, 14 Apr starts 11:00 (BackSpace)

Workshop: What do you really know about your customers
Kate Gray

Understanding the people you want to use your products and services takes a bit of work. Get this right and the rewards are enormous.

But what kind of work?

Once you have an idea you want others to use, it's time to collect and apply all the information you can to make sure what you build is relevant and useful to your customers. This is not the time to assume you are making smart decisions because all too often what you think is right, isn't to them.

Without making the effort to focus on the people who will determine if your product is successful, you run the risk of building something that won't fit into their routines, priorities or work flows. And that would be a tragedy.

This workshop goes beyond user testing: it goes to the heart and mind of your customers to explore what matters to them, what they are afraid of, who influences their decisions and what makes them feel successful - all information that helps determine what they need and want from you.

We'll be drawing on learnings from electoral politics, brand strategy, strategic selling, and the sort of marketing that creates strong customer relationships that last the test of time (and the occasional product disappointment).

You'll learn how to identify and prioritise your target customer(s).

You'll learn how to collect information on your target(s) and then apply this to develop insights that enhance the relevance of your product with them.

You'll develop an appreciation for your customer's priorities and how these affect your work and how you communicate about your product.

At the end of the workshop, you'll have a series of techniques that are done early in a project and then reviewed throughout as more data is collected. It's a fact that when you are building products for people, the learning never stops and the need to revise and refine is essential.

customers cukeup bdd testing

---

About the speaker...

Kate began her career in US national politics. Since that time, her professional experience has focused on business strategy and growth, and marketing and communications brand and strategy - drawing on the fundamentals she learned in Washington, DC.

She has consulted with and held Board-level roles at established global and national businesses, along with start-ups and early stage companies. Her sector experience includes technology, pharmaceutical, media, luxury travel, FMCG and retail.

She's currently consulting with global brands and technology scale-ups. Extra time is devoted to mentoring women in tech and shaping relevant and meaningful value propositions with London start-ups. A very happy British citizen, Kate's committed to promoting the unique British approach to technology innovation.

×

12:30

Lunch

13:30

2

Workshop: A Planning Meeting You'll Love

Matt Wynne and Gaspar Nagy

---

planning

user-story

backlog

example-mapping

cukeup

bdd

Day 1, 14 Apr starts 13:30 (Ctrl)

Workshop: A Planning Meeting You'll Love
Matt Wynne and Gaspar Nagy

Before you pull a user story into development, it's crucial to have a conversation to clarify and confirm the acceptance criteria.

Some people do this during their backlog refinement or planning poker sessions. Other teams have a specific three amigos meeting, specification workshop or discovery workshop, or do it during sprint planning.

Whatever you call this conversation, many teams find it hard: it's unstructured, it takes too long and gets boring. The result is they don't do it regularly or consistently, or maybe they just give up on it entirely.

We've discovered a simple, low-tech method for making this conversation short and powerfully productive. In this session we'll show you how to apply this technique, called example mapping, with a fun and interactive workshop.

No laptops required.

planning user-story backlog example-mapping cukeup bdd

---

About the speakers...

Matt is the author of The Cucumber Book, and in 2013 he cofounded Cucumber Limited with Aslak Hellesøy and Julien Biezemans. Their company was acquired by SmartBear in 2019 and he now works as a BDD Advocate with a mission to maximise the adoption of BDD practices in the software industry.

Gáspár Nagy is the creator and main contributor of SpecFlow, regular conference speaker, blogger, editor of the BDD Addict monthly newsletter (http://bddaddict.com), co-author of the "BDD Books - Discovery: Explore behaviour using examples" and "BDD Books - Formulation: Express examples using Given/When/Then" .

Gáspár is an independent coach, trainer and test automation expert focusing on helping teams implementing BDD and SpecFlow. He has more than 18 years of experience in enterprise software development as he worked as an architect and agile developer coach.

×

2

Workshop: BDD Heart DDD - Everything by Example

Paul Rayner and Chris Young

---

ddd

customer

domain-model

cukeup

bdd

Day 1, 14 Apr starts 13:30 (Shift)

Workshop: BDD Heart DDD - Everything by Example
Paul Rayner and Chris Young

The aim of this workshop is for you to improve your ability to discover needs and explore options for meeting those needs.

To do this, a customer, in fact a couple of customers, will present their need to you. You will then break up into small teams and use the combined power of Behaviour Driven Development and Domain Driven Design to come up with a way, or ways, of meeting it.

The starting point will be ensuring everyone shares a clear understanding of the customer's goal; the problems you are seeking to address, the needs and demands you are looking to meet.

You will then work in teams with the customers to elaborate three things:

*A Domain Model;

*Example based Scenarios;

*A Glossary of the Ubiquitous Language common to the Goal, the Model and the Scenarios.

The aim being to come up with a vision of an imagined future state where the customer's goal has been met, articulated by the model and scenarios.

During this time, the customers will move between the teams, working with them, answering their questions and giving their input. Their movement between the teams simulates the way real customers are not available all the time and have other demands on their time.

Having more than one customer simulates the way the customer rarely speaks with one voice and how this may both clarify and confuse the shared understanding of the domain.

The workshop end by having each group play back one or more of their scenarios, calling out the different parts of the domain model that it touches as they go.

There would then be time for some conversation around the different models and scenarios produced by the teams.

ddd customer domain-model cukeup bdd

---

About the speakers...

Paul Rayner is a programmer, coach, mentor, trainer, and popular international conference speaker.

With over 25 years of hands-on software development experience in a variety of industries, Paul is a seasoned agile design coach and leadership mentor, helping teams ignite their design skills. His company Virtual Genius LLC, provides training and coaching in collaborative design for agile teams. Paul is from Perth, Australia, but lives, works and plays in Denver, Colorado, with his wife and two children.

He tweets with an Australian accent at @ThePaulRayner and blogs at thepaulrayner.com.

Chris has been leading engineering teams since 1999. He was pivotal in the BBC's adoption of Agile in 2000-2001 using it to deliver the pioneering Multi-Screen Wimbledon Service for Sky.

Since then he has worked for broadcasters and platform owners including Dish Network in the US and Deutsche Telekom in Europe.

Most recently he led the development team for the YouView Set Top Box User Interface and headed up engineering for YouTube's largest Content Network outside the US; Base79 (now Rightster)

He is an active member of the Lean/Agile/DevOps community speaking at Meet Ups and conferences across Europe including CukeUp and Agile Cambridge.

×

Workshop: Getting Started with Hive CI and On-Device Automation

Joseph Haig

---

bbc

hive-ci

on-device-automation

hive-scheduler

cukeup

Day 1, 14 Apr starts 13:30 (Tab)

Workshop: Getting Started with Hive CI and On-Device Automation
Joseph Haig

The Hive CI is an framework for running automated testing on physical devices. The complete system comprises Hive Runners, which control the test device and execute the tests, the Hive Scheduler, for managing the Runners, the Device Database and the Test Mine results repository. Setting this up may appear daunting so this workshop aims to give a step-by-step guide to build up from nothing to a fully functioning Hive.

Topics will include:

• Configuring the Hive Runner for different device types

• Creating test scripts and projects in the Hive Scheduler

• Executing tests across a range of devices using queues

• Reporting results into Test Mine and analysing results

You will be encouraged to "play along". You will require a laptop with Ruby installed and access to the wireless. An Android or iOS device together with an app and Cucumber tests will also be useful.

bbc hive-ci on-device-automation hive-scheduler cukeup

---

About the speaker...

Joe is a senior software engineer at the BBC and the technical lead for the Hive CI project. He works closely with other development teams within the BBC to facilitate automated testing for projects such as iPlayer and iPlayer Radio.

×

Workshop: Cucumber-JVM

Thomas Sundberg

---

cucumber-jvm

cucumber

cukeup

Day 1, 14 Apr starts 13:30 (BackSpace)

Workshop: Cucumber-JVM
Thomas Sundberg

Thomas will show you how to use Cucumber-JVM with Java to drive both client-side and back-end code.

This session is a hands on workshop where you will write code and get Cucumber-JVM up and running on your development environment.

You'll build a web application, and along the way we'll discuss how to structure your tests to keep them fast, reliable and valuable. You will also learn how to integrate Selenium WebDriver with Cucumber-JVM and how to set up a project in an IDE such as IntelliJ IDEA.

IMPORTANT - You should bring your laptop with a Java development environment installed.

cucumber-jvm cucumber cukeup

---

About the speaker...

Thomas Sundberg is an independent consultant and contractor based in Stockholm, Sweden.

He has been working as a developer for more than 25 years. Thomas has a Masters degree in Computer Science from the Royal Institute of Technology, KTH, in Stockholm. He has taught programming at The Royal Institute of Technology, KTH, one the leading technical universities in Sweden.

Thomas has developed an obsession for technical excellence that translates to software craftsmanship, clean code, test automation and continuous deployment.

Definition of done according to Thomas is working software, in production.

He runs a blog where he writes about programming, software craftsmanship, tdd, bdd and whatever problem he wants to share a solution about. It can be found at http://thomassundberg.wordpress.com/.

Thomas tweets as @thomassundberg.

×

15:00

Coffee Break

15:15

Hive CI: Making Automation Scale for iPlayer

David Buckhurst

---

iplayer

ci-system

bbc

hive-ci

cukeup

The BBC iPlayer TV & Mobile applications run across a huge variety of devices. The team at BBC has invested heavily in test automation to reduce its manual testing effort but struggled to scale across physical devices with conventional CI tools.

The team built its own CI system -- Hive CI, designed to be device aware, and test aware -- giving it greater control over how it runs its tests, what tests it runs, and what devices they run on.

This talk explores what the BBC team learnt about the value of automation, the value of being able to test on devices, and how to use your automation to monitor the health of your ecosystem.

iplayer ci-system bbc hive-ci cukeup

---

About the speaker...

David Buckhurst is a Technical Architect at the BBC leading the Test Engineering Team and providing the strategic thinking for wider testing problems in the corporation.

David is a passionate advocate of open source and is leading the charge to open up all the BBC's testing tools.

×

How testers can be a liability for your team

Ulrika Malmgren

---

team

tester

liability

cukeup

"You know, testers in a team can be a liability for the quality of your product.

How can you even say that? We hire testers to improve quality! Besides, aren't you a tester?

Yes, and because I know of this risk I can do a better job.

Alright, I'm intrigued... how?

There are three main perspectives to keep in mind when talking about quality: communication, ways of working and techniques. If you are being deliberate about them you can mitigate the risk that the tester poses. I've got lots examples of techniques for each perspective, let me show you a few.

Sure.

By the way, did you know programmers can test their own code?

Now you're just being silly..."

team tester liability cukeup

---

About the speaker...

Ulrika has been passionate about testing for almost a decade and has worked with test on a bunch of different products, using both exploratory and automated testing. She believes that when creating good systems, everyone needs to care about quality and think about it from the very beginning and she loves to have the conversation on how you can do that.

Even though testing might be Ulrika's favourite topic, she takes great pride in the fact that she "speaks programmer" and enjoys most topics when it comes to software development.

×

15:45

Coffee Break

16:00

Why Team Size and Story Size matter

Arti Mathanda

---

team-work

performance

team

cukeup

This is a talk about how breaking a big team into two smaller teams and breaking stories into bite sized chunks can help a team perform and deliver with greater velocity and better performance.

team-work performance team cukeup

---

About the speaker...

Arti has worked as a QA Analyst at companies like ThoughtWorks, Argos, HomeAway and the BBC

×

16:10

Making your first pull request

Charlotte Spencer

---

pull-request

your-first-pr

cukeup

Your First PR is an initiative with a goal to get people involved in making pull requests to other open source projects. In this talk you will be introduced to Your First PR as a project, discover where you can find starter issues to work on, and learn how you can help others to make their own awesome pull requests.

pull-request your-first-pr cukeup

---

About the speaker...

Charlotte Spencer does code and people things for Marks and Spencer. Their goal is to make the web a more accessible place for everyone in terms of both technology and culture, and works extensively in open source for projects like Hoodie and Your First PR to achieve this. To summarise them in three words: pizza, bed, emoji.

×

16:20

The Dark Side of BDD

Dirk Rombauts

---

dark-side

cukeup

bdd

When people first hear about Behaviour Driven Development, they may well think it is the silver bullet that will solve all the problems between stakeholders in a project. Care must be taken though, because several forces will try to lure you away from the straight path. If you go to the dark side, you may get cookies but you will not get your money's worth out of BDD.

This talk is as a cautionary tale that will hopefully prevent others from falling to the dark side and missing out on the benefits of BDD. Dirk will discuss several lures to the dark side: what they are, why they appeared so tempting at the time, what the consequences were and what you might do instead. This will help you to recognize such lures in your own projects, and also to make decisions that will keep you in the light.

dark-side cukeup bdd

---

About the speaker...

Dirk Rombauts is the maintainer of Pickles, the open source Living Documentation generator. He is a former employee of TechTalk, the company behind SpecFlow, the leading BDD framework for .NET.

In the last 5 years he worked a great deal with BDD, helping Developers, Product Owners and Business Representatives to achieve a Common Understanding of the project at hand. As such, he experienced many highs and lows in "Life with BDD".

He has a total of 13 years of experience working in .NET on a wide variety of projects and target devices. He provides a lot of in-house training and is an occasional speaker at conferences (for example the inaugural DevCamp in Austria).

You can find Dirk's blog at http://blog.picklespro.com/.

The picture is copyright by www.fotoweinwurm.at.

×

16:30

Living Documentation for commandline applications - A contract between you and your users

Dennis Günnewig

---

aruba

cucumber

cukeup

bdd

Quite a few books told you that writing tests upfront is a good thing. They're right, but unfortunately you normally also need some documentation about how to use the well tested service/applicaton.

Using "cucumber" makes both possible and "easy": Writing tests upfront, but also generating documentation from those tests. Accompanied with "aruba", you can use it to generate documentation from your tests for commandline applications. This is what cucumber and rspec do for their documentation.

This talk focuses on testing commandline applications and having documentation for those. It starts with thoughts about documentation itself and then gets into problems you might face if you try to convince administrators to document their scripts. It closes with a solution for that task.

aruba cucumber cukeup bdd

---

About the speaker...

Dennis Günnewig is a system administrator responsible for a lot of HTTP proxy servers in large customer environments. To make his daily job a little bit easier he writes quite a few scripts and commandline applications. For those scripts and applications which are more complex he uses "cucumber" and "aruba" to write and run a test suite. Besides that he's one of the maintainers of "aruba" and loves to write ruby code.

×

16:40

BDDfire - Get up and running with Cucumber, Docker and Gatling in a minute

Shashikant Jagtap

---

cucumber

docker

gatling

cukeup

BDDfire is an instant Ruby-Cucumber framework which allow you to perform Web, API, Load, Accessibility and Performance testing without writting much code also support provisioning with Docker.

More Info https://github.com/Shashikant86/bddfire.

cucumber docker gatling cukeup

---

About the speaker...

Shashikant is a software professional, he loves automating software delivery using DevOps and test automation tools. Shashikant uses Apple Developer tools like Swift, Xcode, XCTest, Xcode Server. In addition to Open-Source Contributor and is the author of BDDfire (Ruby) and XCFit (Swift) framework.

Check out his blog about iOS Development Toolkit : XCBlog

×

17:10

Pizza & Drinks

21:00

End of CukeUp! 2016 Day 1
Day 2: Day 2
Friday 15th April
Track
Ctrl
Shift
BackSpace
CapsLock
08:30

Registration and Breakfast

09:00

Welcome to CukeUp! 2016

09:15

Keynote: A BDD Manifesto...

Jenny Martin

---

scrum

cukeup

agile

bdd

Scrum is great for telling us what roles we need on our teams and how we should run our daily meetings, but doesn't actually help us know how to collaborate effectively.

Focusing too much on the instructions for how to deliver software continuously rather than on delivering value early can get us into trouble.

Maybe we should worry less about whether we're doing Agile or doing BDD right and worry more about why we're doing it.

scrum cukeup agile bdd

---

About the speaker...

Jenny Martin coaches in Agile delivery, quality improvement and innovation gaming. She has a deep appreciation for business goal segmentation and the visualization of what she labels 'horizons of value' within business strategy.

Jenny believes that great teams are built on collaboration, shared responsibility and by embracing individuality and diversity.

She has 20 years experience across multiple platforms, tools and technologies in disciplines spanning the entire software development life-cycle and a demonstrable track record of delivering complex IT systems in the customer loyalty, retail and finance sectors

Jenny is a frequent speaker at Agile Testing and BDD events, and provides training in collaborative software development techniques and public speaking.

×

09:45

Coffee Break

10:00

Test Automation Tales of Terror

Nat Pryce

---

test-automation

testing

cukeup

bdd

Nat will tell a trio of tales, of true-life troublesome testing tribulations on large, complex projects. But he's not just here to terrify you. He'll also reflect on the lessons learned about how to better integrate test automation into software projects large and small.

(All names have been changed to protect the innocent).

test-automation testing cukeup bdd

---

About the speaker...

Nat Pryce is a co-author of Growing Object­-Oriented Software Guided by Tests. An early adopter of XP, he has written or contributed to several open source libraries and tools that support TDD and was one of the founding organizers of the London XP Day conference.

He works programmer, architect, trainer, and consultant in a variety of industries, including e-commerce, media, telecoms, finance, retail and marketing communications. He has delivered business-critical systems that range from embedded devices to large compute farms supporting global business.

×

2

CHEESECAKE – The story of Typeform's automatic test suite

Aida Manna and Gloria Hornero

---

typeform

test-automation

cukeup

Nowadays, test automation has become an essential part of testers' lives. However, there are not many resources available for beginners that do not know how to start.

This is why Aida and Gloria would like to share their experience and explain the steps followed to develop their test automation framework, including why they've chosen their current testing tools.

The emphasis will be on all the challenges they had to face; the problems they found, their possible solutions and their reasoning for implementing one or the other.

Aida and Gloria will share their insight on how to write test scenarios from a functional point of view, how to speed up automated tests through browser initialization and how to share knowledge with your colleagues.

If you are interested in any of these points or you would like to improve your automation suite, follow Aida and Gloria in their trip through improvement. You will learn which are the steps you have to follow to choose the correct tool and tips & tricks to success in your project.

typeform test-automation cukeup

---

About the speakers...

Aida is passionate about QA and test automation. She has always worked in Scrum teams involved in the overall development process. She believes that quality is more than just testing which is why she helps define requirements, improve processes and facilitate teamwork.

Gloria is a professional with more than five years of experience. She loves being part of the development cycle and help improving processes. She advocates Agile methodologies, promoting interactions between individuals and continuous improvement. Among others, her skills as QA professional include manual and automated testing, requirements analysis, bug management and release management.

She also loves sharing my experiences with other QA professionals and learning new things. She is the co-founder of @bugbusters, a meeting point for tech professionals interested in quality in Barcelona.

×

Unconference

---

cucumber

cukeup

10:30

Coffee Break

11:00

Workshop: BDD in the Key of Design

Paul Rayner

---

design

uxd

cukeup

bdd

Day 2, 15 Apr starts 11:00 (Ctrl)

Workshop: BDD in the Key of Design
Paul Rayner

This intense and engaging hands-on workshop will give you the opportunity to learn and practice proven techniques for integrating collaborative design techniques into your practice of BDD.

Domain-Driven Design (DDD) and User Experience Design (UXD) are disciplines with tremendous value on their own, but when combined together with BDD are a potent combination for making software development more productive and fulfilling. In groups we will collaboratively work through an example of applying simple design techniques such as Event Storming and low-fidelity mockups alongside BDD, to show how this can dramatically increase shared understanding and provide a context for doing BDD well.

No laptop is required, and all materials will be provided. Come along willing to participate, collaborate, and learn while having fun doing it.

design uxd cukeup bdd

---

About the speaker...

Paul Rayner is a programmer, coach, mentor, trainer, and popular international conference speaker.

With over 25 years of hands-on software development experience in a variety of industries, Paul is a seasoned agile design coach and leadership mentor, helping teams ignite their design skills. His company Virtual Genius LLC, provides training and coaching in collaborative design for agile teams. Paul is from Perth, Australia, but lives, works and plays in Denver, Colorado, with his wife and two children.

He tweets with an Australian accent at @ThePaulRayner and blogs at thepaulrayner.com.

×

2

Workshop: Modelling by Example

Konstantin Kudryashov and Ciaran McNulty

---

ddd

domain

modelling

examples

gherkin

cukeup

bdd

Day 2, 15 Apr starts 11:00 (Shift)

Workshop: Modelling by Example
Konstantin Kudryashov and Ciaran McNulty

We know BDD and tools like Cucumber are amazing helpers in talking with businesses effectively. It is a great way to extract business requirements in the way that there's no inherited ambiguity. But what if it is much more? What if Cucumber could also help us to model our application as much as it helps us to drive our communications? Modelling by Example is a slightly different way to look at your Cucumber features. Session shows how to use communication tools to improve software design.

This workshop will demonstrate the practice of exploring your business domain and building a domain model using Gherkin features and Cucumber toolset.

ddd domain modelling examples gherkin cukeup bdd

---

About the speakers...

When not speaking at conferences Konstantin Kudryashov is an Agile blogger, organiser of BDD London meetups, the creator of Behat, Mink, co-creator of PhpSpec and leads the Behaviour-Driven Development (BDD) practice at Inviqa, a leading digital consultancy in Europe. As a communication coach, he has helped teams in many organisations bridge the gap between business and IT using Agile processes and development practices like Scrum, Kanban, BDD, TDD, Collaborative Product Ownership and Deliberate Discovery.

Ciaran helps teams at all levels of ability improve via training and coaching. He has been a PHP professional since the late 90s and is passionate about TDD, BDD and Agile methodologies. He is lead maintainer of PhpSpec, a unit level BDD tool.

Ciaran tweets at @CiaranMcNulty, his GitHub profile is at https://github.com/ciaranmcnulty, and his website can be found here.

×

2

Workshop: BDD in Finance: Effective implementation of BDD in data rich complex systems

Debbie Evans and Peter Thomas

---

finance

gherkin

cukeup

bdd

Day 2, 15 Apr starts 11:00 (BackSpace)

Workshop: BDD in Finance: Effective implementation of BDD in data rich complex systems
Debbie Evans and Peter Thomas

Most examples of BDD describe scenarios such as logging into a site or online shopping, these usually involve direct interaction and limited inputs for a single user. Can you even use BDD and gherkin in a domain where the processes are primarily data driven and straight through without any user intervention? How do you avoid the spreadsheet hell that results from wanting to test the mass of data that needs inputting and verifying? How can you articulate and expose the behaviour within systems that operate largely as a black box to human users? Finally, how can you do this all in a way that satisfies the auditors that your system is tested effectively and you have traceable requirements?

Does your work environment have many inter-connected systems and services or large amount of data affected by behaviour or hand-offs between systems without human intervention – or do you want to learn some more advanced concepts and techniques in applying BDD. If so then this workshop is for you!

In this workshop you will practice techniques, learned through trial and error over the last 10 years within investment banking, to help you answer these questions and avoid the pitfalls and get the real benefits of BDD.

finance gherkin cukeup bdd

---

About the speakers...

Systems thinker, Analyst & Delivery Lead at BAML.

Peter Thomas is an independent software developer, trainer and coach. A generalising specialist, he tries to uncover better ways of developing software by doing it and helping others do it.

×

Unconference

---

cucumber

cukeup

12:30

Lunch

13:30

Workshop: Bringing User Stories to Life

Gemma Cameron

---

user-stories

manager

management

cukeup

Day 2, 15 Apr starts 13:30 (Ctrl)

Workshop: Bringing User Stories to Life
Gemma Cameron

As a manager - I want to manage - So I can manage things

If you've ever seen (and despaired) about user stories similar to the above, you must've thought, "what's the point?". There must be a better way to share ideas than this… Well there is! And Gemma Cameron is here to show us how.

Bring some of your own user stories to this session and we will transform them into rich, vibrant, creative expressions that more effectively communicate the true value and benefits of your product.

Laptops welcome! Otherwise you may have to exercise your drawing skills.

user-stories manager management cukeup

---

About the speaker...

Software developer, event organiser, Queen Bee of the Manchester Tech scene. Interested in testing, conversations, users and domain. Social creature.

Follow Gemma on Twitter @ruby_gem .

×

Workshop: Good Gherkin

Aslak Hellesøy

---

gherkin

cukeup

bdd

Day 2, 15 Apr starts 13:30 (Shift)

Workshop: Good Gherkin
Aslak Hellesøy

Good Gherkin strikes a balance between being specification, documentation and tests. Learn a dozen guidelines for good Gherkin and practice on a real domain.

gherkin cukeup bdd

---

About the speaker...

Aslak Hellesøy is the creator of Cucumber and co-founder of Cucumber Limited. He is a co-author of The Cucumber Book and an early adopter of XP and BDD. Aslak works as a programmer, software architect, business owner and trainer in a variety of industries, including finance, telecom and retail.

Follow Aslak at @aslak_hellesoy

×

Workshop: Shameless

Seb Rose

---

red-green-refactor

tdd

cucumber

cukeup

bdd

Day 2, 15 Apr starts 13:30 (BackSpace)

Workshop: Shameless
Seb Rose

Open source software is everywhere. The Cucumber family of tools is a prime example of an open source success, but even here the diversity of contributors is fairly narrow. At a recent meetup of Cucumber contributors there were representatives from 11 nations, but the ethnic, gender and age diversity was much more limited.

This is a shame for at least 2 reasons:

the Cucumber project is missing out on a huge potential source of help;

non-contributors are missing out on valuable learning that they could get from working with experienced contributors

In this session you'll discover what it takes to make a contribution to the Cucumber code base. If you are an existing contributor to Cucumber or other open source projects you are welcome, but we're most interested in meeting first-timers who have never contributed to an open-source project before. You'll explore the process and then spend time in pairs working on a simple issue from the Cucumber backlog. The focus won't be on actually fixing the issue, although that would be a bonus, but on what makes it hard for new contributors to make their first pull request.

The Cucumber project has to be open and inviting for new contributors. The ideal scenario is when contributors get involved without fear of being shamed by scathing reviews or impolite comments. The Red/Green/Refactor cycle emphasises that you get to 'shameless' green, and then use the existing tests to allow you to refactor safely. Contributing to an open source project like Cucumber should be similar: fix an issue 'shamelessly' and then use feedback from fellow contributors to improve the design of your solution.

red-green-refactor tdd cucumber cukeup bdd

---

About the speaker...

Consultant, coach, trainer, analyst and developer for over 30 years. Seb has been involved in the full development lifecycle with experience that ranges from Architecture to Support, from BASIC to Ruby. He's a partner in Cucumber Limited, who help teams adopt and refine their agile practices, with a particular focus on collaboration and automated testing.

Regular speaker at conferences and occasional contributor to software journals. Co-author of "BDD Books 1: Discovery" (Leanpub), lead author of "The Cucumber for Java Book" (Pragmatic Programmers), and contributing author to "97 Things Every Programmer Should Know" (O'Reilly).

He blogs at cucumber.io and tweets as @sebrose

×

Unconference

---

cucumber

cukeup

15:00

Coffee Break

15:15

Cucumberish - iOS/Mac OS X flavor

Ahmed Ali

---

ios

mac-os-x

cucumber

bdd

When it comes to BDD in iOS or Mac OS X, you will find out it has a big room for improvements. Actually, it is an open gate; and every effort is needed.

Since Cucumber has been far ahead of any other BDD framework or technology and it is not natively available for iOS or Mac OS X; Cucumberish is a big step to fill the gap; it brings the best known BDD technology - Cucumber - into a native implementation for iOS and Mac OS X.

ios mac-os-x cucumber bdd

---

About the speaker...

Started in 2007 as freelance websites developer; two years later worked as a backend developer while studying Arts at University of Cairo; and have begun iOS development since early 2011.

Currently I work and live in the beautiful Amsterdam.

I believe automation test is the key to go for any enterprise app; therefore, I dedicate much of my free time to explore what is available and what can be done to make it more practical and reliable for iOS and Mac OS X.

You can find Ahmed on Twitter.

×

2

BDD in Moderation - A talk from the Trenches

Keith Salisbury and Joe James

---

tdd

ruby-on-rails

cucumber

cukeup

bdd

Day 2, 15 Apr starts 15:15 (Shift)

BDD in Moderation - A talk from the Trenches
Keith Salisbury and Joe James

Joe and Keith have spent 12 months building one of the most sophisticated Ruby on Rails applications either of them has ever built. They are both passionate TDD and especially BDD practitioners and this project offered them a chance to really embrace an outside in approach to the development. Their commitment to BDD, TDD and the Agile process was repeatedly tested by client and colleagues mostly driven by financial pressures, but they remained unapologetically resolved in applying BDD and agile to help them manage the intense complexity.

Taking a BDD approach provided Joe and Keith with an excellent framework to describe the application which could be understood and agreed by all parties, regardless of their technical knowledge. The conversation was accessible by the client, by product owners, by developers and testers and this enabled the developers to build against a real specification that could be constructed as an ongoing process.

From a technical perspective using BDD and an outside-in development cycle enabled them to develop quickly but also gave them this incredible flexibility to refactor huge parts of the project with complete confidence that they were still delivering a solution that meets the requirements of the users.

That flexibility wasn't to come without a price though and in time they also learnt where mistakes can be made using BDD. Test suite run time is absolutely critical in keeping a software project healthy, but unless some simple rules are followed the BDD tests can quickly grow out of control.

Despite all the many challenges throughout the year they have successfully delivered an incredibly complex software solution and their use of unquestionably BDD has contributed to this result.

Joe and Keith have learnt much during this year, and feel they have some really valuable technical insights to share with you!

tdd ruby-on-rails cucumber cukeup bdd

---

About the speakers...

Keith Salisbury has been a software developer for 18 years, starting with HTML & Javascript back in the days before Google and Facebook.

He spent many years playing within the Flash ecosystem before moving on to spend another 10 years playing with Ruby. He now likes to play with Elixir and Haskell in his spare time. He is also a professional sailor when he's not writing code.

×

Unconference

---

cucumber

cukeup

15:45

Coffee Break

16:00

Behaviour-Driven Development: The Bigger Picture

Paul Rayner

---

ux

gherkin

test-automation

cucumber

cukeup

bdd

Having trouble understanding how the different puzzle pieces of BDD fit together? Don't worry. Many teams struggle with this same problem. We don't want you wasting time and effort on the wrong things, or wrestling with doing the right things at the wrong time. Not understanding the collaborative flow of BDD leads to increasing confusion, frustration, and waste.

If you're asking any of the following questions, then you're probably missing the bigger picture:

*Does BDD consist of talking about examples, or is it test automation?

*If Cucumber is a collaboration tool, why is it used to automate tests?

*The goal is to get our business people to write the Gherkin - right?

*Does embracing BDD mean you give up doing UX work?

*When is the right time to write feature files?

Experience a visual walkthrough of the flow of BDD for teams using Cucumber. Understand how to discover and describe system behaviour from a stakeholder's perspective. Learn how BDD involves different disciplines, emphasizes different skills at different times, and enables a team to avoid waste while accelerating productivity.

ux gherkin test-automation cucumber cukeup bdd

---

About the speaker...

Paul Rayner is a programmer, coach, mentor, trainer, and popular international conference speaker.

With over 25 years of hands-on software development experience in a variety of industries, Paul is a seasoned agile design coach and leadership mentor, helping teams ignite their design skills. His company Virtual Genius LLC, provides training and coaching in collaborative design for agile teams. Paul is from Perth, Australia, but lives, works and plays in Denver, Colorado, with his wife and two children.

He tweets with an Australian accent at @ThePaulRayner and blogs at thepaulrayner.com.

×

Modern Project Toolbox

Konstantin Kudryashov

---

project-toolbox

development

planning

story-mapping

risk-brainstorming

impact-mapping

cukeup

agile

Agile is defined by an open development process driven by collaboration. But you know that collaboration is not always an easy process and in a lot of cases you need to come up with creative ways of establishing and supporting it. By that reason Agile community was very busy in the last decade coming up with new and innovative tools to boost collaboration on different aspects of development and planning - Story Mapping, Impact Mapping, Example Mapping, Risk Brainstorming, Three Amigos workshop, Stakeholder Mapping, Event Storming, etc. There's a lot of tools. But how do all they fit together and when should you use one or another in the wider context of a project delivery?

This is a very practical talk that will attempt to group and present modern Agile tools in the context of project delivery and will provide guidance recommendations for their use.

project-toolbox development planning story-mapping risk-brainstorming impact-mapping cukeup agile

---

About the speaker...

When not speaking at conferences Konstantin Kudryashov is an Agile blogger, organiser of BDD London meetups, the creator of Behat, Mink, co-creator of PhpSpec and leads the Behaviour-Driven Development (BDD) practice at Inviqa, a leading digital consultancy in Europe. As a communication coach, he has helped teams in many organisations bridge the gap between business and IT using Agile processes and development practices like Scrum, Kanban, BDD, TDD, Collaborative Product Ownership and Deliberate Discovery.

×

Unconference

---

cucumber

cukeup

16:30

BDD for 8 year olds B-D robotics

Colin Deady

---

cukeup

agile

bdd

cukeup agile bdd

---

About the speaker...

Colin believes in successful delivery first time every time. As a champion of the Zero-Known Defect approach to delivery coupled with BDD, Cynefin and agility he enjoys helping others to discover practices that can enable them to succeed. Colin runs the BDD Practice for Capita IT Professional Services and through work has met a wealth of exciting individuals across a number of industries, and looks forward to meeting many more. As a speaker at several UK testing conferences Colin has had opportunity to offer a challenge, revision and extension to the Agile Manifesto and impart alternative approaches to BDD that have found success with his clients. With a degree in Environmental Science, Colin applies his university-learnt critical thinking skills to agility over Agile while taking advantage of the Awesome Things inherent in practices such as Kanban, SCRUM and BDD.

×

16:40

Fixed mindset is sabotaging for you and your team

Ulrika Malmgren

---

cukeup

agile

bdd

cukeup agile bdd

---

About the speaker...

Ulrika has been passionate about testing for almost a decade and has worked with test on a bunch of different products, using both exploratory and automated testing. She believes that when creating good systems, everyone needs to care about quality and think about it from the very beginning and she loves to have the conversation on how you can do that.

Even though testing might be Ulrika's favourite topic, she takes great pride in the fact that she "speaks programmer" and enjoys most topics when it comes to software development.

×

16:50

Simple expressions in steps instead of regular expressions

Jens Engels

---

cukeup

agile

bdd

17:00

The Delayed Gratification Principle

Stephen Anderson

---

cukeup

agile

bdd

Delayed gratification is the ability to resist the temptation for an immediate reward and wait for a later reward. In this short talk, Stephen discusses the benefits of applying this psychology concept in software development.

×

17:10

How can a living documentation help me and where do I get one

Dirk Rombauts

---

cukeup

agile

bdd

cukeup agile bdd

---

About the speaker...

Dirk Rombauts is the maintainer of Pickles, the open source Living Documentation generator. He is a former employee of TechTalk, the company behind SpecFlow, the leading BDD framework for .NET.

In the last 5 years he worked a great deal with BDD, helping Developers, Product Owners and Business Representatives to achieve a Common Understanding of the project at hand. As such, he experienced many highs and lows in "Life with BDD".

He has a total of 13 years of experience working in .NET on a wide variety of projects and target devices. He provides a lot of in-house training and is an occasional speaker at conferences (for example the inaugural DevCamp in Austria).

You can find Dirk's blog at http://blog.picklespro.com/.

The picture is copyright by www.fotoweinwurm.at.

×

17:20

Property based testing

Mathias Verraes

---

testing

cukeup

agile

bdd

testing cukeup agile bdd

---

About the speaker...

Mathias Verraes advises organisations on designing and modelling software for complex environments, including architecture, analysis, testing, and refactoring "unmaintainable" systems.

He has worked with clients in Government, Logistics, Mobility, Energy, E-Commerce, and more. He teaches Domain-Driven Design courses and curates the DDD Europe conference. When he's at home in Kortrijk, Belgium, he helps his two sons build crazy Lego contraptions.

Mathias tweets at @mathiasverraes.

×

17:30

CukeUp! 2016 Wrap Up
Sneak Preview
A Sneak Preview of CukeUp! 2016
We're delighted to welcome a fantastic range of experts and sponsors to this year's conference. On these pages, you'll find a heads-up on some of the content they'll be sharing at CukeUp! in London this year.
---
Looking forward to CukeUp! 2016? Share it!
Looking forward to CukeUp! 2016? We'd
love to hear
what you are most looking forward to!
Eager to know what Paul Rayner thinks about CukeUp! - past, present and future?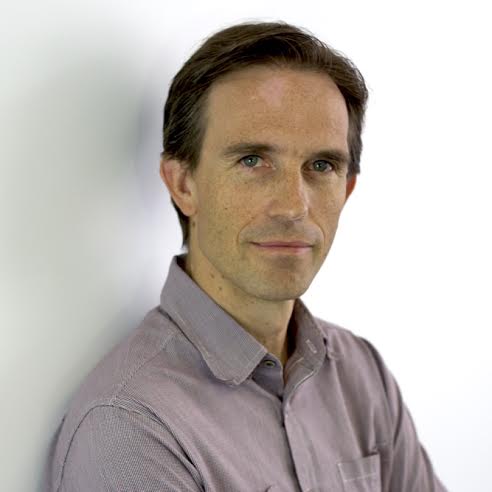 On the way home from last year's CukeUp! 2015 London I wrote the following in an email to Skills Matter: "I'm sitting at Heathrow, continuing to reflect on last week. It occurred to me, there's not another conference that has been as informative or significant for me in the last few years as CukeUp! London 2015 has. I came to London looking for guidance and answers about my involvement in the BDD community, fully prepared to give up on BDD and explore elsewhere, and received far more than I expected. I'm already sure I'll look back on this conference, the sessions, and the conversations with new friends as a seminal point in my career. I feel reenergized about BDD, and am starting to have a clearer view of my place in the community.
I'm not sure if this year's CukeUp London can live up to last year's experience for me; that would be tough. But I've been working with Chris Young for months now to develop and refine our BDD Heart DDD workshop, and am excited to finally see it come to life and have an impact. I'm really interested in learning from how Mathias and Julien approach Eventstorming in their workshop, and what Nat Pryce and Ulrika Malmgren have to say in their talks.
Being based in the USA, by far the best thing for me is the opportunity CukeUp! London provides to spend quality face-to-face time with new friends and old in the BDD community. I hope to see you there.
Cannot wait to attend Gemma Cameron's workshop? Here's a sneak preview of what you can expect to see at CukeUp!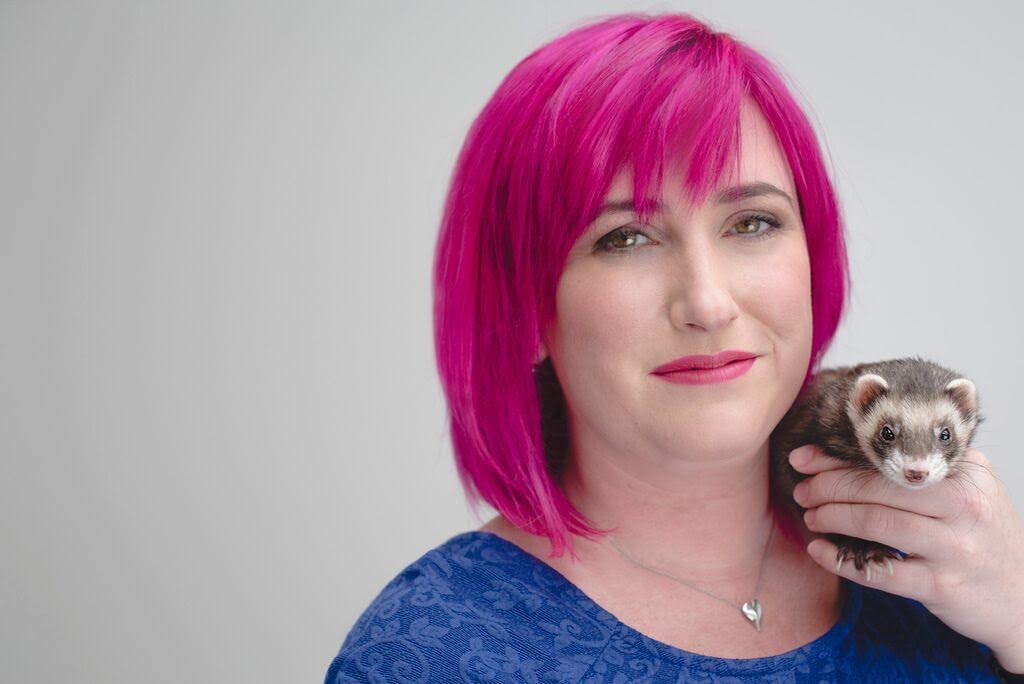 I'm really looking forward to running my "Bringing user stories to life" workshop at CukeUp! 2016 and presenting it to the BDD community. I discovered this technique a few years ago and every time I've mentioned it people have got really excited.
For me BDD is all about the conversations and I'm anticipating some truly inspirational insights from the attendees. I'm a big fan of DDD and really looking forward to Chris Young and Paul Rayner's workshop, as well as seeing how David Buckhurst managed to scale automation for iPlayer (I bet that was a challenge!!!).
Mostly I'm looking forward to meeting the community, if you spot my pink hair and fancy a chat I'd be delighted to listen to your stories.
Ahmed Ali will be talking about Cucumberish, the native iOS/Mac OS X implementation of Cucumber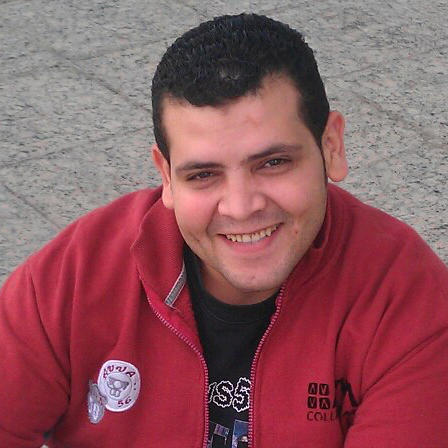 As an iOS/Mac OS X developer who considers BDD as one of his top priorities, it is very interesting to get the chance to introduce Cucumberish at CukeUp! 2016. It was a very exciting moment when Aslak mentioned the possibility to speak in CukeUp! 2016 about Cucumberish: The native implementation of Cucumber for iOS and Mac OS X.
I'm looking forward to being able to add something important to the iOS and Mac OS X community and hear what the community thinks about Cucumberish which will help me have a clear sight on where the next steps for Cucumberish should be. Moreover, it will be a great opportunity to hear the feedback from the BDD gurus who will also be in the conference.
Since BDD has proven to be a leading methodology in software engineering, being a part of such a community is being a part of those who have the knowledge and the power to help improve the software engineering industry! And there is no better way of being a part of this community than an event like CukeUp! 2016.
I believe everyone who will be part of the conference, whether as a speaker or attendee, will learn something - a very valuable thing! There is of course a high probability you will meet someone at CukeUp! who has been through similar experiences as yours but used a different approach. I am sure I will come back from the conference with more tricks to improve my own practices.
All in all, I can confidently tell that BDD is trending up and from the look of the speaker line-up, there will be a huge variety of knowledge in one place at CukeUp! Being a part of CukeUp! will surely help take your knowledge and experience to the next level.
Here's why our Keynote Speaker Jenny Martin recommends you don't miss out on CukeUp! 2016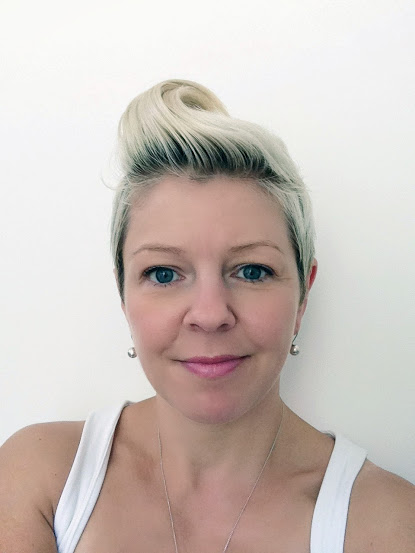 CukeUp! is now only a few weeks away and I'm preparing for my Keynote 'The BDD Manifesto'. I'll be exploring the principles that underpin BDD and taking a holistic view on how to get the most benefit out of BDD practices and collaboration in general.
There's such a great line up this year at CukeUp! I'm really stumped for which talks and workshops to choose.
I've heard a lot about Event Storming, so am looking forward to learning more about that in Mathias Verreas and Julien Biezemans' session.
I like to stretch my technical comfort zone when I'm at CukeUp! and am determined to attend one of Chris Young's workshops (we have a history of our sessions always clashing at conferences) so I'm particularly interested in Chris and Paul Rayner's workshop on BDD Heart DDD – Everything by Example.
I'm really stuck for which workshops to choose on day 2, specifically how to choose between Konstantin's Modelling by example workshop, Paul Rayner's BDD in the key of Design and Peter Thomas and Debbie Evans' workshop about BDD in Finance. The first two really appeal to me as I am massively motivated by collaborative techniques and how to join up BDD with our design practices, I think this extension of BDD is going to be an exciting one to watch for the BDD community over the next 12 months. The third workshop, 'Effective Implementation in Data Rich Complex systems' really strikes a chord with me, as I believe one of the key benefits of BDD is in exploring and getting to know our data pre-conditions and inputs that drive our systems behaviour. Pete Buckney and I use data personas to help guide conversations and explore examples within our delivery teams and domain experts, but more about that another day...
Thankfully, SkillsMatter will capture all the talks and workshops on SkillsCast so I'll be able to catch up on all the stuff I missed when I get back to the POD (my garden office) .
The best thing about being part of the community at CukeUp! is that I learn so much from other people's perspectives and experiences. I always go in with my own (somewhat strongly held) opinions on how things should be done, but always come away with a new or refined perspective. The talks and workshops (and perhaps some lively debates over a couple of drinks) really challenge my assumptions and paradigms and encourage me to explore new methods and think things through. I nearly always walk away with some kind of 'aha' moment and can't wait to get back to my team to share ideas and try things out.
Another great thing is that there is such a diverse group, not everyone is deeply technical. My early technical career is in test management and quality improvement, so as well as discussions with developers, I always look forward to hearing about how fellow testers and BAs apply BDD in their organisations. And I'm looking forward to the pizza too of course!
See you there!
Meet Gloria and Aida from TypeForm!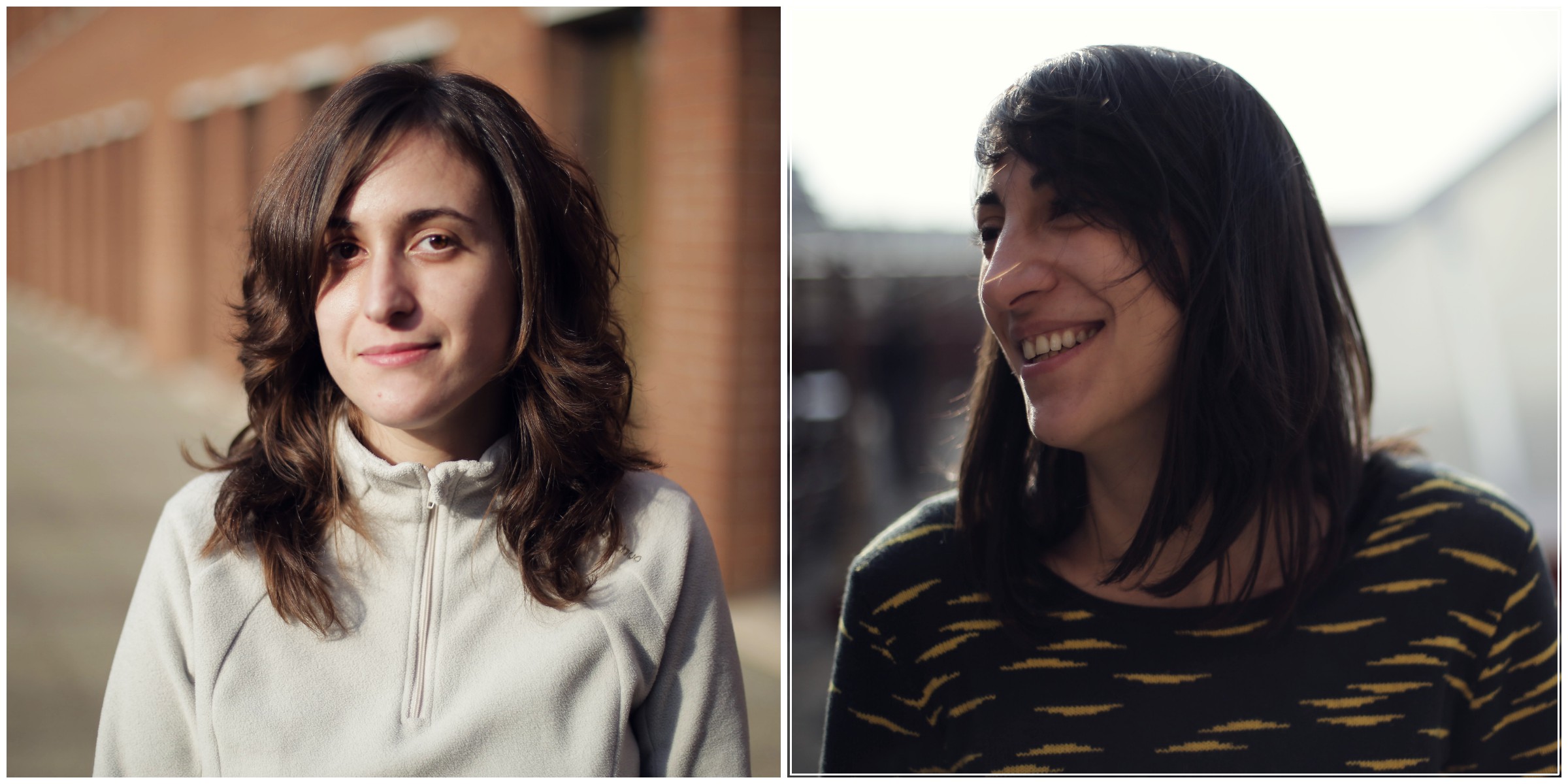 We are excited to joining CukeUp! 2016 where we will be sharing our thoughts about how to build a test automation framework from scratch.
We wanted to explain how we built our project because test automation has become an essential part of testers' lives, however there are not many resources available for beginners that do not know how to start. We think it would be nice to share all the challenges we faced while working in a real project. We will be discussing the problems we found and the solutions we applied.
Our talk will be enjoyed both by beginners who want to start in the automation world and for more experienced engineers who are looking to improve their framework.
Excited? Check out the full programme of CukeUp! 2016 here.
Venue
CodeNode
CodeNode is the UK's largest venue dedicated to Technology events and was designed to provide a space for Skills Matter's community of software professionals to come together and enjoy meetups, conferences, training and networking events. With fantastic transport links and located in the heart of London's Tech City, Codenode welcomes thousands of engineers each year, who come together to learn and share skills, exoerience and collaborate on projects.
CodeNode features six dedicated event spaces, a large break-out area, complete with fully-licensed bar, reliable wifi, plenty of power sockets, and 6 dedicated event and collaboration spaces.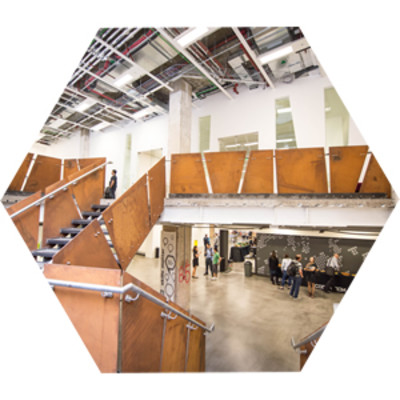 Get Involved
Call for Papers
The Call for Papers is now closed, please keep an eye on our programme page as the line-up is being unveiled!
Sponsors
Skills Matter's community conferences are made possible thanks to our passionate community - who constantly feed us with their ideas - and thanks to the generous support of our amazing partners, who help us keep tickets affordable, organize great workshops and are keen to meet you at their booths, to share their projects and tools with you.
Sponsor CukeUp! 2016
Would you like to join the world's top innovators, hackers and experts in BDD? Want to demo, discuss and share your projects, devices and tools with our community of passionate developers? Then CukeUp! could be the event for you.
Whether you are seeking to improve visibility of your tools, devices or projects, or simply would like to support the BDD's passionate community through your engagement, our team will be able to help you select the best sponsorship package for you! Email sponsors@skillsmatter.com or phone 0207 183 9040 for more information.
Available Packages
64-BIT SPONSORSHIP

Engage with the BDD and Cucumber community! Show off your team, projects, tools or devices at your CukeUp! conference booth!

Brand Visibility Benefits

Your logo (large) on all #CukeUp web pages
Your own dedicated partner page on skillsmatter.com
Your logo (large) on all in-venue conference banners
Visibility of your brand and your support for #CukeUp in regular social media updates.

Engagement Benefits

Your own booth at #CukeUp (160x80cm)
Your sponsored message with hot linked logo in the #CukeUp post-conference newsletter
Two items (leaflet, device, pen or notepad) included in all #CukeUp swag bags
5 free tickets to the conference which you can gift to your clients, your engineering team or members of a community you would like to support.

32-BIT SPONSORSHIP

Brand Visibility Benefits

Your logo (medium) on CukeUp! web pages
Your own dedicated partner page on skillsmatter.com
Your logo (medium) on all in-venue conference banners
Visibility of your brand and your support for CukeUp! in regular social media updates.

Engagement Benefits

Your sponsored message with hot linked logo in the CukeUp! post-conference newsletter
One item (leaflet, device, pen or notepad) included in all CukeUp! swag bags
5 free tickets to the conference which you can gift to your clients, your engineering team or members of Computing At School (teachers learning computing to teach the new National Computing Curriculum).

16-BIT SPONSORSHIP

Brand Visibility Benefits

Your logo (small) on CukeUp! web pages
Your own dedicated partner page on skillsmatter.com
Your logo (small) on all in-venue conference banners
SPONSOR the CukeUp 2016 Party!

Be remembered! Have your logo printed on the CukeUp! Party badges, provided to all conference attendees, speakers and sponsors attending the party this year.

Brand Visibility Benefits

Exclusive to one party sponsor only!
Your logo displayed on CukeUp! party badges
Your logo displayed on CukeUp! Party pop-up banners
Get your logo featured in lots of pictures taken at the CukeUp! Party!
Plus 16-bit sponsorship benefits
To discuss sponsorship opportunities please contact the team:
Press
Would you like to write about CukeUp! 2016? Do you blog on BDD, Specification by example or Cucumber? Come and join us at CukeUp! London 2016 this year! If you blog about CukeUp 2016! and send us the link, and we'll proudly feature you on these pages!
And if you would like to write an article or interview some of CukeUp!s amazing speakers, inventors and thinkers this year, contact marketing team and have a chance to win a free press pass.
Write ups about CukeUp!
SkillsCasts
Hive CI: Making Automation Scale for iPlayer

The BBC iPlayer TV & Mobile applications run across a huge variety of devices. The team at BBC has invested heavily in test automation to reduce its manual testing effort but struggled to scale across physical devices with conventional CI tools.

iplayer ci-system bbc hive-ci cukeup

2

CHEESECAKE – The story of Typeform's automatic test suite

Nowadays, test automation has become an essential part of testers' lives. However, there are not many resources available for beginners that do not know how to start.

typeform test-automation cukeup

The Dark Side of BDD

When people first hear about Behaviour Driven Development, they may well think it is the silver bullet that will solve all the problems between stakeholders in a project. Care must be taken though, because several forces will try to lure you away from the straight path. If you go to the dark...

dark-side cukeup bdd

The Delayed Gratification Principle

Delayed gratification is the ability to resist the temptation for an immediate reward and wait for a later reward. In this short talk, Stephen discusses the benefits of applying this psychology concept in software development.

cukeup bdd agile

Behaviour-Driven Development: The Bigger Picture

Having trouble understanding how the different puzzle pieces of BDD fit together? Don't worry. Many teams struggle with this same problem. We don't want you wasting time and effort on the wrong things, or wrestling with doing the right things at the wrong time. Not understanding the...

ux gherkin cucumber test-automation cukeup bdd

Keynote: Kind of Green

BDD is like Jazz. There is no authoritative definition of what it is. It has emerged from independent practices and it is constantly evolving. Different practitioners interpret it very differently.

green cukeup bdd

Test Automation Tales of Terror

Nat will tell a trio of tales, of true-life troublesome testing tribulations on large, complex projects. But he's not just here to terrify you. He'll also reflect on the lessons learned about how to better integrate test automation into software projects large and small.

test-automation cukeup bdd testing

Property based testing

cukeup bdd testing agile

Making your first pull request

Your First PR is an initiative with a goal to get people involved in making pull requests to other open source projects. In this talk you will be introduced to Your First PR as a project, discover where you can find starter issues to work on, and learn how you can help others to make their own...

pull-request your-first-pr cukeup

BDDfire - Get up and running with Cucumber, Docker and Gatling in a minute

BDDfire is an instant Ruby-Cucumber framework which allow you to perform Web, API, Load, Accessibility and Performance testing without writting much code also support provisioning with Docker.

docker gatling cucumber cukeup

Keynote: A BDD Manifesto...

Scrum is great for telling us what roles we need on our teams and how we should run our daily meetings, but doesn't actually help us know how to collaborate effectively.

scrum cukeup bdd agile

Why Team Size and Story Size matter

This is a talk about how breaking a big team into two smaller teams and breaking stories into bite sized chunks can help a team perform and deliver with greater velocity and better performance.

team-work team performance cukeup

Modern Project Toolbox

Agile is defined by an open development process driven by collaboration. But you know that collaboration is not always an easy process and in a lot of cases you need to come up with creative ways of establishing and supporting it. By that reason Agile community was very busy in the last decade...

project-toolbox development planning story-mapping risk-brainstorming impact-mapping cukeup agile

Living Documentation for commandline applications - A contract between you and your users

Quite a few books told you that writing tests upfront is a good thing. They're right, but unfortunately you normally also need some documentation about how to use the well tested service/applicaton.

cucumber aruba cukeup bdd

Test Automation: how to add REAL value to a project

The rapid adoption of Agile methodologies and increasing popularity in the continuous delivery model has amplified the requirement for test automation as part of software application development process. This shift has changed the role of testing in software projects. Testers are now expected to...

test-automation cukeup bdd testing ui-tests agile
Photos
Other Years
CukeUp! 2015

Two days in London

Want to learn how BDD can help you and your team combat complex software problems? Want to network with your peers tackling similar software problems? Then join us in March for our fourth edition of this much loved conference.

agile ddd cucumber-pro cucumber bdd

CukeUp! 2015 Waiting List

One day in London

This is the waiting list for CukeUp! 2015. Please drop your contact details to hear if a space at the event is available.

CukeUp! NYC 2014 - All about BDD

Two days in New York City

This two day conference and tutorials will explore various aspects of BDD in this New York community event. CukeUp! is organised and curated in partnership with Cucumber Limited and also runs annually in London.

acceptance-testing gherkin cukeup testing cucumber bdd

CukeUp! 2014

Two days in London

CukeUp! 2014 is a fast-paced conference co-organised by Skills Matter and Cucumber Limited - the company behind Cucumber. Together, we've been assembling the community since 2011 for this intense conference - this year we've added a day of workshops to allow you explore topics in their...

gherkin unit-testing cucumber-jvm cukeup cucumber-pro testing cucumber bdd tdd ruby

CukeUp! NYC

One day in New York City

CukeUp! NY 2013 was the first ever conference all around BDD in NY.

elixir automated-testing testing cucumber bdd

CukeUp! 2013

One day in London

Want to catch up on the latest developments ideas, and best practices in Cucumberworld? Want to hear from the creator of Cucumber Aslak Hellesøy?

We are proud to present the third annual CukeUp!, held at Skills Matter London.

cucumber bdd atdd tdd

CukeUp!

One day in London

Skills Matter and Aslak Hellesøy, the creator of the popular Cucumber BDD tool, have partnered to organise CukeUp! .

CukeUp! is taking place in London today (March 24th 2011). It's a one day conference packed with half hour talks about all things related to the Cucumber BDD tool and...

cucumber bdd atdd tdd ruby java .net