Overview
We hope droidcon London 2016 will inspire you with lots of new ideas. If you fancy getting stuck in straight away, join fellow droidcon attendees and some of the most talented coders and experts, for the traditional, weekend-long DroidconHack and create something amazing!
Enjoyed #DroidconUK 2017? Do you want to apply some of those new skills you gained?
You can come along with your own team, but it's also cool if you're on your own - we will be putting together teams on Saturday!
WHAT, WHERE, WHEN?
WHAT: Droidcon London Hack Weekend
WHEN: Saturday & Sunday October 29-30th, starts at 09:00
WHERE: at Skills Matter's Codenode
CHALLENGES
Create an app for our TC8000 (Zebra)
Build something with FireBase (Google & Novoda)
Build something with Bluetoothtap (Equal Experts)
PRIZES
One HooToo VR Headset sponsored by Zebra
One Sony Xperia sponsored by XDA Developers
One Amazon Echo sponsored by Equal Experts
GET YOUR TICKET
Attendance is free for registered attendees. You can get a ticket here
AGENDA
October 29th
09:00-10:00 Welcome & Refreshments
10:00-10:30 Introductions of the challenges & prizes
We'll kick off with a presentation of this year's droidcon London Hack Weekend challenges and sponsors at CodeNode.
10:30-12:30 Hacking in teams
12:30-13:30 Lunch
13:30-18:00 Hacking in teams
18:00-19:00 Drinks & pizza
19:00-22:00 Hacking in teams until 10pm on Saturday, we will come back @ CodeNode at 9am on Sunday.
October 30th
We'll kick off at 9am and normally present each project at around 1pm on Sunday. The jury will select the winners of the challenges (from 11am to 1pm approx) and the droidcon London Hack Weekend finishes with an award ceremony of the prizes (which have been pretty cool most years) which starts at 1pm and finishes at 2pm.
Where
droidcon London Hack Weekend will be hosted at CodeNode, Skills Matter's community venue, which features plenty of spaces to collaborate and work on projects. CodeNode features fast and reliable WIFI, all spaces come with plenty of sockets, whiteboards.
CodeNode's 9 metre long 'spacebar' will water and feed you throughout the 2 days.
How
You can take part in the droidcon London Hack Weekend by registering on these pages.
We look forward to welcoming everyone at CodeNode!
Content Disclaimer
Skills Matter makes no claims to ownership over any type of intellectual property you may use at the hackathon, including trademarks, copyrights, and patentable ideas.
Programme
HOLD TIGHT, PROGRAM COMING SOON!
We're currently working on a program. If you have any suggestions, topics you'd like to see covered, or experts you'd like to meet, let us know!
Sneak Preview
Zebra is sponsoring droidcon London Hack Weekend!

Build on the platforms you know, on devices purpose built for Enterprise
Enterprise development needs to be specialized; but developers need control and flexibility to customize solutions. As an Enterprise Developer, Zebra has your technical needs covered!
Start with our Purpose-built enterprise devices and hardware
Consumer devices don't cut it for enterprise grade solutions. Zebra's Enterprise devices have enterprise needs built in:
-Security, encryption & multi-user log-in/lock-down
-Built-in, enterprisde-optimized data capture
-Device durability, enterprise accessories & enterprise lifecycle availability/support
-Enhanced wireless and device & power management capabilities
Easily integrate with your existing systems or customize and create your own applications
Whether you are building a new application or migrating legacy apps to a modern OS, we have the tools and utilities to help you.
-Build on the OS you know like Android, Windows or iOS so you can optimize your applications and offer the experience your company and customers want.
-Mobility DNA for Android and Link-OSTM provide a suite of industry leading tools and utilities. Purpose-built enterprise toolsets lower your development costs and risk, provide simpler management and tighter security.
Zebra Developer Tools help you gain the ease of consumer operating systems, without sacrificing the critical data functionality of enterprise solutions. Whether you develop for one device or multiple operating systems, our SDKs deliver all the tools needed for flexible solution development.
Cross Platform Support is available with Zebra development tools like Xamarin components, Enterprise Browser and RhoMobile.
Take advantage of our Industry Experience and Support
We are Zebra Technologies, a global leader in enterprise technology for over 40 years in over 100 countries.
-Our
use cases
can guide your development for industries like retail, logistics, manufacturing, and healthcare.
-Our
AppGallery
and
ISV
program connect you to enterprise customers and revenues.
-Support is available with our documentation, forums, events; and our
Global Solution Centers
where you can get in-person help.
-Developer support services. Zebra has a range of services to help developers – Validated and Compatible testing programs. Application development consulting services can help during your initial build cycle by sharing best-practices. In addition, we offer a mobile virtualization service, using the
iFactr platform
.
---
Venue
CodeNode
CodeNode is the UK's largest venue dedicated to Technology events and was designed to provide a space for Skills Matter's community of software professionals to come together and enjoy meetups, conferences, training and networking events. With fantastic transport links and located in the heart of London's Tech City, Codenode welcomes thousands of engineers each year, who come together to learn and share skills, exoerience and collaborate on projects.
CodeNode features six dedicated event spaces, a large break-out area, complete with fully-licensed bar, reliable wifi, plenty of power sockets, and 6 dedicated event and collaboration spaces.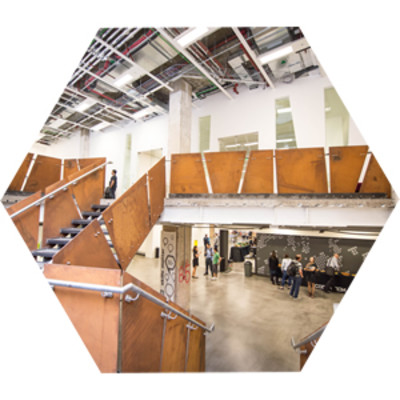 Sponsors
If you would like to engage some of the most talented android coders and experts with your platform, tools or devices, sponsor the DroidconHack, set a challenge, support the teams taking up your challenge and select and celebrate the winners on Sunday!
For more information about DroidconHack sponsorship options, contact [sponsors@skillsmatter.com]sponsors@skillsmatter.com
To discuss sponsorship opportunities please contact the team:
SkillsCasts
Hold tight, skillscasts coming soon!
Other Years