1 DAY CONFERENCE
Property Tech
Topics covered at

#PropTech2016
Property Tech is the leading event dedicated to technology innovation occurring in the Property / Real Estate sector. It will be holding its 5th event at Codenode, bringing together some 400 of the most important people in PropTech & the traditional Property Sector.
Join to meet new business partners, launch their brands, hear from thought leaders and gain up-to-date insights on the latest disruptors and innovators.
PARTNER OR DISRUPT
Corporate/startup partnerships and the future of proptech
We will hear directly from the deal makers and answer the following questions:
Why both the Residential & Commercial Real Estate sector's should see innovative startups as opportunities not threats.
How to find the rights partners that fit your strategic vision and existing business model.
How large corporations can innovate faster and gain significant competitive advantage.
Main Stage
Hear directly from the leading Real Estate companies such as Google, CBRE, Kontor London, Zoopla, Rightmove and many more.
Mix of Product Demo's from exciting startups ( iNNOVATION ON STAGE), Discussion Panels, Case Studies and Expert Keynotes.
No pitches, No self-promotion just real insights and practical advice.
20+ handpicked Expert Speakers and Thought Leaders.
Roundtable Discussions
16 - 20 Roundtable discussions moderated by a Co-Host / Event Partner.
4 Sector specific tracks : Residential, Commercial, Smart Homes & Cities, Investment.
Designed to facilitate open dialogue between attendee's where everyone participates equally.
Focused on sharing ideas and helping to tackle some of the biggest challenges faced within the sector.
PROGRAMME
HOLD TIGHT, PROGRAM COMING SOON!
We're currently working on a program. If you have any suggestions, topics you'd like to see covered, or experts you'd like to meet, let us know!
CodeNode
In August 2015, Skills Matter opened the doors to CodeNode, our new 23,000 sqft Tech Events and Community venue. CodeNode provides fantastic meetup, conference, training and collaboration spaces with unrivalled technology capabilities for our tech, digital and developer communities - a long held dream coming true !
With fantastic transport links and located in the heart of London's Tech City, we could not think of a better location for our 60,000 strong engineering community!
With seven event rooms, including a 300 seater lecture room, thousands more community members will be able to visit CodeNode to learn and share skills, code and collaborate on projects.
CodeNode features a 5,000 sqft break-out space, complete with fully-licensed bar, plenty of power sockets, meeting and collaboration spaces and entertainment areas.
CodeNode will also see the opening of a permanent Hack Space, stacked with microprocessors and the latest tools and devices to play with. A community film studio will be opening too, which you can use to record any tutorials or demo's you may want to share with our community.
If you're interested in hiring CodeNode for your upcoming event, check out more details here.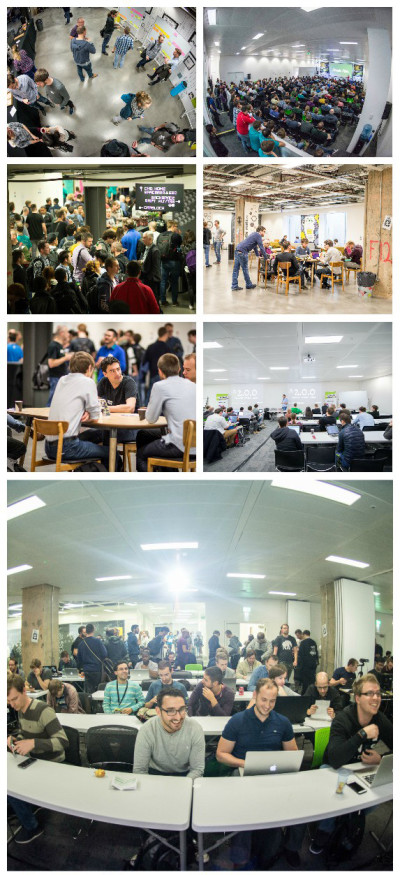 To discuss sponsorship opportunities please contact the team:
Hold tight, skillscasts coming soon!