1 DAY CONFERENCE
Innovation Through Interconnection
Topics covered:
Competitive advantage today is dominated by our ability to interconnect. Join a stellar cast of industry experts from Google, LEGO, TRL, LMAX Exchange, Ford, Pearson Media, Oracle and Equinix who will explore the challenges, opportunities and immense potential for innovation through interconnection.
Interconnectivity delivers instant collaboration between dense industry ecosystems consisting of partners, employees, customers, cloud and network service providers and data pools. This direct and secure interconnection spans geographies, to accelerate business performance and create growth. It is reinventing the face of the economy, altering how work gets done, how competitive advantage is forged and how revenue is generated.
This event is focused on igniting that change and brings interconnection to the forefront.
FREE ATTENDANCE | REGISTRATION REQUIRED
Find out more information about the agenda, registration, speakers and programme here.
We are still putting the finishing touches to the agenda. The line-up is in draft so expect many more exciting additions in the weeks to come. If you have registered your interest, we will keep you up-to-date with all the latest additions.
To view the latest speakers please visit the event page here.
CodeNode
In August 2015, Skills Matter opened the doors to CodeNode, our new 23,000 sqft Tech Events and Community venue. CodeNode provides fantastic meetup, conference, training and collaboration spaces with unrivalled technology capabilities for our tech, digital and developer communities - a long held dream coming true !
With fantastic transport links and located in the heart of London's Tech City, we could not think of a better location for our 60,000 strong engineering community!
With seven event rooms, including a 300 seater lecture room, thousands more community members will be able to visit CodeNode to learn and share skills, code and collaborate on projects.
CodeNode features a 5,000 sqft break-out space, complete with fully-licensed bar, plenty of power sockets, meeting and collaboration spaces and entertainment areas.
CodeNode will also see the opening of a permanent Hack Space, stacked with microprocessors and the latest tools and devices to play with. A community film studio will be opening too, which you can use to record any tutorials or demo's you may want to share with our community.
If you're interested in hiring CodeNode for your upcoming event, check out more details here.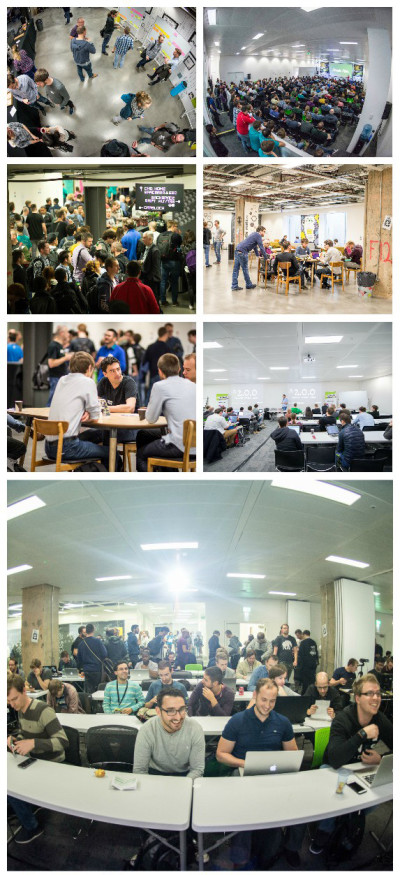 To discuss sponsorship opportunities please contact the team:
Hold tight, skillscasts coming soon!