1 DAY CONFERENCE
Datapalooza Mashup 2016
Topics covered at

#datapaloozaUK
IBM Datapalooza Mashup London was a full day immersive experience for data engineering and data science practitioners. The event saw IBM and a diverse community of data professionals exploring inspirational data and analytics solutions using a variety of data sources including weather, transport, location, social and (as it was Wimbledon fortnight!) some tennis data. Some of the key questions covered at the Mashup were: Trying to figure out what to do with Internet of Things, machine learning and other emerging open technologies such as Spark and Quarks? Want to get your hands on the data and analytics products that you can use to build your own super-powered apps, gaining algorithmic inspiration from combining in-house data with insightful open data sources? Then this is the place to be!
Whether you've been a data engineering or data science practitioner for years or just getting started, we are gathering experts from across IBM and our business partner community to bring you an amazing day of learning how to be a data innovator.
DATAPALOOZA™ is a trademark of AcademyHealth and is used under license.
Thank you for joining us at Datapalooza Mashup on 30 June!
Datapalooza Mashup was a hands-on event using IBM's data and analytics services within IBM's Platform-as-a-Service (PaaS) Bluemix to mashup data from various sources, supported by our team of SMEs.
There was development and deployment of simple applications using the IBM Bluemix platform, so a basic understanding of accessing and integrating data and analytics services through APIs would be advantageous.
Some of the datasets we worked with

Tennis Data
We will be providing access to tennis data from the 2014 and 2015 Championships.
IBM has been the Official Information Technology supplier to the All England Lawn Tennis Club and The Championships for over 25 years, supporting its mission to be the premiere tennis tournament in the world. We do that by continuously innovating, by not being afraid to demonstrate how technology can add to the fan experience while never detracting from it. For speed of serve, to real time match statistics provided to commentators to mobile and digital solutions IBM helps bring The Championships to the world.
Weather Data
The Weather Company will be providing historical weather data that corresponds to the tennis data above, plus access to live weather data on the day.
Transport Data
TransportAPI will be providing access to transportation data from sources such as TfL.
Geolocation Data
Ordnance Survey will be providing access to mapping data.
Smarter Travel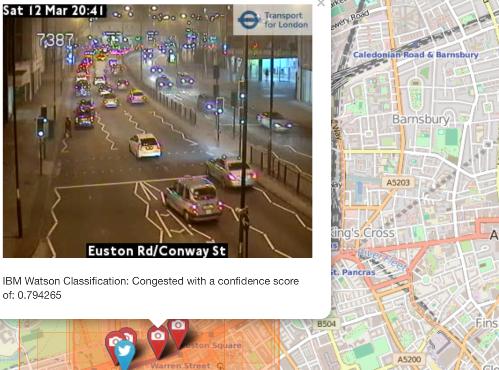 Smarter Travel is an example of 3 data services and value add functions being brought together into an integrated solution using the power of Bluemix.
By using the agile development capabilities of Bluemix, and using the APIs made available by each service, the solution was developed in less than 20 hours - in what is the equivalent to a £200,000 systems integration project.
This is because Bluemix provides a platform that removes the overhead of setting up the underlying infrastructure, runtimes and scaling needed for applications, and through the development allows quick repeat of provisioning, deprovisioning required for agile development.
Smarter Travel is available at
http://bus.eu-gb.mybluemix.net
- choose operator "London Buses" and Route 88 and click on a camera!
CodeNode
Codenode is the home of our monthly Datapalooza Nights - a series of meetups for the Data Science community. Many other communities meet at Codenode to discover emerging technologies and explore ideas related to Data Science, Data Analytics and Machine Learning - so we could not think of a better venue to bring the Datapalooza community together!
CodeNode is the UK's largest venue dedicated to Technology events and was designed to provide a space for Skills Matter's community of software professionals to come together and enjoy meetups, conferences, training and networking events. With fantastic transport links and located in the heart of London's Tech City, Codenode welcomes thousands of engineers each year, who come together to learn and share skills, exoerience and collaborate on projects.
CodeNode features six dedicated event spaces, a large break-out area, complete with fully-licensed bar, reliable wifi, plenty of power sockets, and 6 dedicated event and collaboration spaces.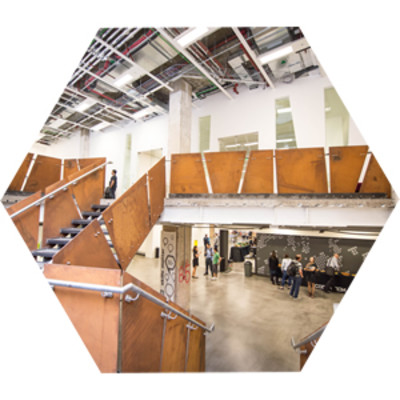 To discuss sponsorship opportunities please contact the team:
Hold tight, skillscasts coming soon!