Hosted in the heart of London at CodeNode, the London Tester Tutorials bring together some of the greatest minds in our industry, to learn, share and evolve the tool and techniques that matter to you!
Join us at the London Tester Tutorials (#LTTutorials) in London on January 29th to 31st 2018!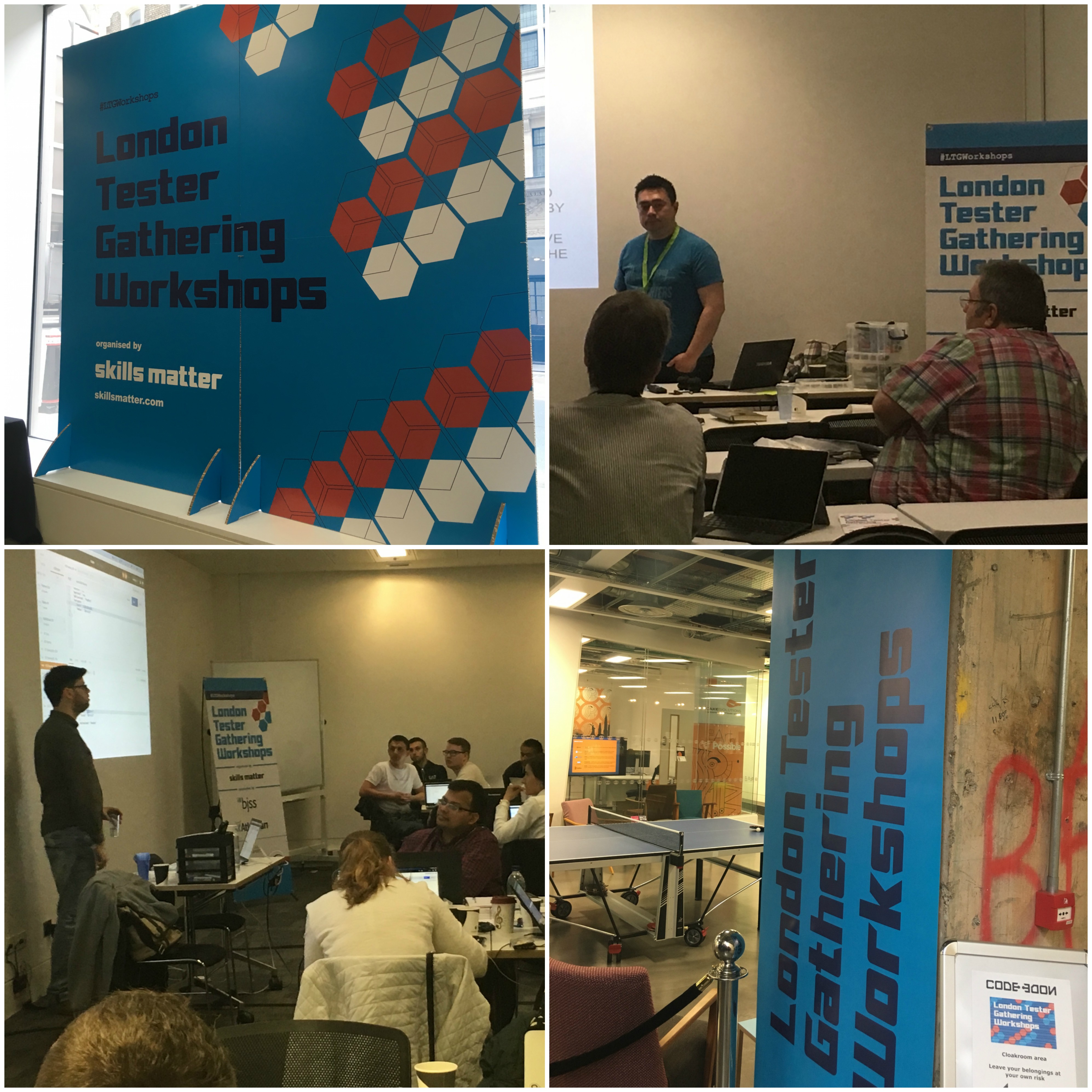 London Tester Tutorials gets bigger and better! Now with 3 days packed with talks and workshops, it's set to be the testing conference of 2018! Join us for one day of talks and two days of workshops and learn and share the best practices on testing, agile and BDD! At the end of these three days, you will know how to use modern testing practices and provide the information your stakeholders need to make informed decisions.
Pierre-Yves Lapersonne, Konstantin Kudryashov and Sharath Byregowda have already confirmed they'll be joining us in January! You have a chance to join them and many more on stage by filling in the Call for Papers - more info below!
A joining of 100+ testers, London Tester Tutorials creates an unrivalled space for meeting fellow testers facing the same engineering problems. At the centre of the conference is a tried-and-true design with a focus on giving you the advantages you won't find in the manual!
WARNING - This is not your event if you want to sit and listen. This is your event if you want to discuss, learn, share and do.
Follow us at #LTTutorials to hear all the latest news.
Check out LTG Workshops 2016's Highlights and Conversations with our experts here!
Call for Papers is now OPEN!
Would you like to speak at London Tester Tutorials 2018? We want to hear your talk proposals!
Talks will be selected by Skills Matter and the Programme Committee on the basis of making the conference a varied, diverse and valuable event. Submission is open to anyone, and we encourage first-time speakers to submit a proposal. Members of the Programme Committee are happy to offer coaching and assistance on talk proposals.
We strongly encourage first-time speakers to be part of our programmes. If your talk will be selected, you will have the opportunity to attend Jenny Martin's course "Giving Engaging Technical Talks at Conferences and Meetups".
Following the suggestions we've received through the Call for Thoughts and your feedback, we would like to actively encourage submissions on the following topics... Click here to find out more and submit your proposal.
Code of Conduct
Please find our Code of Conduct here.
Impressions of past editions
No regression tests, no defects. How defying convention created agile success.
Testing in agile team can be very rewarding when the team aligns to the manifesto values and principles. Sharath will share techniques and ideas on how their team has delivered a multi-tier application into production every fortnight for the last three years in a four billion dollar industry, with no major bugs or showstoppers. Their team have found ways to make testing exciting, quick and effective when acceptance test driven development and nightly automated regression checks were not cost effective!
Sharath will explore with you the techniques and practices that made their testing a valued activity, such as:
• Feature Mapping - learn how product features were mapped to vertical & horizontal workspaces, which helped to tactically automate and allow time for exploration.
• Exploratory Testing sessions - time boxed test sessions around horizontal workspaces and checklists.
• Use it Always heuristic - to help track which features are used and accessed extensively.
• Migration Testing - mindfully built into Continuous Integration & tested everyday to prevent last day regression data testing.
Sharath Byregowda is an experienced agile consultant with a deep passion for testing and quality, developed through various roles across different domains. He seeks to understand the specifics of each situation, selecting practices that fit the context. He also likes to work closely with developers, testers and other business functions to reduce bottlenecks and improve collaboration.
A talk by Konstantin Kudryashov
When not speaking at conferences Konstantin Kudryashov is an Agile blogger, organiser of BDD London meetups, the creator of Behat, Mink, co-creator of PhpSpec and leads the Behaviour-Driven Development (BDD) practice at Inviqa, a leading digital consultancy in Europe. As a communication coach, he has helped teams in many organisations bridge the gap between business and IT using Agile processes and development practices like Scrum, Kanban, BDD, TDD, Collaborative Product Ownership and Deliberate Discovery.
CodeNode
In August 2015, Skills Matter opened the doors to CodeNode, our new 23,000 sqft Tech Events and Community venue. CodeNode provides fantastic meetup, conference, training and collaboration spaces with unrivalled technology capabilities for our tech, digital and developer communities - a long held dream coming true !
With fantastic transport links and located in the heart of London's Tech City, we could not think of a better location for our 60,000 strong engineering community!
With seven event rooms, including a 300 seater lecture room, thousands more community members will be able to visit CodeNode to learn and share skills, code and collaborate on projects.
CodeNode features a 5,000 sqft break-out space, complete with fully-licensed bar, plenty of power sockets, meeting and collaboration spaces and entertainment areas.
CodeNode will also see the opening of a permanent Hack Space, stacked with microprocessors and the latest tools and devices to play with. A community film studio will be opening too, which you can use to record any tutorials or demo's you may want to share with our community.
If you're interested in hiring CodeNode for your upcoming event, check out more details here.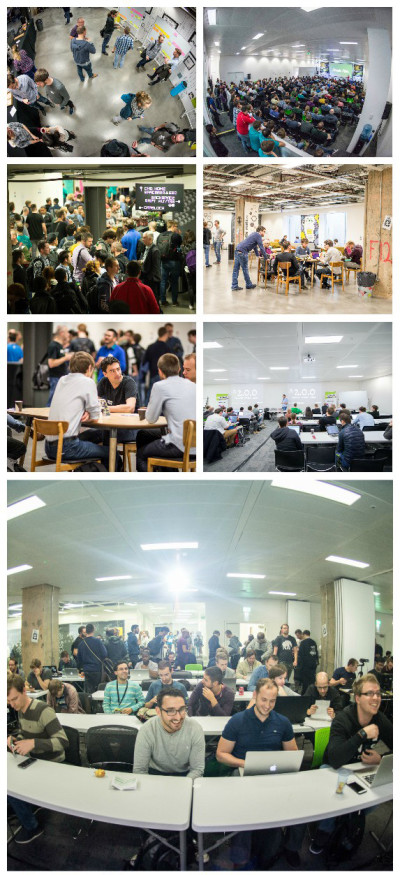 Available Packages
T-SHIRT SPONSORSHIP

Be remembered! Have your logo printed on all #LTGWorkshops 2017 t-shirts, provided to all attendees, speakers and sponsors attending this year.

Brand Visibility Benefits

Your logo on 125 #LTGWorkshops 2017 t-shirts;
Two free tickets to the #LTGWorkshops 2017 Party, which you can gift to your team or your clients;
Your logo (small) on the #LTGWorkshops 2017 Sponsor pages;
Your own dedicated partner page on skillsmatter.com;
Your logo (small) on all in-venue conference banners;
Exclusive to two t-shirt sponsors only!

SPONSOR THE #LTGWORKSHOPS 2017 PARTY!

Be remembered by all conference attendees, speakers and sponsors attending the party this year! Have your logo printed on the #LTGWorkshops Party beer mats and on highly visible party posters and pop-up banners, which are bound to feature in lots of pictures this year.

Brand Visibility Benefits

Your logo displayed on the #LTGWorkshops 2017 beer mats and on the party table pop-up banners;
Five free tickets to the #LTGWorkshops 2017 Party, which you can gift to your clients and team members;
Your logo (small) on all in-venue conference banners and on the #LTGWorkshops 2017 Sponsor web pages;
Your own dedicated partner page on skillsmatter.com;
Exclusive to two party sponsors only!
To discuss sponsorship opportunities please contact the team:
Hold tight, skillscasts coming soon!