2 DAY CONFERENCE
ContainerSched 2017 - The Conference on DevOps, Cloud, Containers and Schedulers
Topics covered at

#containersched
Overview
Join us at ContainerSched in London in September 28th and 29th 2017!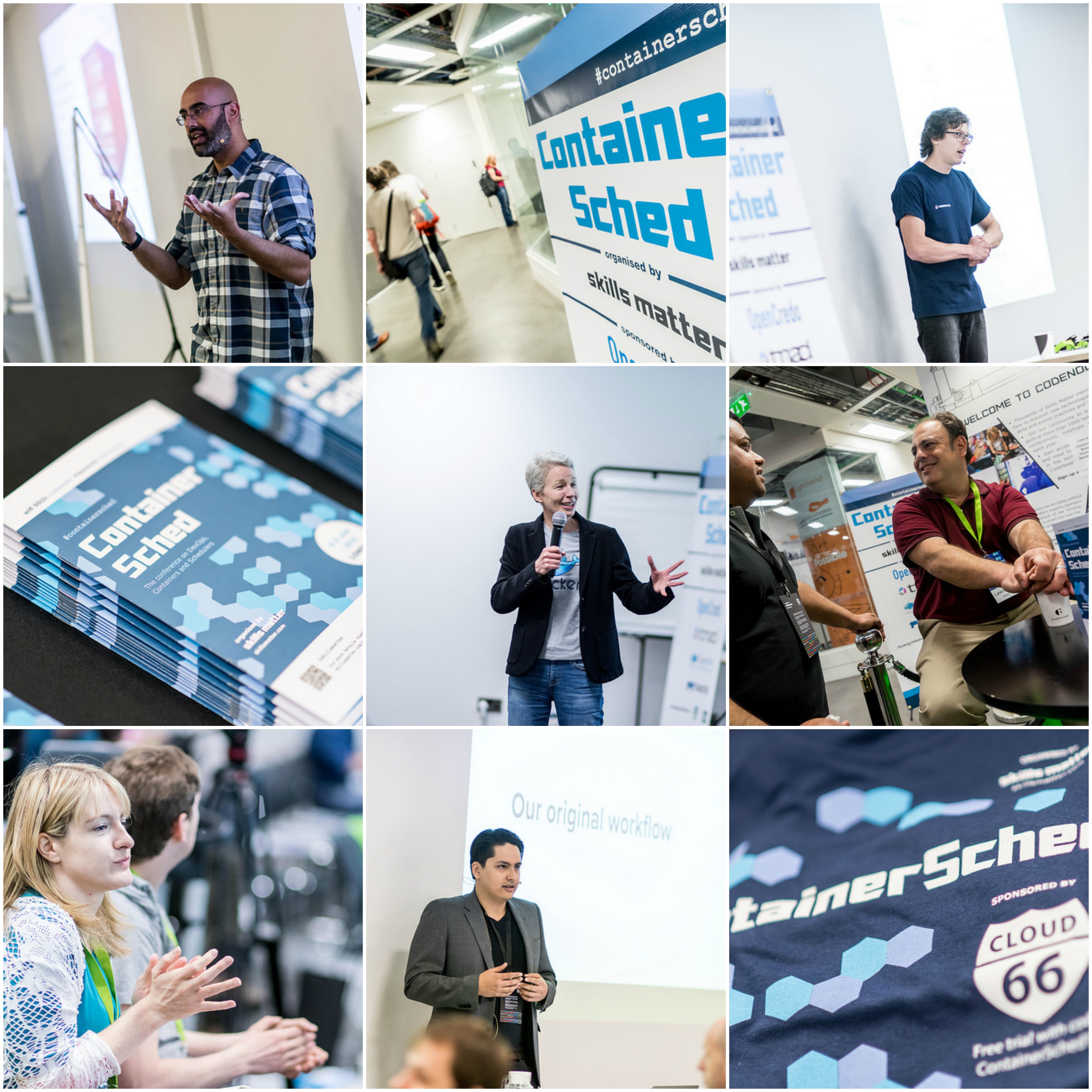 ContainerSched returns to London on September 28th and 29th 2017. Hosted in the heart of London at CodeNode. Meet DevOps experts from around the world and share your experience and learning with your peers at ContainerSched 2017 this September!
The strong drive for ever more adaptable and flexible systems means DevOps, DataOps, ChatOps and SecOps practices, approaches and technologies are changing fast. Join ContainerSched to discover the latest thinking and learn and share skills with your peers in 2 days of talks and discussions.
Check out ContainerSched 2016's Highlights and Conversations with our experts here!
Follow us at #containersched to hear all the latest news.
Call for Papers is now CLOSED!
The Call for Papers is now CLOSED! Thanks for submitting a proposal, the response's been overwhelming and we are currently working on selecting talks. Click here to stay up to date and find out more on speakers as we'll start publishing the line-up very soon!
Volunteer at ContainerSched 2017!
Interested in containers and devops, and eager to learn the latest news? You have the chance to get a free ticket to ContainerSched 2017! All we need from you is some help in setting up the conference on the day prior (Wednesday 27th of September), and some hours of your time on the days of the conference! You will be free to attend the conference for the remainder of the time.
Are you ready then? Email us at containersched@skillsmatter.com and we will put your name down as a volunteer for ContainerSched 2017! Shifts and detailed info will be confirmed closer to the conference.
Code of Conduct
Please find our Code of Conduct here.
Impressions of last year
Programme Announcements!
We're now ready to unveil the line-up of speakers and experts who will make ContainerSched 2017 the go-to Containers and Schedulers conference! Find out more on the Programme Page. Please note: programme is subject to change.
#containersched 2017 Highlights
Keynotes from Russ Miles and Jessica Kerr (Atomist), Liz Rice (Aqua Security), Michael Hausenblas (Mesosphere), Elton Stoneman (Docker) and Anil Madhavapeddy (University of Cambridge) and talks from Daniel Bryant, Cheryl Hung, Timothy Chen, John Mathon, Nic Jackson and more!
ContainerSched London Diversity Scholarship Plan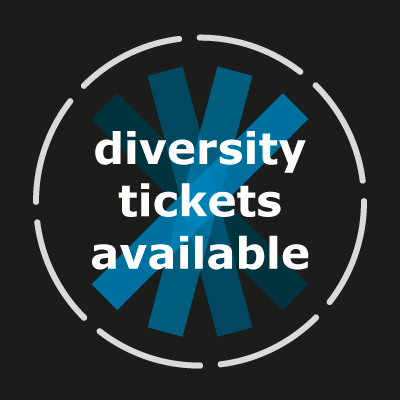 Skills Matter is proud and happy to share our ContainerSched London Diversity Scholarship Plan. This plan is based on our commitment to help develop the skills of women and their participation in our community. It is aimed at helping women who want to enter/ re-enter the tech industry.
Find more information here!
Programme
Day 1: Day 1 - Thursday 28th September 2017
Don't miss these inspiring talks!
Track
Room Name: CTRL
Room Name: ALT/TAB

08:30

Invalid Time

Invalid Time

Registration and Breakfast Refreshments

09:15

Invalid Time

Invalid Time

Welcome to ContainerSched 2017 - Day 1

09:30

Invalid Time

Invalid Time

KEYNOTE




Keynote by Russ Miles

Russ Miles

All levels

---

devops

containersched

devops containersched

---

About the speaker...

Russ Miles is on a mission, as an Author, Speaker and Engineering Manager, to help people thrive in one of the harshest, and potentially impactful, working environments: software system engineering.

Through his books, mentorship, open source contributions, talks, courses and his daily work, Russ tries to help people that are responsible for building and running some of today's most critical software-based systems to develop their own personal resilience, empathy, EQ and grit to flourish at work and in their lives.

Russ can be reached in email at russ@russmiles.com, on Linkedin, and on Twitter.

×

10:30

Invalid Time

Invalid Time

Coffee & Tea Break

10:45

Invalid Time

Invalid Time

Advanced container scheduling with Blox

Julien Simon

Advanced

---

containersched

containers

blox

docker

Microservices Lifecycle Explained Through Docker And Continuous Deployment

Viktor Farcic

Intermediate

---

containers

schedulers

cloud-native

microservices

docker

continuous-deployment

service-discovery

This talk focuses on architectural changes and new tools we should adopt to be able to tackle the problems presented by a demand for modern, responsive, fault tolerant and elastic systems. It is based on the material published in The DevOps 2.1 Toolkit: Building, testing, deploying, and monitoring services inside Docker Swarm clusters.

Viktor will share with you the whole microservices development lifecycle. He'll start from the very beginning and define and design architecture. From there on you'll move from requirements, technological choices and development environment setup, through coding and testing all the way until the final deployment to production. Viktor won't stop there. Once your new services are up and running you'll learn how to maintain them, scale them depending on resource utilization and response time, and recover them in case of failures. You'll try to balance the need for creative manual work and the need to automate as much of the process as possible.

The goal is to design a fully automated continuous deployment (CDP) pipeline. You will learn how microservices fit into CDP and immutable containers concepts and why the best results are obtained when those three are combined into one unique framework.

containers schedulers cloud-native microservices docker continuous-deployment service-discovery

---

About the speaker...

Viktor Farcic is a Senior Consultant at CloudBees, a member of the Docker Captains group, and books author.

He coded using a plethora of languages starting with Pascal (yes, he is old), Basic (before it got Visual prefix), ASP (before it got .Net suffix), C, C++, Perl, Python, ASP.Net, Visual Basic, C#, JavaScript, Java, Scala, etc. He never worked with Fortran. His current favorite is Go.

His big passions are DevOps, Microservices, Continuous Integration, Delivery and Deployment (CI/CD) and Test-Driven Development (TDD).

He often speaks at community gatherings and conferences (latest can be found here).

He published The DevOps 2.0 Toolkit: Automating the Continuous Deployment Pipeline with Containerized Microservices, The DevOps 2.1 Toolkit: Docker Swarm: Building, testing, deploying, and monitoring services inside Docker Swarm clusters, and the Test-Driven Java Development.

His random thoughts and tutorials can be found in his blog TechnologyConversations.com.

×

11:30

Invalid Time

Invalid Time

Coffee & Tea Break

11:45

Invalid Time

Invalid Time

Operators - Automating ourselves out of a Job with Kubernetes

Luke Bond

Intermediate

---

operators

automations

operations

containers

stateful-services

kubernetes

Kubernetes, with its API-driven design, is the latest in a series of technological advancements bringing us ever closer to the vision of fully automated infrastructure. Kubernetes Operators, or the automation of operational knowledge atop Kubernetes, represents a bold and ambitious attempt to automate that which was previously in the heads of high "bus-factor" SysAdmins: operating stateful services. In this talk Luke will introduce the concept of Kubernetes Operators, discuss the various patterns found in the wild for their implementation, and show how one may be built in Golang.

operators automations operations containers stateful-services kubernetes

---

About the speaker...

Luke is a co-founder of Control Plane, a security-focused Kubernetes consultancy based in London. Luke is currently working at the UK Home Office delivering critical national infrastructure on Kubernetes, and has previously worked as a developer and consultant, helping teams deliver software faster and with increased confidence by embracing container technologies and workflows.

Follow Luke on twitter @lukeb0nd, read his blog and check out what he's up to on Github!

×

Nic Jackson's Talk on Cloud Providers

Nic Jackson

Intermediate

---

containersched

cloud-provider

multi-cloudcluster

How do you survive a cloud provider outage? In this talk you will look at a pattern to deploy a single cluster across multiple cloud providers giving you the ultimate high availability. You will learn how you can leverage the power of HashiCorp's Nomad to run a single cluster across multiple cloud providers and how Vault can keep your application secure.

Cloud provider outages are rare but the do occur, by the end of this presentation you will learn that it is a simple process to avoid these outages and how you can make your application cluster implement the ultimate in high availability.

This presentation will be part live demonstration and part technical theory, Nic will share how to build a multi-cloud cluster live on stage and demonstrate that when a cloud provider fails, the cluster continues to serve your workload.

×

12:30

Invalid Time

Invalid Time

Lunch

13:30

Invalid Time

Invalid Time

KEYNOTE




2

Keynote: How to Benchmark Container Orchestrators

Joerg Schad and Michael Hausenblas

All levels

---

containersched

orchestrators

cloud-native

cncf

redhat

With the proliferation of container orchestrators and people comparing and evaluating them for fitness concerning the workloads they wish to run on them, one topic has so far been neglected: benchmarking. When Michael was still at Mesosphere, they started a project called 'Cloud Native Benchmarking Group' with the goal to provide a vendor-neutral benchmark for cloud native systems. Now, at Red Hat, the work continues.

The first of these benchmark focuses on orchestrators (see the initial work here: https://github.com/cnbm/container-orchestration) and in this talk Michael will talk about design considerations for the benchmark, how to make it modular and extensible and he will also share the challenges involved establishing a benchmark in an objective manner. Initial talks with the CNCF were positive, so they hope once the benchmark is completed (in mid 2017) and other parties start contributing to it that it will find a home in the CNCF.

containersched orchestrators cloud-native cncf redhat

---

About the speakers...

×

14:30

Invalid Time

Invalid Time

Coffee & Tea Break

14:45

Invalid Time

Invalid Time

There's no such thing as a "stateless" architecture

Cheryl Hung

Beginner

---

container-orchestration

containersched

cloud-native

storage

persistence

bigdata

Containers are bordering on mainstream for building and deploying, but running containers in production at scale is still a challenge. One of the main adoption barriers is the lack of production grade storage, especially for enterprise.

Traditional enterprise storage is inflexible, expensive and hard to manage and automate. In this presentation, you'll learn about alternatives for container storage and how to evaluate them for your production needs.

There's no such thing as a "stateless" architecture. It's just somebody else's problem.

×

A Journey of a Thousand Miles Begins with a Single Step

Stuart Davidson

Beginner

---

containers

containersched

skyscanner

war-stories

high-level-culture

strategic

15:30

Invalid Time

Invalid Time

Coffee & Tea Break

15:45

Invalid Time

Invalid Time

Scale Container Operations With AIOps

Timothy Chen

Advanced

---

containersched

orchestrators

qos

kubernetes

mesos

apache-mesos

containersched orchestrators qos kubernetes mesos apache-mesos

---

About the speaker...

Timothy is currently cofounder and CTO for a startup called Hyperpilot. Very interested in distributed systems, databases, operating systems and all the latest research in these fronts.

Timothy is also Apache PMC/Committer for Drill and Mesos. He contributes regularly to Apache Spark, Kafka, Docker Swarm, and other projects.

×

Istio: Weaving a Robust Microservice Mesh

Varun Talwar

Intermediate

---

containersched

containers

istio

Istio is an open platform to connect, manage, and secure microservices.

As monolithic applications transition towards a distributed microservice architecture they become more difficult to manage and understand. These architectures need basic necessities such as discovery, load balancing, failure recovery, metrics and monitoring, and more complex operational requirements such as A/B testing, canary releases, rate limiting, access control, and end-to-end authentication. The term 'service mesh' is used to describe the network of microservices that make up applications and the interactions between them.

As the service mesh grows in size and complexity, it becomes harder to understand and manage. Learn how Lyft, IBM and Google have teamed up to solve this problem.

×

16:30

Invalid Time

Invalid Time

Coffee & Tea Break

16:45

Invalid Time

Invalid Time

KEYNOTE




Lightning Talk: Rancher 2.0 - Federated Kubernetes Cluster Management

Shannon Williams

All levels

---

kubernetes

clusters

Rancher, the leading open source complete container management platform, is focusing on Kubernetes management and user experience in the upcoming 2.0 release. Shannon Williams, co-founder of Rancher, will talk through and demo how this will enable organisations to easily deploy and manage multiple Kubernetes clusters.

×

17:00

Invalid Time

Invalid Time

KEYNOTE




Lightning Talk: Drone.io

Stuart Davidson

All levels

---

demo

In this Lightning Talk Stuart will share with you a live demo on Drone.io.

demo

---

About the speaker...

×

17:15

Invalid Time

Invalid Time

Beer Break!

17:30

Invalid Time

Invalid Time

KEYNOTE




Keynote: Containers, Metadata and You

Liz Rice

All levels

---

containersched

containers

metadata

containersched containers metadata

---

About the speaker...

Liz Rice is the Technology Evangelist with container security specialists Aqua Security, and also works on open source projects including manifesto and kube-bench. Prior to that she co-founded Microscaling Systems and was one of the developers of image inspection tool MicroBadger. When not writing code, or talking about it, Liz loves riding bikes in places with better weather than her native London.

×

18:30

Invalid Time

Invalid Time

Beer & Pizza - ContainerSched Party!

21:30

Invalid Time

Invalid Time

End of Day 1
Day 2: Day 2 - Friday 29th September 2017
Enjoy Day 2 amazing talks!
Track
Room Name: CTRL
Room Name: TAB

08:30

Invalid Time

Invalid Time

Registration and Breakfast Refreshments

09:15

Invalid Time

Invalid Time

Welcome to ContainerSched 2017 - Day 2

09:30

Invalid Time

Invalid Time

KEYNOTE




Keynote: Security, Whatever happened to Unikernels?

Anil Madhavapeddy

All levels

---

containersched

containers

unikernels

linuxkit

solo5/ukvm

Anil has been working on unikernels and related technologies for a few years now, and wanted to deliver a broader update on how adoption has been going in the last couple of years. Unikernels have been successfully integrated into the fabric of some popular systems -- most notably Docker for Desktop -- and are also usable out of the box in the new LinuxKit distribution. Anil will share with you their efforts to make server-side unikernels really easy to use out of the box in LinuxKit, including the new Solo5/UKVM hypervisor that lets them be managed just like normal containers. Anil will also discuss their emergence in the ARM space as the most viable way to deploy a trusted fabric of computing for the next trillion embedded devices.

containersched containers unikernels linuxkit solo5/ukvm

---

About the speaker...

Anil is a Horizon Research Fellow at the University of Cambridge. I've worked in a variety of senior architecture, engineering, product management, sales and "whatever it takes" roles in industry (S, M, L, XL) as well as government and research (S, M, L). I completed my PhD in 2006 at the University of Cambridge Computer Laboratory in the Systems Research Group. You can read my thesis and various academic publications here.

His research goal is to improve the security, reliability and performance of the Internet. I'm having great fun leading the OCaml Labs group at Cambridge, and building the Mirage cloud operating system as a new foundation for networked, multi-scale applications. I also think about ubiquitous computing technologies, and develop open-source software such as the secure OpenBSD operating system. I'm on the boards of some exciting start-ups, such as Ashima Arts in sunny Pasadena, and Limbe Labs in the even sunnier Cameroon.

He is online at @avsm on Twitter and facebook.com/amadhavapeddy in/anilmadhavapeddy on LinkedIn github.com/avsm on github

His old Citrix/Xen blog is still available for now. I'm migrating most of my open-source projects over to github at the moment. I occasionally do consulting work, primarily on the commercial uses of functional programming. I'm a Senior Research Fellow at Wolfson College, the most diverse of the Cambridge Colleges.

×

10:30

Invalid Time

Invalid Time

Coffee & Tea Break

10:45

Invalid Time

Invalid Time

Continuous Delivery with Containers: The Good, the Bad, and the Ugly

Daniel Bryant

Intermediate

---

continuous-delivery

containers

docker

Implementing a continuous delivery (CD) pipeline is not trivial, and the introduction of container technology to the development stack can introduce additional challenges and requirements. In this talk you will look at the high-level steps that are essential for creating an effective pipeline for creating and deploying containerized applications.

Topic covered include:

The impact of containers on CD
Adding metadata to container images
Validating NFR changes imposed by executing Java applications within a container
Lessons learned the hard way (in production)

A supporting O'Reilly report "Containerizing Continuous Delivery in Java" will also be available, and this contains instructions and code for how to create a Jenkins-based continuous delivery pipeline that takes a series of Java applications and containerizes them, ready for functional and nonfunctional testing, and ultimately, deployment.

continuous-delivery containers docker

---

About the speaker...

My Work

Independent Technical Consultant at Big Picture Tech

Social and Blogging

×

Stack Level Operations with Containers

John Mathon

Intermediate

---

containersched

containers

microservices

tesing

containersched containers microservices tesing

---

About the speaker...

John Mathon as president and CEO of Agile Stacks has 10 patents in Enterprise software messaging and architecture. He has extensive experience at Banks and in trading rooms implementing highly secure and scalable systems. John has spoken in front of many audiences and has extensive blog followers at the CIO and CTO level in corporations around the world.

×

11:30

Invalid Time

Invalid Time

Coffee & Tea Break

11:45

Invalid Time

Invalid Time

How to win at Networking and Security in a Microservices World

Matt Dupre

Intermediate

---

networking

containersched

containers

kubernetes

microservices

calico

istio

tigera

Modern microservices architectures are awesome for developers, but the demands it places upon the network are also greatly increased - it needs to scale further, be more dynamic, and more finely secured. Matt will share how these complex meshes of services can be connected simply, while maintaining the security needed to protect your users and data.

You will learn about evolving overlay / underlay requirements, the newly GA in Kubernetes 1.7 v1 NetworkPolicy API, and how Istio complements and can automate elements of your container network.

Matt will look at examples from real world user case studies and a live demo, sharing how anyone - not just network geeks - can easily manage, secure and scale their Kubernetes network.

×

How to Monitor Microservices

Jorge Salamero Sanz

Intermediate

---

containersched

kubernetes

microservices

orchestration

docker

multi-container

First, containers radically changed how you could get visibility into your applications. As developers have started to leverage orchestration systems on top of containers, the game is changing yet again. What was a simple application on a host before is now a sophisticated, dynamically orchestrated, multi-container architecture. It's amazing for development - but introduces a whole new set of challenges for monitoring.

In this talk you will lay out a few key principles for monitoring microservices and the containers they are based on. These principles are based on Jorge's experience, but also leverage the wisdom of hundreds of organizations that are currently monitoring microservices with Docker and orchestrators like Kubernetes and DC/OS.

Jorge will address issues such as: Do host-based metrics matter any more? If so, when? What techniques can be used to extract application data from inside containers? How do you resolve tricky issues like greedy containers? When can you leverage orchestrator metadata to solve problems? How do you alert on elastic services that are growing and shrinking on-demand?

You'll walk away with a good understanding of the challenges of monitoring microservices and how you can set your team up for success. During this talk Jorge will also share open source tools you can use that are designed to monitor and troubleshoot your microservices.

×

12:30

Invalid Time

Invalid Time

Lunch

13:30

Invalid Time

Invalid Time

KEYNOTE




Keynote: Why Containers Will Take Over the World

Elton Stoneman

All levels

---

containersched

devops

containers

schedulers

docker

use-case

Containers are the next model of compute, after VMs and bare metal. And you all know containers are here to stay. They're the leaner, faster and more portable alternative, and one day every app will run in a container. Containers will be ubiquitous because of the wide range of problems they solve, and the huge ecosystem that's making the solutions.

The core concepts in container platforms are all open - the image and runtime specifications, the registry, the engines and the orchestrators. The promise of portability makes containers a safe choice for the next generation of software delivery. Companies are making that choice and investing in containers for everything from legacy apps to new cloud-native projects.

At Docker they work with major enterprises on their container adoption programs, and they see five major use cases. Elton will walk through each of the use cases, showing and sharing with you the type of problems containers solve, and the value they bring. And you'll see that those use cases cover pretty much every activity in the software industry, which is why containers will take over the world.

containersched devops containers schedulers docker use-case

---

About the speaker...

×

14:30

Invalid Time

Invalid Time

Coffee & Tea Break

14:45

Invalid Time

Invalid Time

50% Utilization and Beyond: Apache Mesos Oversubscription in Practice

Stephan Erb

Intermediate

---

containersched

apache-mesos

linux

Running compute clusters at a low hardware utilization is wasteful. Oversubscription of resources promises to increase utilization, but can be pretty challenging in the presence of tight latency objectives. Fortunately, there seems to be a feasible middle ground.

In this talk, Stephan will explore the Apache Mesos oversubscription primitives and how they leverage them in a simple threshold-based solution. Stephan will explain why this approach works for him and his team and what they have learned so far. In order to provide sufficient context, the talk will also shortly discuss Linux cgroups and relevant service-level monitoring signals.

As their code is open-source, Stephan and his team hope that others can immediately profit from their work and cut down your hardware spending as well.

containersched apache-mesos linux

---

About the speaker...

Stephan Erb is a software engineer driven by the goal to make Blue Yonder's data scientists more productive. He is a PMC member of the Apache Aurora project.

×

A DevOps State of Mind: Continuous Security with Kubernetes

Chris Van Tuin

Beginner

---

containersched

devops

kubernetes

security

With the rise of DevOps, containers are at the brink of becoming a pervasive technology in Enterprise IT to accelerate application delivery for the business. When it comes to adopting containers in the enterprise, Security is the highest adoption barrier. Is your organization ready to address the security risks with containers for your DevOps environment?

In this presentation, you'll learn about:

The top security risks with containers and how to manage theses risks at scale including Images, Builds, Registry, Deployment, Hosts, Network, Storage, APIs, Monitoring/Logging, Federation.
How to make your Container enabled DevOps workflow more secure without slowing down your CI/CD pipeline
Automating security vulnerability management and compliance checking for container images

Also, Chris will share with you a demo of Kubernetes managing the container image lifecycle, automating container security scans, and deployment strategies for security updates at scale including Canary, Blue/Green deployments and A/B testing.

containersched devops kubernetes security

---

About the speaker...

×

15:30

Invalid Time

Invalid Time

Coffee & Tea Break

15:45

Invalid Time

Invalid Time

2

Experiences of Implementing API Management for Microservices using TDD

Abhilash Battu and David Rutter

All levels

---

api

containersched

microservices

tdd

devops

This session will provide insights into implementing API Management: what is API Management, why is it important for Microservices, how to Implement, what Devops tooling is needed, and key learnings to use on your own projects.

api containersched microservices tdd devops

---

About the speakers...

David is an experienced Digital Architect with 30 years in the industry. He joined Capgemini in 2013 after working for a multinational digital agency, and previously in the banking and Telecom sectors.

He has a wide experience in software development, and in using Agile, DevOps and Test Driven Development to help deliver rich customer experiences. He is TOGAF 9 Certified, and a Capgemini Certified Architect to Level 2.

×

Nightmares of a Container Orchestration System

Joerg Schad

---

containersched

orchestration

mesos

A lot of talks will tell you how to setup systems correctly. This talk is about what not to do with your Cluster.

Jörg will share with you some of his favorite/scariest support stories covering typical system-setup, configuration, and application pitfalls for new (and not-so-new) Mesos and DC/OS operators. And he will give you some hints about how to debug those pitfalls if you do encounter them, resulting in fewer nightmares.

×

16:30

Invalid Time

Invalid Time

Coffee & Tea Break

16:45

Invalid Time

Invalid Time

KEYNOTE




Keynote: How to Teach Highly Able People To Do Difficult Things

Anne Currie

All levels

---

containers

17:45

Invalid Time

Invalid Time

End of ContainerSched 2017 - See you in 2018!
SkillsCasts
Keynote by Russ Miles

devops containersched

Lightning Talk: Drone.io

demo

Keynote: Containers, Metadata and You

Container images are a useful way of packaging software, but at build time it's not possible to know everything about how you're going to run a piece of code. How do we apply post-build metadata to our images, and more importantly, why should we? What can we do with it? In this talk...

containersched containers metadata

Stack Level Operations with Containers

Most companies deploying container technology end up with stacks consisting of dozens of components representing different microservices. These may each be replicated many times to meet demand. Operating on a stack like this is complex task involving understanding the dependencies and...

containersched containers microservices tesing

Scale Container Operations With AIOps

As the technology community adopts more scale-out applications consisting of containerized services, operations teams are feeling more pressure in achieving quality without excessive spending on infrastructure. Although container orchestrators (Kubernetes, Mesos, etc) allows multiple containers...

containersched orchestrators qos kubernetes mesos apache-mesos

A Journey of a Thousand Miles Begins with a Single Step

Over the last 18 months, Skyscanner have embarked on a journey of containerisation. It's not been easy though, there have been plenty of bumps and unintended consequences along the way. In this talk, Stuart will hope to dispel the myth that you need to be "all-in" from the start and...

containers containersched skyscanner war-stories high-level-culture strategic

Advanced container scheduling with Blox

Blox is a new open source project launched by AWS that allow developers to write custom scheduling policies for Amazon ECS. Blox includes a service that consumes the event stream coming from a Docker cluster. It uses it to track the state of the cluster makes the state accessible via a set of...

containersched containers blox docker
Photos
Other Years
---
Thank you to our sponsors and partners
Platinum
Gold
Silver
Bronze