Overview
Want to meet the international JavaScript, Node, and IoT communities and learn and share skills with some of the world's top experts, hackers and makers? Find out about all the latest FullStack technologies and discover the latest best practices and ideas? Then come and join us at FullStack London!
Thank you for joining us at FullStack London on July 12-14th 2017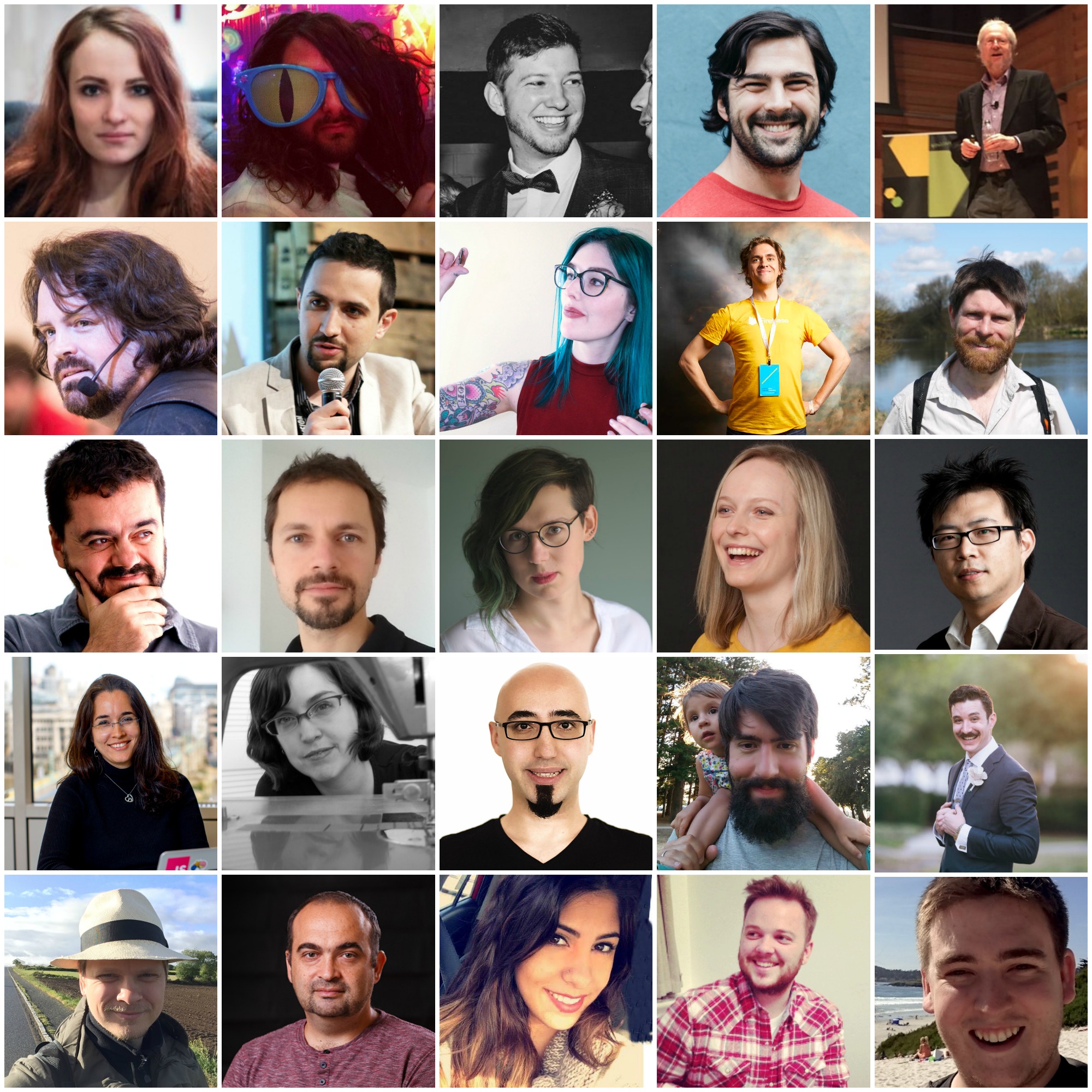 FullStack 2017 conference was hosted in London from July 12th - July 14th 2027 at Codenode.
We'd like to thank all of you for joining us and making it a truly enjoyable and successful event!
NEWS! The 2018 site is LIVE. Book your Early Bird tickets here!
Check out the FullStack 2018 line-up of Keynotes, led by the great Brendan Eich on our Programme Page!
Follow and tweet with #fullstackcon on twitter and check out the special moments from 2017 and share what you're looking forward to in 2018!
Programme Highlights

Don't miss this year's installment of FullStack with Douglas Crockford , Amie DD on IoT, Damjan Vujnovic, Ada Rose Edwards, Matteo Collina, Nick O' Leary, Mark Wubben and more! The complete programme is live, with all of your amazing submissions and ideas, keep an eye out on our Programme Page for all the latest updates!
More Than A Panel - Have I Got Nodes For You! on Day 1 of FullStack 2017!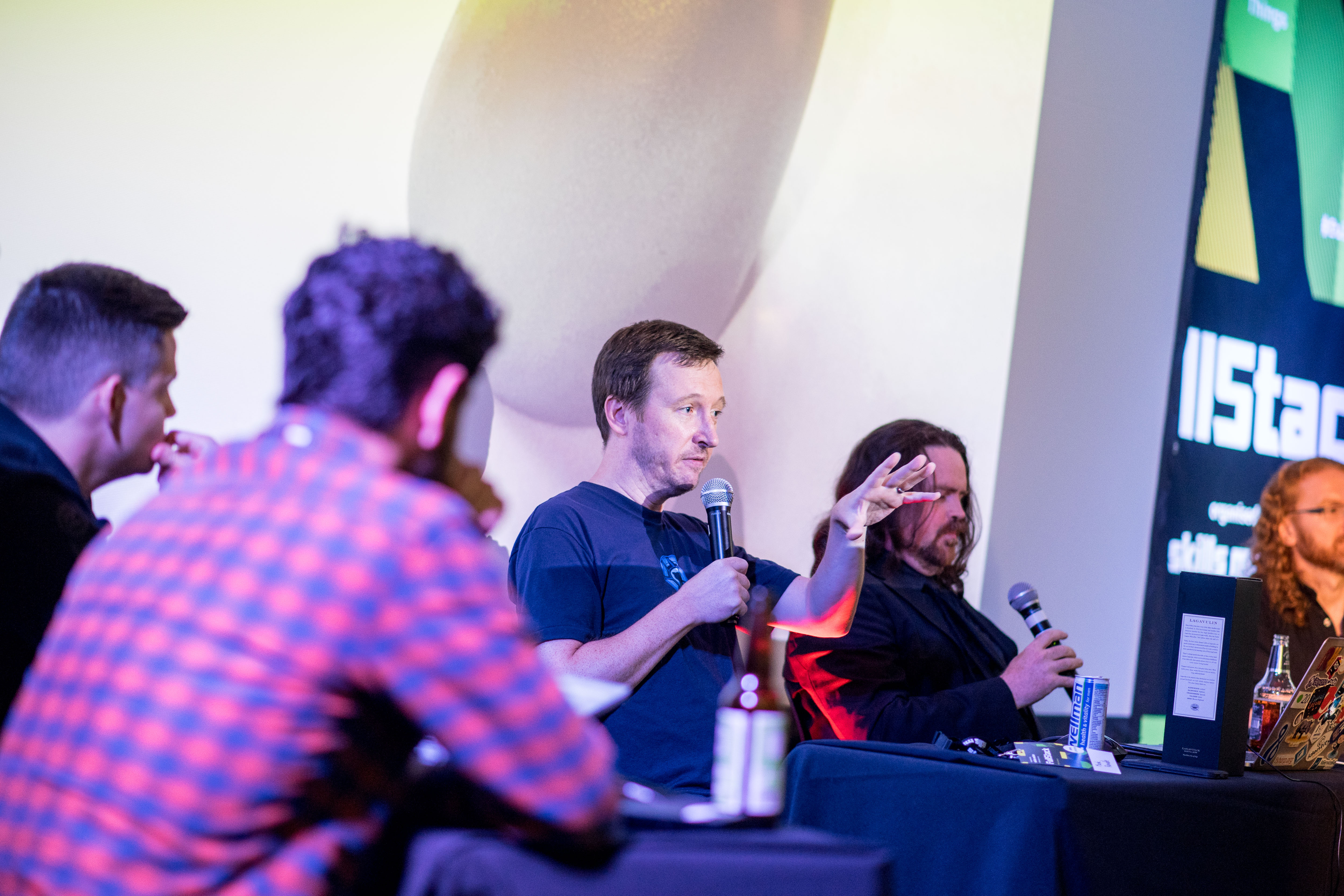 The comedy quiz show about software, programming, the internet and technology. Join Mark Rendle, Dylan Beattie and our experts and guests as we return to Skills Matter's CodeNode for an hour of technology, trivia, bizarre programming facts, missing words and Twitter bots.
The talkshow will round up the opening day of FullStack 2017! More info on the programme can be found here!
Specs, Bugs, & Rock 'n' Roll: Dylan Beattie LIVE!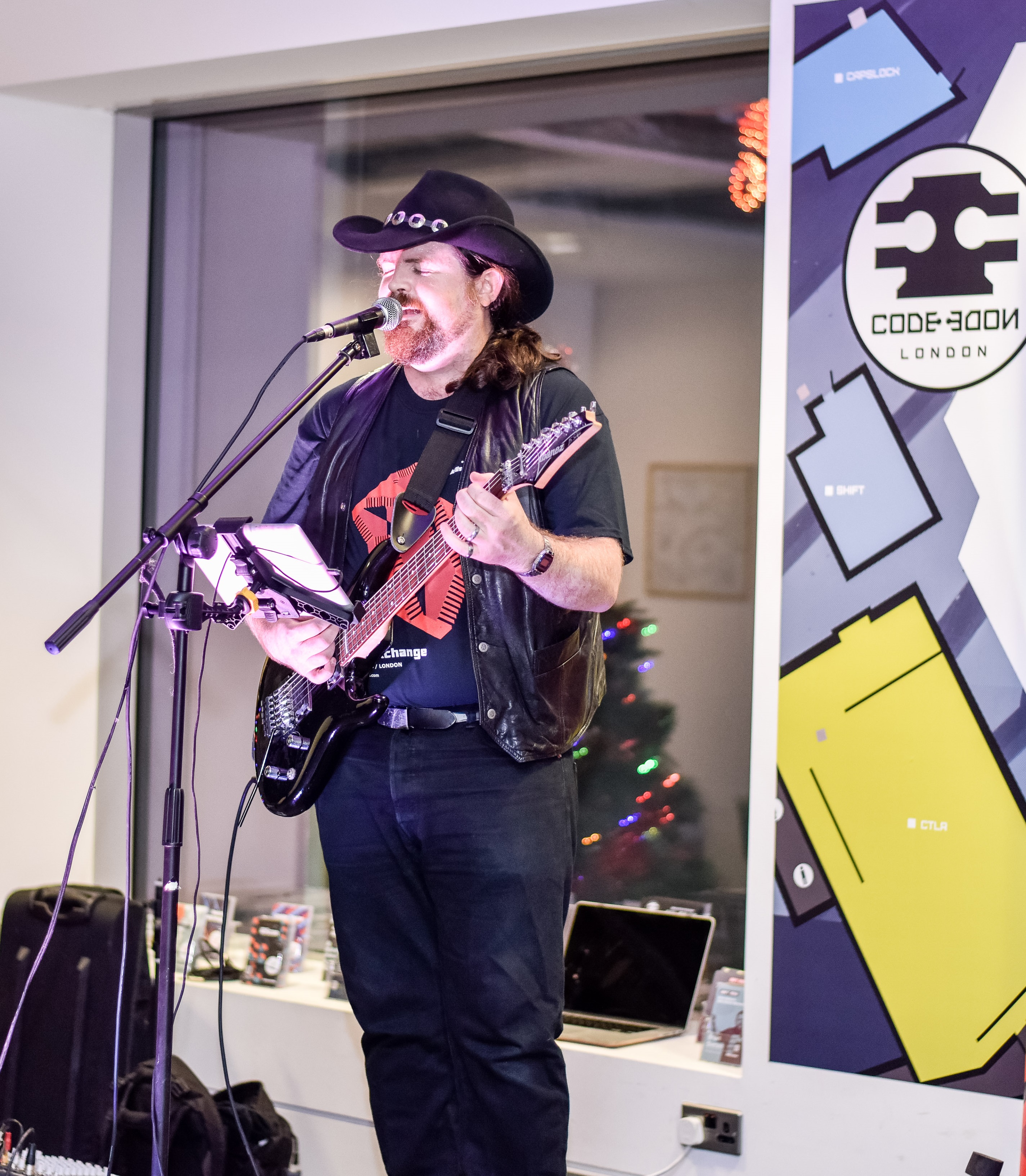 What happens when you combine classic rock tunes, daft jokes about software development, and pecha-kucha PowerPoint? FullStack 2017 has the answer. You've seen him at PubConf, you've seen him at BuildStuff and DotNext, you might even have caught his musical stylings during the opening keynote for NDC in Oslo - and we're delighted to welcome Dylan Beattie back to CodeNode for the FullStack after-party. With an electric guitar in one hand and a PowerPoint clicker in the other, Dylan puts on a live show that isn't quite like anything you've ever seen. You'll laugh, you'll cry, you might even find yourself singing along.
Join us for the FullStack Bytes evening events at CodeNode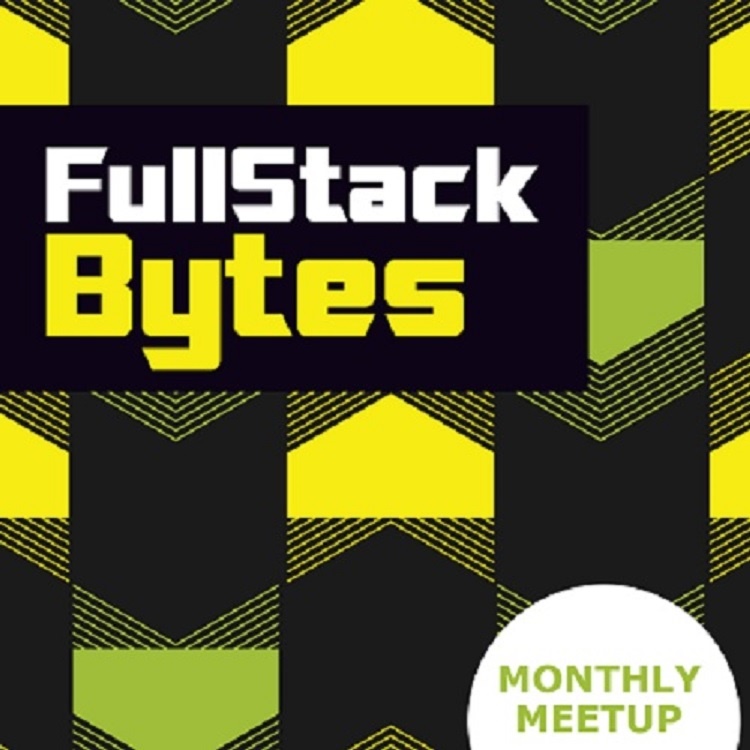 Want to stay in the loop with the latest developments within the FullStack community?
Join us at the brand new FullStack Bytes series we'll be hosting at CodeNode leading up to FullStack 2017!
Find more information here!
Code of Conduct
Please find our Code of Conduct here.
Get Involved
Would you like to help us facilitate a great conference? Help us set up the conference spaces, introduce talks and speakers, field Q&A questions with mics, or support some of the workshops and hacks we've got in store? Sign up as a volunteer and get a free ticket to the conference!
Impressions of last year
Programme
Day 1: Day 1 - Wednesday 12th July
Join us for these Awesome Sessions! Don't forget to Vote for your faves on the Whiteboards at the conference!
Track
CTRL
ALT/TAB
CMD
SHIFT
BACKSPACE
08:00

Registration and Breakfast

09:15

Welcome to #fullstackcon 2017

09:30

Opening Keynote by Douglas Crockford

Douglas Crockford

---

javascript

fullstack

fullstackcon

javascript fullstack fullstackcon

---

About the speaker...

Douglas Crockford is the creator of JSON and works at Paypal. Douglas was born in the wilds of Minnesota, but left when he was only six months old because it was just too damn cold. He turned his back on a promising career in television when he discovered computers. He has worked in learning systems, small business systems, office automation, games, interactive music, multimedia, location-based entertainment, social systems, and programming languages.

He is the inventor of Tilton, the ugliest programming language that was not specifically designed to be an ugly programming language. He is best known for having discovered that there are good parts in JavaScript. This was an important and unexpected discovery. He discovered the JSON Data Interchange Format. He is currently working on making the web a secure and reliable software delivery platform and has been developing various JavaScript related tools such as JSLint and JSMin.

×

10:15

Coffee Break

10:30

Virtual Reality and the Future of the Web

Ada Rose Edwards

---

webvr

fullstack

fullstackcon

vr

New Virtual Reality browsers means we need to consider how the web platform is going to need evolve to take advantage of the benefits that Virtual Reality can bring.

webvr fullstack fullstackcon vr

---

About the speaker...

Ada Rose Edwards is a Senior Engineer and Web Developer Advocate for the Samsung Internet web browser.

Ada tweets at @ladyadaking , and her website can be found here.

×

TypeScript Decorators - Intermediate

Damjan Vujnovic

---

javascript

fullstack

fullstackcon

typescript

In this talk Damjan will first introduce TypeScript decorators and decorator factories, and then demonstrate how you can use them to encapsulate "orthogonal" concepts (such as logging/analytics, caching, statuses and timeouts) in a clean, non-obtrusive way.

javascript fullstack fullstackcon typescript

---

About the speaker...

With over a decade of experience working on domains within a variety of industries – including financial, government and social – Damjan Vujnovic is a strong authority on simplifying development processes to create robust software applications.

Damjan has architected and helped in building several scalable, high-throughput, low-latency transaction processing systems, and regularly runs JavaScript and TDD courses at Skills Matter.

Find out more about Damjan's courses at Skills Matter as well as previous Skills Casts recordings.

×

Browsers Behind Your Back

Phil Nash

---

fullstack

fullstackcon

pwa

progressive-web

progressive-web-apps

browsers

service-worker

api

You've probably heard of the magic of a Service Worker when a user is offline, but what can you do for them when they get back online? You can take advantage of the Service Worker's life outside of the page and start to perform actions in the background.

In this talk, you will discover the Background Sync API and the APIs that it depends upon, you will explore what you might use it for and see it in action. Once that is all set, you can take a peek into the future and even more background tasks with a look at the Periodic Sync API.

fullstack fullstackcon pwa progressive-web progressive-web-apps browsers service-worker api

---

About the speaker...

Phil is a developer evangelist for Twilio and a Google Developer Expert based in London. He loves building with APIs and can be found programming in a variety of languages including JavaScript, Ruby and Swift. Sometimes he makes his own beer, but he's more likely to be found discovering new ones around the world.

Phil tweets at @philnash, and you can find his website here.

×

Generative Music with JavaScript and Web Audio - Intermediate

Tero Parviainen

---

music

web

audio

fullstack

fullstackcon

creativecoding

As humans we are inherently interested in performing music, but also in constructing and observing autonomous systems that generate music for us automatically. We've been building such systems throughout history, with everything from ancient garden ornaments to the latest innovations in artificial intelligence and deep learning.

The web platform has a lot to offer to the creation and distribution of generative music: With Web Audio and JavaScript, artists and developers can build their generative works on a universal runtime that will allow them to run on any platform and any device. And they can also easily distribute their works on the very same platform – something that has been out of reach for most generative musicians throughout history. On the web, all you need to do is share a link.

Join Tero for this talk as he explores some landmark generative music works spanning a wide historical time period up to the present day. You'll discover how the essential qualities of these systems can be reproduced using Web Audio and JavaScript. Tero hopes that studying and appreciating what has been done before may inspire new generative music tools and musical works unique to the web.

music web audio fullstack fullstackcon creativecoding

---

About the speaker...

Tero Parviainen is a programmer and writer. He has been building web-based systems for about 16 years and for the last 5 of them he's been fully immersed in JavaScript frontend development.

Tero currently works as a senior frontend engineer at creative.ai.

Tero is the author of two books: "Build Your Own AngularJS" and "Real Time Web Application Development with Vert.x". He also likes to write longform articles about programming and music on his blog at teropa.info.

Follow Tero on Twitter at @teropa.

×

JavaScript and Bluetooth LE - Intermediate

Gordon Williams

---

fullstack

javascript

bluetoothle

puck.js

espruino

What if you could develop your wireless sensor, phone app, and server infrastructure in the same language? With JavaScript and Web Bluetooth you can. Gordon Williams will show you how you can write JavaScript for wireless devices with Puck.js and Espruino, and how to use Web Bluetooth to control them straight from a webpage.

fullstack javascript bluetoothle puck.js espruino

---

About the speaker...

Gordon is the creator of the Espruino, a tiny microcontroller board that runs JavaScript. Over the past 3 years he's designed hardware, written software, and shipped two successful KickStarters from his home in Oxfordshire.

Before that, he wrote compilers and 3D graphics software for a range of companies - including Altera, Nokia, Lloyds Register, Microsoft, Collabora, and Curtiss Wright.

×

11:15

Coffee Break

11:30

Math, Machine Learning, and JavaScript - Intermediate

Athan Reines

---

math

machine-learning

javascript

fullstack

fullstackcon

data-science

JavaScript and number crunching may seem an odd pair, but this is rapidly changing. In this talk, Athan will discuss the current state-of-the-art for numeric computation and machine learning in JavaScript. He will introduce libraries for statistical computing, neural networks, and multidimensional data structures and highlight emerging technologies such as WebAssembly and Node.js native add-ons. Next, he will discuss what to look for in numeric computing libraries, common implementation mistakes, and how to avoid portability issues. By the end of this talk, you will understand why JavaScript is poised to become the next big thing for data science and numeric computing. To conclude, he will outline future steps and identify opportunities for community development of next-generation tools.

math machine-learning javascript fullstack fullstackcon data-science

---

About the speaker...

Athan Reines is a full-stack engineer and data scientist. He has a PhD in Physics, where he used machine learning and time series analytics to probe biological systems at the nanoscale. He currently works full-time on open source projects to facilitate numerical computing in Node.js and JavaScript.

For his latest open source project, see stdlib, a standard library for Node.js and Javascript: https://github.com/stdlib-js/stdlibric computing in Node.js and JavaScript.

×

npm vs gulp vs webpack vs what the heck?! - Beginner

Ruben Sospedra

---

fullstack

fullstackcon

javascript

js

nojs

npm

npm-script

gulp

webpack

browserify

There's a lot of confusion about what are exactly the differences between all the tooling options. Beyond the clear divergences like npm script and gulp being task managers and webpack or browserify bundlers, there's a humongous question usually unanswered: When to use any of these utils?

There is no silver bullet in engineering. When facing singleton scripts npm is brilliant. When piping multiple complex scripts gulp shine like a diamond. If you need to bundle any ES6 project maybe babel is enough. Or brunch. Or for a lot of bult-in cool feature webpack is unbeatable.

Know the differences, master the tools.

fullstack fullstackcon javascript js nojs npm npm-script gulp webpack browserify

---

About the speaker...

Frontend engineer. Javascript hacker. Crossfiter and paleo-chef. I play the ukulele and read political science. Gamer and movie addict. Caffeinomaniac.

×

MVC - What a Mozart Violin Concerto and a Full-Stack Web App Have in Common - Intermediate

Don Burks

---

fullstack

fullstackcon

javascript

js

nodejs

mvc

designpattern

music

approach

What if Don told you that when Mozart composed his first violin concerto and when Joe Developer builds a CRUD app in Rails, they have to think about their craft in the same way? You would probably call him crazy, but rest assured it's true. Musicians and developers do think alike. There are both horizontal and vertical axes to the thought process that goes into the architecture of a piece of music and a piece of software.

As someone with both 18 years as a web professional and a degree in music performance, Don Burks brings a lifetime of experience and a passion for understanding why we do things the way we do to this talk. After observing the significant fraction of developers he has met having musical backgrounds, some investigation was needed. The results of that investigation have informed this talk.

fullstack fullstackcon javascript js nodejs mvc designpattern music approach

---

About the speaker...

Don Burks is the Technical Lead for Sphere, building a platform for personal coaches and clients. Prior to that, he spent five years as Head Instructor of Lighthouse Labs, he's done a dozen startups, worked for Microsoft and MetroLyrics, and has distinguished himself throughout his 21-year career as an educator, innovator, and author. He is the author of Principles of Project Planning and leads national initiatives in bringing Computational Thinking and Coding into public education in Canada.

×

Building the Web of Things - Beginner

Dominique Guinard

---

fullstack

fullstackcon

javascript

js

nojs

iot

webofthings

wot

sensor

embedded

raspberry-pi

node

semantics

standards

When we started talking about the Web of Things in 2007, no one believed that one day embedded devices would talk Web and Node.js natively! Fast forward 10 years, many new platforms support Node.js and offer HTTP/WS APIs but this is only the beginning as the Web has a lot more to offer.

In this talk Dom will explore some of the most interesting bits the Web and Node.js have to offer to the IoT, in particular:

Connecting electronic actuators and sensors (GPIO) to a Raspberry Pi with Node libraries such as on/off and Johnny-Five
Learning about IoT protocols like MQTT and CoAP and integrate them to the Web of Things via Node libraries
Using the Semantic Web (JSON-LD, RDFa, etc.) to discover and find Web Things
Sharing Things via Social Networks to create the Social Web of Things with Passport.js
Creating physical mashups with Node-RED, and IFTTT and EVRYTHNG.

Dominique will present this talk based on EVRYTHNG's 10 years of experience in the WoT, in particular while writing Building the Web of Things (with examples in Node.js and Raspberry Pi) as well as their experience within the W3C WoT Interest and Working Groups.

fullstack fullstackcon javascript js nojs iot webofthings wot sensor embedded raspberry-pi node semantics standards

---

About the speaker...

Dominique is the CTO and co-founder of EVRYTHNG, an IoT PaaS managing billions of connected products for big brands. Before that, Dom worked for SAP taking an active role in their IoT strategy. Dom was also researching the Web of Things at ETH Zurich and MIT where he worked on his Ph.D. He has more than a decade of IoT experience working on projects for Oracle, the Auto-ID Labs, Nokia and SAP. Dom authored two IoT books "Building the Web of Things" and "Using the Web to Build the IoT" (Manning) as well as many scientific articles and book chapters. In 2011 and 2016, Dom was listed in the top 10 IoT thinkers by Postscapes and early in 2012, his Ph.D. on the Web of Things was granted the ETH Medal.

×

I RLY HATE Forms! - Beginner

Dave Benson

---

fullstack

fullstackcon

web

html

javascript

forms

html-automation

Forms are the lifeblood of the Web– the simplest, most common method of interaction and data collection. And they suck.

Ok, done well they don't have to be so painful for the user, and designing them well can be an engaging challenge.

However, implementing them… is tedious, repetitive and error prone.

What's much more interesting is writing a system that writes all that for you! Now there is an interesting coding challenge with problems to solve along the way that will remove the repetition and reduce errors.

During this talk, you will explore creating a simple, cross platform JS class for form creation that can be expanded with support for validation and whatever features you care to add. Even if your client wants a static HTML form, you won't have to write it.

Not intended as a prescriptive "This is the right way" lecture, the guide is intended to encourage problem solving with code that can be reused, expanded and maintained.

fullstack fullstackcon web html javascript forms html-automation

---

About the speaker...

With a career that harks back to the days of Photoshop 3 and IE 5, and has encompassed everything from graphic design to sysadmin, David is today a committed contract developer, focusing on UI/UX, vanilla and frameworked JS with an abiding passion for clever, responsive CSS. David is the winner of the 2014 Market Research Society Award for innovation with long-term client YouthSight for his work on responsive mobile surveys. Current personal projects include C-VPO, the Automated Resumé Submission Engine, and PlasticMonkey, a Lego® Minfigure collector's catalogue site.

Discover more at Dave's code blog.

×

12:15

Coffee Break

12:30

How V8 runs JavaScript - Advanced

Matt Zeunert

---

javascript

v8

performance

memory

fullstackcon

fullstack

Join Matt and take a deeper look at how JavaScript is executed. What exactly does a JavaScript engine like V8 do? How does V8 optimise for fast execution and low memory consumption? Using Chrome DevTools you'll explore at some examples of these optimisations, and how to make sure your code is optimisable.

javascript v8 performance memory fullstackcon fullstack

---

About the speaker...

Matt is an independent front-end developer based in London. He works on tools that help developers understand complex apps and blogs about code readability. Before focussing on building developer tools he worked as a contractor helping different companies make great JavaScript apps.

Matt tweets at @mattzeunert and you can find out more about him at his website https://www.mattzeunert.com/.

×

Javascript Browser Bits - Advanced

Ben Foxall

---

javascript

fullstack

fullstackcon

websocket

webaudio

webgl

livedemos

practical

webperformance

efficiency

Join Ben for a talk on handling binary data with JavaScript. He will go from modifying single values, to arrays and buffers, covering their properties, features and ways of getting them to and from a server.

Ben will be showing a variety of places where an understanding of binary data is useful in browsers - generating and processing images, videos, and audio and more.

You'll then discover some of the ways that these things can be put together: pushing data in & out of WebAudio nodes, down WebSocket connections and into graphical contexts.

javascript fullstack fullstackcon websocket webaudio webgl livedemos practical webperformance efficiency

---

About the speaker...

Ben is a developer based in Oxford, where he's worked on a wide range of projects - and is particularly into data, the web, visualisation & demos. He co-founded the (super-secret) JavaScript adventure club and helps run JSOxford.

Ben tweets at @benjaminbenben.

×

Full Stack Testing that Does Not Suck - Beginner

Artem Avetisyan

---

fullstack

javascript

electron

web

browser

testing

With the help of Electron, it is now possible to run your entire web stack (SPA + backend) in a single process. When applied to testing, this becomes a compelling alternative to WebDriver based testing, as it is much faster and easier to debug.

Join Artem in this talk as he will start with setting some base terminology of what types of tests there are in a typical web app, what they're for and then show off a real example.

fullstack javascript electron web browser testing

---

About the speaker...

Artem has been a web developer for quite a long time. Progressing from perl, then ruby and currently enjoying javascript.

Artem works at Featurist. They're a small bunch of like minded individuals who believe that javascript is the one. Also very serious about testing and lovers of good tools.

Artem tweets at @artemave.

×

Angular Native - Intermediate

Yuriy Luchaninov

---

fullstack

fullstackcon

javascript

js

nojs

reactnative

tools

angular2

Is it possible to use Angular 2 for building native mobile apps? If yes, how does it work? What are the benefits and opportunities for developers and software product owners? Join Yuriy and find out the answers.

What is Angular Native (NativeScript + Angular2)
How does it works
Benefits and opportunities
Comparison with ReactNative
Specifics exemplified with real life cases

Yuriy will also show examples, solutions, and helpful tips. This is the talk for you if you work with Angular 2 and if you are interested in mobile development with JavaScript. New advancements in technology make this tool even more attractive – and you are going to learn why.

fullstack fullstackcon javascript js nojs reactnative tools angular2

---

About the speaker...

Yuriy Luchaninov is Head of HTML/JS/CSS Department at MobiDev. He is an active speaker at notable European and American IT conferences (including CeBIT, HTML5DevConf, Droidcon, Mobile App Europe, iforum, mdday), and loves to share his knowledge with other developers around the world. He is the driving force behind the RAD.js developer toolkit and knows everything about making cross-platform apps with native-like responsiveness and performance. Yuriy has 10+ year experience in software development and was included in Top 1% Android developers worldwide in 2009.

×

I RLY LOVE Form Controls! - Intermediate

Dave Benson

---

fullstack

fullstackcon

html

web

js

ui-widgets

form-controls

logic-gates

css

Forms are the lifeblood of the Web – the simplest, most common method… Hang on, you've heard this somewhere before.

Anyway, they still suck, but those simple widgets for interacting with a form can be surprisingly powerful.

In this talk, you will learn how cunning use of form controls, particularly radio buttons, together with some sneaky CSS can recreate common widgets without a single line of Javascript!

The talk is intended to encourage lateral thinking in the way you can manipulate the technologies you can often take for granted, and create lightweight interface widgets without relying on DOM manipulating frameworks or third-party plugins.

During this talk, you will also explore a brief meditation on how form controls can even be combined to create logic gates, leading to the frankly perverted idea that we could build an entire computer emulated in HTML and CSS, and how, as amazing as that concept would be, anyone who ever did it should probably be locked up for the good of humanity.

fullstack fullstackcon html web js ui-widgets form-controls logic-gates css

---

About the speaker...

With a career that harks back to the days of Photoshop 3 and IE 5, and has encompassed everything from graphic design to sysadmin, David is today a committed contract developer, focusing on UI/UX, vanilla and frameworked JS with an abiding passion for clever, responsive CSS. David is the winner of the 2014 Market Research Society Award for innovation with long-term client YouthSight for his work on responsive mobile surveys. Current personal projects include C-VPO, the Automated Resumé Submission Engine, and PlasticMonkey, a Lego® Minfigure collector's catalogue site.

Discover more at Dave's code blog.

×

13:15

Lunch

14:15

Keynote: Back to the Future: IoT Maker Revolution

Amie Dansby

---

fullstack

fullstackcon

js

iot

games

cosplay

video-games

makers

lego

We are a generation defined by our hobbies. IoT is changing how makers are innovating and creating applications. Learn how makers, cosplay, LEGO, 3D printing, and video games can make you a better programmer, debug more efficiently and introduced you to new technologies. Embracing failure as a way of learning and improving. Makers are the original inventors, creators and thinkers of technology that exist today and are creating an impact for the future of IoT.

fullstack fullstackcon js iot games cosplay video-games makers lego

---

About the speaker...

Amie D Dansby is a software game programmer, previously at Marvel Studios, working on Captain America, Thor, X-Men Destiny, Marvel Super Hero Squad: The Infinity Gauntlet and Marvel vs CapCom 3. She transitioned to Research and Development working with the PlayStation and Xbox. Currently a full stack unicorn and robot overlord at a robotics, augmented reality video game studio in Dallas, TX, ATAT Tech. She educates through 3D Printing, game development, computer science, LEGO Mindstorms robotics, wearable tech and cosplay. Encouraging others to experiment and learn through trying, making mistakes, and trying again. "Embrace Failure" is a philosophy she's adopted, there's no such thing as failure – only learning experiences.

You can find out more about her on Twitter, Google+ and on her site.

×

15:00

Coffee Break

15:15

Give app servers a REST – CDNs and APIs are the new LAMP - Intermediate

Daniel Demmel

---

fullstack

fullstackcon

javascript

js

nojs

serverless

apis

cdn

microservices

offline-first

webpack

serviceful

jamstack

Most web applications and sites require a back end component running on an always-on server and executing code (or even querying a database) on every request. This is a very wasteful approach both in terms of environmental and running costs. But it also has a big impact on the website visitor experience, making things slower, less reliable and less secure. Caching can go a long way in mitigating these impacts, but it's difficult to make work well, especially if it's spread onto multiple layers of the stack requiring a coordinated effort from multiple disciplines.

A much better approach is emerging at the confluence of static site generators, "Serverless" (or "Serviceful") back ends, microservices, browser APIs for working offline, scriptable CDNs and build tools, which are getting smarter and more integrated every day. The core of the idea is to preprocess and serve up as static files as much as possible, while letting the dynamic parts loaded runtime by directly connecting to APIs. This is very similar to how native apps on mobile platforms work (and what makes them popular), by bundling the application shell as a separate download and fetching data on demand, but the web offers a much more granular control and with that a possibility for an even better experience.

Join Daniel as he compares the traditional application server based approach with this new method, offering some practical insights and the pros and cons of each, as of course the applicability depends on the type of project at hand and the structure of the team delivering it.

fullstack fullstackcon javascript js nojs serverless apis cdn microservices offline-first webpack serviceful jamstack

---

About the speaker...

Daniel started his web design and development journey with Photoshop 3.0 and Flash 5, focusing on UI and motion design. After working with several different languages and platforms over the years, he decided to settle with the open and (now) powerful web stack. He works at an independent international studio called ustwo, creating beautiful, functional and relevant digital products.

×

Node.js Add-ons for High Performance Numeric Computing - Intermediate

Athan Reines

---

nodejs

computing

javascript

machine-learning

data-science

Node.js add-ons allow native code written in C and C++ to be run from the Node.js JavaScript runtime. In this talk, Athan will discuss how to utilize native add-ons for high performance numeric computing and machine learning in server-side applications. He will first provide an overview of add-ons and their associated toolchain. Next, he will provide a step-by-step example which involves compiling basic linear algebra subroutines (BLAS), a suite of libraries which are part of the core foundation of most modern numeric computing environments, as native add-ons. While Node.js add-ons are oriented toward C and C++, he will show how to extend compilation support to Fortran libraries in order to maximize computational performance. Throughout this talk, Athan will offer lessons learned, tips and tricks, and other insights gained while writing add-ons to help you maximize Node.js for your server-side applications and to demonstrate why Node.js is an excellent environment for high performance numeric computing and machine learning.

nodejs computing javascript machine-learning data-science

---

About the speaker...

Athan Reines is a full-stack engineer and data scientist. He has a PhD in Physics, where he used machine learning and time series analytics to probe biological systems at the nanoscale. He currently works full-time on open source projects to facilitate numerical computing in Node.js and JavaScript.

For his latest open source project, see stdlib, a standard library for Node.js and Javascript: https://github.com/stdlib-js/stdlibric computing in Node.js and JavaScript.

×

From Zero to Forex Trading bot Hero - Intermediate

Daniele Polencic

---

fullstack

fullstackcon

javascript

js

typescript

node.js

functional-programming

fintech

bitcoin

During this talk, you will discover Daniele's journey building a trading bot. From building a basic prototype in Typescript to using functional programming techniques to trade autonomously across multiple foreign exchanges and generate thousands of dollars in revenue.

By the end of the talk you will learn:

the basics of financial trading platforms from a developer's perspective (APIs/concepts/terminology)
how you can use the skills you've gained building full stack applications to write trading software
how static typing and Typescript can speed up your workflow
how functional programming can help you refine your trading algorithms and verify the correctness of your program

fullstack fullstackcon javascript js typescript node.js functional-programming fintech bitcoin

---

About the speaker...

Daniele Polencic is a well-known face in London's tech scene. A technical consultant for learnk8s.io and certified training partner for Kubernetes and the Linux Foundation, Daniele is a passionate proponent for JavaScript programming, and consults with startups when he is not coding himself.

Daniele is a technical consultant at learnk8s.io and a certified Kubernetes administrator and authorised trainer partner for Kubernetes and the Linux Foundation. He's passionate about solving problems and programming, particularly in JavaScript. In the last decade, Daniele has trained developers for companies in e-commerce, finance and the public sector. When he isn't writing code, he advises startups in the London tech scene.

Daniele tweets at @danielepolencic.

×

JWT, WTF? - Intermediate

Phil Nash

---

fullstack

fullstackcon

javascript

js

nojs

authorisation

authorization

security

We live in a world of rich client side applications, web and mobile, and we need a secure way to authenticate our users. Session IDs have been the traditional solution, but how well do they work for single page applications? And what about authenticating to 3rd party services? You can't leave your credentials in the client, there's always someone malicious just waiting to steal them.

Enter the JWT, or JSON Web Token. These fancy little tokens can authenticate our users and our transactions because they know what they're allowed to do.

Join Phil and discover what JWTs can be used for, why to choose JWTs, how to generate them, and most importantly how to keep them secure. Finally, you'll find out if putting abbreviations inside other abbreviations really is the secret to web security.

fullstack fullstackcon javascript js nojs authorisation authorization security

---

About the speaker...

Phil is a developer evangelist for Twilio and a Google Developer Expert based in London. He loves building with APIs and can be found programming in a variety of languages including JavaScript, Ruby and Swift. Sometimes he makes his own beer, but he's more likely to be found discovering new ones around the world.

Phil tweets at @philnash, and you can find his website here.

×

Auditing Development Guidelines in GitHub Repositories - Intermediate

Evgeny Poberezkin

---

github

fullstack

fullstackcon

If your organisation has hundreds of code repositories you probably have some guidelines for them: how they are documented, how branches are protected, whether direct commits to master branch are allowed or only PRs should be used and all PRs should be reviewed, whether tests are run and code coverage is reported to PRs, etc.

Making sure that those guidelines are followed is a difficult task - even if all team members agree to do so, sometimes we simply forget or don't have time to implement the necessary changes.

Once we've agreed on our development guidelines, I was looking for a tool to automate such auditing for our team, so that in the same way as eslint can be used for testing code guidelines based on the rules, we could use this tool to audit our repositories in GitHub organisations. I couldn't find one so I created it.

Meet gh-lint - a rule-based command-line utility that audits all your GitHub repositories generating results in TAP (Test Anything Protocol) format that can be consumed by tap-github-issues reporter (WIP) that can create, update and close issues in github repositories.

github fullstack fullstackcon

---

About the speaker...

Evgeny is the CTO at Threads Styling that pioneers luxury shopping experience via social media and chats. Previously he founded and worked in publishing, communications, financial services and software businesses. Evgeny created the JavaScript JSON-Schema validator Ajv.

You can check Threads Styling website here.

×

16:00

Coffee Break

16:15

Build Your Own DevOps Infrastructure - Intermediate

Alex Fernández

---

fullstack

fullstackcon

js

javascript

nojs

node.js

devops

Join Alex and learn how to create a very simple DevOps infrastructure from scratch using nothing but Node.js (and a few modules). First you will create a logging library, then an error collection tool, a website monitor, an orchestration engine and finally a dashboard that puts all of this together. Each piece builds upon the previous one and is fully functional, although not necessarily polished. In fact more sophisticated versions of the tools are used every day at my company, mediasmart.

The talk is eminently practical and it will encourage you to build more stuff, which is the main aim. The second aim is to make you think about DevOps as a first class citizen inside their organization, and not just a random collection of tools that more or less work together.

fullstack fullstackcon js javascript nojs node.js devops

---

About the speaker...

Alex Fernandez is a Spanish software engineer with almost 20 years of experience. Currently working as a senior developer at MediaSmart and freelance scalability consultant. Shameless tinkerer since forever, he was seduced by Node.js a few years ago, and now eats thousands of requests per second for breakfast.

Alex tweets at @pinchito and has a blog at http://alexfernandez.github.io/. You can find all slides from Alex's talks here.

×

Milliseconds to Millions - Benchmarking & Optimization for Fun and Profit!! - Intermediate

Ahmad Nassri

---

fullstack

fullstackcon

javascript

js

nodejs

Premise: The past 10+ years of affordable and easy to scale cloud services & platforms has dulled our collective edge when it comes to matters of performance optimization and benchmarking our software creations.

While computing power goes higher costs go lower, and along with that, power and resource hungry software platforms, libraries and practices are becoming more common!

When was the last time you benchmarked the library you are using? how about all it's dependencies? come to think of it, when was the last time you inspected your dependency tree for inefficiencies? How deep does that rabbit hole go?

In this talk, I will showcase:

How to accurately benchmark & measure your code
Where to start in identifying bottlenecks inside and outside your project
How to contribute your findings back to the community to improve our libraries ecosystem

fullstack fullstackcon javascript js nodejs

---

About the speaker...

A hands-on technical leader, able to combine a technical background with well-developed leadership skills and a track record of motivating and inspiring teams to produce highly successful products.

Author of various open-source tools and software libraries used by millions of developers worldwide.

Prior to founding Bench CI, Ahmad lead large development teams across various industries in delivering large to massive scale projects. Most recently as the VP of Engineering at Mashape, where he oversaw a global engineering team building Enterprise API products and services, used by thousands of developers and top technology organizations.

In his spare time, Ahmad blogs on Technology & Leadership, mentors early stage startups, and builds open-source projects used by thousands of developers world wide.

https://www.ahmadnassri.com/talks/

×

AVA Test Runner: A fresh take on JavaScript Testing and Growing An Open-Source Project - Beginner

Mark Wubben

---

fullstack

fullstackcon

javascript

js

nodejs

ava

gitihub

AVA is a relatively new test runner that's designed to make testing fun and fast. This talk covers AVA's design philosophy and some of its great features, like built-in support for the newest JavaScript syntax, powerful yet minimal assertions and intelligent error output. Writing tests doesn't have to be a slog if you use AVA!

We'll also discuss how we're engaging contributors to both AVA itself and surrounding projects such as translations, an ESLint plugin and editor plugins.

---

See AVA.

AVA is opinionated. It's test and assertion interface is especially unorthodox, without support for the typical BDD or TDD interfaces, nor as bare-bones in its output as node-tap. This talk aims to provide a fresh take on JavaScript test runners, making the audience think about how they really want to write tests.

AVA had the largest increase in GitHub stars for 2016. Growing an open source project can be challenging, but also fun! There'll be ideas on how to manage your own open source project, and hopefully we'll be able to interest some attendees to contribute to AVA itself.

fullstack fullstackcon javascript js nodejs ava gitihub

---

About the speaker...

×

A Developers View Through the UX Lens

Jad Salhani

---

ux

fullstack

fullstackcon

development

design

Being a friend of a UX Designer for many years, and working with that friend on multiple projects, in addition to multiple courses and articles, Jad has come to learn the magic toolbox that developer needs to survive a day in the life of a designer, if he ever needs it.

First off, during this talk, you will learn the most important UX concepts you as a developer should be familiar with, and how to apply them in order to impress both their client and themselves.

Secondly, you will discover the tools you need to know, and specifically what subtools you can limit yourself to be able to manage your assets and your designs successfully.

ux fullstack fullstackcon development design

---

About the speaker...

Jad is a Full Stack Developer at Saradar Bank SAL in Lebanon, as well as a coach at the Microsoft Student Partner Program. He has built many applications using Ionic framework, Swift and Android, as well as their backend systems using PHP and Laravel.

In his free-time, Jad loves to mentor students on Codementor.io or through local meetups and workshops, as well as contribute to open-source projects or create libraries / tools of his own to share with the community.

You can reach him anytime @jadsalhani and enjoy his projects on Github.

×

2

The Cost of Logging - Intermediate

Matteo Collina and David Mark Clements

---

fullstack

fullstackcon

json

http

logging

performance

scalability

nodejs

javascript

v8

Sunday morning and your phone rings: production is down. After two hours, you manage to solve it: you could have fixed it in one minute if you had the right information from the start. First thing in the morning, you add logging everywhere, to avoid this issue and be able to triage and solve problems easily. Now your application requires twice as many servers to cater to the same demand.

During this talk, you will explore building Pino, a JSON\n logger that's up to 17 times faster than pre-existing loggers, with a growing ecosystem of support libraries, including high performance integration with Express, Hapi, Koa and Restify.

How did we make it so fast? After showing what Pino can do, you will discover Matteo and David's tooling: 0x for flamegraphs, and autocannon for HTTP/1.1 benchmarking. Then we'll discuss V8 optimizing compilers, string flattening and other mad-science optimizations that we embedded inside Pino.

fullstack fullstackcon json http logging performance scalability nodejs javascript v8

---

About the speakers...

Matteo is a code pirate and mad scientist. He spends most of his days programming in node.js, but in the past he worked with Ruby, Java and Objective-C.

In 2014, he defended his Ph.D. thesis titled "Application Platforms for the Internet of Things". Now he is a Software Architect at nearForm, where he consults for the top brands in world. Matteo is also the author of the Node.js MQTT Broker, Mosca, the fast logger Pino and of the LevelGraph database. Since last December, he is a Node.js collaborator, maintaining UDP and Streams. Matteo spoke at several international conferences: Node.js Interactive, NodeConf.eu, NodeSummit, LXJS, Distill by Engine Yard, and JsDay to name a few. He is also co-author of the book "Javascript: Best Practices" edited by FAG, Milan. In the summer he loves sailing the Sirocco.

Follow Matteo at @matteocollina.

David Mark Clements is a Principal Architect, fullstack/React and Node.js performance specialist and the author of Node Cookbook. He is currently serving as Principal Architect with NearForm.

David has been coding, speaking and writing about Node.js since Node 0.4 and has worked with frontend JavaScript for 20 years. Of note among David's open source contributions is Pino, the fastest Node.js logger available, esx a high throughput Server-Side-Renderering algorithm for React, and 0x a JavaScript stack profiling tool.

×

17:00

Beer Break

17:30

2

Have I Got Nodes For You!

Mark Rendle and Dylan Beattie

---

fullstack

fullstackcon

js

javascript

panel

fun

​The evening comedy quiz show about software, programming, the internet and technology. You've seen it at BuildStuff, you've seen it at NDC; now, join Dylan Beattie and guests as "Have I Got Nodes For You!" returns to SkillsMatter's CodeNode for an hour of technology, trivia, bizarre programming facts, missing words and Twitter bots.

fullstack fullstackcon js javascript panel fun

---

About the speakers...

Mark Rendle is the founder of RendleLabs, which is really just him playing with .NET Core, Docker, Azure, microservices and so on and then teaching other people about it and helping them build clean, stable, scalable solutions. He is currently working on an online video learning site to bring his courses to a wider audience. He's been getting paid to do what he loves for nearly 30 years now, and still worries that somebody's going to notice and make him stop.

Dylan Beattie is a systems architect, developer, and Microsoft MVP, who has built everything from tiny standalone websites to large-scale distributed systems. He created his first web page in 1992, and he's been building data-driven interactive web applications since the days of Windows NT 4. He's currently the CTO at Skills Matter in London, where he juggles his time between working on their software platform and supporting their conference and community teams. From 2003 to 2018, Dylan worked as webmaster, then IT Manager, and then systems architect at Spotlight (www.spotlight.com), where his first-hand experience of watching an organisation and its codebase evolve over more than a decade provided him with a unique insight into how everything from web standards and API design to Conway's Law and recruitment ends up influencing a company's code and culture.

Dylan is actively involved in the international software development community. As well as his work with Skills Matter, he runs the London .NET User Group, he's on the programme committee for NDC Conferences, and he's a frequent speaker at conferences and technical events around the world.

Dylan grew up in southern Africa, moving to the UK with his family when he was ten. He's a Microsoft MVP on the Visual Studio and Developer Tools programme, and he holds a degree in Computer Science from the University of Southampton. He's a guitar player and songwriter, known for creating musical parodies about software development. He's into skiing, scuba diving, Lego, cats, travel and photography, and he's normally found hanging around user groups, pubs and rock bars in London wearing a big black hat.

Read Dylan Beattie's blogs:

The Horrors Lurking in your Legacy Codebase

×

18:30

#fullstackcon Party

21:00

End of #fullstackcon Day 1
Day 2: Day 2 - Thursday 13th July
Join us for these Awesome Sessions! Don't forget to Vote for your faves on the Whiteboards at the conference!
Track
CTRL
ALT/TAB
CMD
SHIFT
BACKSPACE
08:30

Registration and Breakfast

09:15

Welcome to #fullstackcon 2017

09:30

Keynote: State of JavaScript 2017

Dylan Schiemann

---

javascript

fullstack

fullstackcon

es6

Is the JavaScript world heading towards a path of never-ending fatigue, or is it converging around a common set of best practices and standards?

It's been two years since ES6 was finalized, and much has changed in the world of JS. Join Dylan for this keynote and explore the factors contributing to fatigue, where things are standardizing, and what new trends may lead to further fatigue.

You'll also learn what's new in ES2017 and a quick overview of current trends across frameworks.

javascript fullstack fullstackcon es6

---

About the speaker...

As CEO of SitePen and co-founder of Dojo, Dylan Schiemann is an established presence in the JavaScript and open source communities. Under his direction, SitePen has become the definitive source for enterprise organizations that are focused on creating well-tested, highly performant and sustainable web applications. Dylan's current initiatives include guiding development on Intern, TypeScript and Dojo 2. Dylan was the co-founder of the Dojo Foundation prior to its merger with the jQuery Foundation to form the JS Foundation. Dylan also helps organise the HalfStack meetup and conference. When not actively engaged in bettering SitePen and demanding better developer tools, Dylan enjoys traveling and sharing his experience at conferences around the world.

×

10:15

Coffee Break

10:30

Embracing the Power of GraphQL - Intermediate

Tim Griesser

---

graphql

apollo

javascript

nodejs

fullstack

fullstackcon

GraphQL offers a fundamental a shift in how you can query, mutate, and even think about structuring backend data. The standardization of scalars, types, interfaces, and mutations leads to powerful ways of interacting with your data on both the client and the server. In addition, the robust client side tooling makes developing data rich applications a breeze!

Join Tim for this talk as he shares the fundamentals and benefits of GraphQL, discussing where it shines and where there's still a bit yet to refine. You'll then see a real world application demonstration with Node.js and Tim will show how it interacts with the client via Apollo. Learn how DataLoader, Facebook's data fetching library, can be used to drastically reduce queries and make your GraphQL experience super performant out of the box.

graphql apollo javascript nodejs fullstack fullstackcon

---

About the speaker...

Tim is a software engineer from Brooklyn. He enjoys building things for the web and collaborating on open source JavaScript with projects such as knex.js. He is passionate about learning from and teaching the best ideas from different languages and frameworks.

Tim tweets at @tgriesser.

×

Know thy buzzwords: HTTP/2 - Advanced

Surma Surma

---

fullstack

fullstackcon

javascript

js

nojs

http2

h2

webdev

tools

node

web

Join Surma as he introduces the benefits of HTTP/2, what it means for developers, how to use it in production and what tooling there is.

fullstack fullstackcon javascript js nojs http2 h2 webdev tools node web

---

About the speaker...

Surma is an engineer working with the Chrome team. He likes to cut himself on the bleeding edge, goes full-stack every once in a while and prefers good code over functional one.

×

Monitoring and Analyzing User Behaviour - Intermediate

Philipp Burckhardt

---

javascript

fullstack

fullstackcon

react

electron

nodejs

visualisation

dashboard

e-learning

analytics

data-science

statistics

machine-learning

In this talk, Philipp Burckhardt will demonstrate how the Heinz College at Carnegie Mellon University monitors user behavior in an e-learning environment. Built on Node.js, React and Electron, the ISLE (Interactive Statistics Learning Environment) project, which is built as a part of his PhD thesis, aims at providing students with explorable lessons on statistical concepts.

Philipp Burckhardt will share insights obtained in the process of developing a session logging system that tracks every click and every action of a given student. From weighing the pros and cons of using cookies, local storage or server-side storage to deciding upon whether to store the collected data in a SQL database or document store, he will reflect on the decisions made and the lessons learned.

Gathering data is only the first step, though. Analyzing the data is a much more difficult undertaking. Since collected data does not lend itself to a simple spreadsheet format but consists of time stamps, unstructured text and the like, cleaning and molding the data into an appropriate format is a delicate task. Join Philipp as he elaborates on the development of an online dashboard allowing professors to visualize the collected data, view summary statistics, and apply advanced machine-learning methods to predict future student behaviour and outcomes.

Find out more at www.isledocs.com.

javascript fullstack fullstackcon react electron nodejs visualisation dashboard e-learning analytics data-science statistics machine-learning

---

About the speaker...

Philipp Burckhardt is a PhD Student in the joint Statistics & Public Policy program of the Department of Statistics and the Heinz College at Carnegie Mellon University. He hold a Master's degree in Applied Statistics from the University of Oxford and a Bachelor's degree in Economics from Humboldt-University. Some of his interests are the development of statistical methods for analyzing unstructured textual data, specifically from the health-care domain and to develop platform-independent and browser-enabled statistical tools, to aid decision-making and make it easier to turn insights into action. Recently, he has become a major contributor to the Node.js JavaScript ecosystem, having (co)-authored more than 200 npm packages in the areas of numerical computing, statistical tools and text mining, among others. For his dissertation, he is working on an e-learning platform for statistics education built on state-of-the-art web technologies. Together with Athan Reines, he is engaged in the development of a standard library for JavaScript called stdlib. He has spoken at various international conferences on topics ranging from political science, health-care informatics to machine learning and software engineering.

Philipp tweets at @burckhap, and his website can be found here.

×

Components at Organisational Scale - Intermediate

David Mark Clements

---

fullstack

fullstackcon

js

front-end

react

javascript

enterprise

web-components

web-apps

architecture

nodejs

scalability

hashring

distributed

How can you prevent Conway's Law from leading to vulnerabilities & bloat when distributing component responsibilities across a large organisation? David and his team created a distributed live-build system to implement a Components-as-a-Service platform for a company with 15000+ employees and sales of over $50B pa.

The distributed management of frontend components, from version control to component-level a/b testing to distributed state strategy to scenario-aware component mutation all requires intensive communication between teams; usually resulting in monotonous error-prone maintenance tasks.

One common way organisations attempt to mitigate the communication overhead is to deploy view services that serve HTML to iframes. This embraces a Continuous Deployment strategy and allows for autonomy in individual teams. It tends to result in bloat through duplication, complex inefficient approaches to intra-component communication, poor rendering performance, intensive resource usage on user devices and a high risk of potential security issues resulting from human error and misunderstanding.

During this talk, you will discover another approach, a distributed live build system where a view service serves partial JavaScript bundles in serialised format (which are individual components) to an application server that assembles the components into a React application.

fullstack fullstackcon js front-end react javascript enterprise web-components web-apps architecture nodejs scalability hashring distributed

---

About the speaker...

David Mark Clements is a Principal Architect, fullstack/React and Node.js performance specialist and the author of Node Cookbook. He is currently serving as Principal Architect with NearForm.

David has been coding, speaking and writing about Node.js since Node 0.4 and has worked with frontend JavaScript for 20 years. Of note among David's open source contributions is Pino, the fastest Node.js logger available, esx a high throughput Server-Side-Renderering algorithm for React, and 0x a JavaScript stack profiling tool.

×

Understanding Blockchain - Advanced

Kevin Hoyt

---

blockchain

web-standards

fullstack

fullstackcon

The cryptocurrency Bitcoin is well known even outside of technology spheres of influence. Underlying Bitcoin however is Blockchain - a distributed ledger with some very special properties. These properties make Blockchain an ideal data store for all variety of applications, not just financial records. In this session, join IBM Developer Advocate, Kevin Hoyt, to understand blockchain terminology and unlock the potential for your business.

Centered around a web-based to-do list application, built on the Polymer 2 RC, topics covered will include spinning up your own Blockchain (Hyperledger Fabric 1.0) node, writing and deploying a "smart contract" to perform CRUD operations, and integration using Web standards. With proficiency obtained, you will also take a look at blockchain scaffolding tools. You will leave understanding where and how to use Blockchain technolgies, with the knowledge needed to get started.

blockchain web-standards fullstack fullstackcon

---

About the speaker...

Kevin Hoyt is an IBM Developer Advocate. He focuses on cloud services, the Internet of Things, and cognitive applications. In nearly a decade of promoting IoT, Kevin has presented hands-on workshops and sessions to professionals and STEAM programs around the world. Based in Denver, CO, Kevin enjoys desktop fabrication (CNC, 3D printing, laser cutting), and general aviation in his free time.

×

11:15

Coffee Break

11:30

WebAssembly and the Future of the Web - Advanced

Athan Reines

---

webassembly

machine-learning

science

numeric-computing

fullstack

javascript

fullstackcon

WebAssembly, a new portable compilation target for the web, promises to radically change how we build web applications. In this talk, Athan will discuss how to leverage WebAssembly for high performance numeric computing in web browsers. He will first provide an overview of WebAssembly, current implementation status, and future roadmap. He will then show how to compile native C and C++ libraries to WebAssembly and how to include these libraries within web applications. Next, he will walk through a step-by-step example which involves compiling low-level BLAS libraries to WebAssembly for high-performance linear algebra and numeric computation. And finally, he will show how web applications using WebAssembly can achieve near native speed, thus ushering in a whole new era of high performance applications for data analysis, graphics, and data visualization.

webassembly machine-learning science numeric-computing fullstack javascript fullstackcon

---

About the speaker...

Athan Reines is a full-stack engineer and data scientist. He has a PhD in Physics, where he used machine learning and time series analytics to probe biological systems at the nanoscale. He currently works full-time on open source projects to facilitate numerical computing in Node.js and JavaScript.

For his latest open source project, see stdlib, a standard library for Node.js and Javascript: https://github.com/stdlib-js/stdlibric computing in Node.js and JavaScript.

×

Life of a Pixel:Rendering Performance Demystified - Intermediate

Martin Splitt

---

fullstack

fullstackcon

javascript

js

web

w3c

open-source

webgl

gde

When the browser puts pixels on to screen, there's a lot of work happening behind the scenes. While it's well known that "GPU accelerated" is good for silky smooth animations and apps, it's surprisingly hard to figure out what that really entails and means.

During this talk, you will explore a tour of what goes into painting pixels onto the screen and what you can do to help the browser do it better. You will learn more about tiles, layers, compositing, painting and why the GPU is so great at pushing pixels around.

You will discover what's the difference between using CSS, 2D Canvas and WebGL for image manipulation and how antialiasing, filtering and blending work.

fullstack fullstackcon javascript js web w3c open-source webgl gde

---

About the speaker...

Martin is open source contributor and web evangelist by heart from Zurich with a decade experience from the trenches of software engineering in multiple fields.

He works as a software engineer at Archilogic in front- and backend. He devotes his time to moving the web forward, fixing problems, building applications and systems and breaking things for fun & profit.

Martin believes in the web platform and is working with bleeding edge technologies that will allow the web to prosper.

×

Building Mobile Apps with Angular and NativeScript - Beginner

Sebastian Witalec

---

angular

fullstack

fullstackcon

nativescript

mobile

apps

NativeScript is a free and open source JavaScript framework for building native iOS and Android apps.

Add to that Angular with TypeScript and you will get a truly amazing combination. But Sebastian knows what you're thinking: another way of building apps? What makes NativeScript special?

Here are a few cool things you can learn: - Direct access to native APIs—no plugins required. Want to create a file on Android? Run new java.io.File()—in JavaScript! - Completely native performance through the use of a JavaScript bridge natively available on all three mobile platforms. - Cross-platform libraries for common use cases. Need to call a JSON API? Run http.getJSON - Style native apps using CSS. Yep, that's actually a thing.

Curious about how it all works? Come learn! Architectures will be explained; apps will be built; and fun will be had by all.

angular fullstack fullstackcon nativescript mobile apps

---

About the speaker...

Sebastian Witalec is a Technical Evangelist for Progress/Telerik with over 9 years of experience in software engineering and architecture.

Sebastian has passion for all types of technologies. However in the last few years his focus shifted towards cross platform Mobile development where he gained experience with Apache Cordova and NativeScript.

He is always happy to learn about the new stuff and to pass the knowledge as far as his voice (or the wire) can take him. Sebastian is based in London, UK actively working with various Dev communities in the area. When not acting techie he is a massive football fan/player (probably bigger at heart than skills).

×

2

BEM: The Unknown - Intermediate

Sergey Berezhnoy and Vladimir Grinenko

---

bem

css

javascript

fullstack

fullstackcon

webcomponents

Most likely you are already familiar with two underscores.

But you know nothing, John Snow. In the talk Vladimir and Sergey will cover all the parts of BEM methodology: CSS (and much deeper then you used to know it), powerful DOM abstraction, declarative templates and JavaScript, file system organisation and bunch of great tools.

These things give you super power to build extremely flexible, scalable and maintainable web apps. They strongly believe BEM is like WebComponents... but better.

Don't miss the chance to learn about it!

Find out more here.

bem css javascript fullstack fullstackcon webcomponents

---

About the speakers...

Team leader of shared component interfaces group in Yandex.

Participated in development of the home page of yandex.ru, internal services and portal components. Engaged in the development of BEM and gladly answers questions about the methodology.

Supports multiple open source projects. Speaker at numerous international IT conferences.

Follow Vladimir at @tadatuta.

×

Chronicles of a Web Developer: An Unexpected Journey to the Land of IoT - Intermediate

Jouni Kaplas

---

fullstack

fullstackcon

js

javascript

iot

web

html5

industrial

What if your production line informed you, that undefined is not a function? Oops! Industrial settings such as factories are nevertheless the places where IoT is currently booming, and if you really want to make an impact, that's where you want to be.

Jouni is a web developer, who was tasked to write a web UI for an old-school industrial product. Little did he know that the 3 years working on this would completely change his understanding of how adaptable a modern web technology stack really is, and how far you can push the boundaries of it.

In this talk you will learn what Jouni discovered about approaching large-scale IoT installations in practise, dealing with massive amounts of data and designing fully reactive systems. You will also hear why web technologies will rule the world of IoT, and why web developers will be the ones finally delivering actual value from it.

fullstack fullstackcon js javascript iot web html5 industrial

---

About the speaker...

Jouni is a web craftsman and minimalist who believes great code reads like a story. He finds beauty in creating solutions to stand the test of time. Jouni is known for ferociously attacking the difficult problems and showing no mercy for workarounds. He occasionally wears colourful socks to trick his colleagues at Futurice into thinking he's not an evil mastermind.

×

12:15

Coffee Break

12:30

Should You Move Up from JS to TypeScript and Why is the Answer Probably Yes? - Intermediate

Miloš Bošković

---

javascript

typescript

fullstack

fullstackcon

Javascript has made a long way. Initially, it was mocked and developers were advised to avoid it as much as possible.

Today things are significantly different - not only is JS standard in web development, but it has broken out of browsers and it's taking over new development frontiers.

TypeScript is taking JS up a notch. It's introducing a bunch of new concepts that JS doesn't have (at least for now).

The main question is: does it pay off to start writing TypeScript? If so, how would TypeScript play with existing JS code?

Join Milos in this talk as heexplores TypeScript features, as well as potential migration paths from JS to TS.

javascript typescript fullstack fullstackcon

---

About the speaker...

Web developer with more than 5 years of experience. Freelancer for more than 3 years. Loves AngularJs and JavaScript, Node not that much. Deeply believes in "Everything which can be written in JS, will be eventually written in JS" motto.

Lead Frontend Engineer in a London-based startup called Truedash.

Miloš tweets at @misaizdalekaDev.

×

Better D3 charts with TDD - Intermediate

Marcos Iglesias Valle

---

tdd

d3js

dataviz

reusable-3d

fullstack

fullstackcon

When Marcos first started out with D3.js three years ago, he built things the same way, customising examples and although worked, he was never proud of his code. The chaining of methods makes the graphs concise, but costs a lot in cognitive overload and maintainability. Building this way is painful to modify, reuse or even to understand once you sit back down after lunch

Marcos had a huge revelation when he discovered the Reusable API (a modular structure to create and reuse d3 elements) and his code was elevated to even higher levels with Test Driven Development.

Join Marcos in this session as he walks you through his journey toward beautiful, maintainable D3 graphs with step by step examples of refactoring crufty code to be shiny and new and testable.

By the end of the talk you too will know how to build decoupled, composable, encapsulated and consistent D3 graphs and be proud of your code again!

tdd d3js dataviz reusable-3d fullstack fullstackcon

---

About the speaker...

Marcos Iglesias is a Senior Software Engineer who builds compelling user interfaces at Eventbrite. Marcos is passionate about improving web performance, setting performance budgets and tracking them because "web performance matters!" On top of all that, he enjoys writing about software, giving talks and maintaining Britecharts, the open source charting library.

Marcos has eight years of experience developing web applications and sites with Frontend technologies in different fields, including e-commerce, online banking and SaaS platforms.

See Marco's website here, and find Marcos on Twitter at @golodhros.

×

An Empty Database in Every Pocket - Beginner

Phil Nash

---

fullstack

fullstackcon

indexeddb

pwa

progressive-web-apps

IndexedDB is not new. It is supported in almost every browser. Without it, the future of progressive web apps are in peril. But there is not a lot of love for it and that needs to change.

In this talk, you will discover why you should love IndexedDB and the kind of apps you can create when you have the power of a database in the browser. Then, you will explore how to use IndexedDB with a look at both the terrifying API and the friendly libraries that will help you along the way. Together we'll discover a new love for IndexedDB.

fullstack fullstackcon indexeddb pwa progressive-web-apps

---

About the speaker...

Phil is a developer evangelist for Twilio and a Google Developer Expert based in London. He loves building with APIs and can be found programming in a variety of languages including JavaScript, Ruby and Swift. Sometimes he makes his own beer, but he's more likely to be found discovering new ones around the world.

Phil tweets at @philnash, and you can find his website here.

×

Of Dragons and Developers: A Tale of Hiring Homework and Gamification - Beginner

Nele Sergejeva

---

developers

hiring

javascript

interview

cleancode

Join Nele as she shares the story of a hiring project she did with a teammate or hers at Bigbank (An Estonian bank specialised in lending, around 430 employees in 9 countries, around 100 of which in technology).

The background is that it's quite difficult to hire developers in Estonia, as there are significantly more vacancies than developers fit for the positions, meaning it's very hard to get candidates and then retain their interest. This is especially the case if the company hiring is not a sexy startup or an already well-established technology company but rather falls in the middle part of the employer-attractiveness spectrum.

Nele and her teammate created a hiring test task (and later a front-end task) and promoted both of them publicly, calling anyone interested to try to solve it. They saw that although this was a simple premise, the task encouraged people to show off their skills and tools of choice, providing valuable information on whether or not they would fit in at their company.

They also made sure to provide thorough feedback on each solution they received to make sure that everyone at least heard back from the company and got some thoughts on how to improve their coding practices.

Join Nele as she shares the statistics from the results and the lessons learned, encouraging other companies to also approach hiring developers/technical people in a more creative manner.

developers hiring javascript interview cleancode

---

About the speaker...

Nele is a full-stack software developer who really likes going beyond her job description. In addition to her job of writing code, she enjoys creating projects related to employee involvement, hiring and company culture.

×

YES! Your Site Can (and Should) be Accessible - Beginner

Laura Carvajal

---

fullstack

fullstackcon

js

accessibility

web

In 2016, the Financial Times launched a new version of its website to great success. It broke ground on key areas like performance, resilience, and usability. But one day, rather serendipitously, the team that created the site realized they had largely forgotten to measure one thing: accessibility. And you can't improve what you don't measure.

Laura Carvajal explains how her team introduced accessibility to the Financial Times website, FT.com—and their journey from being generally oblivious about accessibility to making it a core part of their process across multiple divisions. Laura shares the the roadblocks encountered and lessons learned along the way as well as practical solutions you can implement in your project today, regardless of available time, resources, or support.

fullstack fullstackcon js accessibility web

---

About the speaker...

Laura Carvajal is a senior developer at the Financial Times building FT.com. Laura has been working in web development for the past 12 years. She has a PhD in Software Engineering and Usability.

×

13:15

Lunch

14:15

Lightning Talk: Full Stack Reactivity with Milojs - Intermediate

Jason Green

---

milojs

fullstack

fullstackcon

reactivity

Milojs is the home grown, reactive framework used to create the CMS of the Mail Online—the world's most popular English-language online newspaper—used to publish between one and two thousand articles a day. Milojs provides simple language constructs to create a complex, explicit data graphs, connecting models, views, and even css.

As the framework matured and became isomorphic, we realised just how powerful it's reactive data connections could be. What if we connected milo models in the server with those on the client using websockets? Could we create a full stack reactive data graph? Data flowing from the view, to the client model, across to the server, into the database and back out to other clients. All with very little server code and the same, concise connector syntax that milo has.

Throughout the presentation we will take a slack style chat clone and use Milo to create a full stack reactive data graph.

milojs fullstack fullstackcon reactivity

---

About the speaker...

Jason's passion for the digital world has taken him across the entire spectrum of the creative process, from conceptualisation to implementation. Jason is now a Principal Developer at Threads Styling, building the system to manage social content that will power the future of chat commerce. While Jason is engaged in all stages of the development of this mission-critical application, he also finds time to get his colleagues playing the odd board game at lunch too.

×

Lightning Talk: CSS Shoe Box Dioramas - Beginner

John Clifford

---

fullstackcon

fullstack

js

css

animation

novelty

A light hearted look at how CSS transforms, animations, and pseudo elements can be used to create animated three-dimensional scenes. During this talk, you will explore the implementation, various applications, and a demonstration of a framework that has been built to cover basic block based diorama construction.

fullstackcon fullstack js css animation novelty

---

About the speaker...

John is a developer and designer with a colourful experience of different technologies. He started off developing games and creating animations with Flash (when it was still cool) and matured into the HTML/CSS/JS loving dev he is today.

Now a Senior Software Engineer at Capgemini, John spends a lot of his time designing and building user friendly GIS solutions for the public sector with AngularJS and OpenLayers. He has previously worked as a Java developer and a C# developer, and plays a key role in translating business requirements into workable solutions for the whole team.

×

Lightning Talk: OpenComponents for a Decentralized Front-end Architecture

Debopam Sengupta

---

architecture

web

javascript

js

fullstack

fullstackcon

opencomponents

serverless

frontend

microservices

Skyscanner has recently adopted the OpenComponents framework to create a decentralized architecture to encourage sharing and re-using HTML components. During this talk, you will discover how we're using OpenComponents to do the following:

encourage re-usability of parts of the website

maintain consistency across products

maintain ownership of separate parts of the website

enhance our web performance in general

architecture web javascript js fullstack fullstackcon opencomponents serverless frontend microservices

---

About the speaker...

Debopam is a Software Engineer, working on the web architecture at Skyscanner.

Currently working on spreading OpenComponents adoption across teams in Skyscanner, and actively contributing to the open source codebase.

×

Lightning Talk: Breaking the Monolith a Monorepo - Intermediate

Will Monk

---

monolith

javascript

fullstack

fullstackcon

Modularity is almost a buzzword in the JS community, and considering the amount of packages now hosted on NPM, developers are taking it to an extreme.

Consider starting a new project when modularity is at the forefront of your architectural mind; you might think you'll have 5 packages, and each will have a corresponding git repository. While this may sound like a modular dream, I can speak from experience that it isn't! These are some things that you can expect to face when you have separate git repositories that are highly dependent on each other:

Friction around pull requests that cut across multiple packages

Broken builds due to bad changes in separate repositories

Time spent around pull request coordination

Code out of sync across the different repos

Lerna to the rescue! If you are not aware of what a monorepo is, this is a good starting place, for what, why, and how; with some good previous discussion. These are some of the things that we have happily embraced as a result of using lerna:

Code will always be in sync, one pull request will complete one feature

Master will never be broken

Code reviews happen in one place

No code in dependent repos/packages

Faster CI cycle time

monolith javascript fullstack fullstackcon

---

About the speaker...

Will is a developer with experience in lots of parts of the stack, and a keen interest in functional programming, and developer experience. For the last 5 years he's been helping big organisations re-platform onto modern frontend and node based stacks. Most recently Will has helped The Trainline on their move to a full react/node based desktop website.

Will tweets at @willmonk.

×

14:30

Lightning Talk: Web Payments and the Future of Online Purchases - Beginner

Peter O'Shaughnessy

---

payments

money

online

webapps

javascript

browser-api

The Payment Request API is now supported across multiple browsers. For us, web developers, it can provide an easy way to launch an online checkout form, collecting users' payment and shipping details. For your users, it can provide a consistent, quick and secure checkout process across all supporting websites. Let's check (it) out!

payments money online webapps javascript browser-api

---

About the speaker...

Peter is a developer advocate in Samsung's web browser team, helping fellow web developers to use up-and-coming web APIs and to make the most of the web platform. Previously he worked in technology R&D at an education company and as a tech lead at a national newspaper and two web development agencies.

Check out Peter's blog here, and find him on Twitter at @poshaughnessy.

×

Lightning Talk: In 15 minutes you can build an API with LoopBack - Intermediate

Erin McKean

---

fullstack

fullstackcon

javascript

js

nojs

crud

apis

api-framework

"Do you spend too much time creating CRUD APIs? Let LoopBack handle the dirty work of CRUD and spend your time instead on what makes your APIs and data useful, interesting, and valuable to your users. In this lightning-speed lightning talk, you'll see how you can have a full CRUD API (with real data!) up and running in 15 minutes ... with time to spare. You'll never waste time on CRUDdy API tasks again. :)

(I think that developers spend too much time writing what should be boilerplate CRUD code and not enough time understanding their data and thinking about their users. So I love advocating for developers to use the [free, open-source] LoopBack API framework and get that time back so it can be put to better use.)"

fullstack fullstackcon javascript js nojs crud apis api-framework

---

About the speaker...

Erin McKean loves talking about APIs to anyone who will stand still long enough. Before Node.js, she dabbled in Ruby, HyperCard, Perl, and Omnimark, and still finds herself writing bash scripts on a regular basis. Erin is also the founder of Wordnik.com, which has a lot of fun APIs! In her spare time she sews clothes and makes Twitterbots.

×

Lightning Talk: Brief Evolution of HTML5 Animation Techniques - Beginner

Jan Ambrožič

---

html5

animation

games

javascript

fullstack

fullstackcon

webgl

This talk will be on how animations have evolved on the web from simple GIFs to incredibly advanced WebGL games which run in the browser. Jan will focus on the beginning of HTML5 and Canvas animation, how it had difficulty competing with Flash in the beginning and how it advanced to become the de-facto standard of the modern web. He will also show a few examples and talk about where and how you can use different types of animations, from webpages to games. Jan will also briefly mention the tools and rendering engines that are currently most used and what the logic is behind them.

html5 animation games javascript fullstack fullstackcon webgl

---

About the speaker...

Jan is mainly a Javascript developer mostly focusing on games for over 6+ years now, before that he has been building games and apps on Android platform. Jan has experience with many web development tools such as AngularJS and have successfully build projects for a number of different clients.

In the past he was an active competitor on TopCoder platform and made it to the world finals TCO13 in 2013.

Jan also enjoys going to tech conferences and startup events where his best experience was winning AngelHack Berlin in 2013 which evolved in trying to start up his own company. Unfortunately that was not successful but it gave him a lot of insights to the startup tech industry.

Lately Jan's mostly been busy working in Gibraltar for a company called Playtech where he works on building Javascript games and everything related to that.

Jan tweets at @janambrozic.

×

Lightning Talk: Intro to ASTs

James Henry

---

ast

fullstack

fullstackcon

Join this talk to discover more on ASTs. ASTs power all of your favourite tools! James, as a member of ESLint, Babel and Prettier, will share more on the topic.

ast fullstack fullstackcon

---

About the speaker...

James loves empowering other developers to do their best work. He does this through building tools (he is a member of the ESLint, Babel and Prettier teams and a TypeScript evangelist) and through speaking and training across Europe. He has published almost 10 hours of free and premium courses on typescriptcourses.com

×

14:45

Lightning Talk: Using React Native to Create a Reusable Mobile App Architecture - Intermediate

Richard McMenamin

---

react

reactnative

mobile

deployment

redux

animation

Capgemini has recently adopted React Native for our client mobile projects. This talk will cover some of the challenges faced and the choices made, from choosing 'the best' routing library to deploying and updating their apps.

Richard will also include a comparison of React Native and alternative mobile solutions and the relative merits of each.

react reactnative mobile deployment redux animation

---

About the speaker...

Richard is Front End and Mobile Lead at Capgemini with responsibility for engineering quality and the adoption of appropriate technologies that can aid development and delivery.

Richard tweets at @richmcm.

×

Lightning Talk: Building a Better Login with the Credential Management API - Intermediate

James Allardice

---

javascript

front-end

fullstack

fullstackcon

js

nojs

Login pages are probably the single type of page that users on the web interact with more than any other. In recent years the sign in experience has changed with the advent of federation via social networks, but whether a user has to type an email address and password or click a link and be redirected via Facebook, the process still interrupts the journey. The Credential Management API, designed by Mike West at Google, is an attempt to help streamline this process at the user agent level.

Join James as he investigate the new API and explores how you can use it to progressively enhance customer journeys in the apps we build.

javascript front-end fullstack fullstackcon js nojs

---

About the speaker...

James is a senior engineer with several years experience building single page web apps with Node.js and a variety of front-end technologies. He's currently enjoying building React apps and libraries in ES2015 for Tesco in London. In his spare time he enjoys answering tricky questions on Stack Overflow where he's built up a reputation as a JavaScript expert.

Follow James on Twitter at @james_allardice.

Previous presentation at Skills Matter can be found here.

×

Lightning Talk: Guardian Article Bechdel Test

Jonathan Rankin

---

javascript

fullstackcon

fullstack

web

bigdata

The readership of news websites skews towards men. Why? Could this be down to a gender bias in the content? Are the stories mostly written by and about men? Could this bias be exposed? Could exposing it make a positive change? A JavaScript Chrome Extension tries to find out.

javascript fullstackcon fullstack web bigdata

---

About the speaker...

Jonathan is Software Developer at the Guardian. He works on the Membership Acquisition team, who spend most of their time A/B testing new ways of convincing people to support their independent journalism. His passions are A/B test design, creating programs that challenge people's perceptions of themselves and using data analysis/visualisation to persuade and confound.

Prior to joining the Membership Acquisition team, he worked on the Guardian's native Android app and before this, he gained a MEng in Computer Science from the University of Bristol.

×

15:00

Coffee Break

15:15

5 Architectures of Asynchronous JavaScript - Intermediate

Tomasz Ducin

---

javascript

architecture

asynchronous

patterns

callback

event

promises

generators

streams

rxjs

In this talk Tomasz will discuss 5 alternative approaches to handle async operations: callbacks, events, promises, coroutines and reactive streams. None of them is either legacy or a silver bullet - a good dev needs to pick the right tool for the job.

However, in order to understand them, we must step back to fundamentals all these rely on: the mechanics of event loop and run to completion rule, as well as learn to distinguish between sync and async flow. Then we proceed to design patterns built on top of each of the 5 approaches, discussing their strengths and limitations. Funfacts, such as famous Promise.race() included!

javascript architecture asynchronous patterns callback event promises generators streams rxjs

---

About the speaker...

Tomasz is an advocate of modern JavaScript solutions. Experienced in both frontend and backend, he's keen on designing interfaces and APIs for long-living enterprise systems. Tomasz aims to provide a truly scalable architecture, solving both technical and organisational issues.

He considers software development as a challenge of creating small and maintainable pieces of code that provide big business profit.

Tomasz takes part in international projects from financial and data analysis sectors, currently working in Cybercom Poland as Senior Software Consultant. After work, he makes presentations and workshops on JavaScript, Python and Java related technologies. TDD, CI, agile are also among his interests. Additionally, Tomasz is the co-author and maintainer of JSON-Schema-Faker project.

Tomasz tweets at @tomasz_ducin, and Tomasz's website can be found here.

×

Finally, Enterprise JavaScript Is Easy! - Intermediate

Geertjan Wielenga

---

fullstack

fullstackcon

enterprise

JavaScript: is it hard? Is it usable and stable enough in the context of enterprise applications to create the frontend of browser-based applications? How are enterprises such as PayPal, Tesco, and Oracle solving these problems?

In this session, you'll be introduced to Kraken.js by PayPal, as well as Oracle JET which is Oracle's JavaScript toolkit, including data visualizations, architectures, templates, components, and a range of enterprise solutions, such as modularity, internationalization, and accessibility.

Everything is free and open sourced on GitHub and you'll be shown how to get started with it, via demos and live coding. By the end of the session, you'll be able to leverage free and open source technologies as the basis of your own web and mobile solutions, today!

fullstack fullstackcon enterprise

---

About the speaker...

Geertjan is an open source enthusiast at Oracle, focused on free and open source technologies such as Oracle JET (oraclejet.org) and NetBeans IDE (netbeans.org). He speaks at conferences, authors books, and lives and works in Amsterdam.

Geertjan tweets at @geertjanw.

×

2

Refactoring the Code For Life Websites and Games with the Users in Mind - Intermediate

Florian Aucomte and James Holland

---

ux

ui

front-end

design

javascript

django

python

sass

fullstack

fullstackcon

Code For Life was started in 2014 by a group of volunteers within Ocado Technology. Dedicated to create free, open source games to teach children how to program, it's an inspiring and forward thinking project that is now helping more than 80 000 users worldwide.

However, the website was entirely created by developers and a few years later, the need to improve both the look and feel and the usability of the main website arose.

James Holland, UX expert at Ocado, has been working on redesigning Code For Life. Florian Aucomte, software intern, has reworked most of the Front End of the project to make it happen with the help of Ruth Wall, Front end team lead at Ocado. They will talk about the teamwork and challenges behind refactoring the website, using UX research, github, Django/Python, JavaScript, Sass... But it's not finished: they will still be listening to users and more improvements are to be made.

ux ui front-end design javascript django python sass fullstack fullstackcon

---

About the speakers...

Florian Aucomte is a one-year Technology Intern at Ocado Technology.

His first introduction to programming was through HTML5 and CCS3, however during his first two years at King's College he was using them less and less, as he was mainly studying Java. Thanks to his internship at Ocado, he has rediscovered those languages and has learnt a lot about them. Florian has been working on refactoring the Code for Life website by creating the webpages following mockups and designs.

James Holland currently works as the UX/UI Designer at Code for Life, part of Ocado Technology, redesigning the Code for Life web portal and the UI of games that are currently in development. He has previously headed up website design and development at Ashridge Executive Education, now part of Hult Business School.

James started out as a Graphic Designer in 1997, working initially in the print industry, before learning HTML, CSS and Flash skills in the early 2000's. He has always had an interest in technology, and how the user interacts with design and functionality.

James tweets at @j4mes_holland.

×

Angular State Management on Steroids Using ngrx (v4+) - Intermediate

Gerard Sans

---

redux

angular

javascript

js

fullstack

fullstackcon

In this talk, you will learn advanced state management using the ngrx suite including store, effects, router while demoing DevTools awesome time travel. ngrx/store is a Redux rewrite throwing Observables in the mix!

redux angular javascript js fullstack fullstackcon

---

About the speaker...

Gerard is very excited about the future of the Web and JavaScript. Always happy Computer Science Engineer and humble Google Developer Expert. He loves to share his learnings by giving talks, trainings and writing about cool technologies. He loves running AngularZone and GraphQL London, mentoring students and giving back to the community.

×

Introduction to Dojo 2 - Intermediate

Dylan Schiemann

---

es8

es6+

dojo-2

typescript

javascript

backend

frontend

virtual-dom

fullstack

fullstackcon

js

nojs

The Dojo Toolkit has been around since 2004 as an approach to building elegant JavaScript applications, and providing very early implementations of many concepts now found in ES6+.

Dojo 2 is a complete rethink on how we should build applications going forward, leveraging TypeScript, ES6+, Observables, Virtual DOM, etc.

Beyond learning about the capabilities of Dojo 2, this talk will also highlight some of the challenges and lessons learned in building a modern ES6+/TypeScript framework.

es8 es6+ dojo-2 typescript javascript backend frontend virtual-dom fullstack fullstackcon js nojs

---

About the speaker...

As CEO of SitePen and co-founder of Dojo, Dylan Schiemann is an established presence in the JavaScript and open source communities. Under his direction, SitePen has become the definitive source for enterprise organizations that are focused on creating well-tested, highly performant and sustainable web applications. Dylan's current initiatives include guiding development on Intern, TypeScript and Dojo 2. Dylan was the co-founder of the Dojo Foundation prior to its merger with the jQuery Foundation to form the JS Foundation. Dylan also helps organise the HalfStack meetup and conference. When not actively engaged in bettering SitePen and demanding better developer tools, Dylan enjoys traveling and sharing his experience at conferences around the world.

×

16:00

Coffee Break

16:15

Workshop: Release Your Inner Maker!

Amie Dansby

---

iot

fullstack

fullstackcon

workshop

tutorial

wearables

twitter

Day 2, 13 Jul starts 16:15 (CTRL)

Workshop: Release Your Inner Maker!
Amie Dansby

During this workshop, you will be learning how to make IoT wearable Twitter badges using the Onion Omega 2! The Omega2 is a full Linux computer with built in Wi-Fi and less than 1/4 the size of the Raspberry Pi. Each person in the workshop will receive a Onion Omega 2, OLED display and a Expansion Dock and 3D Printed Case. You will explore setting up your Onion Omega hardware and web-based console, connecting your twitter feed to display on your OLED. At the end of the workshop you'll have your own wearable tech!

Pre-requisites

You will need to bring your own Wifi enabled Mac, Windows, or Linux Computer.

You also need a twitter account.

iot fullstack fullstackcon workshop tutorial wearables twitter

---

About the speaker...

Amie D Dansby is a software game programmer, previously at Marvel Studios, working on Captain America, Thor, X-Men Destiny, Marvel Super Hero Squad: The Infinity Gauntlet and Marvel vs CapCom 3. She transitioned to Research and Development working with the PlayStation and Xbox. Currently a full stack unicorn and robot overlord at a robotics, augmented reality video game studio in Dallas, TX, ATAT Tech. She educates through 3D Printing, game development, computer science, LEGO Mindstorms robotics, wearable tech and cosplay. Encouraging others to experiment and learn through trying, making mistakes, and trying again. "Embrace Failure" is a philosophy she's adopted, there's no such thing as failure – only learning experiences.

You can find out more about her on Twitter, Google+ and on her site.

×

Workshop: Zero-configuration microservices with Node.js and Docker - Intermediate

Armagan Amcalar

---

microservices

nodejs

docker

fullstack

fullstackcon

Day 2, 13 Jul starts 16:15 (ALT/TAB)

Workshop: Zero-configuration microservices with Node.js and Docker - Intermediate
Armagan Amcalar

Microservices are taking the world by storm but it implies more than what is currently marketed. This talk details how a proper microservices architecture should work: zero-configuration, highly-redundant, fault-tolerant, self-healing mechanism with auto-discovery. We will specifically focus on such an implementation with Docker and Node.js and the principles are applicable to any modern language.

The concept of microservices is hot and it draws many developers from a diverse background. Unfortunately, we see a lot of ideas from the past rebranded as microservices; whereas the thinking behind microservices imply and promise a bigger change. This talk will go over the details of what actually makes a microservices architecture and how other distributed systems — that rely on queues and other mechanisms to function — fail to fulfill the promise.

A modern microservices implementation should be;

Zero-configuration: any microservices system will likely have hundreds of services. Therefore, a manual configuration of IP addresses, ports and API capabilities is infeasible.

Highly-redundant: service failures are very common in this scenario. So it should be very cheap to have copies of such services at disposal with proper fail-over mechanisms.

Fault-tolerant: the system should tolerate and gracefully handle miscommunication, errors in message processing, timeouts and more.

Self-healing: it's normal for outages and failures to occur. The implementation should automatically recover any lost service and functionality.

Auto-discovery: the services should automatically identify other new services that are introduced to the system to start communication without manual intervention or downtime.

Finally, this talk will present how such a system can be easily realised using Node.js and Docker.

microservices nodejs docker fullstack fullstackcon

---

About the speaker...

Armagan is the Head of Software Engineering at unu GmbH, and is currently working on building the infrastucture for the future of mobility. A software architect well versed in both the backend and frontend systems, he focuses on building resilient clouds. He loves open source and is the author of cote, a library for building microservices with Node.js.

Look up Startup Kitchen here

unu GmbH can be found here

×

Workshop: Offline-first in Practice - Beginner

Anna Doubková

---

offline

progressive-enhancement

service-workers

front-end

javascript

fullstack

fullstackcon

Day 2, 13 Jul starts 16:15 (CMD)

Workshop: Offline-first in Practice - Beginner
Anna Doubková

Have you heard about Service Workers and thought "They are cool but I probably won't be able to use them until 2020 anyway"? Here's your chance to get a hands-on experience with them in a coding dojo. This way you can make an offline-first web app and see how you can use SW in your production apps. Coding dojo is a way of learning new tech using mob-programming, TDD, and consumer first approach. You don't need to have any previous experience, just know a bit of javascript.

offline progressive-enhancement service-workers front-end javascript fullstack fullstackcon

---

About the speaker...

Anna is a javascript developer who loves working with new technologies. Currently working at Hive, she does full-stack development to deliver a great end to end solution focused on user experience. She's a frequent speaker, runs workshops, and likes contributing to the community.

×

Workshop: Practical WebGL - Intermediate

Martin Splitt

---

web

webgl

fullstack

fullstackcon

javascript

js

opensource

3d

w3c

Day 2, 13 Jul starts 16:15 (SHIFT)

Workshop: Practical WebGL - Intermediate
Martin Splitt

What's this about? Thanks to the wide adoption and availability of WebGL across browsers (including those on mobile) we get control of the full graphics pipeline.

After understanding WebGL basics and the render pipeline, you'll learn what Three.js brings to the table and you will discover a live coding demonstration you can code along to in which you will build a 3D web app from the ground up with all elements: Lighting, loading 3D models and keyboard/mouse controls

What's in this workshop?

You will explore an introduction into 3D and WebGL basics, live coding demonstration and a bunch of tips & tricks on how to tweak performance and perceived performance & quality. You will learn how to build 3D games and applications that run without any plugin right from the browser - even on mobile. You will discover how you can start creating this content today and how to bring it to production quality.

Topics

Introduction: CPU vs. GPU - Canvas vs. WebGL

3D Vocabulary: Vertices, Faces, Shaders and their friends

WebGL 101

Introduction into Three.js

Performance pitfalls

web webgl fullstack fullstackcon javascript js opensource 3d w3c

---

About the speaker...

Martin is open source contributor and web evangelist by heart from Zurich with a decade experience from the trenches of software engineering in multiple fields.

He works as a software engineer at Archilogic in front- and backend. He devotes his time to moving the web forward, fixing problems, building applications and systems and breaking things for fun & profit.

Martin believes in the web platform and is working with bleeding edge technologies that will allow the web to prosper.

×

Workshop: Intro to Tessel & Johnny-Five - Intermediate

Nick Hehr

---

fullstack

fullstackcon

javascript

js

nojs

nodebots

johnny-five

tessel

hardware-ux

osh

Day 2, 13 Jul starts 16:15 (BACKSPACE)

Workshop: Intro to Tessel & Johnny-Five - Intermediate
Nick Hehr

The Tessel 2 is an open-source hardware and software platform that can be programmed with JavaScript out of the box! Johnny-Five is a JavaScript robotics and IoT library, like jQuery for hardware. Bringing those 2 pieces together is one of the greatest ways to start building your very first electronics project!

Using the materials in the Johnny-Five Inventor's Kit, https://www.sparkfun.com/products/13847, workshop attendees will go from blinking an LED to building a web-connected services for monitoring a sensor of their choosing. They'll gain knowledge about breadboard prototyping, polarity and resistance, interrupts, and a few hardware communication protocols, like SPI.

Having a knowledge of JavaScript and Node will be helpful for working with the web-service parts of the workshop but not directly required for attending.

Pre-Requisites: - Node.js version 4 or 6 - npm install -g t2-cli

fullstack fullstackcon javascript js nojs nodebots johnny-five tessel hardware-ux osh

---

About the speaker...

Nick is an empathetic community member, front-end developer, and avid Disney parks & animation fan. When he's not helping organize ManhattanJS or contributing to the Tessel and Hoodie projects, you can probably find him at the nearest climbing gym. His mustache is just a figment of your imagination.

×

18:15

Join us at CodeNode's SpaceBar for drinks to celebrate #FullStackcon Day 2!
Day 3: Day 3 - Friday 14th July
Join us for these Awesome Sessions! Don't forget to Vote for your faves on the Whiteboards at the conference!
Track
CTRL
ALT/ TAB
CMD
SHIFT
BACKSPACE
08:30

Registration and Breakfast

09:15

Welcome to #fullstackcon 2017

09:30

Keynote: Node.js Releases, how do they work?

Myles Borins

---

node

nodejs

fullstack

fullstackcon

Node.js is growing up, and with that comes the responsibility of proper legacy support. As of Node.js Argon (v4.2.0) there is an official Long Term Support release cycle that lasts for 30 months!

How does a project moving at the pace of node maintain multiple release lines? How does a commit get backported? How is a release actually made?

You will learn all this and more on this week's episode of "Node.js Releases, how do they work?".

node nodejs fullstack fullstackcon

---

About the speaker...

Myles Borins is a developer, musician, artist, and maker. They work for Google as a developer advocate serving the Node.js ecosystem. Myles cares about the open web and healthy communities.

You can find their cv as a pdf here.

×

10:15

Coffee Break

10:30

How We Broke the Guardian Website.. And What We Learned - Intermediate

Gareth Trufitt

---

fullstack

fullstackcon

javascript

js

nojs

infrastructure

case-study

alerting

Moving fast shouldn't mean breaking things, but Facebook's old mantra often reflects the realities of a rapidly evolving codebase and infrastructure. The Guardian's development culture is designed to allow us to move quickly, deploy a dozen times a day and get statistically-significant A/B test results within hours.

Sometimes, though, that leads to the odd slip up.

Join Gareth for this talk as he lays bare just a few of the mistakes they made and more importantly, the lessons learned and remediation they took to avoid the problems in the future.

fullstack fullstackcon javascript js nojs infrastructure case-study alerting

---

About the speaker...

Gareth is a Senior Client-Side developer on the Guardian's website platform team. He has worked in-house and agencies for 9 years, and at the Guardian for 1 and a half. His most recent work has been rethinking the Guardian's client-side architecture.

×

Overview of Electron: The Web is Everywhere - Intermediate

Kitson Kelly

---

fullstack

electron

nodejs

chromium-browser

fullstackcon

javascript

nojs

js

There is nothing that is more full stack than an Electron app. Combining the power of NodeJS and a Chromium Browser, companies are delivering powerful applications that blur the line between the "web" and "thick clients".

Join Kitson for this talk as he will cover an overview of Electron, the opportunities and challenges when developing an app on Electron and a live coding demonstration.

fullstack electron nodejs chromium-browser fullstackcon javascript nojs js

---

About the speaker...

Kitson is CTO at SitePen and the project lead for Dojo 2. He has been working with JavaScript for over 7 years and TypeScript for over 2.

×

Cross-Domain Components with React and XComponent, at PayPal - Intermediate

Daniel Brain

---

components

react

paypal

cross-domain

payments

fullstack

fullstackcon

PayPal is going all-in on cross-domain components.

With XComponent, merchants can plug-in on PayPal's React components directly to build their shopping experiences. PayPal is open-sourcing tools to let you build cross-domain components too, releasing the power of Node/React to third-party sites, and sharing your web experiences.

Using Node, React and XComponent to build drop-in cross-domain components

Allowing iframes to be used as React components, with props and callbacks

Exposing PayPal's Button and Checkout experiences as cross-domain components

The open-source cross-domain component libraries that you can start using today

components react paypal cross-domain payments fullstack fullstackcon

---

About the speaker...

Daniel is a lead JavaScript engineer on the PayPal Checkout team. He is currently leading the effort to create PayPal's next-generation SDK, and build out infrastructure for smart, cross-domain web components.

Daniel tweets at @bluepnume.

×

JavaScript All The Things - Beginner

Jan Jongboom

---

javascript

iot

jerryscript

espruino

fullstack

fullstackcon

JavaScript is omnipresent, it's running everything from small mobile phones to large servers in the cloud. But there's one place where JS is abundantly absent: the Internet of Things. Some small experiments are done in the hobbyist space by frameworks like Johnny-Five and JS runtimes like Espruino, but C is still the undisputed king for devices that are power- and battery-constraint. But why?! The same reasons why we love JavaScript on the web and on servers apply to smaller devices too: JS is safe, dynamic, fast to develop against, and it's asynchronous nature would be great for small network connected devices that mostly just respond to user input.

In this talk Jan Jongboom, Developer Evangelist IoT at ARM and JerryScript contributor, will go into the current state of JavaScript on embedded devices. He'll cover the developments among the industry, shows where JS is already applied, and what problems we'll need to solve to bring JavaScript to all the things.

javascript iot jerryscript espruino fullstack fullstackcon

---

About the speaker...

Jan Jongboom is working as a Developer Evangelist IoT for ARM and he has been on a mission to bring JavaScript to embedded devices for many years. He is a former core contributor to Firefox OS, launched a fork of Firefox OS (JanOS) which targets IoT devices, is currently a contributor to the JerryScript JavaScript runtime, and maintains the mbed.js IoT runtime.

Jan tweets at @janjongboom.

×

Node-RED - Intermediate

Nick O'Leary

---

nodered

fullstack

fullstackcon

nodejs

javascript

iot

The Internet of Things is not a single choice of technology, approach or philosophy. Its very existence is the bringing together of multiple platforms, products and protocols, where the whole is greater than the sum of its parts. One of the challenges of IoT is to make it as easy as possible to allow developers to create things, for play or profit, serious or whimsical, professional or hobbyist.

Node-RED is an open-source visual tool for wiring the Internet of Things. Built on top of node.js, it provides a light-weight, browser-based editor that makes it easy to integrate different streams of both physical and digital events.

This session explores what Node-RED can do, show cases how it has been used to great success across a range of industries and looks to the future of the project.

nodered fullstack fullstackcon nodejs javascript iot

---

About the speaker...

Nick is an emerging technology specialist at IBM, where he gets to do interesting things with interesting technologies and also play with toys.

With a background in pervasive messaging, he is a contributor to the Eclipse Paho project and sits on the OASIS MQTT Technical Committee. He is the creator of Node-RED, an open source tool for wiring the Internet of Things.

×

11:00

Coffee Break

11:15

Microcontrollers as Microservices - Intermediate

Nick Hehr

---

fullstack

fullstackcon

javascript

js

nojs

nodebots

johnny-five

tessel

hardware-ux

osh

Some things just don't mix:

oil & water
freshly brushed teeth & orange juice
conference WiFi & tech demos

As the popularity of IoT and realtime experiences continues to grow, you often look to the ease of "cloud" environments, like AWS or Heroku, to demo these applications at conferences and meetups. Overloaded, slow wifi at these events causes trouble for the speakers who can do little to resolve this issue while their app sits on a server hundreds of miles away.

Nick proposes that you can combat latency and reduce your dependency on "the cloud" for realtime and IoT by running our applications on the devices providing that wifi: our routers! Through the use of existing protocols, like mDNS and adhoc/mesh communication, you can distribute the load across these portable devices powered by Node.js and open-source hardware.

During this talk, you will learn how this technology can benefit tech events and affect the way we build applications for our homes and communities around the world.

fullstack fullstackcon javascript js nojs nodebots johnny-five tessel hardware-ux osh

---

About the speaker...

Nick is an empathetic community member, front-end developer, and avid Disney parks & animation fan. When he's not helping organize ManhattanJS or contributing to the Tessel and Hoodie projects, you can probably find him at the nearest climbing gym. His mustache is just a figment of your imagination.

×

Breaking JavaScript into Pieces - Intermediate

Kirill Cherkashin

---

javascript

fullstack

fullstackcon

parsing

Syntax Tree is an underlying structure of a programming language. These structures can be used for understanding, transforming, formatting, linting or minifying code. In this talk you will learn about lexing, parsing, and working with syntax trees. You will also learn how to apply this knowledge in practice with some live examples.

javascript fullstack fullstackcon parsing

---

About the speaker...

Kirill Cherkashin, originally from Moscow, now lives in NYC working for Firebase. He enjoys teaching and organising meetups. He has been teaching Web for the past few years, and is the organiser for AngularNYC, ReactNYC and soon VueNYC! He loves Angular and teaches it at Google and all over the world. In spare time, He enjoys dancing tango, reading books and good conversations.

×

Websites are basically Video Games Waiting to Happen - Beginner

Opher Vishnia

---

fullstack

fullstackcon

web

js

javascript

games

videogames

gamedev

How can you make your site feel less like a static page and more like a video game?

In many ways modern web sites are similar to video games: They both offer engaging interactive experiences. They both also often encounter the same difficulties like performance issues, adjusting to different screen size and device fragmentation. In this talk, you will learn how to apply video game principles when designing and building websites. You will also present Javascript/CSS libraries for particles, physics, multiplayer, camera movement and interactive video so your visitors can stop watching passively and start playing actively!

fullstack fullstackcon web js javascript games videogames gamedev

---

About the speaker...

Opher is a multidisciplinary creator, invested in many different and often unrelated fields at the same time: computer science, art, music, design, math, game development and more.

For the past three years Opher has been working at Interlude as lead creative developer, and the go-to authority on client side web technologies. His day-to-day involves working with both creative teams (design, art, film) as well as development teams to push the envelope of what interactive video can be in the near future.

Check out Opher's website, and find him on Twitter at @Opherv.

×

Watch your back, Browser! You're Being Observed - Beginner

Stefan Judis

---

fullstack

fullstackcon

javascript

browser

api

dom

Web development can be tough. DOM APIs are known to be inconvenient, and you often build the same things over and over again. Thanks to rolling releases by browser vendors this changed. Development of the web as a platform has sped up like never before. New APIs land in browsers with every release allowing for "reactive programming" through new Observer and Observable APIs.

Looking for a way to detect DOM changes to update a different part of the page? MutationObserver got you covered. Want to get notified when elements enter the viewport to load assets? IntersectionObserver is your friend. Are you dealing with sequences of events over time and want to save yourself some headaches? Observables will make your life way easier.

Join Stefan for this talk as he covers the use cases of Observer/Observable APIs, go over implementation details, and cover everything you need to know to use them in production.

fullstack fullstackcon javascript browser api dom

---

About the speaker...

Stefan started programming 6 years ago and quickly fell in love with web performance, new technologies and automation.

He worked for several startups in Berlin and recently joined Contentful to tell the world how an API-first CMS can make you a bit happier.

He is also a curator of the web performance online resource Perf Tooling, organizer of the Web Performance Meetup Berlin, contributes to a variety of open source projects and enjoys sharing nerdy discoveries.

Stefan's website can be found here, and he tweets at @stefanjudis.

×

Scaling the Production of Complex Data Visualization Using Visual Programming - Beginner

Sol Eun

---

fullstack

fullstackcon

javascript

js

nodejs

data visualization

visualprogramming

webgl

three.js

We live in a world with enormous amount of data presented to us and with the advancement of technology and research, we process more information and are empowered to make data-informed decision about many things in our lives. For example, we can get suggestions on the movies we are more likely to enjoy, be reminded by things we have to buy when we enter a grocery store and even avoid traffic congestions and receive fastest route getting from point a to b.

Data Visualization has played a critical role on our ability to consume large sets of data. Even though commonly used chart types such as bar charts and line charts have been effective ways to present data, leading publishers and companies have been exploring better ways to tell stories using data by leveraging the latest technology and research.

Pega has been developing this project because we think building these complex data visualizations is very code-dependent and time-consuming. With tens of thousands of application developers and partners, we needed a flexible yet highly maintainable approach to produce and deploy these visualizations. Writing javascript which has been a primary method to develop these visualizations is not scalable and painful to maintain and troubleshoot. Visual programming method allows Pega to control fundamental building blocks and core architecture while enabling application developers to create data visualizations to meet demand and specifications of many enterprises.

fullstack fullstackcon javascript js nodejs data visualization visualprogramming webgl three.js

---

About the speaker...

Daniel "Sol" Eun is a product management professional on data visualization at Pegasystems, a company develops software development platform for enterprises and offers software solutions for marketing, sales, and customer service. Previously, Sol worked at number of software startups in analytics and data visualization space. He lives in Burlington, MA with his partner and their 1 year-old daughter, Erin.

×

11:45

Coffee Break

12:00

Take your HTTP server to Ludicrous Speed - Intermediate

Matteo Collina

---

v8

httpserver

nodejs

Express, Hapi, Restify, or just plain Node.js core? Which framework should you choose? In his journey in nodeland, Matteo always wonders about the cost of his abstractions. require('http') can reach 25k requests/sec, Express 9k, and Hapi 2k.

He started a journey to write an HTTP framework with extremely low overhead, and Fastify was born. With its ability to reach an astonishing 20k requests/sec, Fastify can halve your cloud server bill.

How can Fastify be so... fast? Join Matteo and start by analyzing flamegraphs with 0x, and then delve into --v8-options, discovering how to leverage V8's feedback and optimize your code. He will explore function inlining, optimizations and deoptimizations. You will learn about the tools and the libraries you can use to do performance analysis on your code. In Fastify you reach a point where even allocating a callback is too slow: Ludicrous Speed.

v8 httpserver nodejs

---

About the speaker...

Matteo is a code pirate and mad scientist. He spends most of his days programming in node.js, but in the past he worked with Ruby, Java and Objective-C.

In 2014, he defended his Ph.D. thesis titled "Application Platforms for the Internet of Things". Now he is a Software Architect at nearForm, where he consults for the top brands in world. Matteo is also the author of the Node.js MQTT Broker, Mosca, the fast logger Pino and of the LevelGraph database. Since last December, he is a Node.js collaborator, maintaining UDP and Streams. Matteo spoke at several international conferences: Node.js Interactive, NodeConf.eu, NodeSummit, LXJS, Distill by Engine Yard, and JsDay to name a few. He is also co-author of the book "Javascript: Best Practices" edited by FAG, Milan. In the summer he loves sailing the Sirocco.

Follow Matteo at @matteocollina.

×

Threat Modelling Node.js Applications - Intermediate

Gergely Nemeth

---

fullstack

fullstackcon

nodejs

apps

Threat modelling is the process of identifying potential threats in a prioritized way. When it comes to Node.js and JavaScript there are lots of specific security issues that can arise.

Join Gergely and learn how to do thread modelling for applications written in Node.js.

What is threat modelling?

Threat modelling in practice

Threat modelling Node.js applications

– HTTP Security headers

– What are timing attacks and how to defend against them

– Regex Denial of Service attacks and how to defend against them

– Monitoring insecure dependencies coming from npm

– CSRF attacks, how to defend against them

fullstack fullstackcon nodejs apps

---

About the speaker...

Software engineer, specialized in Node.js, now leading RisingStack, the Node.js company. Organiser of NodeConf Budapest and various meetups.

Take a look at what RisingStack is working on, and find out more about JSConf Budapest. Gergely tweets at @nthgergo

×

Tiny Computers, JavaScript and MIDI - Intermediate

George Mandis

---

node

iot

midi

raspberrypi

fullstack

fullstackcon

javascript

We're living the halcyon days of tiny computers and JavaScript, but MIDI is a technology that's been around for much longer. Join George for this talk as he explores why its implementation and prevalence in hardware makes for a uniquely intriguing and accessible platform for creative coding.

Tiny computers such as the RaspberryPi, Arduino and C.H.I.P. have finally reached a level of performance and affordability that makes hardware experimentation accessible to everyone. At the same time, JavaScript has emerged as the lingua franca of web programming and can be found in many places beyond just the browser.

What if George told you there was a mature protocol that's been around since 1983 and was uniquely poised to take advantage of this development?

Well, wonder no more and meet MIDI!

Sitting at convergence of these two things is MIDI — a niche protocol that's been around since 1983 and was originally designed for musical instruments to communicate with one another. It's event-oriented approach to messaging feels right at home in the asynchronous world of JavaScript & Node, and the prevalence of MIDI support in older musical equipment means you can find unique, hackable and affordable hardware at your local pawnshop or Craig's List.

This unlikely tech stack — Tiny Computers + JavaScript + MIDI — can lend itself to creative programming beyond music. George's talk will explain how to get started, walk through several examples and elaborate on the future of this stack, not only as a platform for experimentation but for education as well.

node iot midi raspberrypi fullstack fullstackcon javascript

---

About the speaker...

George Mandis is a freelance web developer, consultant, frequent traveler and occasional educator based primarily out of Portland, Oregon. He's worked with startups, professional sports teams, small businesses and individuals but excels at helping people find elegant solutions for their projects. He spent a year living as a digital nomad, inadvertently cheated at a marathon in North Korea, ran a coding bootcamp and writes frequently on technology and travel on his website.

George tweets at @georgemandis, and his website can be found here.

×

Exploring Leadership, Mangement, and Mentorship in Open Source - Intermediate

Charlie Robbins

---

leadership

mentoring

opensource

Leadership. Management. Mentorship. When considering decentralized Open Source projects all of these ideas come into play is a truly unique way. That is because of the nature of Open Source itself: self-motivation and self-determination. The individual has considerably more control over their own destiny with respect to what, why, and how they do work as a contributor when compared to "work" inside a more traditional corporate structure. Further there is often a disparity in goals between the create of an Open Source project and those who go on to maintain that same project months or years down the road.

This talk will explore the value systems that exist in Open Source communities and discuss how they shape the ideas of leadership, management, and mentorship in Open Source projects. It will compare these ontologies in projects (both Open Source and not) of varying size, scope, and focus and demonstrate how they manifest directly into actions or structures in the projects. If you've ever wondered how Open Source gets made, this is the talk for you!

leadership mentoring opensource

---

About the speaker...

Charlie is a Director of Engineering at GoDaddy where he is leading convergence around JavaScript and Node.js across several products through the UX Platform. Charlie was previously the founder and CEO of Nodejitsu (acquired by GoDaddy in 2015). An open source enthusiast and community builder, he is the author of many popular Node libraries, the creator of the EmpireJS and EmpireNode conferences in New York City, and an advisor to several technology startups. Charlie is a graduate of McGill and holds a Master's degree from Columbia University.

Charlie tweets at @indexzero.

×

How to Become an Awesome Open Source Contributor - Beginner

Christos Matskas

---

fullstack

fullstackcon

js

opensource

Join in for this updated talk with Christos!

fullstack fullstackcon js opensource

---

About the speaker...

Christos Matskas is a software developer, blogger, speaker and all around geek. He currently works at Microsoft as an Azure Premier Field Engineer. Before joining Microsoft, he was a successful entrepreneur and has collaborated with companies such as MarkIT, Lockheed Martin and Barclays. Christos has been building software for over 12 years and he's a passionate Open Source advocate. He contributes regularly to numerous OSS projects and works closely with the community to make the software development space bigger and better.

×

12:30

Lunch

13:30

Keynote: Progressing Apps the PWA Way

Christian Heilmann

---

fullstackcon

fullstack

keynote

javascript

js

web

Progressive Web Apps are a wonderful way to make the web and the app space work in harmony. There is a lot of confusion though about what they are and what we should do to make them a true success. In this keynote, Chris Heilmann will share the why and how of PWA beyond "make it work offline on the newest mobile devices".

fullstackcon fullstack keynote javascript js web

---

About the speaker...

Christian Heilmann is a geek and hacker by heart. He's been a professional web developer for about eleven years and worked his way through several agencies up to Yahoo where he delivered Yahoo Maps Europe and Yahoo Answers.

×

14:15

Coffee Break

14:30

Workshop: Webpack - From Apprentice to Master - Intermediate

Juho Vepsäläinen

---

fullstack

fullstackcon

javascript

js

nodejs

Day 3, 14 Jul starts 14:30 (CTRL)

Workshop: Webpack - From Apprentice to Master - Intermediate
Juho Vepsäläinen

Webpack, a module bundler, has become popular in the web development community.

In this entry level workshop I'll discuss the core ideas behind it, and given there's enough time, I'll also cover some of its advanced features like bundle and code splitting.

The workshop is based on my free book, "SurviveJS - Webpack", and the material is available online.

fullstack fullstackcon javascript js nodejs

---

About the speaker...

Juho Vepsäläinen is behind the SurviveJS effort and he is a core member of webpack. In addition to Reactabular, a table library, he has been active in the open source scene for a decade and his past includes projects like Blender.

×

2

Workshop: Serverless: The Battle of the Giants - Intermediate

Luciano Mammino and Christos Matskas

---

serverless

aws

azure

fullstack

fullstackcon

Day 3, 14 Jul starts 14:30 (ALT/ TAB)

Workshop: Serverless: The Battle of the Giants - Intermediate
Luciano Mammino and Christos Matskas

Serverless is becoming the cool new kid on the block taking software development by storm. Enterprises and developers alike are embracing the new paradigm in order to drive innovation, time to marked and solve complex architectural challenges.

Join Christos and Luciano in this workshop as they take you through a discovery path and show you how to embrace the serverless architecture in your projects.

They want to help you understanding what serverless really is and why you should use it to power up your next ambitious application whether it's running on Azure or AWS.

The workshop will involve a fair amount of code that you'll need to implement to solve different real-world problems and thus at the end you should be familiar and comfortable with the serverless concepts.

Topics

Exploring the Serverless paradigm

What are the typical use cases and the cloud providers you can use

Taking AWS Lambda and Azure Functions for a spin with some entertaining examples

Closing up with an advanced example showcased by the mentors

Pre-requisites

An existing subscription on AWS or Azure (ideally both)

Familiarity with JavaScript/Node.js (nice to have)

A laptop with Node.js installed >= 6.11 and a Bash (*nix) /Command (Windows) terminal

Azure Functions Core Tools CLI installed

AWS CLI installed

serverless aws azure fullstack fullstackcon

---

About the speakers...

Luciano is a software engineer born in 1987, the same year that "Super Mario Bros" was released in Europe, which, by chance is his favourite game! Luciano started coding early at the age of 12, hacking away with his father's old i386 armed only with MS-DOS and the QBasic interpreter and he has been professionally a software developer for more than 10 years. Luciano is currently a Solution Architect at Vectra AI in Dublin where he's working on automating the hunt for cyberattackers and speeding-up incident response.

Luciano loves the fullstack web, Node.js and Serveless so he co-authored the book "Node.js design patterns", launched fstack.link (a semi automated newsletter for Fullstack developers) and Serverlesslab.com (in-house serverless training).

Christos Matskas is a software developer, blogger, speaker and all around geek. He currently works at Microsoft as an Azure Premier Field Engineer. Before joining Microsoft, he was a successful entrepreneur and has collaborated with companies such as MarkIT, Lockheed Martin and Barclays. Christos has been building software for over 12 years and he's a passionate Open Source advocate. He contributes regularly to numerous OSS projects and works closely with the community to make the software development space bigger and better.

×

Workshop: Diving into GraphQL, React & Apollo - Intermediate

Nikolas Burk

---

graphql

react

apollo

javascript

fullstack

fullstackcon

Day 3, 14 Jul starts 14:30 (CMD)

Workshop: Diving into GraphQL, React & Apollo - Intermediate
Nikolas Burk

GraphQL is the successor of REST APIs and a declarative way to fetch and update data. This new paradigm is unlocking a completely new ecosystem turning frontend developers into superheroes.

After a quick introduction to GraphQL, you'll setup a fully-functional GraphQL backend using Graphcool. Afterwards, the goal for you is to build a simple messenger app with realtime functionality using GraphQL subscriptions.

Nikolas works as a developer at Graphcool. They strongly believe that GraphQL is the future of API design and have been using it intensely for over a year. Their goal is to share their learnings with the greater web community and make it as easy as possible for you to get started with GraphQL.

graphql react apollo javascript fullstack fullstackcon

---

About the speaker...

Nikolas is a polyglot developer coming from an iOS background but finding new homes in the JS and React / React Native worlds.

He graduated from University with a MSc in Information Systems. During his studies he worked for several companies such as SAP and also did some contracting work. He then spent 3 months at the Recurse Center in NYC to study functional programming techniques and subsequently worked as an iOS Instructor at Make School in San Francisco before he joined Graphcool in early 2017.

Nikolas tweets at @nikolasburk, and his website can be found here.

×

Workshop: The JavaScript Data Science Survival Kit - Intermediate

Philipp Burckhardt

---

statistics

electron

nodejs

machine-learning

visualisation

science

numeric-computing

Day 3, 14 Jul starts 14:30 (SHIFT)

Workshop: The JavaScript Data Science Survival Kit - Intermediate
Philipp Burckhardt

The fields of machine learning and data science can appear intractable and overwhelming, often leaving newcomers at a loss for knowing where to begin. However, once you learn basic principles and workflows, you will see many opportunities where these techniques can help you in your projects. You can better understand your users, embed a recommendation engine into your application, or easily ship dashboards including statistical summaries and stunning visualizations.

The rise of Node.js and Electron are powering a new era where JavaScript continues to expand beyond the browser and becomes a critical component of server and desktop applications. With JavaScript being everywhere, one of the emerging next frontiers for JavaScript world domination is data science.

In this workshop, you will learn how to utilize the JavaScript open-source library stdlib for various data science tasks. Through a series of brief exercises, attendees will get a hands-on introduction, ranging from analytics to machine learning to exploratory data analysis and visualization. For example, you will investigate the accuracy of the native JavaScript Math functions, build a spam classifier, and generate synthetic texts using Markov chains.

After completing this workshop, you will have a solid understanding of what kind of problems they can approach by which techniques. Furthermore, you will have experience in conducting a full analysis from start to end, i.e., exploring, cleaning, transforming, and analyzing data with state-of-the-art techniques.

The workshop will close with an outline of future steps for data science in JavaScript and opportunities for community development of next-generation tools.

statistics electron nodejs machine-learning visualisation science numeric-computing

---

About the speaker...

Philipp Burckhardt is a PhD Student in the joint Statistics & Public Policy program of the Department of Statistics and the Heinz College at Carnegie Mellon University. He hold a Master's degree in Applied Statistics from the University of Oxford and a Bachelor's degree in Economics from Humboldt-University. Some of his interests are the development of statistical methods for analyzing unstructured textual data, specifically from the health-care domain and to develop platform-independent and browser-enabled statistical tools, to aid decision-making and make it easier to turn insights into action. Recently, he has become a major contributor to the Node.js JavaScript ecosystem, having (co)-authored more than 200 npm packages in the areas of numerical computing, statistical tools and text mining, among others. For his dissertation, he is working on an e-learning platform for statistics education built on state-of-the-art web technologies. Together with Athan Reines, he is engaged in the development of a standard library for JavaScript called stdlib. He has spoken at various international conferences on topics ranging from political science, health-care informatics to machine learning and software engineering.

Philipp tweets at @burckhap, and his website can be found here.

×

Workshop: Storytelling with Interactive Video in the Browser - Beginner

Opher Vishnia

---

fullstack2gether

fullstackcon

workshop

story-telling

video

browser

Day 3, 14 Jul starts 14:30 (BACKSPACE)

Workshop: Storytelling with Interactive Video in the Browser - Beginner
Opher Vishnia

Throughout history, as new storytelling mediums have emerged, content has adapted to fit the developing form. From oral narratives to theater, cinema, and television, storytelling has always evolved to fit the possibilities enabled by the platform. So - how is non-linear, interactive video shaping the future of storytelling on the web? And how can this be achieved on mobile and desktop using HTML5 video and other Front End techniques?

WHAT YOU'LL LEARN:

This workshop will combine front end development, filmmaking and classic storytelling with gaming mechanics to introduce interactive narrative. You'll learn how to use JS and CSS libraries along with Eko Studio to create an interactive video experience of your own.

WHO IS IT FOR?

You are a front end developer with interest in storytelling, gaming and interactive media. You're comfortable with modern Javascript and CSS developing techniques.

WHAT HARDWARE/SOFTWARE DO YOU NEED?

A laptop with git and a favorite text editor/IDE pre-installed. Please sign up for a user account here before starting the workshop

fullstack2gether fullstackcon workshop story-telling video browser

---

About the speaker...

Opher is a multidisciplinary creator, invested in many different and often unrelated fields at the same time: computer science, art, music, design, math, game development and more.

For the past three years Opher has been working at Interlude as lead creative developer, and the go-to authority on client side web technologies. His day-to-day involves working with both creative teams (design, art, film) as well as development teams to push the envelope of what interactive video can be in the near future.

Check out Opher's website, and find him on Twitter at @Opherv.

×

16:30

Beer Break

16:45

Keynote: Once Upon a Time on the Web

Dylan Beattie

---

fullstack

fullstackcon

javascript

js

web

keynote

The story of the web is a story about freedom. It's a story about information, about breaking down barriers, about creating new ways for people to communicate, to collaborate, and to share their ideas.

It's also a story of missed deadlines, half-baked standards, last-minute decisions, ridiculous business models, and some of the stupidest ideas anybody has ever had in the history of technology. Some of them are nothing more now than an amusing footnote in history... some of them we're still living with, and working around, every single day. And it could easily have been so very, very different.

Join Dylan Beattie for an offbeat and irreverent journey back to the earliest days of the digital frontier, as we look at the ideas and innovations that have shaped the modern web... and then fast-forward to an alternate 2017, where you are all using Netscape Composer to create rich online experiences on our WebTVs, Microsoft Office is a Java applet, CueCats are more popular than fidget-spinners, and the really cool kids are using MSN to hand-code custom avatars in VRML.

fullstack fullstackcon javascript js web keynote

---

About the speaker...

Dylan Beattie is a systems architect, developer, and Microsoft MVP, who has built everything from tiny standalone websites to large-scale distributed systems. He created his first web page in 1992, and he's been building data-driven interactive web applications since the days of Windows NT 4. He's currently the CTO at Skills Matter in London, where he juggles his time between working on their software platform and supporting their conference and community teams. From 2003 to 2018, Dylan worked as webmaster, then IT Manager, and then systems architect at Spotlight (www.spotlight.com), where his first-hand experience of watching an organisation and its codebase evolve over more than a decade provided him with a unique insight into how everything from web standards and API design to Conway's Law and recruitment ends up influencing a company's code and culture.

Dylan is actively involved in the international software development community. As well as his work with Skills Matter, he runs the London .NET User Group, he's on the programme committee for NDC Conferences, and he's a frequent speaker at conferences and technical events around the world.

Dylan grew up in southern Africa, moving to the UK with his family when he was ten. He's a Microsoft MVP on the Visual Studio and Developer Tools programme, and he holds a degree in Computer Science from the University of Southampton. He's a guitar player and songwriter, known for creating musical parodies about software development. He's into skiing, scuba diving, Lego, cats, travel and photography, and he's normally found hanging around user groups, pubs and rock bars in London wearing a big black hat.

Read Dylan Beattie's blogs:

The Horrors Lurking in your Legacy Codebase

×

17:45

FullStack 2017 Wrap Up Presentation

Ariel Horn

---

fullstack

fullstackcon

Join us as we wrap up another awesome #FullStackcon with you!

fullstack fullstackcon

---

About the speaker...

Ariel is one of our own here at Skills Matter and manages our training portfolio. She is always on the look out for fantastic experts to lead our cutting edge training courses and working to stay ahead of the curve for what's the next best thing in tech. After studying international affairs Stateside, she jumped the pond to further study International Business and focused on innovation metrics through local economic impact. Ariel is passionate about mentoring and digital literacy for the elderly and works with the Skills Matter Diversity and Inclusion panel. She is a geek, a gamer and a gardener. You'll probably find her volunteering at the Greenwich Royal park or equally as likely, 6 hours deep into a gaming session.

×

18:00

See you at #fullstackcon 2018!
Sneak Preview
LEGO maestro, Cosplay ace and FullStack unicorn Amie Dansby is bringing an IoT-themed keynote AND workshop to London's FullStack!
---
Microsoft's Christos Matskas shares his excitement for his (third) return to FullStackCon!
---
Want to explore how the BEM methodology and platform really works? Join Sergey Berezhnoy and Vladimir Grinenko at FullStackCon 2017!
---
Luciano Mammino tells us why he's excited for FullStack and battling out Serverless giants with Christos Matskas!
---
Clojure Cup founder Tero Parviainen talks JavaScript and generative music systems at FullStackCon!
---
Twilio's Phil Nash shares some love for FullStackCon and the JavaScript ecosystem!
---
---
Dev star Jouni Kaplas brings the world of the Industrial Internet of Things to the FullStack community this July!

Are you a developer? Software engineer? Techie? Hacker? Chances are you're driven by creating an impact or tackling a challenge. You probably want your work to change something in the world – you don't want your effort to vanish into the void. Or maybe you hope you get to solve interesting challenges posed by technology, projects or clients.

I base my speculations on interviews I conducted with many of my 300 fellow technologists at Futurice this Spring.

What if I told you that there is a whole world waiting in the shadows, a world that desperately needs your skill and wisdom? That you could be challenged every day like never before? And that with your knowledge and ability, you have the opportunity to change the course of entire companies?

That world exists. It's called the Industrial Internet of Things.

I'll be joining FullStack 2017 conference in London this July to share what I've learned from working as a web developer in an IIoT project for three years. When it started, I had no idea it would go on to completely change my understanding of how adaptable a modern web technology stack really is and how far you can push its boundaries. My presentation will be light on code and the climax won't be the surprise announcement of yet-another-JS-library. Instead, I'll talk about large-scale IoT installations in practice, dealing with massive amounts of data and designing fully reactive systems. I will also try to convince the audience that IIoT is the best industry for web developers to be part of in 2017.
I'm eager and excited to get on the plane in just a few weeks. See you in London!
Find out more about Jouni over on his Futurice page here!
Want to see what else is happening @ FullStack? Check out the Programme Page!
---
Venue
CodeNode
CodeNode is the UK's largest venue dedicated to Technology events and was designed to provide a space for Skills Matter's community of software professionals to come together and enjoy meetups, conferences, training and networking events. With fantastic transport links and located in the heart of London's Tech City, Codenode welcomes thousands of engineers each year, who come together to learn and share skills, exoerience and collaborate on projects.
CodeNode features six dedicated event spaces, a large break-out area, complete with fully-licensed bar, reliable wifi, plenty of power sockets, and 6 dedicated event and collaboration spaces.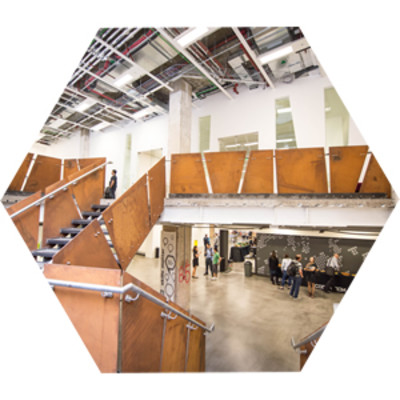 Get Involved
Community Pages & Interesting blogs
Fringe
Breaking news: join the FullStack2gether!
We hope FullStack 2017 will inspire you with lots of new ideas. If you fancy diving in for more with hands on workshops and free hacking, join fellow FullStack attendees and some of the most talented coders and experts, for the FullStack2gether event and create something amazing together! Participation is free for registered attendees, and you can register here.
HalfStack 2017 - JavaScript. In A Pub

What: Javascript. In A Pub
When: Friday 17th November, 11:00-22:00
Where: Corbet Place Bar & Lounge, Old Truman Brewery, Shoreditch, London
Info: halfstackconf.com.
For seven years, The London Ajax Meetup group has had regular JavaScript meetup events at Skills Matter followed by a visit to a pub discussing JavaScript some more. For the second time, we're flipping this around and bringing the talks to a pub in the Shoreditch area.
Talks will include a variety of modern front-end development topics (ES6, TypeScript, React.js, Dojo 2, and much more) from leading speakers based primarily in London. Call for papers is now open: Submit your talk here!
---
Douglas Crockford's Fun with Functions in JavaScript
Tuesday 11th July 2017
World leading expert on JavaScript, Douglas Crockford, will stretch your knowledge of JavaScript in this mind-expanding workshop. This advanced, hands-on JavaScript workshop is about using functions and thinking with functions to take your JavaScript use to another level. This workshop will challenge you to do better and think differently. Are you game?
Douglas is best known for his ongoing involvement in the JavaScript community, as the developer of many JavaScript utilities such as JSLint, creating the JSON data format and finding all of the awesomeness in JavaScript and sharing it in his book "JavaScript: The Good Parts"
Book a place here
Pivotal's Spring Web Course
Tuesday 18th, Wednesday 19th, Thursday 20th & Friday 21st July 2017
Want to create powerful Web applications using the Spring Framework? Need to learn the skills to do so? Come and join this intensive, hands-on Spring Web course and learn how to apply the latest in Spring!
This course teaches developers how to apply the latest in Spring to create Web applications, implement RESTful services and leverage Spring Boot.
The course starts with the basics of implementing Controllers and building Web Applications using Spring Boot. Next the course will cover views and form-handling before moving onto building REST services and accessing them from Browsers (using JavaScript and AJAX). Finally the course covers security, testing and web-sockets. Configuration topics are spread throughout the course covering Message Sources and I18N, filters, servlets, static resource management, interceptors, Controller Advices and exception handling.
Book a place here
Sponsors
Click here if you are interested in a downloadable PDF outlining sponsorship opportunities, or contact the team by email sponsors@skillsmatter.com or phone +44 (0) 207 183 9040.
Available Packages
FULLSTACK HACKATHON SPONSORSHIP

By sponsoring the Fullstack London Hackathon, you will be able to engage some 200 Fullstack developers with your latest platform, tools or devices.

Sponsor and set one of the hackathon challenges, judge submissions, select winners of your challenge and provide a prize to the best team during the award ceremony on Sunday.

Announcements, submissions and the award ceremony are all filmed and published on the Skills Matter website. In addition to high social media activity Fullstack Hackathons create each year, your engineers will have the opportunity to work and collaborate with the hackathon's passionate engineers over 48 intensive (all day all night) hours.

SPONSOR THE FULLSTACK 2017 PARTY!

Be remembered by all conference attendees, speakers and sponsors attending the party this year! Have your logo printed on the FullStack 2017 Party beer mats and on highly visible party posters and pop-up banners, which are bound to feature in lots of pictures this year.

Brand Visibility Benefits

Your logo displayed on the FullStack 2017 party beer mats and on the party table pop-up banners;
Five free tickets to the FullStack 2017 Party, which you can gift to your clients and team members;
Your logo (small) on all in-venue conference banners and on the FullStack 2017 Sponsor web pages;
Your own dedicated partner page on skillsmatter.com;
Exclusive to two party sponsors only!

FULLSTACK T-SHIRT SPONSORSHIP

Be remembered! Have your logo printed on all FullStack T-shirts, provided to all conference attendees, speakers and sponsors attending this year.

Brand Visibility Benefits

Your logo on 500 FullStack t-shirts
Exclusive to two t-shirt sponsors only!

SPONSOR THE FULLSTACK 2017 ATTENDEE BAGS!

Be remembered! Have your logo printed on all FullStack swag bags, provided to all conference attendees, speakers and sponsors attending this year.

Brand Visibility Benefits

Your logo on 500 FullStack swag bags
Exclusive to two swag bag sponsors only!
To discuss sponsorship opportunities please contact the team:
Press
Would you like to write about FullStack 2017? Do you blog on innovations on javascript? Come and join us at FullStack London 2017 this year! If you blog about FullStack 2017 and send us the link, and we'll proudly feature you on these pages!
And if you would like to write an article or interview some of FullStack's amazing speakers, inventors and thinkers this year, contact marketing team and have a chance to win a free press pass.
Write ups about FullStack!
SkillsCasts
Of Dragons and Developers: A Tale of Hiring Homework and Gamification - Beginner

Join Nele as she shares the story of a hiring project she did with a teammate or hers at Bigbank (An Estonian bank specialised in lending, around 430 employees in 9 countries, around 100 of which in technology).

developers hiring javascript interview cleancode

Lightning Talk: Breaking the Monolith a Monorepo - Intermediate

Modularity is almost a buzzword in the JS community, and considering the amount of packages now hosted on NPM, developers are taking it to an extreme.

monolith javascript fullstack fullstackcon

Browsers Behind Your Back

You've probably heard of the magic of a Service Worker when a user is offline, but what can you do for them when they get back online? You can take advantage of the Service Worker's life outside of the page and start to perform actions in the background.

fullstack fullstackcon pwa progressive-web progressive-web-apps browsers service-worker api

Understanding Blockchain - Advanced

The cryptocurrency Bitcoin is well known even outside of technology spheres of influence. Underlying Bitcoin however is Blockchain - a distributed ledger with some very special properties. These properties make Blockchain an ideal data store for all variety of applications, not just financial...

blockchain web-standards fullstack fullstackcon

Math, Machine Learning, and JavaScript - Intermediate

JavaScript and number crunching may seem an odd pair, but this is rapidly changing. In this talk, Athan will discuss the current state-of-the-art for numeric computation and machine learning in JavaScript. He will introduce libraries for statistical computing, neural networks, and...

math machine-learning javascript fullstack fullstackcon data-science

Tiny Computers, JavaScript and MIDI - Intermediate

We're living the halcyon days of tiny computers and JavaScript, but MIDI is a technology that's been around for much longer. Join George for this talk as he explores why its implementation and prevalence in hardware makes for a uniquely intriguing and accessible platform for creative...

node iot midi raspberrypi fullstack fullstackcon javascript

Javascript Browser Bits - Advanced

Join Ben for a talk on handling binary data with JavaScript. He will go from modifying single values, to arrays and buffers, covering their properties, features and ways of getting them to and from a server.

javascript fullstack fullstackcon websocket webaudio webgl livedemos practical webperformance efficiency

I RLY HATE Forms! - Beginner

Forms are the lifeblood of the Web– the simplest, most common method of interaction and data collection. And they suck.

fullstack fullstackcon web html javascript forms html-automation

I RLY LOVE Form Controls! - Intermediate

Forms are the lifeblood of the Web – the simplest, most common method… Hang on, you've heard this somewhere before.

fullstack fullstackcon html web js ui-widgets form-controls logic-gates css

Keynote: Once Upon a Time on the Web

The story of the web is a story about freedom. It's a story about information, about breaking down barriers, about creating new ways for people to communicate, to collaborate, and to share their ideas.

fullstack fullstackcon javascript js web keynote

JavaScript and Bluetooth LE - Intermediate

What if you could develop your wireless sensor, phone app, and server infrastructure in the same language? With JavaScript and Web Bluetooth you can. Gordon Williams will show you how you can write JavaScript for wireless devices with Puck.js and Espruino, and how to use Web Bluetooth to control...

fullstack javascript bluetoothle puck.js espruino

An Empty Database in Every Pocket - Beginner

IndexedDB is not new. It is supported in almost every browser. Without it, the future of progressive web apps are in peril. But there is not a lot of love for it and that needs to change.

fullstack fullstackcon indexeddb pwa progressive-web-apps

2

The Cost of Logging - Intermediate

Sunday morning and your phone rings: production is down. After two hours, you manage to solve it: you could have fixed it in one minute if you had the right information from the start. First thing in the morning, you add logging everywhere, to avoid this issue and be able to triage and solve...

fullstack fullstackcon json http logging performance scalability nodejs javascript v8

Building Mobile Apps with Angular and NativeScript - Beginner

NativeScript is a free and open source JavaScript framework for building native iOS and Android apps.

angular fullstack fullstackcon nativescript mobile apps

Websites are basically Video Games Waiting to Happen - Beginner

How can you make your site feel less like a static page and more like a video game?

fullstack fullstackcon web js javascript games videogames gamedev

Components at Organisational Scale - Intermediate

How can you prevent Conway's Law from leading to vulnerabilities & bloat when distributing component responsibilities across a large organisation? David and his team created a distributed live-build system to implement a Components-as-a-Service platform for a company with 15000+ employees and...

fullstack fullstackcon js front-end react javascript enterprise web-components web-apps architecture nodejs scalability hashring distributed

Exploring Leadership, Mangement, and Mentorship in Open Source - Intermediate

Leadership. Management. Mentorship. When considering decentralized Open Source projects all of these ideas come into play is a truly unique way. That is because of the nature of Open Source itself: self-motivation and self-determination. The individual has considerably more control over their own...

leadership mentoring opensource

Node-RED - Intermediate

The Internet of Things is not a single choice of technology, approach or philosophy. Its very existence is the bringing together of multiple platforms, products and protocols, where the whole is greater than the sum of its parts. One of the challenges of IoT is to make it as easy as possible to...

nodered fullstack fullstackcon nodejs javascript iot

Auditing Development Guidelines in GitHub Repositories - Intermediate

If your organisation has hundreds of code repositories you probably have some guidelines for them: how they are documented, how branches are protected, whether direct commits to master branch are allowed or only PRs should be used and all PRs should be reviewed, whether tests are run and code...

github fullstack fullstackcon

Lightning Talk: Using React Native to Create a Reusable Mobile App Architecture - Intermediate

Capgemini has recently adopted React Native for our client mobile projects. This talk will cover some of the challenges faced and the choices made, from choosing 'the best' routing library to deploying and updating their apps.

react reactnative mobile deployment redux animation

WebAssembly and the Future of the Web - Advanced

WebAssembly, a new portable compilation target for the web, promises to radically change how we build web applications. In this talk, Athan will discuss how to leverage WebAssembly for high performance numeric computing in web browsers. He will first provide an overview of WebAssembly, current...

webassembly machine-learning science numeric-computing fullstack javascript fullstackcon

Node.js Add-ons for High Performance Numeric Computing - Intermediate

Node.js add-ons allow native code written in C and C++ to be run from the Node.js JavaScript runtime. In this talk, Athan will discuss how to utilize native add-ons for high performance numeric computing and machine learning in server-side applications. He will first provide an overview of...

nodejs computing javascript machine-learning data-science

Embracing the Power of GraphQL - Intermediate

GraphQL offers a fundamental a shift in how you can query, mutate, and even think about structuring backend data. The standardization of scalars, types, interfaces, and mutations leads to powerful ways of interacting with your data on both the client and the server. In addition, the robust client...

graphql apollo javascript nodejs fullstack fullstackcon

5 Architectures of Asynchronous JavaScript - Intermediate

In this talk Tomasz will discuss 5 alternative approaches to handle async operations: callbacks, events, promises, coroutines and reactive streams. None of them is either legacy or a silver bullet - a good dev needs to pick the right tool for the job.

javascript architecture asynchronous patterns callback event promises generators streams rxjs

Threat Modelling Node.js Applications - Intermediate

Threat modelling is the process of identifying potential threats in a prioritized way. When it comes to Node.js and JavaScript there are lots of specific security issues that can arise.

fullstack fullstackcon nodejs apps

Watch your back, Browser! You're Being Observed - Beginner

Web development can be tough. DOM APIs are known to be inconvenient, and you often build the same things over and over again. Thanks to rolling releases by browser vendors this changed. Development of the web as a platform has sped up like never before. New APIs land in browsers with every...

fullstack fullstackcon javascript browser api dom

2

Refactoring the Code For Life Websites and Games with the Users in Mind - Intermediate

Code For Life was started in 2014 by a group of volunteers within Ocado Technology. Dedicated to create free, open source games to teach children how to program, it's an inspiring and forward thinking project that is now helping more than 80 000 users worldwide.

ux ui front-end design javascript django python sass fullstack fullstackcon

Take your HTTP server to Ludicrous Speed - Intermediate

Express, Hapi, Restify, or just plain Node.js core? Which framework should you choose? In his journey in nodeland, Matteo always wonders about the cost of his abstractions. require('http') can reach 25k requests/sec, Express 9k, and Hapi 2k.

v8 httpserver nodejs

Cross-Domain Components with React and XComponent, at PayPal - Intermediate

PayPal is going all-in on cross-domain components.

components react paypal cross-domain payments fullstack fullstackcon

Breaking JavaScript into Pieces - Intermediate

Syntax Tree is an underlying structure of a programming language. These structures can be used for understanding, transforming, formatting, linting or minifying code. In this talk you will learn about lexing, parsing, and working with syntax trees. You will also learn how to apply this knowledge...

javascript fullstack fullstackcon parsing

Lightning Talk: Full Stack Reactivity with Milojs - Intermediate

Milojs is the home grown, reactive framework used to create the CMS of the Mail Online—the world's most popular English-language online newspaper—used to publish between one and two thousand articles a day. Milojs provides simple language constructs to create a complex, explicit data graphs,...

milojs fullstack fullstackcon reactivity

Keynote: State of JavaScript 2017

Is the JavaScript world heading towards a path of never-ending fatigue, or is it converging around a common set of best practices and standards?

javascript fullstack fullstackcon es6

2

BEM: The Unknown - Intermediate

Most likely you are already familiar with two underscores.

bem css javascript fullstack fullstackcon webcomponents

Life of a Pixel:Rendering Performance Demystified - Intermediate

When the browser puts pixels on to screen, there's a lot of work happening behind the scenes. While it's well known that "GPU accelerated" is good for silky smooth animations and apps, it's surprisingly hard to figure out what that really entails and means.

fullstack fullstackcon javascript js web w3c open-source webgl gde

Chronicles of a Web Developer: An Unexpected Journey to the Land of IoT - Intermediate

What if your production line informed you, that undefined is not a function? Oops! Industrial settings such as factories are nevertheless the places where IoT is currently booming, and if you really want to make an impact, that's where you want to be.

fullstack fullstackcon js javascript iot web html5 industrial

Generative Music with JavaScript and Web Audio - Intermediate

As humans we are inherently interested in performing music, but also in constructing and observing autonomous systems that generate music for us automatically. We've been building such systems throughout history, with everything from ancient garden ornaments to the latest innovations in...

music web audio fullstack fullstackcon creativecoding

FullStack 2017 Wrap Up Presentation

Join us as we wrap up another awesome #FullStackcon with you!

fullstack fullstackcon

Monitoring and Analyzing User Behaviour - Intermediate

In this talk, Philipp Burckhardt will demonstrate how the Heinz College at Carnegie Mellon University monitors user behavior in an e-learning environment. Built on Node.js, React and Electron, the ISLE (Interactive Statistics Learning Environment) project, which is built as a part of his PhD...

javascript fullstack fullstackcon react electron nodejs visualisation dashboard e-learning analytics data-science statistics machine-learning

Lightning Talk: Intro to ASTs

Join this talk to discover more on ASTs. ASTs power all of your favourite tools! James, as a member of ESLint, Babel and Prettier, will share more on the topic.

ast fullstack fullstackcon

TypeScript Decorators - Intermediate

In this talk Damjan will first introduce TypeScript decorators and decorator factories, and then demonstrate how you can use them to encapsulate "orthogonal" concepts (such as logging/analytics, caching, statuses and timeouts) in a clean, non-obtrusive way.

javascript fullstack fullstackcon typescript

Lightning Talk: Guardian Article Bechdel Test

The readership of news websites skews towards men. Why? Could this be down to a gender bias in the content? Are the stories mostly written by and about men? Could this bias be exposed? Could exposing it make a positive change? A JavaScript Chrome Extension tries to find out.

javascript fullstackcon fullstack web bigdata

Lightning Talk: CSS Shoe Box Dioramas - Beginner

A light hearted look at how CSS transforms, animations, and pseudo elements can be used to create animated three-dimensional scenes. During this talk, you will explore the implementation, various applications, and a demonstration of a framework that has been built to cover basic block based...

fullstackcon fullstack js css animation novelty

YES! Your Site Can (and Should) be Accessible - Beginner

In 2016, the Financial Times launched a new version of its website to great success. It broke ground on key areas like performance, resilience, and usability. But one day, rather serendipitously, the team that created the site realized they had largely forgotten to measure one thing:...

fullstack fullstackcon js accessibility web

Angular State Management on Steroids Using ngrx (v4+) - Intermediate

In this talk, you will learn advanced state management using the ngrx suite including store, effects, router while demoing DevTools awesome time travel. ngrx/store is a Redux rewrite throwing Observables in the mix!

redux angular javascript js fullstack fullstackcon

Lightning Talk: Brief Evolution of HTML5 Animation Techniques - Beginner

This talk will be on how animations have evolved on the web from simple GIFs to incredibly advanced WebGL games which run in the browser. Jan will focus on the beginning of HTML5 and Canvas animation, how it had difficulty competing with Flash in the beginning and how it advanced to become the...

html5 animation games javascript fullstack fullstackcon webgl

Keynote: Progressing Apps the PWA Way

Progressive Web Apps are a wonderful way to make the web and the app space work in harmony. There is a lot of confusion though about what they are and what we should do to make them a true success. In this keynote, Chris Heilmann will share the why and how of PWA beyond "make it work offline...

fullstackcon fullstack keynote javascript js web

2

Have I Got Nodes For You!

The evening comedy quiz show about software, programming, the internet and technology. You've seen it at BuildStuff, you've seen it at NDC; now, join Dylan Beattie and guests as "Have I Got Nodes For You!" returns to SkillsMatter's CodeNode for an hour of technology, trivia,...

fullstack fullstackcon js javascript panel fun

Keynote: Back to the Future: IoT Maker Revolution

We are a generation defined by our hobbies. IoT is changing how makers are innovating and creating applications. Learn how makers, cosplay, LEGO, 3D printing, and video games can make you a better programmer, debug more efficiently and introduced you to new technologies. Embracing failure as a...

fullstack fullstackcon js iot games cosplay video-games makers lego

From Zero to Forex Trading bot Hero - Intermediate

During this talk, you will discover Daniele's journey building a trading bot. From building a basic prototype in Typescript to using functional programming techniques to trade autonomously across multiple foreign exchanges and generate thousands of dollars in revenue.

fullstack fullstackcon javascript js typescript node.js functional-programming fintech bitcoin

How to Become an Awesome Open Source Contributor - Beginner

Join in for this updated talk with Christos!

fullstack fullstackcon js opensource

Finally, Enterprise JavaScript Is Easy! - Intermediate

JavaScript: is it hard? Is it usable and stable enough in the context of enterprise applications to create the frontend of browser-based applications? How are enterprises such as PayPal, Tesco, and Oracle solving these problems?

fullstack fullstackcon enterprise

JavaScript All The Things - Beginner

JavaScript is omnipresent, it's running everything from small mobile phones to large servers in the cloud. But there's one place where JS is abundantly absent: the Internet of Things. Some small experiments are done in the hobbyist space by frameworks like Johnny-Five and JS runtimes like...

javascript iot jerryscript espruino fullstack fullstackcon

A Developers View Through the UX Lens

Being a friend of a UX Designer for many years, and working with that friend on multiple projects, in addition to multiple courses and articles, Jad has come to learn the magic toolbox that developer needs to survive a day in the life of a designer, if he ever needs it.

ux fullstack fullstackcon development design

Full Stack Testing that Does Not Suck - Beginner

With the help of Electron, it is now possible to run your entire web stack (SPA + backend) in a single process. When applied to testing, this becomes a compelling alternative to WebDriver based testing, as it is much faster and easier to debug.

fullstack javascript electron web browser testing

Should You Move Up from JS to TypeScript and Why is the Answer Probably Yes? - Intermediate

Javascript has made a long way. Initially, it was mocked and developers were advised to avoid it as much as possible.

javascript typescript fullstack fullstackcon

Better D3 charts with TDD - Intermediate

When Marcos first started out with D3.js three years ago, he built things the same way, customising examples and although worked, he was never proud of his code. The chaining of methods makes the graphs concise, but costs a lot in cognitive overload and maintainability. Building this way is...

tdd d3js dataviz reusable-3d fullstack fullstackcon

Keynote: Node.js Releases, how do they work?

Node.js is growing up, and with that comes the responsibility of proper legacy support. As of Node.js Argon (v4.2.0) there is an official Long Term Support release cycle that lasts for 30 months!

node nodejs fullstack fullstackcon

Lightning Talk: Web Payments and the Future of Online Purchases - Beginner

The Payment Request API is now supported across multiple browsers. For us, web developers, it can provide an easy way to launch an online checkout form, collecting users' payment and shipping details. For your users, it can provide a consistent, quick and secure checkout process across all...

payments money online webapps javascript browser-api

How V8 runs JavaScript - Advanced

Join Matt and take a deeper look at how JavaScript is executed. What exactly does a JavaScript engine like V8 do? How does V8 optimise for fast execution and low memory consumption? Using Chrome DevTools you'll explore at some examples of these optimisations, and how to make sure your code is...

javascript v8 performance memory fullstackcon fullstack

Virtual Reality and the Future of the Web

New Virtual Reality browsers means we need to consider how the web platform is going to need evolve to take advantage of the benefits that Virtual Reality can bring.

webvr fullstack fullstackcon vr
Photos
Other Years