3 DAY CONFERENCE
Progressive .NET London 2017
Topics covered at

#ProgNET
Overview
Join us at the Progressive .NET London on 13-15 September for 3 days packed with talks, tutorials and discussions!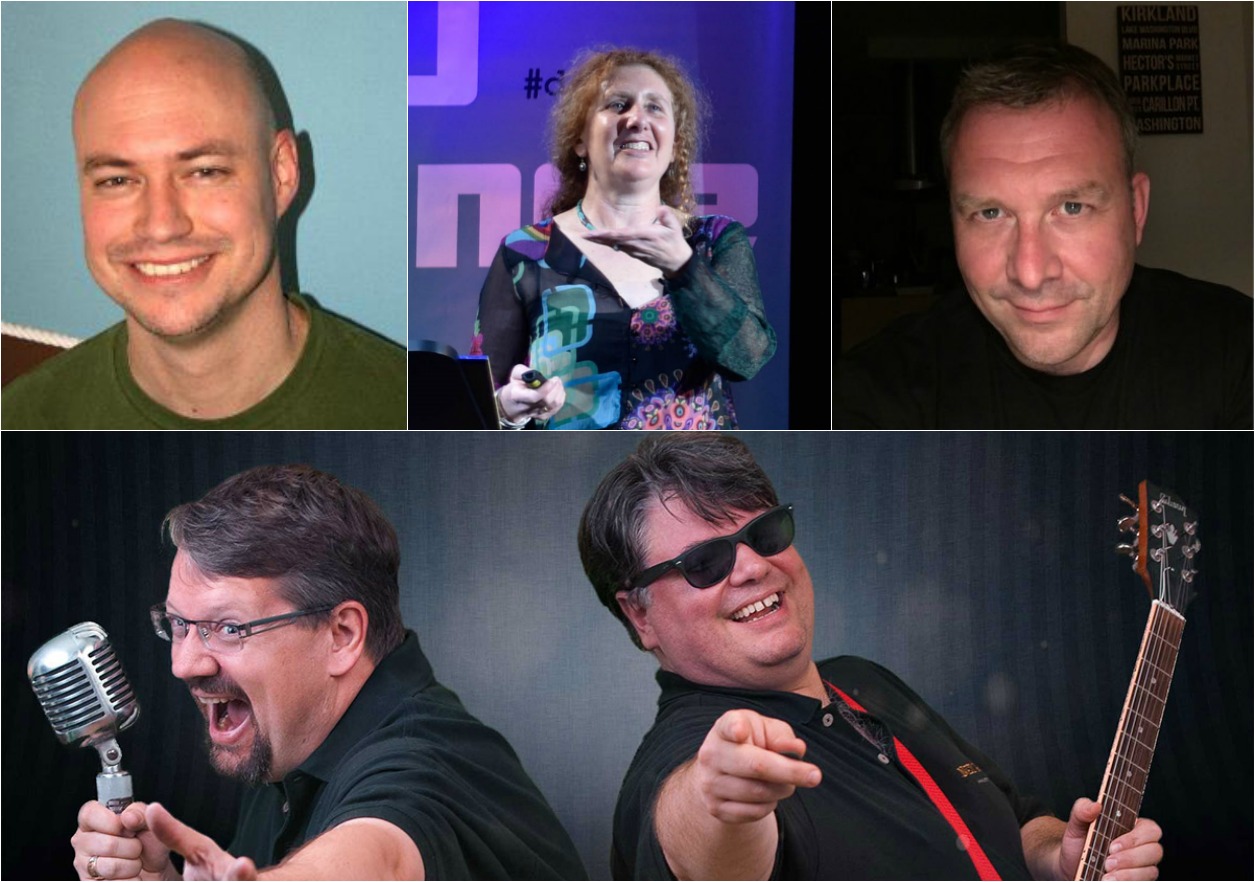 Progressive .NET returns to London for its ninth year running in September 2017. This year's conference will feature keynotes by Jon Galloway, Julie Lerman and Clemens Vasters, talks and tutorials by Ian Cooper, Dylan Beattie and others and the brilliant Richard and Carl from .NET Rocks! will ensure we'll have lively discussions and a rocking party to boot!
Check out the conference program here or follow #ProgNET on twitter for regular news and updates.
Get Involved
Would you like to help us facilitate a great conference? Help us set up the conference spaces, introduce talks and speakers, field Q&A questions with mics, or support some of the workshops and hacks we've got in store? Sign up as a volunteer and get a free ticket to the conference!
Impressions of past editions
Code of Conduct
Please find our Code of Conduct here.
Programme
Day 1: Day 1 - Wednesday 13th September
PRESENTATIONS/ TALKS - Don't miss these inspiring talks! Please note that this schedule is still subject to changes - watch this space :)
Track
Room Name: CTRL
Room Name: CMD
08:30

Registration and Breakfast

09:00

Welcome to Progressive .Net 2017!

09:15

Keynote: Hijacking Boring Sounding Things Like Foundations and Maturity Models To Make Open Source More Fun

Jon Galloway

all levels

---

dotnet

keynote

models

dotnetfoundation

open-source

dotnet keynote models dotnetfoundation open-source

---

About the speaker...

Jon works at Microsoft as the Executive Director of the .NET Foundation. He's co-author of Wrox Professional ASP.NET MVC, writes samples and tutorials like the MVC Music Store and is a frequent speaker at conferences and international Web Camps events. Jon's been doing professional web development since the late 1990's, including high scale applications in financial, entertainment and healthcare analytics. He's part of the Herding Code podcast, Twitters as @jongalloway and blogs here. He likes to travel, but spends most of his time in San Diego with his amazingly patient wife Rachel, three wonderful daughters, a dozen avocado trees and the occasional rattlesnake.

×

10:15

Tea & Coffee Break

10:30

2

The Development Platform Landscape in 2017

Richard Campbell and Carl Franklin

intermediate

---

prognet

.net

microsoft

dotnet

.netrocks

prognet .net microsoft dotnet .netrocks

---

About the speakers...

For years he's served as a consultant to companies in many countries, including Barnes&Noble.com, Dow Chemical, Johnson & Johnson Health Care Services, Reuters, Subaru/Isuzu and the U.S. Air Force, providing advice on architecture, scaling systems and mentoring development teams. His long experience in working with large scale systems made him a sought-after consultant during the halycon years of the DotCom boom. He worked closely with venture capital and private equity firms providing architectural guidance and due diligence.

He is a Microsoft Regional Director and is recognized as a Microsoft Most Valuable Professional (MVP) in the area ofASP.NET development.

In 2004 Richard first met Carl Franklin, creator of .NET Rocks!, The Internet Audio Talkshow for .NET Developers. Richard was a guest on show 69, but his friendship with Carl quickly evolved into a partnership and by show 100 in early 2005 he came onboard as co-host. In 2007 he started RunAs Radio, a podcast for IT Professionals.

He was awarded the MVP for Kinect because of his work on gesture recognition. Namely, KinectTools and GesturePak. KinectTools is an abstraction over the Kinect 2.0 SDK that takes the detail work out of using the Kinect in a Windows application. GesturePak lets you record, edit, and recognize gestures in a Windows application. Both are free open source products.

Carl is also the creator of Music to Code By, a set of 25-minute long instrumental music pieces designed to get you into a state of flow and keep you there. Music to Code By has been praised widely by developers for keeping them focused and helping them solve difficult problems.

Carl has been a leader in the .NET community since 2002, and in the Visual Basic (VB) community before that.

×

Google Cloud Platform containers and ASP.NET Core: A Wonderful Combination

Jon Skeet

intermediate

---

prognet

dotnet

asp.net

dotnetcore

cloud

apis

kubernetes

containers

google-cloud-platform

In the Bad Old Days pre-.NET Core, this wouldn't have been much interest to .NET developers - but ASP.NET Core runs beautifully in these environments. In this talk, you will explore how you can get started deploying your first ASP.NET Core application straight to Google Cloud Platform from Visual Studio, look at some of the tooling and APIs available, and compare the two environments.

×

11:15

Tea & Coffee Break

11:30

Pilot Decision Management - Beginner

Clifford Agius

beginner

---

dotnet

pilot

decision-making

prognet

tdodar

As an Airline pilot, you may be required to make a decision often quickly to react to a situation as it presents itself and you will discover a way to achieve this called TDODAR. This model ensures that you achieve a safe outcome for all on board and Clifford often finds himself using the same model when facing a problem whilst wearing his Dev hat and it's yet to fail him.m.

dotnet pilot decision-making prognet tdodar

---

About the speaker...

He has a passion for flying from an early age, although his earlier career was spent as an apprentice at the Ford Motor Company and then a Project Engineer covering Electrical/Software/Robot engineering in major automotive brands. However his drive, focus and determination was always to become a pilot.

After self funding his pilots license and passing all necessary exams his first commercial flight was with Aer Arran (Irish regional airline), where he flew ATRs from Dublin and Galway to Ireland regions and into the UK. After this the jets got bigger, the cattle slightly less and eventually he applied and was selected to join a Major UK Airline.

After initially flying the Airbus A320 Cliff has continued his personal development and now fly's the fleet of 787's across the world, including the recently arrived B787-900 with the new First Class.

Although the current jets are technologically advanced its Cliff's every decision and calculation on a minute-by- minute basis that carries over 215 people safely back and forth over the Atlantic or Siberia, therefore every decision is a critical one. He therefore has acute awareness of people's decision-making processes and the consequences of these.

Its these decisions that impact on people's lives, from lost luggage to engine issues to landing in fog, every decision is critical and everyone has an impact on how the airline remain competitive minute by minute, if not second by second. When not flying the plastic jet he spends his time huddled over his laptop thrashing the keyboard and working on some project from embedded systems to .Net.

Personal challenges are always part of Cliff's spare time and as well as continuing to design computer software he is busy with family life of 3 Boys and 2 dogs and is also a keen cyclist, with the Alps Passporte's challenge as next year's goal.

×

Docker for .NET Developers - Beginner

Steve Gordon

beginner

---

dotnet

prognet

aws

docker

asp.net

amazon-web-services

ecs

dotnet prognet aws docker asp.net amazon-web-services ecs

---

About the speaker...

Steve is currently developing cloud-native services, using .NET Core, ASP.NET Core and Docker. He enjoys sharing his knowledge through his blog, in videos and by presenting at user groups and conferences. Steve is excited to be a part of the .NET community and founded .NET South East, a .NET Meetup group based in Brighton. He enjoys contributing to and maintaining OSS projects, most actively helping save lives with open source software and the Humanitarian Toolbox (www.htbox.org). You can find Steve online at his blog www.stevejgordon.co.uk and on Twitter as @stevejgordon

×

12:15

Tea & Coffee Break

12:30

Containerised ASP.NET Core apps with Kubernetes

Mete Atamel

beginner

---

prognet

dotnet

asp.net

kubernetes

dotnetcore

containers

container-management

JavaScript Services: Building Single Page Applications with ASP.NET Core

Sandeep Singh

beginner

---

dotnet

dotnetcore

javascript

js

nodejs

web

asp.net

In this session, you will explore a single page application with Angular to demonstrate the core features of JavaScript Services using ASP.NET Core.

Highlights that you will learn include:​

Performance and SEO benefits of utilising server-side rendering with your Angular application

Using webpack dev middleware to streamline the build process and enhance the development experience with features such as hot module replacement.

The principles presented will be relevant to other JavaScript frameworks and will provide you with insight into potential use cases for running JavaScript on the server.

×

13:15

Lunch

14:15

.NET Core in the Real World

Joe Stead

beginner

---

prognet

dotnet

dotnetcore

During this talk, you will discover how Joe and team ported their 15 year old codebase (you read that right) to be running on the shiniest new thing in the .NET world, and yes, there were some problems. Luckily, they managed to solve or work around those problems successfully.

Living on the bleeding edge with a legacy application has taught Joe and team a lot. You will learn very quickly it's better to embrace the platform, and the operating system to really reap the benefits. Join this talk and explore further lessons that can help you decide whether or not you should make the leap, and to ease your transition if you do.

×

Build Awesome AF Apps!

Rachel Appel

intermediate

---

prognet

dotnet

azure

azure-functions

serverless

microservices

apps

prognet dotnet azure azure-functions serverless microservices apps

---

About the speaker...

During her career, she has worked on projects of all sizes from the smallest of apps, to the largest enterprise systems at some of the world's leading companies.

Rachel's expertise is in web development on the Microsoft stack, specifically Azure Functions, ASP.NET MVC, Web Forms, SignalR, C#, HTML, CSS, JavaScript, and TypeScript. Her hobbies include science, reading, languages, and travel.

×

15:00

Tea & Coffee Break

15:15

Testing in Production - The Good, The Bad and the Less Pretty

Gel Goldsby

all levels

---

prognet

dotnet

monitoring

tdd

testing

test

prognet dotnet monitoring tdd testing test

---

About the speaker...

Gel is the Reporting and Data Team Lead at Unruly, an agile Ad Tech company. She works magic on the various pipelines and databases to enable them to handle even more high frequency, low latency data. She fervently believes that solid monitoring and alerting can help improve developer mental health and happiness.

Gel is a big advocate of all things agile and XP and loves the sociable, sharing and caring atmosphere that comes with Pair Programming. When explaining it to her non tech friends she describes it as "Hippy Programming".

×

Welcome to the Age of Conversational Interfaces!

Rabeb Othmani

beginner

---

prognet

dotnet

inferface

bots

cortana

voice

Voice recognition software has increasingly grown in popularity from digital assistants to voiceprint identification for individual speakers and always-on interfaces.

In this talk, you will explore the contextualised communications and why it's a key element of applications in the present and future? You will also learn how to add feature rich communications capabilities to your apps using Cortana and Microsoft Bot Framework.

×

16:00

Tea and Coffee Break

16:15

Lightning Talk: Continuous Property Based Testing in F# (using FsCheck and Fake)

Christina Nicolau

---

fsharp

fscheck

fake

dotnet

testing

16:30

Lightning Talk: Elasticsearch and .NET

João Lebre

all levels

---

dotnet

dotnet

---

About the speaker...

At JustEat, João has worked on the Consumer team, which handles public facing APIs, as well as Consumer information and authentication systems. More recently, he started working for the Global Search team, which deal with the search engine under the hood and is on a mission to globalise these components across all countries in which Just-Eat operates.

As an engineer, João has experience of operating components in production, including management of config, deployment pipelines, logging, alerts and keeping dashboards manageable and clean.

Always an eager learner, João spends a lot of time creating vintage audio equipment replicas, playing guitars and drums, and enjoys sharing the couch with his cats.

×

16:45

Lightning Talk: Giving Back to the Community

Joe Stead

all levels

---

dotnet

community

17:00

Beer Break

17:15

3

Have I Got .NET For You?!

Carl Franklin, Richard Campbell, and Dylan Beattie

all levels

---

dotnet

prognet

comedy

panel

dotnet prognet comedy panel

---

About the speakers...

He was awarded the MVP for Kinect because of his work on gesture recognition. Namely, KinectTools and GesturePak. KinectTools is an abstraction over the Kinect 2.0 SDK that takes the detail work out of using the Kinect in a Windows application. GesturePak lets you record, edit, and recognize gestures in a Windows application. Both are free open source products.

Carl is also the creator of Music to Code By, a set of 25-minute long instrumental music pieces designed to get you into a state of flow and keep you there. Music to Code By has been praised widely by developers for keeping them focused and helping them solve difficult problems.

Carl has been a leader in the .NET community since 2002, and in the Visual Basic (VB) community before that.

For years he's served as a consultant to companies in many countries, including Barnes&Noble.com, Dow Chemical, Johnson & Johnson Health Care Services, Reuters, Subaru/Isuzu and the U.S. Air Force, providing advice on architecture, scaling systems and mentoring development teams. His long experience in working with large scale systems made him a sought-after consultant during the halycon years of the DotCom boom. He worked closely with venture capital and private equity firms providing architectural guidance and due diligence.

He is a Microsoft Regional Director and is recognized as a Microsoft Most Valuable Professional (MVP) in the area ofASP.NET development.

In 2004 Richard first met Carl Franklin, creator of .NET Rocks!, The Internet Audio Talkshow for .NET Developers. Richard was a guest on show 69, but his friendship with Carl quickly evolved into a partnership and by show 100 in early 2005 he came onboard as co-host. In 2007 he started RunAs Radio, a podcast for IT Professionals.

Dylan is actively involved in the international software development community. As well as his work with Skills Matter, he runs the London .NET User Group, he's on the programme committee for NDC Conferences, and he's a frequent speaker at conferences and technical events around the world.

Dylan grew up in southern Africa, moving to the UK with his family when he was ten. He's a Microsoft MVP on the Visual Studio and Developer Tools programme, and he holds a degree in Computer Science from the University of Southampton. He's a guitar player and songwriter, known for creating musical parodies about software development. He's into skiing, scuba diving, Lego, cats, travel and photography, and he's normally found hanging around user groups, pubs and rock bars in London wearing a big black hat.

Read Dylan Beattie's blogs:

The Horrors Lurking in your Legacy Codebase

×

18:15

#ProgNET Party with Pizza & Beer!
Day 2: Day 2 - Thursday 14th September
OPENING KEYNOTE to kick off followed by TUTORIALS - Join us for some great hands-on sessions! Note that the workshops last around 3 - 3.5 hours, with coffee breaks in between. Refreshments will be provided throughout :)
Track
Room Name: CTRL
Room Name: CMD
08:30

Registration and Breakfast Refreshments

09:00

Keynote: Events, Data Points, Jobs, and Commands – The Rise of Messaging

Clemens Vasters

all levels

---

bigdata

data

iot

microservices

09:45

Coffee Break

10:00

2

Tutorial: .NET Core Microservices from Soup to Nuts

Toby Henderson and Ian Cooper

intermediate

---

dotnet

dotnetcore

prognet

microservices

tutorial

workshop

docker

cloud-native

app

http

api

ui

Day 2, 14 Sep starts 10:00 (Room Name: CTRL)

Tutorial: .NET Core Microservices from Soup to Nuts
Toby Henderson and Ian Cooper

×

Tutorial: Modern Authentication for ASP.NET Core with IdentityServer 4

Scott Brady

beginner

---

dotnet

prognet

tutorials

workshop

dotnetcore

linux

asp.net

identityserver

Day 2, 14 Sep starts 10:00 (Room Name: CMD)

Tutorial: Modern Authentication for ASP.NET Core with IdentityServer 4
Scott Brady

In this tutorial, you will explore the basics of claims-based identity and access control, OAuth and OpenID Connect, and how IdentityServer can simplify all of this for you. You will end up discovering a working installation of IdentityServer, running on .NET Core and Linux, protecting APIs and authenticating users. Whilst you will primarily use ASP.NET Core throughout this tutorial, the final IdentityServer implementation can work with any application on any stack.

Pre- Requisites

.NET Core 1.1

VS2017 or VS Code

nuget

×

13:00

Lunch Break

14:00

Tutorial: "Hello Galaxy" - Hello World at Web Scale

Dylan Beattie

intermediate

---

web

scalability

app

Day 2, 14 Sep starts 14:00 (Room Name: CTRL)

Tutorial: "Hello Galaxy" - Hello World at Web Scale
Dylan Beattie

In this workshop, you will explore the canonical simplest application possible - good old "hello world" - and look at everything else we need to do to run it as a modern, secure, discoverable service. You will discover deployment and hosting scenarios. How do you design your Hello, World services so they'll run across multiple platforms? What do you need to do to go serverless? We'll look at logging and monitoring - how do you know your service is working? What happens if it stops working? How do you go about troubleshooting and triaging errors and warnings in production? We'll look at security, caching, scalability, discoverability, and everything else that you need to do to go from 'works on my machine' to 'works everywhere, all the time, guaranteed'.

After all, there's a big old galaxy out there... if we're going to go around greeting worlds, wouldn't it be nice to do it on a massive scale?

web scalability app

---

About the speaker...

Dylan is actively involved in the international software development community. As well as his work with Skills Matter, he runs the London .NET User Group, he's on the programme committee for NDC Conferences, and he's a frequent speaker at conferences and technical events around the world.

Dylan grew up in southern Africa, moving to the UK with his family when he was ten. He's a Microsoft MVP on the Visual Studio and Developer Tools programme, and he holds a degree in Computer Science from the University of Southampton. He's a guitar player and songwriter, known for creating musical parodies about software development. He's into skiing, scuba diving, Lego, cats, travel and photography, and he's normally found hanging around user groups, pubs and rock bars in London wearing a big black hat.

Read Dylan Beattie's blogs:

The Horrors Lurking in your Legacy Codebase

×

Tutorial: Serverless Azure

Michal Jankowski

intermediate

---

prognet

tutorial

serverless

azure

azure-functions

cloud

azure-logic-app

dotnet

Day 2, 14 Sep starts 14:00 (Room Name: CMD)

Tutorial: Serverless Azure
Michal Jankowski

This change has not only influenced developers. From a business perspective, the finance department can finally pay for real usage of time and not for mostly idle time of VMs.

During this presentation, you will learn how to use Azure platform to build serverless applications. Through different examples, you will explore on Azure Functions and Azure Logic Apps. You will discover how it is easy to build and integrate your applications. Finally, you will learn how to build, deploy, manage and monitor your application. Together with examples, Michal will point out main pros and cons of used platform. This talk will help you in deciding whether you should use serverless approach.

You should prepare your computers to be able to gain as much knowledge as it is possible from the workshop.

Please install or organise the following elements:


Azure account on which you will be able to work. Of course, it can be a test account.
Visual Studio Code
Visual Studio 2017 version 15.3.x with Azure Functions Tools for Visual Studio extension installed
azure-functions-core-tools
Azure Storage Explorer
Postman.

Unfortunately, without those tools it will be hard for you to take part in this workshop.

prognet tutorial serverless azure azure-functions cloud azure-logic-app dotnet

---

About the speaker...

He is passionate about software craftsmanship, unit testing, software design and other topics related to software development.

In his free time, when he is not playing with code, he spends his time on travelling, photography and conducting technical blog.

Follow Michal on Twitter @JankowskiMichal

×

18:30

End of Day Two - #ProgNET 2017 - See you tomorrow!
Day 3: Day 3 - Friday 15th September
OPENING KEYNOTE to kick off followed by TUTORIALS - Join us for some great hands-on sessions! Note that the workshops last around 3 - 3.5 hours, with coffee breaks in between. Refreshments will be provided throughout :)
Track
Room Name: CTRL
Room Name: CMD
08:30

Registration & Breakfast

09:00

Keynote: A Hitchhikers Guide to Growing Your Tech Skills

Julie Lerman

all levels

---

keynote

prognet

dotnet

learning-techniques

keynote prognet dotnet learning-techniques

---

About the speaker...

You can find Julie presenting on Entity Framework, Domain Driven Design and other topics at user groups and conferences around the world. Julie blogs at thedatafarm.com/blog, is the author of the highly acclaimed "Programming Entity Framework" books, the MSDN Magazine Data Points column and popular videos on Pluralsight.com.

Follow Julie on twitter at @julielerman.

×

09:45

Coffee Break

10:00

Tutorial: Scaling Docker Containers using Kubernetes and Azure Container Service

Ben Hall

intermediate

---

prognet

dotnet

containers

kubernetes

docker

azure

Day 3, 15 Sep starts 10:00 (Room Name: CTRL)

Tutorial: Scaling Docker Containers using Kubernetes and Azure Container Service
Ben Hall

Topics and discussion points you will learn will include:

Introduction into Containers
Scaling considerations
Deploying Kubernetes
Migrating Application to Kubernetes and Azure Container Service
Scaling to meet application demands

By the end, you will discover the benefits of using a Container Orchestration system, where Kubernetes fits into the eco-system and how it can be combined with the Azure Container Service.

More information on Kubernetes and Azure can be found here.

prognet dotnet containers kubernetes docker azure

---

About the speaker...

Ben has been working with these technologies, helping both train teams and delivering projects. Ben tweets at @Ben_Hall while blogging at blog.benhall.me.uk

×

Tutorial: A Practical Introduction to Functional Programming with F#

Michael Newton

intermediate

---

prognet

dotnet

functional-programming

fp

fsharp

f#

Day 3, 15 Sep starts 10:00 (Room Name: CMD)

Tutorial: A Practical Introduction to Functional Programming with F#
Michael Newton

During this workshop, you will explore the practicalities of using functional programming, using the F# programming language to help us illustrate the advantages of functional thinking.

Why F#? Because it's designed for functional programming first, yet it can still interact easily with all of your existing .net code. Specifically, it is supported by Microsoft as part of Visual Studio and is fully compatible with the .net ecosystem.

During this workshop, you will discover:

What functional programming is. What constraints and advantages does it bring with it?

An introduction F# syntax through practical examples

Walking through translating a C# service to F# - first translating the syntax, then adjusting the coding style

An opportunity to solve several challenges

You should gain an initial understanding of functional principles, the F# language, and some examples of functional code to take away.

You'll need to bring along a laptop with a F# development environment installed! Please see fsharp.org for the instructions.

Please review the code here.

prognet dotnet functional-programming fp fsharp f#

---

About the speaker...

He blogs at blog.mavnn.co.uk, including tutorials, thoughts on software design, and write ups of many of the training sessions.

He has not, unfortunately written any of the Mack Bolen the Executioner books, nor is he (fortunately) an expert in past life therapy. On the other hand, he is known to have a few interests outside of coding, including introducing his young son to the fine art of table top role playing and driving the sound desk at the local church.

×

13:00

Lunch

14:00

Tutorial: Give Your Microservices a Bus ride with MassTransit

Alexey Zimarev

intermediate

---

prognet

dotnet

microservices

workshop

messaging

reactive

csharp

Day 3, 15 Sep starts 14:00 (Room Name: CTRL)

Tutorial: Give Your Microservices a Bus ride with MassTransit
Alexey Zimarev

There are several ways to do messaging in .NET world and this session dives deep to MassTransit - one of the most popular messaging frameworks, which is open-source and free. MassTransit features unique features like container-less design based on function composition, pipes and filters internal architecture and many things that it adds on top of the transport.

During this session, you will explore the basics of messaging in general and MassTransit in particular and explore some of its nice features. Then, you will discover more complex subjects like long-running processes and distributed transactions.

PRE - REQUISITES

To complete the labs participants would need .NET Framework 4.5.2 or Mono, RabbitMQ 3.6 and Visual Studio or Jetbrains Rider installed.

All other installations and required downloads can be found here.

prognet dotnet microservices workshop messaging reactive csharp

---

About the speaker...

Alexey started programming at the age of 14 back in USSR and moved between five countries during the last fifteen years. His particular interests are in event-driven architectures, domain-driven design, distributed systems, and event-sourcing. Alexey contributes to open-source software as a member of MassTransit and maintainer of RestSharp. He manages the Domain-Driven Design Norway meetup group and speaks at technical conferences. His book "Practical Domain-Driven Design with C#" is expected to be released in January 2019 by Packt Publishing.

Follow Alexey on twitter at @Zimareff.

×

Tutorial: What Devs Using EF6 Should Know About EF Core

Julie Lerman

intermediate

---

prognet

dotnet

ef-core

tutorial

ef6

devs

Day 3, 15 Sep starts 14:00 (Room Name: CMD)

Tutorial: What Devs Using EF6 Should Know About EF Core
Julie Lerman

Bring a laptop if you want to follow along with some of the demos although this is not designed as a hands on lab workshop.

If you'd like to follow along to demos, please install:

prognet dotnet ef-core tutorial ef6 devs

---

About the speaker...

You can find Julie presenting on Entity Framework, Domain Driven Design and other topics at user groups and conferences around the world. Julie blogs at thedatafarm.com/blog, is the author of the highly acclaimed "Programming Entity Framework" books, the MSDN Magazine Data Points column and popular videos on Pluralsight.com.

Follow Julie on twitter at @julielerman.

×

17:30

Beer Break!

17:45

Keynote: The Web That Never Was

Dylan Beattie

all levels

---

web

history

It's also a story of ​optimistic deadlines, broken platforms, strategic U-turns - and some of the ​silliest ideas anybody has ever had in the history of technology. ​The modern web is the result of 25 years of decisions, deadlines, mergers, acquisitions... of programming decisions that made sense at the time (and a few that didn't). A story of luck, serendipity, coincidence, and those tiny turning points, the 'butterfly effect' moments where a single event could have resulted in everything being very, very different.

This talk is all about asking "what if...". You will explore an alternative timeline, a history where Microsoft and Netscape never happened... a web with no HTML, no JavaScript, no MacBooks, no Android phones... a world where everything is unquestionably alien and yet, somehow strangely familiar. So put down your JavaScript frameworks and join as we journey to...

web history

---

About the speaker...

Dylan is actively involved in the international software development community. As well as his work with Skills Matter, he runs the London .NET User Group, he's on the programme committee for NDC Conferences, and he's a frequent speaker at conferences and technical events around the world.

Dylan grew up in southern Africa, moving to the UK with his family when he was ten. He's a Microsoft MVP on the Visual Studio and Developer Tools programme, and he holds a degree in Computer Science from the University of Southampton. He's a guitar player and songwriter, known for creating musical parodies about software development. He's into skiing, scuba diving, Lego, cats, travel and photography, and he's normally found hanging around user groups, pubs and rock bars in London wearing a big black hat.

Read Dylan Beattie's blogs:

The Horrors Lurking in your Legacy Codebase

×

18:30

#PROGNET 2017 Wrap Up Presentation

18:45

End of ProgNET 2017 - See you next year!
SkillsCasts
Photos
Other Years