2 DAY CONFERENCE
Haskell eXchange Hackathon 2016
Topics covered at

#haskellXhack
Overview
Join us at the HaskellX Hack 2016 on October 8th and 9th 2016!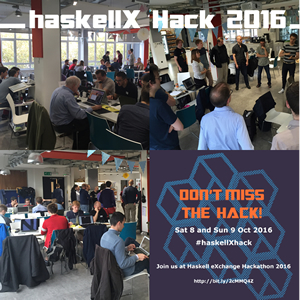 Let's work together on improving Cabal and Hackage
Unlike many other Haskell Hackathons, this one will have a theme: We will work on improving the Haskell infrastructure, and in particular Cabal and Hackage. This means that we specifically invite people who have worked on these projects already or would like to get involved. We will try to organize some ad-hoc talks and presentations to help newcomers navigate the existing codebase and to highlight interesting problems and issues to work on. If you want to come along, please register above, so we know you are coming and can send you joining instructions to the venue (this year the hack will be at Facebook).
More info on Haskell eXchange can be found here.
Skills Matter's Code of Conduct
We are delighted to welcome you to the event and appreciate you as an integral part of our community whose contributions are invaluable. Our Code of Conduct is a guideline and promise to all members of our community.
Content Disclaimer
We make no claims to ownership over any type of intellectual property you may use at the hackathon, including trademarks, copyrights, and patentable ideas.
Programme
Day 1: Saturday, Oct 8 2016
HaskellX Hackathon Day 1
Day 2: Sunday, October 9 2016
HaskellX Hackathon Day 2
SkillsCasts
Hold tight, skillscasts coming soon!