hackthetower.co.uk is a hack day for any and all developers to come and collaborate on projects or discover new technologies together and enhance their skills. Bring your laptop and your desire to try things out & have fun!
This HackTheTower day is held in conjunction with the Scala eXchange Hack Day. The #ScalaXHack is organized by Skills Matter, with Underscore, Typelevel, and the Scala Center. Together, we will host a daytime hackathon with a few unconference sessions. Find out more here.
Workshop Format
The workshop format is not always planned in advance and suggestions about topics we should cover are always appreciated. Please leave your ideas as comments or send tweets to @jr0cket
Setup / Requirements for the Clojure Workshop
The minimal requirements are - Java JRE or SDK version 8 or greater (version 7 should work)
Leiningen.org build automation tool for creating projects and running the Clojure environment

A Clojure aware editor such as LightTable, Spacemacs, Emacs + Cider, Cursive, Atom + Protorepl
Please note the Clojure Development Environments Guide for help.
Rough Schedule
10am - Breakfast / coffee / tea / waking up

10.30am - Get together and discuss application ideas & things you want to try out.

10.45am - Split into groups and get going

1pm - Lunch time (sandwiches, fruit and drinks provided, requests taken)

1.30pm - hacking begins!

5pm - Ends of HackTheTower Dec Day
Skills Matter Code of Conduct
Skills Matter is delighted to welcome you to the event and appreciate you as an integral part of our community whose contributions are invaluable. Our Code of Conduct is a guideline and promise to all members of our community.
HOLD TIGHT, PROGRAM COMING SOON!
We're currently working on a program. If you have any suggestions, topics you'd like to see covered, or experts you'd like to meet, let us know!
CodeNode
In August 2015, Skills Matter opened the doors to CodeNode, our new 23,000 sqft Tech Events and Community venue. CodeNode provides fantastic meetup, conference, training and collaboration spaces with unrivalled technology capabilities for our tech, digital and developer communities - a long held dream coming true !
With fantastic transport links and located in the heart of London's Tech City, we could not think of a better location for our 130,000 strong engineering community!
With six event rooms, including a 300 seater lecture room, thousands more community members will be able to visit CodeNode to learn and share skills, code and collaborate on projects.
CodeNode features a 5,000 sqft break-out space, complete with fully-licensed bar, plenty of power sockets, meeting and collaboration spaces and entertainment areas.
If you're interested in hiring CodeNode for your upcoming event, check out more details here.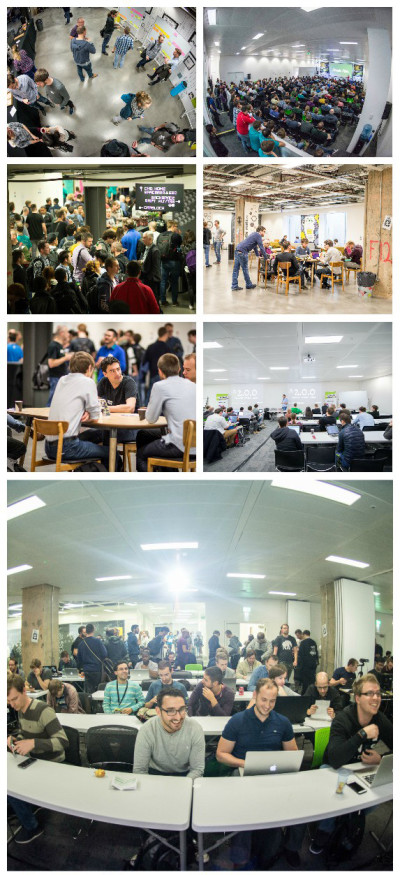 To discuss sponsorship opportunities please contact the team:
Hold tight, skillscasts coming soon!