2 DAY CONFERENCE
Software Craftsmanship London
Topics covered at

#sclconf
Are you passionate about Clean Code & Extreme Programming? Do you take a pragmatic in your approach to software development? Then why not immerse yourself in this 2-day conference, featuring the minds of some of the greatest thinkers and doers in Software Craftsmanship from around the world.
Software Craftsmanship London is a conference that brings together the European Software Craftsmanship community for two days of talks, discussions and hard questions on the future of Craftsmanship and XP.
Born out of the LSCC, we're exploring how the Software Craftsmanship movement has grown over the past 8 years, where it's heading and how we, as Craftsman, can help to increase the adoption of the principles that we value.
We've brought together leading experts from the world of extreme programming & code quality to lead these discussions, covering a wide range of topics, with panel discussions on both days covering the state of the industry as a whole, as well as Craftsmanship in particular.
Find out more about Software Craftsmanship London 2017 here.
Follow the conversation on Twitter at @SCLConf
Interested in sponsoring this event?
To find out more about sponsorship, contact the organisers directly:
Phone: +44 207 4902967
Email: david.hall@codurance.com
Day 1: Software Craftsmanship London
Agenda
Track
Schedule
08:30

Registration and Breakfast

09:15

Welcome

09:30

Software Craftsmanship

Sandro Mancuso

---

Day 1, 5 Oct starts 09:30 (Schedule)

Software Craftsmanship
Sandro Mancuso

---

About the speaker...

Sandro Mancuso is a software craftsman, author of SOftware Craftsmanship: Professionalism Pragmatism Pride, and co-founder of the London Software Craftsmanship Community (LSCC)

Software craftsman at Codurance, author of The Software Craftsman, and founder of the London Software Craftsmanship Community (LSCC). Sandro has been coding since a very young age but only started his professional career in 1996. Before starting his own consultancy, he worked for startups, software houses, product companies, international consultancy companies, and investment banks. During his career Sandro had the opportunity to work in a good variety of projects, with different languages, technologies, and across many different industries. Sandro has a lot of experience in bringing the Software Craftsmanship ideology and Extreme Programming practices to organisations of all sizes. Sandro is internationally renowned by his work on evolving and spreading Software Craftsmanship and is frequently invited to speak in many conferences around the world. His professional aspiration is to raise the bar of the software industry by helping developers become better at and care more about their craft.

×

10:15

Coffee break

10:30

What we talk about when we talk about software (Software, metaphor and Conway's Law)

Nat Pryce

---

Day 1, 5 Oct starts 10:30 (Schedule)

What we talk about when we talk about software (Software, metaphor and Conway's Law)
Nat Pryce

I will explore the use of metaphors in software development. We often use deliberate figurative metaphor to introduce novel designs.

I will relate this creative aspect of metaphor to cognitive metaphors that have been investigated by George Lakoff et al. Lakoff's research posits that the only way we can think and communicate about abstract concepts is to relate them, by metaphor, to our physical environment. And you don't get much more abstract than software! We usually do not even notice the metaphors we are using when describing software. However, careless use of metaphor can hinder the process of designing software, communicating about software design and organising ourselves to collaborate on software development. If we cannot avoid metaphor we must use it to our advantage and avoid its pitfalls.

---

About the speaker...

Nat Pryce is a co-author of Growing Object­-Oriented Software Guided by Tests. An early adopter of XP, he has written or contributed to several open source libraries and tools that support TDD and was one of the founding organizers of the London XP Day conference.

He works programmer, architect, trainer, and consultant in a variety of industries, including e-commerce, media, telecoms, finance, retail and marketing communications. He has delivered business-critical systems that range from embedded devices to large compute farms supporting global business.

×

11:15

Coffee Break

11:30

The Novoda Craftsmanship University

Paul Blundell

---

Day 1, 5 Oct starts 11:30 (Schedule)

The Novoda Craftsmanship University
Paul Blundell

The journey of a craftsperson is difficult and never-ending, full of hard work, sweat, and tears but it is also a journey of joy, discovery, knowledge acquisition, and professional growth. We've created Novoda Craftsmanship University (NCU) so that employee's can take this journey together. In this talk Paul Blundell will show how you can apply principles of craftsmanship to complex & iterative mobile Android & iOS products and how mobile craftspeople develop together and share knowledge at Novoda.

---

About the speaker...

Mobile Developer specialising in Android and best practice advocate. On the flip side I enjoy bettering myself, currently trying handstand pushups and Arabic

×

12:15

Coffee Break

12:30

TDD, as if you meant it

Alex Bolboaca

---

Day 1, 5 Oct starts 12:30 (Schedule)

TDD, as if you meant it
Alex Bolboaca

One of the difficulties of developers starting to apply Test Driven Development (TDD) is letting go of preconceived notions of design and allowing themselves to evolve it. I have successfully used TDD As If You Meant It as a way of showcasing how design grows when doing TDD. TDD As If You Meant It is a set of constraints created by Keith Braithwaite that forces developers to let go of their set blueprints and allow the design to evolve. I've noticed in code retreats and dojos that the technique is very difficult to get right. In this session, I will explain how to start correctly, how to apply all the rules and how it shows the evolution of software design.

---

About the speaker...

Polyglot programmer, and experienced trainer and coach at Mozaic Works. Frequently facilitates coding events accross Europe.

×

13:15

Lunch

14:00

Get Kata

Kevlin Henney

---

Day 1, 5 Oct starts 14:00 (Schedule)

Get Kata
Kevlin Henney

Coding katas are a way that programmers can kick the tires of their programming languages, paradigms and practices.

Typically anchored in a TDD cycle, katas are typically simple problems that give programmers the opportunity to exercise deliberate practice and explore different approaches, whether programming style, pair programming or test-first programming. But the simplicity can be deceptive, with many programmers tiring of these katas too soon, missing out on some of the more mind-bending and paradigm-expanding opportunities on offer. This session will pick on a couple of katas and dig deeper into TDD, lambdas, language(s), (dys)functional programming and Alcubierre drive.

---

About the speaker...

Kevlin Henney is an independent consultant, trainer and author. His interests are in process, practice, patterns and programming.

Follow Kevlin on Twitter at @KevlinHenney

×

14:15

Coffee Break

15:00

Usable Software Design

Johan Martinsson

---

Day 1, 5 Oct starts 15:00 (Schedule)

Usable Software Design
Johan Martinsson

Did you ever think of the user of your code? Not the one using the application, but the developer that has to change the code after you. Does that person have a good tool for the job, i.e. is the code usable? What can we learn from other domains like ergonomics, usability and in general design of objects, where the user has been in the center of the design process for decades? Well first of all it tells us what are the weaknesses of all designers, even the greatest and how to remedy that. Secondly you'll learn why "It's not the users fault, it's the designs fault" and how to remove sources of bugs using BugsZero design. You'll get a fresh new perspective on Clean Code, difficulties in TDD and what's the power of DDD. Last but not the least, you'll discover how "Usable Software Design" naturally gets a lot of traction where TDD and Clean Code meet resistance.

---

About the speaker...

Craftsman with a passion for design in code, helping teams adopt XP Practices, and co-organizes the Grenoble coding dojo.

×

15:45

Coffee Break

16:00

WebOps for the Overloaded Developer

Samir Talwar

---

Day 1, 5 Oct starts 16:00 (Schedule)

WebOps for the Overloaded Developer
Samir Talwar

At lightning speed, this talk will cover the bits that aren't code that make up a working web app. These include servers, monitoring, deployment mechanisms, logging, alerting, secret management, recovery mechanisms… you get the idea. Material will be provided afterwards so you can try everything out on your own and really cement the concepts for yourself. Topics include: How to set up a web server on Linux, deploying changes to a web server with minimum downtime, keeping an eye on your server to make sure things are working, tracking down production bugs, and secure communication over HTTPS.

---

About the speaker...

Samir Talwar is a developer who's focused on two things: doing the right things in the right way. He has worked in a number of industries and has always focused on the bleeding edge, diving into new technologies, techniques and methodologies with a fervour. His experience with various tools allows him to select the right one for the job, and combined with his experience with Extreme Programming, he has a knack for spotting simple approaches to complex problems.

A prominent member and organiser of the London Software Craftsmanship Community, Samir tries to help people (including himself) challenge their definitions of "good enough" by running workshops, pairing with anyone and everyone and constantly asking questions. By challenging assumptions and encouraging people to go one step further to solve a problem, he helps them embrace a more holistic view of software development.

×

16:45

Drinks break

17:00

4

Panel Discussion - State of the Industry

Kevlin Henney, Sandro Mancuso, Nat Pryce, and Alex Bolboaca

---

Day 1, 5 Oct starts 17:00 (Schedule)

Panel Discussion - State of the Industry
Kevlin Henney, Sandro Mancuso, Nat Pryce, and Alex Bolboaca

The panel will discuss the state of software development in the industry.

×
Day 2: Software Craftsmanship London
Agenda
Track
Schedule
08:30

Registration and Breakfast

09:15

Welcome

09:30

Understanding Understandability

Michael C. Feathers

---

Day 2, 6 Oct starts 09:30 (Schedule)

Understanding Understandability
Michael C. Feathers

Believe it or not there was a time when many people in the industry felt that OO was too hard for the average programmer. Yet here we are taking an industry plunge into functional programming and tooling that would've tested the limits of what people could tolerate just ten years ago. We underestimate ourselves and we do it over and over again because we conflate cultural understandability with cognitive understandability. In this talk, Michael Feathers will talk about what we know about computational understanding and where we might end up if we accept that it changes over time.

---

About the speaker...

Michael Feathers is the founder and Director of R7K Research & Conveyance, a company specializing in software and organization design.

Michael Feathers is the Founder and Director of R7K Research & Conveyance, a company specializing in software and organization design. Prior to forming R7K, Michael was the Chief Scientist of Obtiva and a consultant with Object Mentor International. Over the past 20 years he has consulted with hundreds of organizations, supporting them with general software design issues, process change and code revitalization. A frequent presenter at national and international conferences, Michael is also the author of the book Working Effectively with Legacy Code (Prentice Hall, 2004).

×

10:15

Coffee Break

11:30

2

The day after tomorrow: Let the machine do the coding

Nicole Rauch and Michael Sperber

---

Day 2, 6 Oct starts 11:30 (Schedule)

The day after tomorrow: Let the machine do the coding
Nicole Rauch and Michael Sperber

Programming means suffering - today.

The programmer needs to do the typing herself (except for the trivial code snippets that Eclipse can bang out), the machine's job is to nag and reject when there's an error. In particular, a modern type system can be very good at pointing out errors, but the human still needs to tinker with the program to make it shut up. This is in spite of the fact that most of the domain knowledge is already contained in the type definitions and method signatures: Program by Design shows how this can work. Now, if we specify a little bit more, shouldn't the computer be able to write the code? The future of programming or just pipe dream? A new generation of programming languages and IDEs gradually turns this dream into reality: These tools are slowly becoming partners in software development. They make programming more fun, and can cut down dramatically on the error count. In the process, they liberate developers from implementing recurring patterns over and over. Developers can focus on the individual aspects of the software, on properly modelling the domain and on the user experience.

---

About the speakers...

Co-founder of Softwerkskammer, experienced software developer and coach, with a keen interest compilers and formal methods.

CEO of Active Group, internationally recognised expert in functional programming, authors many papers and books on the subject.

×

12:15

Coffee Break

12:30

Craft Thinking

Mashooq Badar

---

Day 2, 6 Oct starts 12:30 (Schedule)

Craft Thinking
Mashooq Badar

We choose to think of Software Development as a Craft. Usually when we associate Software Craftsmanship with Code Quality and Agile (more specifically XP practices).

That is a very narrow view. In fact Craftsmanship is about our innate desire to do a good job - there is a craftsman or craftswoman in all of us. This leads me to the question, what is the general philosophy behind craftsmanship and what does it mean specifically to software developers? In his book, The Craftsman, Richard Sennet takes a philosophical view of craftsmanship through the ages in order to understand what happens when people try to do a good job. I will attempt to relate this view to Software Craftsmanship in particular. There are many lessons to glean from studying the history and philosophy of craftsmanship to answer the many questions that are relevant to our craft. For example; the struggle between practical and perfect, how do we achieve the right balance, the concept of "fractured skill" where we become only specialised in only a subset of the skills necessary to create the whole, the role of failure in learning, choosing the right tools and skills to learn? I will try to wet you appetite for exploring craftsmanship from a different perspective so that we can better understand Software Craftsmanship.

---

About the speaker...

Mashooq is a strong subscriber of the Software Craftsmanship principles and an Associate of the London Software Craftsmanship Community.

Mash is a software craftsman with extensive experience in developing innovative solutions and running large-scale enterprise projects. For many years he was a Principal Consultant leading some of the most diverse projects for clients in Government, Media, and Finance. In his last position he was a Director at UBS leading a 4 million pounds a year project with 7 development teams situated in London and Krakow. He started the project from scratch, building the teams a developer at a time.

He is an associated organiser for the London Software Craftsmanship Community, involved since the beginning, helping with organisation and running hands-on sessions. Mash is also an international speaker, and has given talks involving Test-Driven Development, Continuous Integration and Deployment, and other Extreme Programming practices.

×

13:15

Lunch

14:00

4

Panel Discussion - Present and Future of Extreme Programming

Rachel Davies, Steve Freeman, Michael C. Feathers, and Mashooq Badar

---

Day 2, 6 Oct starts 14:00 (Schedule)

Panel Discussion - Present and Future of Extreme Programming
Rachel Davies, Steve Freeman, Michael C. Feathers, and Mashooq Badar

The panel will discuss the current state of XP, modern XP practices, and the challenges of bringing XP to organisations.

×

15:00

Coffee Break

15:15

The importance of syntax in clean code

Hadi Hariri

---

Day 2, 6 Oct starts 15:15 (Schedule)

The importance of syntax in clean code
Hadi Hariri

We speak about clean code so often, focusing on things such as Single Responsibility Principle, Separation of Concerns, and all the other TLA's we can think of.

We talk about clean code in both Object Orientation and Functional paradigms. We show examples of clean code in a variety of programming languages, and we say it doesn't matter what language you use, clean code is essential. But the truth of the matter is, language plays a bigger role in clean code than we might think, if by clean we understand code that is concise, comprehensible, readable and does not have a lot in the ways of redundancy and noise. In this talk, we're going to look at the case for Kotlin, a language that in appearance is very similar to Java and C#, and only adds what some consider a few dashes of "syntactic sugar" here and there. We'll see whether combining these small nuggets, it adds value to what we could consider more concise, readable, and consequently maintainable code.

×

16:00

Coffee Break

16:15

Closing Keynote

Rachel Davies

---

Day 2, 6 Oct starts 16:15 (Schedule)

Closing Keynote
Rachel Davies

An ending is an opportunity for a new beginning. As we bring SC2017 to a close, you'll have picked up new tools and techniques that you're keen to try out and connections you want to explore. How will you get value from our time together and share that value with others? In her closing keynote, Rachel will inspire you to pause, evaluate, and begin afresh

---

About the speaker...

Rachel Davies is author of the first "Agile Coaching" book and an invited speaker to software conferences worldwide. Rachel started out working as a software developer and became fascinated with debugging software organizations. Her mission is to create workplaces where developers enjoy delivering valuable software. She's been working in the field of Agile software development since 2000 and pioneered techniques that are now used by teams all around the globe. Rachel currently works at Unruly, the leading global platform for social video marketing and is the organiser of Extreme Programmers London meetup.

×

17:00

Closing
CodeNode
In August 2015, Skills Matter opened the doors to CodeNode, our new 23,000 sqft Tech Events and Community venue. CodeNode provides fantastic meetup, conference, training and collaboration spaces with unrivalled technology capabilities for our tech, digital and developer communities - a long held dream coming true !
With fantastic transport links and located in the heart of London's Tech City, we could not think of a better location for our 60,000 strong engineering community!
With seven event rooms, including a 300 seater lecture room, thousands more community members will be able to visit CodeNode to learn and share skills, code and collaborate on projects.
CodeNode features a 5,000 sqft break-out space, complete with fully-licensed bar, plenty of power sockets, meeting and collaboration spaces and entertainment areas.
CodeNode will also see the opening of a permanent Hack Space, stacked with microprocessors and the latest tools and devices to play with. A community film studio will be opening too, which you can use to record any tutorials or demo's you may want to share with our community.
If you're interested in hiring CodeNode for your upcoming event, check out more details here.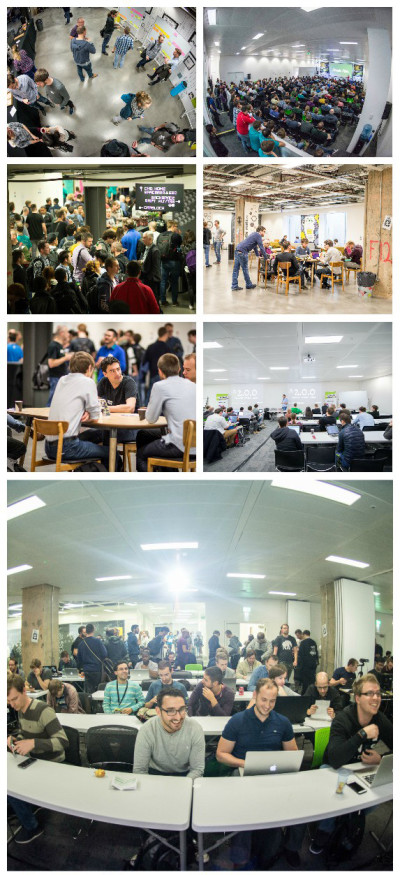 To discuss sponsorship opportunities please contact the team:
Hold tight, skillscasts coming soon!