2 DAY CONFERENCE
Software Craftsmanship London
Topics covered at

#sclconf
Are you passionate about Clean Code & Extreme Programming? Do you take a pragmatic in your approach to software development? Then why not immerse yourself in this 2-day conference, featuring the minds of some of the greatest thinkers and doers in Software Craftsmanship from around the world.
Celebrating a Milestone
Our conference this year coincides with the 10th anniversary of of the birth of Software Craftsmanship movement!
We're busy gathering an amazing line-up of speakers including favourites from SCLConf 2017. From your valuable feedback we were pleased to see the quality of the talks was judged to be extremely high - even better than we had hoped for! Launching the Software Craftsmanship Conference in 2017 was an experiment. Looking back, we are very proud with the response and to see the interest that exists for the craftsmanship mindset.
This year is special. Our conference coincides with the 10th anniversary of Software Craftsmanship movement. In 2008, a number of aspiring software craftsmen met in Libertyville, Illinois with the intent of establishing a set of principles for Software Craftsmanship. We believe this is a wonderful opportunity to celebrate the moment that started the Software Craftsmanship movement.
Find out more about Software Craftsmanship London 2018 here.
Follow the conversation on Twitter at @SCLConf.
Day 1: Watch this space!
Programme TBC
CodeNode
In August 2015, Skills Matter opened the doors to CodeNode, our new 23,000 sqft Tech Events and Community venue. CodeNode provides fantastic meetup, conference, training and collaboration spaces with unrivalled technology capabilities for our tech, digital and developer communities - a long held dream coming true !
With fantastic transport links and located in the heart of London's Tech City, we could not think of a better location for our 60,000 strong engineering community!
With seven event rooms, including a 300 seater lecture room, thousands more community members will be able to visit CodeNode to learn and share skills, code and collaborate on projects.
CodeNode features a 5,000 sqft break-out space, complete with fully-licensed bar, plenty of power sockets, meeting and collaboration spaces and entertainment areas.
CodeNode will also see the opening of a permanent Hack Space, stacked with microprocessors and the latest tools and devices to play with. A community film studio will be opening too, which you can use to record any tutorials or demo's you may want to share with our community.
If you're interested in hiring CodeNode for your upcoming event, check out more details here.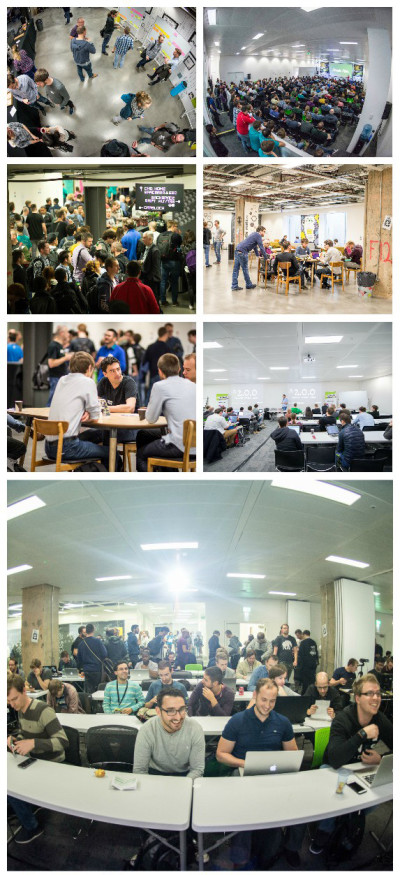 To discuss sponsorship opportunities please contact the team:
Hold tight, skillscasts coming soon!