2 DAY CONFERENCE
iOSCon 2018 - The conference for iOS and Swift Developers
Topics covered at

#iOSCon
Overview
iOSCon celebrates the latest developments and the sharpest minds in iOS. Do you want to find out about all the latest & most topical iOS & Swift technologies and applications and discover the best practices and ideas? Then come and join us at iOSCon in London!
iOSCon 2019 Announcement
Thank you so much to everyone who made iOSCon 2018 awesome. Early-bird tickets for iOSCon 2019 are now available here.
Join us at iOSCon 2018 on March 22nd-23rd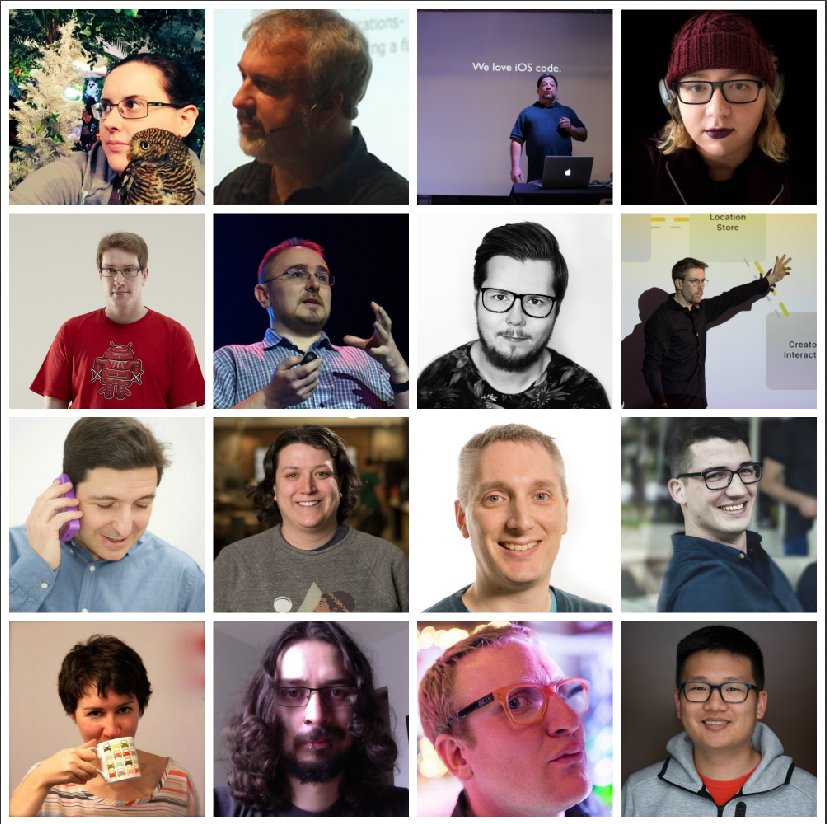 iOSCon 2018 is the go-to conference to discover and learn all the latest developments in the iOS and Swift world. Join leading experts in the iOS & Swift realm, who will share the latest technologies, tools, ideas and practices developing and evolving within the iOS, Swift and Mobile Technology.
2018's programme includes keynotes from Danielle Tomlinson, Michael Feathers, Daniel Steinberg and Cate Huston. Have a look at the full line-up here!
Follow #ioscon to keep up with announcements and news.
Check out iOSCon 2017's Highlights and Conversations with speakers here!
Tickets
Registration is open and we have some great offers available so if you are planning to join us for two days packed with iOS fun, get your skates on and book your ticket today!
Call for Papers is now CLOSED!
The Call for Papers is now CLOSED! Thanks for submitting a proposal, the response's been overwhelming and we are currently working on selecting talks. Click here to stay up to date and find out more on speakers as we'll start publishing the line-up very soon!
Get Involved
Would you like to help us facilitate a great conference? Help us set up the conference spaces, introduce talks and speakers, field Q&A questions with mics, or support some of the workshops and hacks we've got in store? Sign up as a volunteer and get a free ticket to the conference!
iOSCon 2018 Diversity Scholarship Plan
Skills Matter is proud and happy to share our iOSCon 2018 Diversity Scholarship Plan. This plan is based on our commitment to help develop the skills of women and their participation in our community. It is aimed at helping women who want to enter/ re-enter the tech industry.
Find more information here!
Code of Conduct
Please find our Code of Conduct here.
Impressions of last year
Programme
Day 1: Thursday 22nd March 2018
Don't miss these amazing talks!
Track
CTRL
ALT/TAB
08:30

Registration & Breakfast Refreshments

09:00

Welcome to iOSCon 2018!

Paul Ardeleanu

All levels

---

swift

ios

ioscon

swift ios ioscon

---

About the speaker...

Paul is a software engineer, trainer and speaker specialised in data-driven solutions on Apple platforms with an emphasis on prototyping, best practices and balance with agility. He started programming back in the days of Fortran, graduated with a PhD in Computational Physics from UCLan and currently hailing from London, UK.

He blogs on Medium, often tweets here and in his spare time, is bootstrapping Event.Run.

×

09:15

Keynote: Sustainable Releases, a Tale of Teams and Automation

Danielle Tomlinson

All levels

---

keynote

In this talk you will learn about building a release process that works for you, your team, and your business. Danielle will share with you her own experiences from building, and releasing client side, SaaS, and enterprise software over the last ~10 years. During the talk you will also get an introduction into setting up and running an automated testing + release process.

keynote

---

About the speaker...

Danielle is a Staff Software Engineer at CircleCI where she works on build infrastructure and operator tooling. Before she started working on cloud infrastructure, she was an iOS developer for 9 years and is also a core maintainer of CocoaPods, and fastlane.

Follow Danielle on Twitter @DanToml

×

10:15

Coffee Break

10:30

A different take on Data Model

Maxim Zaks

Intermediate

---

entity-component-system

testable-architecture

data-oriented-design

Data is the fuel which powers every App. However you do not give it enough thought. You slap it into CoreData, or define some class structures which mostly stand in the way, when you need to implement new features.

In this talk Maxim will describe a data centered approach for representing data model, which enables easy testability, reactive behavior and does not stand in the way.

entity-component-system testable-architecture data-oriented-design

---

About the speaker...

Maxim tells computers how to waste electricity. Hopefully in efficient, or at least useful way. Worked for Big companies and small Startups.

×

Designing and Building With Accessibility in Mind.

Hung Truong

Intermediate

---

swift

ios

accessibility

voiceover

ioscon

Accessibility is an often ignored part of iOS development, partly because much of it is "baked in" to the OS and "just works" most of the time. However, building custom UI elements and transitions can lead to a breakdown of accessibility expectations. In this talk, Hung will share with you some common pitfalls and solutions to keep in mind when designing and building accessible experiences. You will also learn about advanced accessibility features such as custom rotors and actions that will make your app easier and faster to use for visually impaired users. Finally, you'll explore Xcode's improved Accessibility Inspector and go over techniques to run an accessibility audit on your own app!

At the end of this session you should have a better understanding of Voiceover, the tool that blind and sight-impaired users rely on every day to use your apps. You'll be able to run a quick accessibility audit on your app to find places in your app that could use improvement. You should be able to come back to work and speak to why it's important to invest in accessibility and have concrete steps on how to make your app easier to use.

swift ios accessibility voiceover ioscon

---

About the speaker...

Hung has been hacking on iOS since before the original iPhone OS 2.1 SDK was released in 2008. He is currently an iOS Engineer at Lyft. His hobbies include enjoying coffee, photography and being the social media manager and growth hacker for his dog, Sodapop.

Follow Hung on Twitter @hungtruong

×

11:15

Coffee Break

11:30

Nuke It From Orbit: How to Deal With Massive View Controllers Once and For All

Paul Hudson

All levels

---

mobile

design-patterns

swift

mvc

Everyone knows that MVC done badly inevitably leads to massive view controllers, but it doesn't need to be that way. In this talk you'll learn how design patterns from Cocoa Touch and how Swift can help you simplify your code, reduce coupling, and make your maintenance easier.

mobile design-patterns swift mvc

---

About the speaker...

Paul is the author of Hacking with Swift, Pro Swift, Hacking with macOS, Server-Side Swift, Swift Coding Challenges, Practical iOS 10, and Objective-C for Swift Developers. Suffice it to say, he quite likes Swift. And coffee. (But mostly Swift.) (And coffee.)

Paul tweets at @twostraws, and his website can be found here.

×

Understanding Codable

Ian Partridge

Intermediate

---

ioscon

swift

swift4

ios

The Encodable and Decodable protocols that were added in Swift 4 provide an easy way to convert Swift types to and from external representations like JSON. In this talk you'll learn how to use these protocols, and how the Codable system is designed. Ian will share with you how your app can use Codable to interact with a remote web API, and how to adapt your code if it needs to handle changes to the API in future.

Codable is also being adopted in server-side Swift. Learn how to write type-safe Swift web APIs yourself, without having to worry about HTTP content types, headers, and parsing. Easily extract the query parameters from web requests and handle them appropriately in just a few lines of code. Ian will also mention advanced topics like writing your own Encoder or Decoder to convert to and from a custom format. Finally, we'll look at new enhancements to Codable, coming in Swift 4.1, which will make things even simpler for app developers.

ioscon swift swift4 ios

---

About the speaker...

Ian Partridge is a senior developer at Swift@IBM, working to bring Swift to the cloud on Linux. With a background in runtime technologies including Java garbage collection, performance and monitoring he is now working in open source on server-side Swift. Since learning Swift he has contributed to open source Foundation and libdispatch, and is also a developer of Kitura, a Swift HTTP server and web framework.

Ian tweets at @alfa.

×

12:15

Coffee Break

12:30

Beyond animations with Core Animation

John Sundell

Intermediate

---

swift

ios

rendering

graphics

core-animation

Core Animation is one of those essential technologies that power any iOS app, whether or not you use it directly. In this talk, you'll go beyond animations, and explore how Core Animation's many powerful features can enable high-performance rendering, creation of complex shapes and backgrounds - and even be used to power a game engine!

swift ios rendering graphics core-animation

---

About the speaker...

John builds apps, games & developer tools. He also makes Swift by Sundell - a series of weekly articles and a podcast about Swift development, and co-hosts the Stacktrace podcast. He has worked for companies like Volvo & Spotify, and is now working full-time on creating apps, tools and content for the Swift community.

Follow John on:

Twitter: @johnsundell

Blog: Swift by Sundell

×

Storyboards Revisited

Paul Stringer

Intermediate

---

swift

architecture

storyboards

ioscon

ios

Storyboards are a powerful yet sometimes maligned tool for controlling the flow of your iOS app through configuration instead of code. The storyboard approach in theory allows a clean separation of flow and presentation that provides greater flexibility to change. The reality though is that view controller code typically ends up becoming deeply entwined with the storyboard itself, leading to inflexible, oft duplicated code.

This approach can leave many an experienced developer wondering "is it worth it?" and becoming wary of its use. In this session we take a fresh cut - we pick up the story where other 'Architecture' approaches end and learn about a powerful approach to maintaining the separation of storyboard and view controller that delivers the promise of flexibility and less configuration in our code.

This talk will share a technique that makes powerful use one of the oldest but least understood design patterns in the book coupled with the modern language features of Swift for a story with an ending you don't want to miss!

Learn how to make Storyboards an even more compelling tool that instead of consigning to the trash can be instead at the heart of a flexible architecture for a modern app.

swift architecture storyboards ioscon ios

---

About the speaker...

Paul is an iOS expert combining skills in mobile product design with extensive software engineering experience. An influencer and leader having worked with development teams, key stakeholders and corporate clients incl. Apple and Sky. After years masquerading as a professional developer, Paul discovered 'Clean Code' and began a journey to a new understanding of what being a software professional meant. That journey continues through working with best practices such as TDD, Acceptance Testing and Pair Programming "as standard" in the pursuit of building the best possible software; Paul believes in the principle of getting software right early, and then keeping it working as intended.

Writes intermittently about the art and craft of iOS development guided by principles of professional agile software development at http://stringerstheory.net

×

13:15

Lunch

14:15

Workshop: Hands On Advanced Architecture for iOS

Jorge Ortiz Fuentes

Intermediate

---

architecture

android

Day 1, 22 Mar starts 14:15 (CTRL)

Workshop: Hands On Advanced Architecture for iOS
Jorge Ortiz Fuentes

In this workshop you will implement one user story from scratch for a new iOS application. Distribution of the contents and scope may vary slightly, in order to maximize the understanding of the basics.

The agenda of the workshop includes:

Clean Architecture Concepts: Brief introduction in order to understand the pieces of the architecture and their implementation in iOS.
Implementation of the Interactor: Implement the first user story: show a list of data elements to the user. Define the first version of the immutable entities and transform them into immutable structures with the data to display.
Implementation of the Presenter/event handler: Creation of the presenter that will talk to the view and present the data.
Implementation of the View: How to make a dumb, but still useful view.
A basic implementation of the entity gateway: Defer the decision of the persistence framework for later. Implement the minimum functionality in a basic object. Implications of the repository pattern.
Connect the pieces and make it all work: Understand the way the pieces are interconnected and its memory management implications. Implement the required object, modify the App delegate and make it work with the storyboard.
Review, Questions & Answers

Workshop Requirements

Please make sure to bring your laptop with latest version of Xcode installed and running.

architecture android

---

About the speaker...

Jorge is a freelancer dedicated to mobile development, security, and systems architecture. He started his work as a developer at M.I.T. in 1993 and since has collaborated in numerous software projects. Most of them were internally for HP where he worked for more than 15 years. Since 2008 he has been working in different aspects of mobile development. After playing with PalmOS, he learned Android programming for the first Google App contest and immediately started to play with the first iPhone SDK. He is an instructor in the best iOS and Android Bootcamps in the USA and Europe, and has spoken at some of the world's most renowned conferences about topics relating to mobile app architecture and best practices (and occasionally about Go and Raspberry Pis).

×

Workshop: Test or Go Fishing - an introduction to TDD

Paul Ardeleanu

Beginner

---

xcodeplayground

xcode

testing

bdd

tdd

swift

ios

Day 1, 22 Mar starts 14:15 (ALT/TAB)

Workshop: Test or Go Fishing - an introduction to TDD
Paul Ardeleanu

Whilst not a panacea for your development troubles (but certainly a headache for many), Test Driven Development (or any of its incarnations) can prove something of a silver bullet if done correctly and consistently. Cleaner code and shorter QA cycles are two of the best benefits.In this session, Paul will get you started with TDD in Swift, best practices and tools available.

You'll be looking at prototyping & writing tests in Xcode Playgrounds before migrating to a project, the benefit of writing various types of tests and using 3rd party frameworks.

Workshop Requirements

Please make sure to bring your MacBook with latest version of Xcode.

xcodeplayground xcode testing bdd tdd swift ios

---

About the speaker...

Paul is a software engineer, trainer and speaker specialised in data-driven solutions on Apple platforms with an emphasis on prototyping, best practices and balance with agility. He started programming back in the days of Fortran, graduated with a PhD in Computational Physics from UCLan and currently hailing from London, UK.

He blogs on Medium, often tweets here and in his spare time, is bootstrapping Event.Run.

×

17:00

Beer Break!

17:15

Keynote: Applicatives - The Forgotten Middle Child

Daniel Steinberg

Beginner

---

swift

flatmap

map

applicatives

keynote

ioscon

ios

This is not just another talk on Monads and Functors. You'll begin with examples of higher order functions and focus on map and flatMap in Swift. But there's something between a functor and a monad that is more powerful than a functor and more flexible than a monad. you'll look at Applicatives and try to understand their place in the world of functional programming. You will definitely come away with something you're going to want to use in your code.

swift flatmap map applicatives keynote ioscon ios

---

About the speaker...

Daniel is the author of the best selling books 'A Swift Kickstart' and 'Developing iOS 7 Apps for iPad and iPhone' (the official companion book to the popular iTunes U series from Stanford University).

Daniel presents iPhone, Cocoa, and Swift training and consults through his company Dim Sum Thinking. He is the co-host of the Tiny Challenges Podcast. When he's not coding or talking about coding for the Mac, the iPhone, and the iPad he's probably cooking or hanging out with friends.

Information on his books is available on the Editors Cut website. Details on his training, and speaking is on the Dim Sum Thinking website.

×

18:00

#iOSCon 2018 Party!

21:00

End of #iOSCon 2018 Day 1. See You Tomorrow!
Day 2: Friday 23rd March
Don't miss these amazing talks!
Track
CTRL
ALT/TAB
08:30

Registration & Breakfast Refreshments

09:00

Welcome to iOSCon 2018 Day 2!

09:15

Keynote: We are thrilled to have Michael Feathers at iOSCon 2018!

Michael C. Feathers

All levels

---

swift

ioscon

ios

swift ioscon ios

---

About the speaker...

Michael Feathers is founder and Director of R7K Research & Conveyance, which specialise in software and organisation design, and was previously Chief Scientist of Obtiva. He has worked with hundreds of organisations to revitalise their code as well as support in process change and software design. Michael is a powerful voice on the relationship between complex code evolution and output efficiency within organisations.

A frequent presenter at national and international conferences, Michael is also the author of the book Working Effectively with Legacy Code (Prentice Hall, 2004).

×

10:15

Coffee Break

10:30

Understanding language on iOS

Martin Mitrevski

Intermediate

---

wit.ai

linguistic-tagger

coreml

sirikit

dialogflow

The evolution of user interfaces in mobile apps continues with the most natural way of expressing the user's wishes - their voice. Understanding what the users say is not an easy task.

In this talk, you will learn about several speech analysis approaches that help you in this challenging task, from Apple's brand new Core ML and SiriKit, to Google's Dialogflow and Facebook's Wit.ai, along with some well known Natural Language Processing algorithms like the TF-IDF.

wit.ai linguistic-tagger coreml sirikit dialogflow

---

About the speaker...

Martin is working as a Tech Lead at Swiss Software Company Netcetera. He's been working on mobile apps in the areas of virtual reality, transport, indoor navigation, insurance, weather, innovation tools and live event apps. Lately, he's been fascinated by the possibilities that conversational interfaces bring in simplifying the user experience and how they might change the way we think about apps.

×

Decoding Codable

Ellen Mey

Beginner

---

ioscon

swift

json

ios

With the new Codable type, Swift 4 injects some magic into JSON parsing making it far less tedious than it's ever been before. Ellen will share with you a quick overview of parsing JSON, then diving into Codable and why it's a developer favorite among Swift 4 updates.

You will learn how to implement Codable, from the basics to the more complex use cases that will bring you all much relief, including CodingKeys and custom implementation of Encodable and Decodable. Whether you're parsing simple JSON that maps perfectly to your object, or the more likely scenario where the JSON object barely resembles your app's data models, Codable makes parsing and mapping JSON a concise, straightforward task. You'll leave this talk with an understanding of why Codable is cool and how you can use it to make your Xcode life much easier.

ioscon swift json ios

---

About the speaker...

An educator turned developer, Ellen discovered her passion for programming while teaching her students how to code.

In 2016, she took the plunge and decided to follow her passion by becoming an apprentice at Detroit Labs. Now an iOS developer, Ellen works on apps for a wide range of clients from financial institutions to the auto industry. Ellen often shares her laptop with her four cats. When she's not in front of a computer Ellen can be found gallivanting the globe in search of new beers.

×

11:15

Coffee Break

11:30

The art of developing more in less time - how to not get caught by long build times?

Eliasz Sawicki

Intermediate

---

developmentexperience

modularisation

compilationtimes

swift

While developing an iOS application at some point you may notice, that it does not go as smooth as it used to. At the beginning everything was much smaller, it was easier to reason about, it did not take that long to build and it was much faster to switch between application and test targets. The question is - can anything be done about it? Can you still develop continuously growing applications and do not fell the overwhelmed by them? The answer is - "yes you can". Eliasz will share with you how you can make it happen by isolating and modularising components in your code. If you do it well, then you will always feel as you work on something small.

This talk is built from two parts - first part is about how you can use existing Xcode project options and structure to make your builds faster. The second part is focused on how you can modularise our codebase by splitting your code to logic and passive views. By doing that, you can achieve situation in which your modules will be smaller (they will compile faster) and you will be able to test your logic code in a quicker way (you will be able to test them as macOS frameworks, because they will no longer be dependent on UIKit).

Eliasz's goal is to not only share with you how to decrease build times, but also show that the development experience that you have while writing code is even more important than having low build times in general. In this case - ability to get faster feedback loop by testing code as macOS frameworks gave Eliasz high productivity boost that was more important than having low build times in general.

developmentexperience modularisation compilationtimes swift

---

About the speaker...

Eliasz is a developer at Bright Inventions, focused on providing great iOS experience.

He is constantly looking for new ways to improve his solutions which is also main topic of his blog.

When his Mac is sleeping, he's probably playing guitar or reading books.

Eliasz can be found on Twitter at @elisawic.

×

So you want to build a medical app?

Yvette Cook

All levels

---

medtech

startups

healthkit

ios

What if your code could change someone's life, but a bug might kill them? As our devices have gotten smarter a world of possibility has been opened up to transform the lives of people living with chronic health conditions. Being able to manage, understand and treat their conditions using their phone could be life-changing, and maybe even life-saving. But was does that mean for developers who want to deliver on this promise?

How can we balance continuous technical innovation with the correctness and rigor mandated by regulatory requirements, whilst still keeping the user at the heart of the product we are building? And what does this look like on iOS?

Discover how one London startup is answering these questions, and the lessons learnt along the way.

medtech startups healthkit ios

---

About the speaker...

Yvette is an iOS Developer at Ayuda Heuristics, making a mobile app that takes away the burden of diabetes self-care, and creates new knowledge to help eradicate it. Before joining Ayuda she worked with companies large and small around London, on projects from greenfield Swift apps to legacy Objective-C ones.

Before becoming a developer she explored the worlds of project management, social enterprise, rowing and history. Passionate about learning by teaching, she's written a popular Swift TDD tutorial, and delivered iOS workshops with codebar, Makers Academy and Women Who Code.

Away from the laptop she's a keen triathlete, a lapsed chess player, devoted tea addict and avid reader.

×

12:15

Coffee Break

12:30

App Architectures: Remixed

Dan Cutting

Advanced

---

swift

ioscon

ios

Many apps support multiple "themes", but some need the ability to be remixed with specialised flows and feature sets, while reusing as much as possible. When layouts, flows and business logic live in View Controllers, it's difficult to do this well. But a combination of Coordinators and Clean architecture make remixed apps not just possible, but straightforward and easy to test too.

Dan Cutting will share with you the techniques he is applying at Schibsted to achieve highly flexible, well tested mobile software using the 'Remix' approach.

swift ioscon ios

---

About the speaker...

Dan started coding on an Apple IIc and IIGS, before experimenting with UNIX and Windows during his wilderness years. He stumbled into iOS development in 2008 and has since been lead developer for several award-winning apps including Sky Mobile TV, Sky Movies and F1 Race Control. You can find him blogging at cutting.io.

Dan tweets at @dcutting.

×

Interconnect all the things!

Esteban Torres

Intermediate

---

multipeerconnectivity

connectivity-framework

swift

ioscon

ios

One of the most interesting and yet most forgotten frameworks that  has given us developers is the MultipeerConnectivity framework.

During Esteban's Talk you will learn - What Connectivity Framework is, what can it do & how it works? How to use it to interconnect different devices - How can it be used to interconnect a user's multiple devices (📱, 💻 & ⌚) Esteban will also share how developers can interconnect their apps for a same user but different devices; providing a nice «hand-off» experience between iphone and tv for example. - What can be accomplished by the framework and benefits for your apps (The audience we'll get a list of important features the framework can accomplish and also some examples of how it can be integrated and benefit most apps.)

multipeerconnectivity connectivity-framework swift ioscon ios

---

About the speaker...

Esteban is an iOS Developer from Costa Rica with over 6 years of experience. After leading a small team of 4 iOS Devs @ LogN, Esteban is now Lead iOS developer at Brewbot.io. He is also the organizer of CocoaHeads Costa Rica.

×

13:15

Lunch

14:30

A Whistle-stop Tour of Core ML

Sam Davies

Beginner

---

swift

framework

ioscon

ios

core-ml

Machine learning has seen a lot of hype recently, and the introduction of Core ML in iOS 11 and macOS High Sierra tells us that Apple is also jumping on the bandwagon. But what exactly is "machine learning"? Why is it so special? And what does it offer to developers?

In this talk, you'll learn what the term "machine learning" really means, investigate several ML modelling techniques and then see how to build a machine learning model from scratch. You'll then investigate how Core ML fits into today's machine learning, and finish by showing how you can use Core ML to run complex, on-device image processing models.

swift framework ioscon ios core-ml

---

About the speaker...

Sam is the CTO of Razeware, the company behind the popular training site raywenderlich.com.

When he's not working, you'll find him backstage in a theatre, or entertaining crowds of people with his trombone. You should say hi to him on Twitter or @istillwantmyrealname

×

Understanding Code Signing

Pravara Kant

Beginner

---

provisioning-profiles

code-signing

certificates

swift

ios

ioscon

Code signing issues is something that every iOS and OSX developer has experienced. You have spent lot's of hours to make them work. In most of the cases, the  error messages are not very clear. Sometimes a missing entry in entitlements, or simply expired development / provisioning certificate could cost you hours of effort. You all know you need certificates, but most of you don't know why you need them, what they actually contain and why they cause so much trouble.

Pravara will share with you the answers to all these questions. You will learn why you have to follow those steps to create certificates, how can you use simple command to look inside the developer certificate, and what plugins/options are available to read provisioning profiles. You will also learn what a certificate contain, how Apple uses it to verify the Apps. This talk will help you better understand the problems when they arise and fix them quicker.

×

15:15

Coffee Break

15:30

Lightning Talk: Domain-Driven Architecture

Sergey Shulga

All levels

---

swift

ios

ioscon

ui

dddx

ddd

Sergey will share with you ideas and approaches he and his Team are using or planning to use to scale monolith MVP startup version of their app into something that can go to scale for years to come. You will also learn how DDD and Reactive programming help them achieve this.

swift ios ioscon ui dddx ddd

---

About the speaker...

iOS Developer at Babylon Health.

×

Lightning Talk: Understanding Your iOS Product Before Looking to Scale

Jillian Kowalchuk

All levels

---

react-native

swift

ioscon

ios

Learn how Safe & The City, a crowdsourcing navigation app creating safer walking routes, took a phased approach using React Native perfecting the iOS build before looking to scale across platforms.

react-native swift ioscon ios

---

About the speaker...

Jillian Kowalchuk is the recipient of the Commonwealth Businesswoman Award for Most Inspiring Role Model despite only operating her company, Safe & The City for about 1-year. Jillian is an avid travel having exposure to 50 different countries and grew her experience and passion to help improve the lives of others, specifically with women. She holds an MSc in Public Health and a BA in Psychology and has worked as a global public health consultant in HIV/AIDS behaviour change campaigns and impact evaluation. Jillian's genuine, passionate approach, unstoppable work ethic and ability to inspires has led to her accelerated success. She is a member of the Association for Women's Rights in Development (AWID) and founding member of FemTechTalks, which regularly meets in London to discuss ways in which women can surmount the challenges they face in entrepreneurship and the technology sector.

Jillian was born in Canada, but spent her early years in Yemen. She is an avid solo traveller, and visited over 50 countries. She has graduated with an MSc in Public Health from the London School of Hygiene and Tropical Medicine.

*Safe & The City (SaTC) is a London-based technology company that uses GPS, crowdsourced information and police risk data to reduce victims of opportunistic crimes on streets that can make people feel unsafe.

×

15:45

Lightning Talk: iOS Status Bar in Depth

Alexander Zimin

Intermediate

---

reverse-engineering

in-call-status-bar

private-api

status-bar

ios

Status Bar in UIKit is still a bit of a mystery for many iOS developers, and with only a few public API's available to personalise.

In this talk Alexander will share with you what he has found during his investigations on the topic and will show different concepts to work with this component. You will also learn what you can find by disassemble a UIKit code, what private APIs can give you and an easy approaches to control presentation of the status bar.

reverse-engineering in-call-status-bar private-api status-bar ios

---

About the speaker...

Software Engineer in Badoo, London. Founder of CocoaHeads Russia, WWDC Scholarship winner, speaker on big conferences such as Mobile Developer & Business 2014, UIMobile, MBLTDev, Mobicode, Mobius.

Co-founder of Paste App.

Alexander tweets @ZiminAlex

×

Lightning Talk: Pull Requests are Language

Abizer Nasir

All levels

---

swift

ioscon

ios

In this Lightning Talk Abizer will share some knowledge to establish conventions and build a team by arguing over code.

Abizer tweets @abizern.

swift ioscon ios

---

About the speaker...

Abizer Nasir is a freelance iOS / OS X developer who has been working full-time in Swift for over a year. He has spoken on a variety of subjects related to Objective-C and Swift development at iOSCon, NSLondon, Swift London, Swift Summit and AltConf. He organises NSCoder Night London.

×

16:00

Lightning Talk: How Modern Mobile Technology Helps us to Enhance Business Applications

Ian Thain

All levels

---

swift

ios

ioscon

You live in an app driven world so mobility is not only a necessity for consumers but also for businesses. In this lightning talk, Ian from SAP will explain how modern mobile technology can help enhance your business applications. You will learn about a couple of use cases and how you can leverage frameworks and technologies to develop powerful and innovative business.

×

Lightning Talk: The Stand Up

Phil Nash

All levels

---

swift

ios

ioscon

Phil does some stand-up. But wait, there's more! Come along to see how many times one can pivot during a 15 minute lighting talk.

swift ios ioscon

---

About the speaker...

Phil is the author of the test frameworks, Catch - for C++ and Objective-C, and Swordfish for Swift. As Developer Advocate at JetBrains he's involved with CLion, AppCode and ReSharper C++. More generally he's an advocate for good testing practices, TDD and using the type system and functional techniques to reduce complexity and increase correctness. He's previously worked in Finance and Mobile as well as an independent consultant and coach specialising in TDD on iOS.re.

Phil tweets at @phil_nash, and he writes a blog here.

×

16:15

Lightning Talk: DIY DI

Sam Davies

Intermediate

---

ioc

di

ios

ioscon

Enterprise Java and .NET developers spend a reasonable proportion of their lives banging on about inversion of control (IoC) or dependency injection (DI) frameworks. Are mobile developers missing out on anything here? What problems do these frameworks solve? What can we learn from them?

Sam will share with you a 5-minute crash course on current IoC and DI issues, before looking at a highly useful, bespoke approach for managing dependencies in a real-world app that's currently in development. Fast-paced, and devoid of useful details—it's everything you've ever wanted from a lightning talk!

ioc di ios ioscon

---

About the speaker...

Sam is the CTO of Razeware, the company behind the popular training site raywenderlich.com.

When he's not working, you'll find him backstage in a theatre, or entertaining crowds of people with his trombone. You should say hi to him on Twitter or @istillwantmyrealname

×

16:30

Beer Break

16:45

Keynote: Successfully Derailed Product

Cate Huston

All levels

---

react-native

swift

ioscon

ios

As individuals you - implicitly or explicitly - define success, as do teams. But how do these definitions and incentives impact how and what you build? In this Keynote Talk Cate will share with you the ways in which the dysfunctions of your organization become the dysfunctions of your product.

react-native swift ioscon ios

---

About the speaker...

Cate has spent her career working on mobile and documenting everything she learns using WordPress. Now she combines the two as Automattic's mobile lead.

You can find her on Twitter and on her blog, Accidentally in Code.

×

17:45

iOSCon 2018 - Final Wrap-up

Carla Gaggini

All levels

---

swift

ioscon

ios

18:00

End of iOSCon 2018 - See you in 2019!
Sponsors
Whether you are seeking to improve visibility of your tools, devices or projects, or simply would like to support µCon's passionate community through your engagement, our sponsorship team will be able to help you select the best sponsorship package for you! Email sponsors@skillsmatter.com or phone 0207 183 9043.
Click here if you are interested in a downloadable PDF outlining sponsorship opportunities, or contact the team by email sponsors@skillsmatter.com or phone +44 (0) 207 183 9040.
Available Packages
To discuss sponsorship opportunities please contact the team:
SkillsCasts
Designing and Building With Accessibility in Mind.

Accessibility is an often ignored part of iOS development, partly because much of it is "baked in" to the OS and "just works" most of the time. However, building custom UI elements and transitions can lead to a breakdown of accessibility expectations. In this talk, Hung will share with you some...

swift ios accessibility voiceover ioscon

Interconnect all the things!

One of the most interesting and yet most forgotten frameworks that has given us developers is the MultipeerConnectivity framework.

multipeerconnectivity connectivity-framework swift ioscon ios

Lightning Talk: The Stand Up

Phil does some stand-up. But wait, there's more! Come along to see how many times one can pivot during a 15 minute lighting talk.

swift ios ioscon

Welcome to iOSCon 2018!

swift ios ioscon

Lightning Talk: Domain-Driven Architecture

Sergey will share with you ideas and approaches he and his Team are using or planning to use to scale monolith MVP startup version of their app into something that can go to scale for years to come. You will also learn how DDD and Reactive programming help them achieve this.

swift ios ioscon ui dddx ddd

The art of developing more in less time - how to not get caught by long build times?

While developing an iOS application at some point you may notice, that it does not go as smooth as it used to. At the beginning everything was much smaller, it was easier to reason about, it did not take that long to build and it was much faster to switch between application and test targets. The...

developmentexperience modularisation compilationtimes swift

Understanding Codable

The Encodable and Decodable protocols that were added in Swift 4 provide an easy way to convert Swift types to and from external representations like JSON. In this talk you'll learn how to use these protocols, and how the Codable system is designed. Ian will share with you how your app can use...

ioscon swift swift4 ios

Lightning Talk: Understanding Your iOS Product Before Looking to Scale

Learn how Safe & The City, a crowdsourcing navigation app creating safer walking routes, took a phased approach using React Native perfecting the iOS build before looking to scale across platforms.

react-native swift ioscon ios

iOSCon 2018 - Final Wrap-up

swift ioscon ios

Lightning Talk: Pull Requests are Language

In this Lightning Talk Abizer will share some knowledge to establish conventions and build a team by arguing over code.

swift ioscon ios

Lightning Talk: DIY DI

Enterprise Java and .NET developers spend a reasonable proportion of their lives banging on about inversion of control (IoC) or dependency injection (DI) frameworks. Are mobile developers missing out on anything here? What problems do these frameworks solve? What can we learn from them?

ioc di ios ioscon

Understanding Code Signing

Code signing issues is something that every iOS and OSX developer has experienced. You have spent lot's of hours to make them work. In most of the cases, the error messages are not very clear. Sometimes a missing entry in entitlements, or simply expired development / provisioning certificate...

provisioning-profiles code-signing certificates swift ios ioscon

Storyboards Revisited

Storyboards are a powerful yet sometimes maligned tool for controlling the flow of your iOS app through configuration instead of code.

The storyboard approach in theory allows a clean separation of flow and presentation that provides greater flexibility to change. The reality though is that view...

swift architecture storyboards ioscon ios

Lightning Talk: iOS Status Bar in Depth

Status Bar in UIKit is still a bit of a mystery for many iOS developers, and with only a few public API's available to personalise.

reverse-engineering in-call-status-bar private-api status-bar ios

So you want to build a medical app?

What if your code could change someone's life, but a bug might kill them?

As our devices have gotten smarter a world of possibility has been opened up to transform the lives of people living with chronic health conditions. Being able to manage, understand and treat their conditions using their...

medtech startups healthkit ios

App Architectures: Remixed

Many apps support multiple "themes", but some need the ability to be remixed with specialised flows and feature sets, while reusing as much as possible. When layouts, flows and business logic live in View Controllers, it's difficult to do this well. But a combination of Coordinators and Clean...

swift ioscon ios

Decoding Codable

With the new Codable type, Swift 4 injects some magic into JSON parsing making it far less tedious than it's ever been before. Ellen will share with you a quick overview of parsing JSON, then diving into Codable and why it's a developer favorite among Swift 4 updates.

ioscon swift json ios

Keynote: Successfully Derailed Product

As individuals you - implicitly or explicitly - define success, as do teams. But how do these definitions and incentives impact how and what you build? In this Keynote Talk Cate will share with you the ways in which the dysfunctions of your organization become the dysfunctions of your product.

react-native swift ioscon ios

A Whistle-stop Tour of Core ML

Machine learning has seen a lot of hype recently, and the introduction of Core ML in iOS 11 and macOS High Sierra tells us that Apple is also jumping on the bandwagon. But what exactly is "machine learning"? Why is it so special? And what does it offer to developers?

swift framework ioscon ios core-ml

Beyond animations with Core Animation

Core Animation is one of those essential technologies that power any iOS app, whether or not you use it directly. In this talk, you'll go beyond animations, and explore how Core Animation's many powerful features can enable high-performance rendering, creation of complex shapes and backgrounds -...

swift ios rendering graphics core-animation

Keynote: Applicatives - The Forgotten Middle Child

This is not just another talk on Monads and Functors. You'll begin with examples of higher order functions and focus on map and flatMap in Swift. But there's something between a functor and a monad that is more powerful than a functor and more flexible than a monad. you'll look at Applicatives...

swift flatmap map applicatives keynote ioscon ios

Lightning Talk: How Modern Mobile Technology Helps us to Enhance Business Applications

You live in an app driven world so mobility is not only a necessity for consumers but also for businesses. In this lightning talk, Ian from SAP will explain how modern mobile technology can help enhance your business applications. You will learn about a couple of use cases and how you can...

swift ios ioscon

Nuke It From Orbit: How to Deal With Massive View Controllers Once and For All

Everyone knows that MVC done badly inevitably leads to massive view controllers, but it doesn't need to be that way. In this talk you'll learn how design patterns from Cocoa Touch and how Swift can help you simplify your code, reduce coupling, and make your maintenance easier.

mobile design-patterns swift mvc

A different take on Data Model

Data is the fuel which powers every App. However you do not give it enough thought. You slap it into CoreData, or define some class structures which mostly stand in the way, when you need to implement new features.

entity-component-system testable-architecture data-oriented-design

Understanding language on iOS

The evolution of user interfaces in mobile apps continues with the most natural way of expressing the user's wishes - their voice. Understanding what the users say is not an easy task.

wit.ai linguistic-tagger coreml sirikit dialogflow

Keynote: Sustainable Releases, a Tale of Teams and Automation

In this talk you will learn about building a release process that works for you, your team, and your business. Danielle will share with you her own experiences from building, and releasing client side, SaaS, and enterprise software over the last ~10 years. During the talk you will also get an...

keynote
Photos
Other Years