DevSecCon is back in London, to bring together DevOps and Security in a unique conference run by practitioners, for practitioners. This year we're expanding DevSecCon over two days to be able to offer more in-depth sessions: inspiring talks and interactive workshops about DevSecOps – the practice of building security into development processes. This is your chance to learn from key industry figures, meet with your peers and learn how DevOps and Security can work together to make continuously secure development a reality.
DevSecOps is a new approach that has the intense collaboration of DevOps and Security at its heart. Together these two core competencies can find ways to build security into development continuously, without impacting critical deadlines and delaying release cycles. DevSecCon is a platform for leading experts and practitioners to showcase their DevSecOps ideas in thought-provoking talks and workshops. Attendees learn how to implement security as code in the development process, ensure secure continuous delivery, automate and monitor security processes and create an inclusive and collaborative culture between DevOps and Security.
Why attend DevSecCon?
Expect 15+ new and seasoned speakers: cutting edge practitioners and leading figures from the DevOps, Security and DevSecOps industry
Learn about ways to implement security as code in the overall development process – from the supply chain to the customer experience
Find out how to apply security to match strategic business objectives and radically rethink the approach to secure development and delivery
Exchange ideas and develop new professional relationships with fellow attendees over complimentary breakfast, lunch and networking drinks
Gain in-depth knowledge by attending workshops, they are hands-on and full of practical take aways that can be implemented immediately
With two conference tracks, you can choose the sessions that are most relevant to you
Stay up-to-date with the latest DevSecOps technologies and innovations, and meet the companies behind them in the exhibitor area

For more information visit https://www.devseccon.com/london-2017/
HOLD TIGHT, PROGRAM COMING SOON!
We're currently working on a program. If you have any suggestions, topics you'd like to see covered, or experts you'd like to meet, let us know!
CodeNode
In August 2015, Skills Matter opened the doors to CodeNode, our new 23,000 sqft Tech Events and Community venue. CodeNode provides fantastic meetup, conference, training and collaboration spaces with unrivalled technology capabilities for our tech, digital and developer communities - a long held dream coming true !
With fantastic transport links and located in the heart of London's Tech City, we could not think of a better location for our 60,000 strong engineering community!
With seven event rooms, including a 300 seater lecture room, thousands more community members will be able to visit CodeNode to learn and share skills, code and collaborate on projects.
CodeNode features a 5,000 sqft break-out space, complete with fully-licensed bar, plenty of power sockets, meeting and collaboration spaces and entertainment areas.
CodeNode will also see the opening of a permanent Hack Space, stacked with microprocessors and the latest tools and devices to play with. A community film studio will be opening too, which you can use to record any tutorials or demo's you may want to share with our community.
If you're interested in hiring CodeNode for your upcoming event, check out more details here.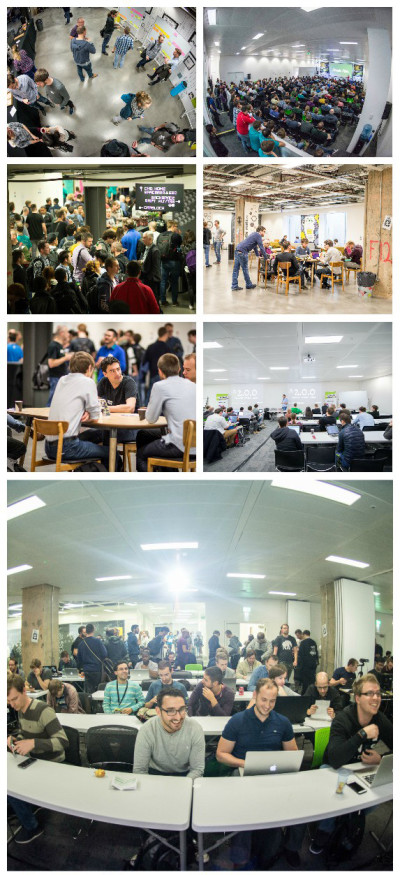 To discuss sponsorship opportunities please contact the team:
Hold tight, skillscasts coming soon!
DevSecCon 2016

One day in London

The conference that brings DevOps and SecOps together to make development and delivery more secure, without compromise.

infosec devops secops devsecops

DevSecCon 2015

One day in London

DevSecCon is a newly formed, non-profit conference for DevOps and SecOps practitioners, run by practitioners. By creating a neutral platform, we will exchange and create new ideas on how to leverage the best of both worlds.

devops secops devsecops