1 DAY CONFERENCE
FullStack2gether 2017
Topics covered at

#FullStack2gether
We're excited to announce FullStack2gether, to be held on Saturday 15th at Skills Matter's home, CodeNode. #FullStack2gether is organized by Skills Matter and the Community. Together, we will host a day-long event with a few workshops and challenges.
About the Event
FullStack2gether will follow 3 power packed days at FullStack!
FullStack2gether is a friendly place where you can come together and join us for hands-on FullStack workshops and hacking projects. Come along to meet new people and learn new things!
Programme for the Event
Saturday 15th July 10am to 7pm
We'll start with a series of introductions and invite all attendees to do 1 to 5 minute pitches for sessions they would like to attend or host. We'll collaboratively work out a timetable and then split off to attend the sessions that interest us. We will also have set hands on workshops for you to try out!
Here's a rough timetable:
9am - Doors open, Registration & Welcome Refreshments
10am - Introductions and session pitches
11am - Schedule announced, sessions and workshops start
12.30pm - Lunch
13.30pm - Sessions and workshops resume
17.30pm - Beers and Snacks

18.00pm - #FullStack2gether 2017 Wraps!

All attendees will be free to work on individual projects or join in the Free hacking and workshops running in tandem
Highlights & Expected Projects
We've also had some specific session proposals, subject to be updated. These will be available as options when we collaboratively decide on the programme:
Tero Parviainen - Making Generative Music with Web Audio & Tone.js
Opher Vishnia - The Multiplayer Game Jam
Matt Zeunert - Writing Custom Babel Plugins
Breakfast, refreshments and lunch will be provided.
How Much does a ticket Cost?
This is a free community event. There will be no charge for entry.
We expect demand for places to be high. Please do not sign up unless you are certain you will be able to attend.
Code of Conduct
Skills Matter is delighted to welcome you to the event and appreciate you as an integral part of our community whose contributions are invaluable. Our Code of Conduct is a guideline and promise to all members of our community.
Content Disclaimer
We make no claims to ownership over any type of intellectual property you may use at the hackathon, including trademarks, copyrights, and patentable ideas.
Day 1: Saturday 15 July
Join in the workshops or start your own project in our open space!
Track
Track 1
Track 2
Track 3
09:00

Breakfast Refreshments and Registration

10:00

Welcome and Introductions to Projects and Session Pitches

11:00

2

Workshop: Declare and redefine HTML as if it was CSS

Vladimir Grinenko and Sergey Berezhnoy

---

html

css

web

workshop

javascript

js

fullstack2gether

Day 1, 15 Jul starts 11:00 (Track 1)

Workshop: Declare and redefine HTML as if it was CSS
Vladimir Grinenko and Sergey Berezhnoy

Do you remember representational tags and styling attributes in HTML before invention of CSS?

The markup was really ugly that days. Then we learned a lot about semantics and DRY. But are all these divs, spans and tables really so semantic? Don't we already use the next level of abstraction in Web Components or in our frameworks?

Let's go even further and move all the markup from real semantic structure of the views!

We invented declarative template engine highly inspired by XSLT but written in pure JavaScript.

In this workshop, you will discover the power you can get with such an approach.

html css web workshop javascript js fullstack2gether

---

About the speakers...

Team leader of shared component interfaces group in Yandex.

Participated in development of the home page of yandex.ru, internal services and portal components. Engaged in the development of BEM and gladly answers questions about the methodology.

Supports multiple open source projects. Speaker at numerous international IT conferences.

Follow Vladimir at @tadatuta.

×

Workshop: Writing Custom Babel Plugins

Matt Zeunert

---

babel

plugin

es2015

jsx

fullstack

javascript

fullstackcon

Day 1, 15 Jul starts 11:00 (Track 2)

Workshop: Writing Custom Babel Plugins
Matt Zeunert

Most people use Babel to compile ES2015 or JSX code. But it's actually a multi-purpose JavaScript compilation tool. This workshop will show how to create your own code transformation rules.

You'll learn about the compilation process, gain a higher-level understanding of JavaScript as a language, and become more comfortable working with Babel day to day.

babel plugin es2015 jsx fullstack javascript fullstackcon

---

About the speaker...

Matt is an independent front-end developer based in London. He works on tools that help developers understand complex apps and blogs about code readability. Before focussing on building developer tools he worked as a contractor helping different companies make great JavaScript apps.

Matt tweets at @mattzeunert and you can find out more about him at his website https://www.mattzeunert.com/.

×

Workshop: Angular Basics

Kirill Cherkashin

---

fullstack2gether

fullstackcon

angular

angularjs

Day 1, 15 Jul starts 11:00 (Track 3)

Workshop: Angular Basics
Kirill Cherkashin

After this class you'll be able to create a simple Angular application, and will learn the following topics.

Intro to TypeScript

Building and bootstrapping first Angular component

Templates

Dependency injection

Component trees

Recommended background: You need to have good understanding of JavaScript, knowing previous version of angular is totally optional!

fullstack2gether fullstackcon angular angularjs

---

About the speaker...

Kirill Cherkashin, originally from Moscow, now lives in NYC working for Firebase. He enjoys teaching and organising meetups. He has been teaching Web for the past few years, and is the organiser for AngularNYC, ReactNYC and soon VueNYC! He loves Angular and teaches it at Google and all over the world. In spare time, He enjoys dancing tango, reading books and good conversations.

×

12:30

Lunch Break

13:30

Workshop: Making Generative Music with Web Audio & Tone.js

Tero Parviainen

---

audio

music

tonejs

web

Day 1, 15 Jul starts 13:30 (Track 1)

Workshop: Making Generative Music with Web Audio & Tone.js
Tero Parviainen

In this workshop we'll learn the fundamentals of the Tone.js audio library. We'll then use it to construct a couple of generative music experiments, exploring randomness, probabilities, and human-computer interaction. You don't have to be a musician to participate, but I will assume some familiarity with JavaScript and web development!

audio music tonejs web

---

About the speaker...

Tero Parviainen is a programmer and writer. He has been building web-based systems for about 16 years and for the last 5 of them he's been fully immersed in JavaScript frontend development.

Tero currently works as a senior frontend engineer at creative.ai.

Tero is the author of two books: "Build Your Own AngularJS" and "Real Time Web Application Development with Vert.x". He also likes to write longform articles about programming and music on his blog at teropa.info.

Follow Tero on Twitter at @teropa.

×

Workshop: The Multiplayer Game Jam

Opher Vishnia

---

videos

fullstack

interactive

Day 1, 15 Jul starts 13:30 (Track 2)

Workshop: The Multiplayer Game Jam
Opher Vishnia

You don't need an expensive gaming rig make a game. In fact, all you need is a browser. In this workshop I will present Lance.gg, my battle tested Node/JS open-source platform for multiplayer game development.

During the workshop you'll learn how to implement a fully functional multiplayer space shooter using Lance. We'll discuss what is a multiplayer game and how is it different from a single player game. We'll talk about the challenges of low-latency games on the web, netcode and optimization. We'll also demystify scary terms like "client side prediction" and "entity interpolation/extrapolation". Who knows - maybe you will be the brainchild behind the next e-Sports sensation?

Bring a laptop with git, a favorite text editor/IDE pre-installed and some competitive spirit At the end of the workshop we'll have a workshop-wide tournament! May the odds be ever in your favor.

GLHF!

videos fullstack interactive

---

About the speaker...

Opher is a multidisciplinary creator, invested in many different and often unrelated fields at the same time: computer science, art, music, design, math, game development and more.

For the past three years Opher has been working at Interlude as lead creative developer, and the go-to authority on client side web technologies. His day-to-day involves working with both creative teams (design, art, film) as well as development teams to push the envelope of what interactive video can be in the near future.

Check out Opher's website, and find him on Twitter at @Opherv.

×

2

13.30 - 15:00 - Workshop: BEM - Even More Declarative JS

Vladimir Grinenko and Sergey Berezhnoy

---

workshop

javascript

js

fullstack2gether

Day 1, 15 Jul starts 13:30 (Track 3)

13.30 - 15:00 - Workshop: BEM - Even More Declarative JS
Vladimir Grinenko and Sergey Berezhnoy

Let's take a look on how can we make React component development even more declarative. You'll get ability to change any aspects of component behavior without additional `if`s spagetti. Just the way it's done in CSS.

You will learn how to:

create flexible components with different modifications (even with different markup!) witch can be arbitrary combined across different instances

make cheap AB-testing and experiments

tweak component for any environment/platform reusing common code.

workshop javascript js fullstack2gether

---

About the speakers...

Team leader of shared component interfaces group in Yandex.

Participated in development of the home page of yandex.ru, internal services and portal components. Engaged in the development of BEM and gladly answers questions about the methodology.

Supports multiple open source projects. Speaker at numerous international IT conferences.

Follow Vladimir at @tadatuta.

×

17:30

Beers and Snacks

18:00

#FullStack2gether 2017 Day 1 Wraps!
CodeNode
In August 2015, Skills Matter opened the doors to CodeNode, our new 23,000 sqft Tech Events and Community venue. CodeNode provides fantastic meetup, conference, training and collaboration spaces with unrivalled technology capabilities for our tech, digital and developer communities - a long held dream coming true !
With fantastic transport links and located in the heart of London's Tech City, we could not think of a better location for our 130,000 strong engineering community!
With six event rooms, including a 300 seater lecture room, thousands more community members will be able to visit CodeNode to learn and share skills, code and collaborate on projects.
CodeNode features a 5,000 sqft break-out space, complete with fully-licensed bar, plenty of power sockets, meeting and collaboration spaces and entertainment areas.
If you're interested in hiring CodeNode for your upcoming event, check out more details here.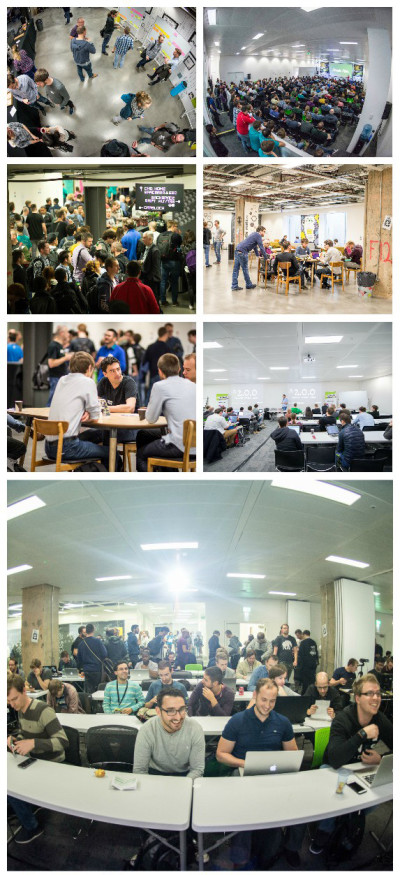 To discuss sponsorship opportunities please contact the team:
Hold tight, skillscasts coming soon!