1 DAY CONFERENCE
Data Science Festival 2017
Topics covered at

#datasciencefest
Overview
The Data Science Festival was a free, week long, annual, celebration of all things data science. The festival consisted of lectures, workshops, demos, code sprints, panel discussions and social events, spread across London.
The aim was to connect the data science community and foster the sharing of knowledge, inspiration and ideas. CodeNode was the venue for the Data Science Festival on Saturday, 29 April 2017.
Who is the Data Science Festival for?
Data engineers, analysts, scientists, and other practitioners

R, Python and other software engineers who work with data or want to learn

Data visualisation developers and designers

Non-technical team leads, executives, and other decision makers from data centric startups and large companies looking to utilise open source tools
Programme
Day 1: Saturday 29th April
Check out these awesome sessions below!
Track
CTRL
ALT/TAB
CMD
09:00

War in HD: Conflict and Open Source Infomation

Nick Waters

---

open

course

conflict

analysis

mobile

data-science-fest

The huge flows of data enabled by social media, smart phones and the internet have created a revolution in the way we interact with events around the world, especially in the arena of conflict. This environment has given us access to information which can be used for investigative journalism, conflict analysis and the identification of war crimes.

In this talk you will explore the use of open source information in these arenas, specifically by using case studies from Syria and Ukraine.

open course conflict analysis mobile data-science-fest

---

About the speaker...

Nick Grew up in South London and studied History at Leeds University. He served 3 years as an infantry officer in the British Army before leaving in 2015 to complete an MA in Conflict, Security and Development at Kings College London.

He has been writing for Bellingcat since May 2016, during which time he used open source information to demonstrate the importance of verification, investigate alleged war crimes and examine the use of drones by ISIS. His work has been featured by The Washington Post, Der Spiegel TV and War is Boring, amongst many others.

×

How can we predict a successful data science project?

Jay Lui

---

data-science

data-science-fest

In this talk you will explore a series of Jay's personal anecdotes that illustrate the key factors that explain data science success!

data-science data-science-fest

---

About the speaker...

Jay Liu has been analysing data for over 12 years, delivering insight to a diverse range of clients that include PR & creative agencies, insurers, retailers, financial services and legal firms.

When he is not teaching, he runs Digital-Dandelion, a data science consultancy helping organisations innovate by successfully integrating the latest in data science, machine learning and big data into their systems.

×

09:45

A Beginners Guide to Weather and Climate Data

Margriet Groenendijk

---

climate

models

bigdata

machine-learning

data-science-fest

Weather is part of our everyday lives. Who doesn't check the rain radar before heading out, or the weather forecast when planning a weekend away? But where does this data come from, what is it made of?

The answer is a mix of measurements, models and statistics. In this session, explore the observations, predictions and forecast models, and weather data as a variable to consider in machine learning models. Learn how it is done and ways you can use weather and climate data from several examples.

climate models bigdata machine-learning data-science-fest

---

About the speaker...

Margriet is a Data Scientist and Developer Advocate in the IBM UK team. She develops and presents talks and workshops about data science and AI. She is active in the local developer communities through attending, presenting and organising meetups. She has a background in climate science where she explored large observational datasets of carbon uptake by forests during her PhD, and global scale weather and climate models as a postdoctoral fellow.

×

Less is More: Data Visualisations for Big Data

James Cheshire

---

complex-datasets

data-visualisation

big-data

data-science-fest

In this talk you will explore how large and complex data-sets can be visualised in compelling and informative ways.

This talk will share a range of examples that covers everything from commuter flows to baboons, cyclists to songbirds in order to demonstrate how maps and data visualisations offer a window into big data. Many of the selected examples started out life in R, you will get the chance to see how R is not just great for data wrangling but for visualisation as well.

complex-datasets data-visualisation big-data data-science-fest

---

About the speaker...

Dr James Cheshire is a geographer with a passion for mapping data. His award-winning maps draw from his research as a Senior Lecturer at University College London.

He is a Fellow of the Royal Geographical Society, Deputy Director of the Consumer Data Research Centre and co-author of the books London: The Information Capital and Where the Animals Go.

×

10:30

Coffee Break

11:00

Learning at hyper-scale: creating the self-learning business

Mike Hyde

---

self-learning

bigdata

architecture

big data

data-science-fest

Day 1, 29 Apr starts 11:00 (CTRL)

Learning at hyper-scale: creating the self-learning business
Mike Hyde

How do we create products and businesses that continuously experiment, evolve and learn in order to maintain their competitive advantage?

Harnessing big data and data science, and integrating them into the heart of company culture is critical to building data-powered businesses. In this talk Mike Hyde will draw on his experiences at Facebook and Skype, and highlight key ingredients and lessons learned on the journey to data-impact when dealing with very large and complex data sets and rapidly moving organisations.

self-learning bigdata architecture big data data-science-fest

---

About the speaker...

Mike Hyde leads Data Science and Data Engineering for Workplace, Facebook's new enterprise product for companies of all sizes to collaborate and communicate in new ways. Prior to this he built and lead the global data analytics team at Skype, managing one of the world's largest data sets and exploring communication habits of people all around the world.

His experience spans data architecture through to data science and culture, and he is passionate about using data and insights to create a company culture focused on innovation and growth. Prior to Skype, Mike spent over a decade in consulting, using data to solve businesses' problems across many industries and countries.

×

Using AI to understand Human Behaviour in the workplace

Ankur Modi

---

human-behaviour

operational-visability

ai

data-science-fest

Can Artificial Intelligence be used to understand the intricacies of human behaviour?

During this talk, you will discover how basic data and AI have the potential to bring the next revolution in operational visibility. You will explore case studies from financial and professional services sectors, where StatusToday's technology was deployed with direct application to understand employee productivity, identify cyber and human risks (insider threat), and categorise communication patterns for key clients.

human-behaviour operational-visability ai data-science-fest

---

About the speaker...

Ankur Modi is the CEO and co-founder of StatusToday, which is considered one the UK's hottest Artificial Intelligence start-ups by Business Insider, TechWorld and VentureRadar. He is an expert in big data with a unique specialisation in Psychology from Oxford University, and has recently been recognised by Forbes 30 Under 30 as one of Europe's most promising tech entrepreneurs.

Prior to StatusToday, Ankur was Project Manager and Software Engineer at Microsoft, leading international efforts behind MS Office, Office 365 and Dynamics for projects now used by over 100 million people worldwide. At StatusToday, Ankur and his team have created a unique Intelligence Platform that helps companies understand human behaviour to ensure Security, Engagement and Productivity.

×

A practical look at putting data science in production

Shahzia Holtom

---

smart-search

support-vector-machine

agile-practices

app

data-science-fest

Search is a common feature for apps. The basic implementation of search as an information retrieval exercise does not allow for personalisation. A smart search, that boosts the information retrieval with sorting based on the relevance to an individual, adds to the user experience.

In this talk you will focus on the lessons from a recent implementation of a smart search in an instant grocery delivery app.

In Part One you will explore the theory of the Support Vector Machine algorithm which is driving the smart search.

In Part Two, you will learn the agile practices that are needed to put smart search in to production.

smart-search support-vector-machine agile-practices app data-science-fest

---

About the speaker...

Dr. Shahzia Holtom is currently managing the data science discipline at Pivotal Labs which is a Silicon Valley based company.

Her experience lies in building smart applications with the use of machine learning and AI algorithms. Shahzia has previously worked as one of the first data scientist in the UK Government where she championed the use of data science for evidence based policy making.

Shahzia holds a PhD in Statistics from the University of Oxford and has also trained as a Software Engineer.

×

11:45

Word Embeddings for Natural Language Processing in Python

Marco Bonzanini

---

natural-language-processing

python

data-science-fest

Word embeddings are a family of Natural Language Processing (NLP) algorithms where words are mapped to vectors in low-dimensional space. The interest around word embeddings has been on the rise in the past few years, because these techniques have been driving important improvements in many NLP applications like text classification, sentiment analysis or machine translation.

This talk will share the intuitions behind this family of algorithms. You will explore some of the Python tools that allow you to implement modern NLP applications, followed with some practical considerations.

natural-language-processing python data-science-fest

---

About the speaker...

Marco a freelance Data Scientist based in London, UK. Backed by a PhD in Information Retrieval. He specialises in search applications and text analytics applications, and enjoys working on a broad range of information management and data science projects. Active in the PyData community, he helps co-organising the PyData London meetup.

He is the author of Mastering Social Media Mining with Python (PacktPub, July 2016).

×

One-by-one Is No Fun: Lessons learned writing Kafka ETL jobs

Dean Morin

---

kafka

one-by-one-processing

data-science-fest

Dean Morin has been writing ETL jobs using Kafka for a couple of years. In this talk, you will explore Dean's experiences doing just about everything wrong, before figuring out what does work. You will also discover:

What Kafka is
What the major frameworks are, and how they steer you towards one-by-one message processing
Why you shouldn't do that, including performance measurements for different methods of loading data into a Postgres data warehouse
How to avoid one-by-one processing

kafka one-by-one-processing data-science-fest

---

About the speaker...

Dean is a Data Engineer originally from Vancouver, now living in San Francisco. His general fussiness and paranoia make him suited to the hairball which is the data world. He's especially interested in writing metadata-driven ETL systems.

He uses much of his spare time to rock climb, and is planning to sneak away to the Peak District while in the UK, so if you have any good info on the area, track him down!

×

Behind the scenes of training, managing and deploying machine learning models

Pawel Subko

---

commercial-machine

git

docker

neptune

deep-learning

data-science

data-science-fest

"The model was working just fine two weeks ago, but now I can't reproduce it!"

"Bob's on vacation – how do I run his model?"

"Is my neural network useless or should I continue tweaking its parameters?"

Have you ever heard any of the above before?

Pawel Subko's team had the same problems when running research and multiple commercial machine/deep learning projects. In this talk you will discover a number of best practices that can significantly improve your team's performance, based on Pawel's experiences.

You will explore the process of building a robust data science pipeline by using a range of technologies (e.g. Git, Docker or Neptune – Pawel's in-house tool for managing machine learning experiments).

commercial-machine git docker neptune deep-learning data-science data-science-fest

---

About the speaker...

Pawel Subko is a Data Scientist at deepsense.io. He holds a masters degree in Mathematics from the University of Warsaw. He has published papers on partial differential equations and did research at Charles University in Prague.

In deepsense.io he works on object detection, classification and image processing. He is specialising in implementing modern, advanced architectures of artificial neural networks and applying them to real-life problems.

×

12:30

Lunch

13:15

What "50 Years of Data Science" leaves out

Sean Owen

---

big-data

critique

statistics

computer-engineering

apache-hadoop

spark

data-science-fest

We're told data science is the key to unlocking the value in big data, but nobody seems to agree just what it is. Is it engineering, statistics. . .both? David Donoho's "50 Years of Data Science", which is itself a survey of Tukey's "Future of Data Analysis", will present you with one of the best criticisms of the hype around data science from a statistics perspective, arguing that data science is not new (if it's anything at all) and calling statistics to action (again) to take back the field with a more practical, modern view of what it means to teach statistics and data science.

Drawing on his blog post, Sean Owen responds, offering counterpoints from an engineer, in search of a better understanding of how to teach and practice data science in 2017. You will explore some key points in the history of data science from the past 50 years in order to build up a more complete view of how data science sprung out of statistics and merged with computer engineering. Finally, you will discover Donoho's view of what it means to build data science capability with one taken from the experience organizations doing so in the context of Apache Hadoop, Spark, and other big data tools.

big-data critique statistics computer-engineering apache-hadoop spark data-science-fest

---

About the speaker...

Sean is Director of Data Science at Cloudera in London. Before Cloudera, he founded Myrrix Ltd (now, the Oryx project) to commercialize large-scale real-time recommender systems on Apache Hadoop. He is an Apache Spark committer and co-authored Advanced Analytics on Spark. He was a committer and VP for Apache Mahout, and co-author of Mahout in Action. Previously, Sean was a senior engineer at Google.

×

Anomaly Detection: A breakdown of Twitter's Seasonal Hybrid ESD

Peter Tillotson

---

seasonal-hybrid-esd

twitter

data-learning

data-science-fest

In a world of deep learning statistical techniques are out of fashion but can still be very effective tools. Twitter's open source anomaly detection project uses a statistical technique call Seasonal Hybrid ESD.

In this talk you will go through the various steps in the algorithm from data preparation and time series decomposition through to finding potentially multiple anomalies. The technique could be used to spot deviations from behavioural patterns with the benefit that it is easy to see why an anomaly is unusual.

seasonal-hybrid-esd twitter data-learning data-science-fest

---

About the speaker...

Peter has been researching and solving leading-edge distributed computational problems for nearly 20 years. This began with intelligent agent systems; he tracked high-performance computing and their developments in both Grid and Cloud. More recently Peter has been closely following and working with Big Data, MapReduce, NoSQL and realtime streaming analysis. Peter is a Data Scientist, Trainer and Researcher who enjoys problems of scale and complexity.

He combines the skill-sets of Data Engineer and Analyst and is as happy building fast real-time Kafka / Spark data pipelines as he is doing time series decomposition and building customer profiles. By fast, Peter has worked at 1 million events per second (80B events per day) with a total data warehouse size of 15PB. In his spare time Peter is a keen but talentless mountain biker, he tends to fall off a lot

×

The Science of Visual Interactions

Miriam Redi

---

web-media-search

advertising

social-media

machine-learning

data-science-fest

In this talk you will explore the invisible side of visual data, investigating how machine learning can detect subjective properties of images and videos, such as beauty, creativity, sentiment, style, and more curious characteristics.

See how these detectors can be applied in the context of web media search, advertising and social media, and analyse the precious contribution of computer vision in understanding how people and cultures perceive visual properties, underlining the importance of feature interpretability for this task.

web-media-search advertising social-media machine-learning data-science-fest

---

About the speaker...

Miriam Redi is a Research Scientist in the Social Dynamics team at Bell Labs Cambridge. Her research focuses on content-based social multimedia understanding and culture analytics. In particular, she explores ways to automatically assess visual aesthetics, sentiment and creativity, and exploit the power of computer vision in the context of web, social media, and online communities.

Miriam got her Ph.D. at the Multimedia group in EURECOM, Sophia Antipolis. After obtaining her PhD, she was a Postdoc in the Social Media group at Yahoo Labs Barcelona and a Research Scientist at Yahoo London.

×

14:15

Handling 1st line technical support with a chatbot

Barbara Fusinska

---

ai

chatbots

natural-language-processing

machine-learning

data-science-fest

1st line of the technical support is frequently providing answers to FAQ and pre-assembled conversations for operators to follow. With the enhancements in A.I. and Machine Learning, how much of this task could be supported with the aid of software? While this raises many questions and challenges, the first would be how would software understand the intention of the user and hold a human-like conversation.

Based on this particular use case, you will learn how to go from a new project to a chatbot handling technical support. You will explore the building blocks of the system like receiving and sending messages, natural language processing and integrations with existing messaging platforms such as Telegram, Messenger or Skype.

The session will cover the following topics:

The existing chatbot ecosystem
Performing text analysis on user input
Identifying the best response to the user
Personalising the response based on who the user is
Integrating the chatbot into applications and messaging platforms

During this talk, you will gain knowledge of the components necessary to build chatbot based system, including natural language processing and messages handling. The aim is that viewers will be able to go from never writing a chatbot, to building one which is capable of holding a conversation.

ai chatbots natural-language-processing machine-learning data-science-fest

---

About the speaker...

Barbara is a Machine Learning Engineer with strong software development background. While working with a variety of different companies, she gained experience in building diverse software systems. This experience brought her focus to the Data Science and Big Data field. She believes in the importance of the data and metrics when growing a successful business. Alongside collaborating around data architectures, Barbara still enjoys programming activities. Currently speaking at conferences in-between working in London.

She tweets at @BasiaFusinska and you can follow her blog.

×

Interactively Analyse 100GB of Data using Spark, Amazon EMR and Zeppelin.

Raoul-Gabriel Urma

---

big data

data-processing

python

data-science-fest

You may have been hearing a lot of buzz around Big Data, Apache Spark, Amazon Elastic Map Reduce (EMR) and Apache Zeppelin. What's the fuss about, and how can you benefit from these state of the art technologies?

In this highly interactive session, you will discover how to leverage Spark to rapidly mine a large real-world data set. We will conduct the analysis live entirely using an iPython Notebook to show you how easy it can be to get to grips with these technologies. In the first part of the session, we will use a sample of data from the Open Library dataset, and you will learn how to apply common Spark patterns to extract insights and aggregate data. In the second part of the session, you will see how to leverage Spark on Amazon EMR to scale your data processing queries over a cluster of machines and interactively analyse a large data set (100GB) with a Zeppelin Notebook. Along the way you will learn gotchas as well as useful performance and monitoring tips.

big data data-processing python data-science-fest

---

About the speaker...

Raoul-Gabriel Urma is CEO and co-founder of Cambridge Spark, a leading learning community for data scientists and developers in the UK, as well as chairman and co-founder of Cambridge Coding Academy, a growing community of young coders and pre-university students. He is author of 'Java 8 in Action: Lambdas, Streams, and functional-style programming'.

In addition, Raoul has written over 10 peer-reviewed articles and given over 20 technical talks at international conferences. He has worked for large companies such as Google, eBay, Oracle, and Goldman Sachs, as well as for several startup projects.

You can find out more about Raoul via his website and follow him on twitter via @raoulUK.

You can find out more about his book and get a copy at manning.com/urma

×

2

Fashion Recommendations at ASOS: Challenges, Approaches and Learnings

Soraya Hausl and Roberto Pagliari

---

fashion-domain

visual-browsing

recommender-systems

data-science

data-science-fest

In this talk, you will leam Soraya and Roberto's journey in the design and development of recommender systems for their platform, beginning with a discussion of the technical and business challenges they faced when starting to build their recommendation engine. Next, you will explore the main characteristics of the fashion domain and how they approached the importance of incorporating domain knowledge within their recommendation framework.

You will then learn various use cases Soraya and Roberto have been working on, such as product recommendations, related products, out of stock recommendations, category recommendations and visual browsing. This is followed by an illustration of how various important other functions and elements contribute to the success of a recommender system and what specific challenges they faced in putting their algorithms into a production environment.

The talk will conlude with an outlining of their data science roadmap, which includes context-aware recommendations, session-based recommendations and tensor decomposition techniques.

fashion-domain visual-browsing recommender-systems data-science data-science-fest

---

About the speakers...

Soraya Hausl is a Senior Data Scientist at ASOS where she leads the Recommendations Team. She is passionate about building data products that improve customer experience. Prior to ASOS, Soraya obtained a MSc degree in Machine Learning from the University College London (UCL) and has worked in strategy consulting.

Roberto Pagliari is a Data Scientist at ASOS, where he works in recommender systems and leads the R\&D activities within the Data Science Team. He was previously with Vencore Labs and Qualcomm Inc. and holds a Ph.D. in Electrical Engineering from Cornell University.

×

15:00

COFFEE BREAK

15:30

I went to work as an SQL programmer, and left as a hostage.

Peter Moore

---

case-study

sql

programming

data-science-fest

Peter Moore was an SQL Server developer of several years' experience prior to accepting a three-month assignment working on a financial system for the Iraqi government. He returned home two and a half years later, having been held hostage by an Iraqi militia for 946 days.

In this talk, you will learn the chain of events that led up to his capture, his experiences as a hostage, and his eventual release, with many fascinating stories about programming, IT, travel, and survival incorporated along the way.

case-study sql programming data-science-fest

---

About the speaker...

Peter works in IT as a consultant and developer, as well as delivering training on Conduct after Capture, SERE , hostage taking, and hostile environments.

×

How to Improve your Recommender System with Deep Learning: A Use Case

Alexandre Hubert

---

deep-learning

recommender-systems

dataiku

data-science-fest

Deep learning is without a doubt among the hottest topics in data science today. Computers are now more powerful than ever, and as a result, deep learning has been applied successfully by academics during the past few years. However, it is still unclear how difficult it is for businesses to apply it. We want to go beyond the buzzword and share concrete examples of where deep learning has been successfully used.

Recommender systems are paramount for e-business companies. There is an increasing need to take into account all user information to provide the best, most tailored products. One important element is the content that the user actually sees: the visual of the product.

In this talk, you will discover how Dataiku improved an e-business vacation retailer recommender system using the content of images. You'll explore how to leverage open datasets and pre-trained deep learning models to derive user preference information. This transfer learning approach enables companies to use state-of-the-art machine learning methods without having deep learning expertise.

deep-learning recommender-systems dataiku data-science-fest

---

About the speaker...

Alexandre Hubert has been a data scientist at Dataiku for more than two years. He works on several bank use cases as loan delinquency for leasing and refactoring institutions but also marketing use cases for retailers. Before that, he worked as a trader in the city of London.

×

Reinventing Shop Direct's customer contact strategy

Simon Hill

---

online-retailer

communication-strategy

data-learning

data-science-fest

Shop Direct has been on a journey moving away from 80 years of catalogue retail heritage to become a pure-play internet retailer. This transition has created a variety of challenges and opportunities around the way that Shop Direct communicates with its customers to avoid churn.

In this talk you will focus on the challenges faced in moving from a communication strategy based around the timings of production and distribution of catalogues towards a more individually personalised strategy fit for a fast-paced online retailer and the techniques and models used to achieve this goal.

online-retailer communication-strategy data-learning data-science-fest

---

About the speaker...

Simon Hill is a Lead Data Scientist at Shop Direct and has 18 years of experience in building, monitoring and applying predictive models to target CRM activity in retail.

He has been involved in projects related to customer segmentation, personalised customer communication strategy and customer value, among other topics.

×

16:15

From PhD to life: using science to get a job in data

Gianluca Campanella

---

quadratic-programmes

linear-regression

robust-regression

python

financial-planning

machine-learning

data-science-fest

The concepts and methods of mathematical programming underlie many machine learning algorithms, and yet remain relatively unknown outside the operational research community. In this talk you will explore the standard-form linear and quadratic programmes, after a brief overview of optimisation theory. You will then learn how to formulate the well-known linear regression problem (and the lesser-known robust regression problem) as mathematical programmes, and be presented algorithms to solve them.

Whilst the techniques covered are completely general, the talk concludes with some applications from financial planning and portfolio management. No previous knowledge of mathematical programming is required, but please note that this talk contains formulae (and Python code).

quadratic-programmes linear-regression robust-regression python financial-planning machine-learning data-science-fest

---

About the speaker...

Gianluca is Senior Machine Learning Researcher at Longshot Systems, where he develops novel analytical methods for the sports betting industry. He was previously based at Imperial College London, where he currently holds an honorary Research Assistant position.

Gianluca is also the founder and director of Estimand, through which he provides consulting and training services in Statistics, Machine Learning, and Data Science.

×

One of the most notable additions to the Microsoft BI stack is the addition of Microsoft R Server inside SQL Server 2016.

Oliver Frost

---

microsoft-bi

sql-server

data-science

machine-learning

scaler

data-science-fest

The in-built ScaleR packages deliver scalability and multi-threading capabilities that open-source R can't easily provide, opening up a world of possibilities for data scientists interested in machine learning and predictive analytics. But what does this look like on a Microsoft platform?

With Oliver Frost, a Data Engineer at Consolidata, you will explore what tools are available to you as a data scientist inside SQL Server 2016 and on Azure. Discover how R adds value where traditional relational databases struggle, how to use ScaleR functions to build predictive models and see how Azure ML can be used to build efficient machine learning pipelines.

microsoft-bi sql-server data-science machine-learning scaler data-science-fest

---

About the speaker...

Ollie is a Data Engineer at Consolidata and an active member of the SQL community. His time is divided between working on technical client projects, improving the company data platform and carrying out marketing and sales activities. Ollie likes to incorporate knowledge from his previous life as a neuroscience graduate and as a former blindfolded Rubik's Cube world record holder - his belief that psychology, neuroscience and big data will, one day, collide in a big way.

×
Venue
CodeNode
CodeNode is the UK's largest venue dedicated to Technology events and was designed to provide a space for Skills Matter's community of software professionals to come together and enjoy meetups, conferences, training and networking events. With fantastic transport links and located in the heart of London's Tech City, Codenode welcomes thousands of engineers each year, who come together to learn and share skills, exoerience and collaborate on projects.
CodeNode features six dedicated event spaces, a large break-out area, complete with fully-licensed bar, reliable wifi, plenty of power sockets, and 6 dedicated event and collaboration spaces.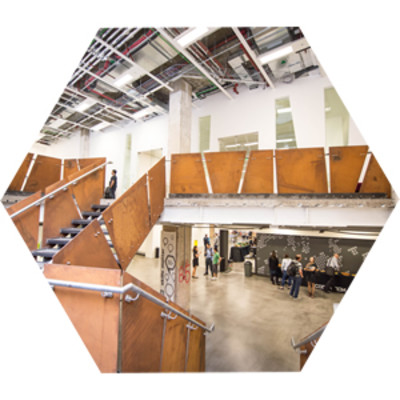 Sponsors
To discuss sponsorship opportunities please contact the team:
SkillsCasts
Photos