1 DAY CONFERENCE
CloudNative London
Topics covered at

#CloudNativeLondon
Are you exploring what Cloud Native applications are and keen to learn how to build them, or how to make existing applications Cloud Native? Cloud platforms have transformed how we think about delivering software to our users. Helping us move faster, reduce costs, and reshape our teams, it has fundamentally shifted our approach to delivering digital services. Join Cloud Native London to discover how you take full advantage of the cloud platforms available to us, and to build the next generation of tools to support this.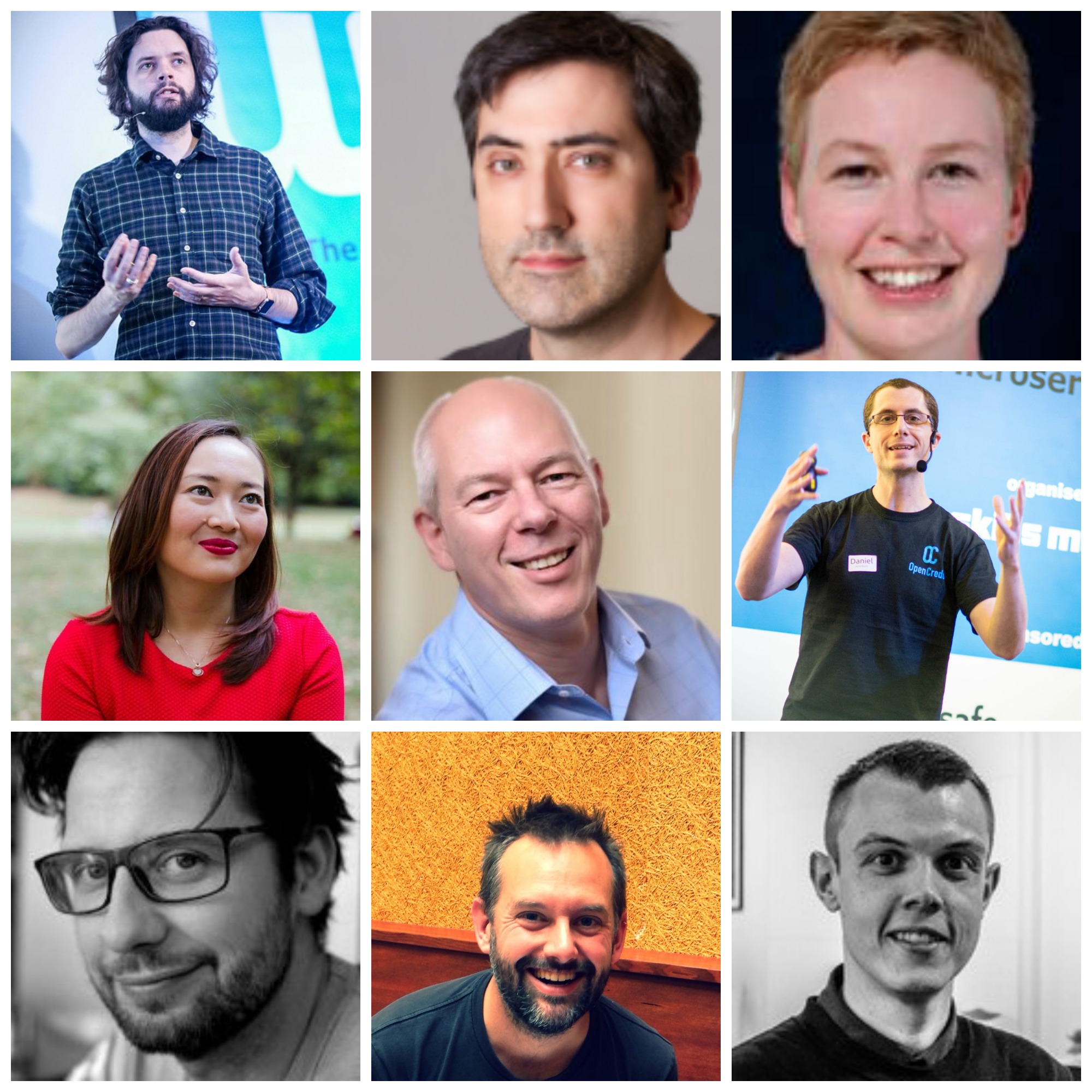 It's no longer enough to just build things that could work on the cloud, instead we're talking about Cloud Native. This conference will explore the whole Cloud Native ecosystem, including at topics like:
Exploring what a Cloud Native applications are, and how to build them.
Making existing applications Cloud Native.
Understand the role of the Cloud Native Foundation.
Gain insight into tools and platforms that are emerging to help you build and manage your cloud native solutions including things like Kubernetes, Prometheus, and platforms from Google, Amazon and Microsoft.
See how a Cloud Native approach may change your companies IT strategy.
You'll hear from the very people who are building Cloud Native tools and services, as well as learning lessons from people who have used these tools in anger for their own applications. Whether or not you are just starting to explore what cloud native can mean for you, or whether you are already building your own cloud native solutions, you'll connect with your peers and gain useful, concrete tips to help you on your journey.
Join us at
CloudNative London on 27th September 2017
for a day of stimulating and innovative talks!
Day 1: CloudNative London - 27th September 2017
Please note that the Programme is subject to changes, keep an eye on this page to find out the latest updates!
Track
Room Name: CTRL
Room Name: TAB
08:00

Registration and Breakfast Refreshments

08:45

Welcome to #CloudNativeLondon 2017

09:00

Keynote: What Is This Cloud Native Thing Anyway?

Sam Newman

All levels

---

cloudnative

cloud-orchestration

engineering

Day 1, 27 Sep starts 09:00

Keynote: What Is This Cloud Native Thing Anyway?
Sam Newman

Sam has found himself spending much of the past few years dealing with buzzword-heavy areas of technology, trying to come to terms with what it all means. From DevOps, to Microservices, serverless and now Cloud Native. So many of these terms mean different things to different people. In an effort to try and set you up with a common understanding of what Cloud Native is, Sam will be taking you on a whistle-stop tour through the history leading up to Cloud Native, and try and synthesise what it is, and why it's important.

From the emergence of public cloud to the all consuming hype around Kubernetes, from 12 factors to servlerless, Sam will pull all these strands together to help you understand how everything is related, everything is new, and everything is old all at the same time.

cloudnative cloud-orchestration engineering

---

About the speaker...

Sam Newman, a techie interested in cloud, continuous delivery and microservices. Aside from other things he's committed sporadically to open source projects, spoke at more than a few conferences, and wrote some things including the book Building Microservices for O'Reilly.

Find more info on Sam Newman's book "Building microservices" here.

You can find Sam on Twitter at @samnewman.

×

09:45

Coffee & Tea Break

10:00

Eight Principles for Cloud Native Storage

Cheryl Hung

Beginner

---

nfs

storage

kubernetes

docker

cloudnativelondon

cloudnative

Day 1, 27 Sep starts 10:00 (Room Name: CTRL)

Eight Principles for Cloud Native Storage
Cheryl Hung

Persistent storage often seems like a confusing plethora of options, from local volumes, NFS, distributed storage like Ceph, cloud storage such as AWS's EBS and S3, to volume plugins with Docker and Kubernetes integration. In this talk Cheryl will compare and contrast the most popular solutions, laying out the eight principles for cloud native storage.

nfs storage kubernetes docker cloudnativelondon cloudnative

---

About the speaker...

Cheryl is a product manager at StorageOS making storage better for Docker developers and devops. She codes, writes and speaks about containers, storage and cloud computing, and founded and hosts the Cloud Native London meetup. Cheryl is an ex-Googler and spent five years writing C++ on Google Maps. She holds a Masters in Computer Science from the University of Cambridge.

×

Beyond the 12 Factor Application

Kevin Hoffman

Beginner

---

case-study

cloudnativelondon

cloudnative

Day 1, 27 Sep starts 10:00 (Room Name: TAB)

Beyond the 12 Factor Application
Kevin Hoffman

These days people spend a tremendous amount of time touting the need to be "cloud native", but what does that actually mean, and why is cloud native so important? In this session, Kevin will share with you some of the key factors that make an application cloud native. He will explore these factors, how they apply to modern software and microservice development, and how the benefits of these new disciplines apply in or out of the cloud. You will learn about some cloud native anti-patterns as well as best practices and strategies. You can expect to hear examples, case studies, and war stories from the trenches of migrating enterprise monoliths to the cloud.

case-study cloudnativelondon cloudnative

---

About the speaker...

Kevin has been programming for the past twenty years. He has worked in myriad industries including video games, waste management, biometric security, finance, cloud platforms, and even search and rescue drones. He has presented several times at Apple's WWDC and dozens of other conferences, and written over 18 books on various topics including C#, cloud native patterns, Go, and even Apple's Cocoa. He spent over a year teaching Pivotal's enterprise customers how to decompose their monoliths and migrate their workloads to the cloud, and is now evangelizing and developing cloud native and microservice strategies for Capital One. He has also written two fantasy novels and hopes to get some sleep sometime around 2020.

×

10:45

Coffee & Tea Break

11:00

Lunar Way's journey towards Cloud Native utopia

Kasper Nissen

Beginner

---

Day 1, 27 Sep starts 11:00 (Room Name: CTRL)

Lunar Way's journey towards Cloud Native utopia
Kasper Nissen

Lunar Way is what we define as a 'money app' - we are not a bank. We are helping people making their money matter.

In this talk, Kasper will talk about the journey Lunar Way has undertaken in transitioning from a monolithic Rails application towards a microservice oriented architecture. Even though we went the microservices way, we were still suffering with slow monolithic deployments. Kasper has been the main architect behind the transition to a dynamic infrastructure allowing individual deployments. This talk will be a war story of our journey towards a Cloud Native stack, that includes, Kubernetes, Prometheus, and much more cool tech.

---

About the speaker...

Kasper holds a Master degree in Computer Technology and has prior to working at Lunar Way been working as a DevOps & Infrastructure Consultant at LEGO. Further Kasper wrote his master thesis; KubeCloud - A Small Scale Cloud Computing Environment, a thesis on Cloud and how Universities could leverage small-scale cloud environments built out of Raspberry Pis. Kasper and his fellow master thesis partner wrote about this at kubecloud.io and are still actively blogging about Cloud Native technologies.

×

Making Sure Your Containers Aren't on Fire: Monitoring Microservices with Prometheus

Brice Fernandes

All levels

---

monitoring

containers

#prometheus

#microservices

devops

kubernetes

cloud-orchestration

engineering

Day 1, 27 Sep starts 11:00 (Room Name: TAB)

Making Sure Your Containers Aren't on Fire: Monitoring Microservices with Prometheus
Brice Fernandes

Monitoring containerised apps creates a whole new set of challenges that traditional monitoring systems struggle with. In this talk, Brice Fernandes from Weaveworks will introduce and demo the open source Prometheus monitoring toolkit and its integration with Kubernetes. After this talk, you'll be able to use Prometheus to monitor your microservices on a Kubernetes cluster.

During Brice's talk you will learn about:

An introduction to Kubernetes to manage containers;

The monitoring maturity model;

An overview of whitebox and blackbox monitoring;

Monitoring with Prometheus;

Using PromQL (the Prometheus Query Language) to monitor your app in a dynamic system.

monitoring containers #prometheus #microservices devops kubernetes cloud-orchestration engineering

---

About the speaker...

Brice fell in love with programming while studying physics and never really looked back since. He has a broad technology background that covers everything from embedded C to backendless browser apps using the trendiest javascript frameworks. He taught Game Development and Functional Programming online and founded his own education platform for developers before joining Weaveworks. He now spends his time making microservices and containers so simple even your cat can deploy and monitor them. Come talk to him about programming, creating closed ecological systems and leatherworking.

×

11:45

Coffee & Tea Break

12:00

What is a Service Mesh, and Do I Need One When Developing Cloud Native Systems?

Daniel Bryant

All levels

---

cloudnativelondon

cloud-native

Day 1, 27 Sep starts 12:00 (Room Name: CTRL)

What is a Service Mesh, and Do I Need One When Developing Cloud Native Systems?
Daniel Bryant

While service meshes may be the next "big thing" in microservices, the concept isn't new. Classical SOA attempted to implement similar technology for abstracting and managing all aspects of service-to-service communication, and this was often realized as the much-maligned Enterprise Service Bus (ESB). Several years ago similar technology emerged from the microservice innovators, including Airbnb (SmartStack for service discovery), Netflix (Prana integration sidecars), and Twitter (Finagle for extensible RPC), and these technologies have now converged into the service meshes we are currently seeing being deployed.

In this talk, Daniel Bryant will share with you what service meshes are, why they're well-suited for microservice deployments, and how best to use a service mesh when you're deploying microservices. This presentation begins with a brief history of the development of service meshes, and the motivations of the unicorn organisations that developed them. From there, you'll learn about some of the currently available implementations that are targeting microservice deployments, such as Istio/Envoy, Linkerd, and NGINX Plus.

Attendees will walk away from the talk with a high-level overview of the concept, tools for deciding when best to use a service mesh, and a getting started guide if they decide this technology is the right fit for their organisation.

cloudnativelondon cloud-native

---

About the speaker...

Daniel Bryant works as an Independent Technical Consultant, and is the CTO at SpectoLabs. He currently specialises in enabling continuous delivery within organisations through the identification of value streams, creation of build pipelines, and implementation of effective testing strategies. Daniel's technical expertise focuses on 'DevOps' tooling, cloud/container platforms, and microservice implementations. He also contributes to several open source projects, writes for InfoQ, O'Reilly, and Voxxed, and regularly presents at international conferences such as OSCON, QCon and JavaOne.

My Work

Independent Technical Consultant at Big Picture Tech

Social and Blogging

×

Cloud Native in the US Federal Government

Jez Humble

Intermediate

---

cloudnativelondon

cloudnative

Day 1, 27 Sep starts 12:00 (Room Name: TAB)

Cloud Native in the US Federal Government
Jez Humble

cloudnativelondon cloudnative

---

About the speaker...

Jez Humble is co-author of The DevOps Handbook, Lean Enterprise, and the Jolt Award winning Continuous Delivery. He has spent his career tinkering with code, infrastructure, and product development in companies of varying sizes across three continents, most recently working for the US Federal Government at 18F. He is currently researching how to build high performing teams at his startup, DevOps Research and Assessment LLC, and teaching at UC Berkeley.

×

12:45

Lunch

14:00

Looking forward to Adrian Cockcroft's Keynote Talk!

Adrian Cockcroft

All levels

---

cloudnativelondon

cloudnative

Day 1, 27 Sep starts 14:00

Looking forward to Adrian Cockcroft's Keynote Talk!
Adrian Cockcroft

cloudnativelondon cloudnative

---

About the speaker...

Adrian Cockcroft has had a long career working at the leading edge of technology, and is fascinated by what happens next. In his role at AWS, Cockcroft is focused on the needs of cloud native and "all-in" customers, and leads the AWS open source community development program.

Prior to AWS, Cockcroft started out as a developer in the UK, joined Sun Microsystems and then moved to the United States in 1993, ending up as a Distinguished Engineer. Cockcroft left Sun in 2004, was a founding member of eBay research labs, and started at Netflix in 2007. He initially directed a team working on personalization algorithms and then became cloud architect, helping teams scale and migrate to AWS. As Netflix shared its architecture publicly, Cockcroft became a regular speaker at conferences and executive summits, and he created and led the Netflix open source program. In 2014, he joined VC firm Battery Ventures, promoting new ideas around DevOps, microservices, cloud and containers, and moved into his current role at AWS in October 2016.

Cockcroft holds a degree in Applied Physics from The City University, London and is a published author of four books, notably Sun Performance and Tuning (Prentice Hall, 1998).

×

14:45

Coffee & Tea Break

15:00

Cloud Native vs the Supernatural

Anne Currie

Beginner

---

cncf

scale

cloudnativelondon

cloud-native

Day 1, 27 Sep starts 15:00 (Room Name: CTRL)

Cloud Native vs the Supernatural
Anne Currie

According to the CNCF Cloud Native is about "distributed systems capable of scaling to tens of thousands of self healing multi-tenant nodes". So it's about scale? But is that the real motivation behind companies going Cloud Native? Anne has been interviewing Cloud Native practitioners and found quite a different reason behind adopting the technology. In this talk you will learn how businesses are using Cloud Native tools to gain an uncanny advantage over their competitors.

cncf scale cloudnativelondon cloud-native

---

About the speaker...

Anne Currie has been an engineer for over 20 years, devising and developing products for cutting edge tech firms. She is the co-founder of Force12.io, an open source project for real time container scaling and reporting.

×

5 Reasons to use Kafka In the Cloud

Ben Stopford

Intermediate

---

kafka

cloudnativelondon

cloudnative

Day 1, 27 Sep starts 15:00 (Room Name: TAB)

5 Reasons to use Kafka In the Cloud
Ben Stopford

Kafka comes with some unique tools for managing data, services and scale. In this talk Ben will share with you five of the most important elements that make Kafka perfect for cloud based applications. You will learn how to get to applications into the cloud, managing data across geographically distributed services, handling applications in an unreliable environment, staying cloud neutral and finally Ben will have a look at Confluent's hosting offering which takes all of the complexity away.

kafka cloudnativelondon cloudnative

---

About the speaker...

Ben Stopford is a specialist in data technologies. He's worked in Finance, at Thoughtworks and is now at Confluent. His experience cover a variety of fields including online trading, retail, High Performance Computing and building the central data platform for a large investment bank. He writes at http://benstopford.com.

×

15:45

Coffee & Tea Break

16:00

Building Cloud Native Applications using Spring and Cloud Foundry

Kenny Bastani

Intermediate

---

jvm

microservices

springboot

cloudnativelondon

cloudfoundry

Day 1, 27 Sep starts 16:00 (Room Name: CTRL)

Building Cloud Native Applications using Spring and Cloud Foundry
Kenny Bastani

In this talk Kenny will share with you a set of tools for building cloud-native JVM applications. You will learn about some of the common patterns for microservice architectures and how to use Cloud Foundry to deploy distributed applications to the cloud. Kenny will also explore a microservices example of a cloud-native application built using Spring Boot and Spring Cloud. Using this example, you'll learn how to use Cloud Foundry to deploy and operate a cluster of cloud native applications. The example will demonstrate how to build fault-tolerant systems using Spring Cloud's support for distributed systems patterns, including circuit breakers, service registration and discovery, and centralized configuration management.

jvm microservices springboot cloudnativelondon cloudfoundry

---

About the speaker...

Kenny Bastani works at Pivotal as a Spring Developer Advocate. As an open source contributor and blogger, Kenny engages a community of passionate developers on topics ranging from graph databases to microservices. He is also a co-author of O'Reilly's Cloud Native Java: Designing Resilient Systems with Spring Boot, Spring Cloud, and Cloud Foundry.

×

2

A Microservices Journey at JPMorgan Chase

Matthew Stine and Peter Maciver

Intermediate

---

cloudnativelondon

patterns

jpmc

spring

cloudfoundry

cloud-native

Day 1, 27 Sep starts 16:00 (Room Name: TAB)

A Microservices Journey at JPMorgan Chase
Matthew Stine and Peter Maciver

Peter Maciver, Principal Microservice Pattern Engineer at JPMC, and Matthew Stine from Pivotal will share with you an overview of the journey one of the largest banks in the world is taking towards a "Cloud Native First" approach to software development. During this session you will learn about JPMC's approach of using exemplar systems to create patterns and tooling to accelerate their march towards cloud. Peter and Matthew will share both a high-level overview and low level implementation choices highlighting the importance of Spring and Cloud Foundry in this journey.

cloudnativelondon patterns jpmc spring cloudfoundry cloud-native

---

About the speakers...

Matt Stine is a 17 year veteran of the enterprise IT industry, with eight of those years spent as a consulting solutions architect for multiple Fortune 500 companies, as well as the not-for-profit St. Jude Children's Research Hospital. He is the author of Migrating to Cloud-Native Application Architectures from O'Reilly, and the host of the Software Architecture Radio podcast.

Matt is obsessed with the idea that enterprise IT "doesn't have to suck," and spends much of his time thinking about lean/agile software development methodologies, DevOps, architectural principles/patterns/practices, and programming paradigms, in an attempt to find the perfect storm of techniques that will allow corporate IT departments to not only function like startup companies, but also create software that delights users while maintaining a high degree of conceptual integrity. He is currently the product owner for Spring at Pivotal, and spends much of his time driving an active feedback loop between the Spring R&D organization and customers developing cloud-native application architectures.

Matt has spoken at conferences ranging from JavaOne to OSCON to YOW!, is a seven-year member of the No Fluff Just Stuff tour, and serves as Technical Editor of NFJS the Magazine. Matt is also the founder and past president of the Memphis Java User Group.

×

16:45

Coffee & Tea Break

17:00

Lightning Talk: Don't Waste Your Time, Have Good Logs!

Peter Mechlenborg

All levels

---

devops

kubernetes

docker

logs

cloudnativelondon

Day 1, 27 Sep starts 17:00

Lightning Talk: Don't Waste Your Time, Have Good Logs!
Peter Mechlenborg

Logs are often an afterthought when building software and at the same time it is one of the most critical aspects of DevOps and running complex software systems. In this lightning talk Peter will share with you how tools such as Kubernetes and Docker help us do better logging, why log-management systems is a key tool for all developers building and managing modern microservice based systems today, and gives a very simple recipe for making great logs.

devops kubernetes docker logs cloudnativelondon

---

About the speaker...

Peter is a software developer at Humio working on making the next generation of log-management tools for DevOps teams. He has 10 years of experience doing backend software development as well as operating these systems. Peter holds a Msc degree in computer science from Daimi (Aarhus University).

×

17:15

Cloudy With a Chance of Ian

Ian Cooper

All levels

---

cloud-native

Day 1, 27 Sep starts 17:15

Cloudy With a Chance of Ian
Ian Cooper

cloud-native

---

About the speaker...

Ian Cooper has over 20 years of experience delivering Microsoft platform solutions in government, healthcare, and finance. When he is not writing C# code he is also the and founder of the London .NET user group.

×

17:30

Beer Break

17:45

Making Cloud Native Apps Easier with GitOps

Alexis Richardson

Beginner

---

gitops

cicd-pipelines

weave-cloud

cloud-native

Day 1, 27 Sep starts 17:45

Making Cloud Native Apps Easier with GitOps
Alexis Richardson

More and more businesses are requiring developers to own end to end delivery, including operational ownership. In this keynote, Alexis Richardson (CEO, Weaveworks) will take you on a journey of discovery into the world of GitOps. Alexis will share with you what it means, and how easy it is to create cloud native applications, CICD pipelines, integrate operations and more, using GitOps.

Inherited from best practices going back 10-15 years, cloud native is making these practices more relevant today. At Weaveworks, they implement these principles in their product, Weave Cloud. This not only helps customers ship apps faster, it also helps them run their own cloud native stack. Alexis will present how Weaveworks does this, identify best practices and tools, and showcase some of Weaveworks' use cases.

gitops cicd-pipelines weave-cloud cloud-native

---

About the speaker...

Alexis Richardson is the founder of Weaveworks, makers of Weave - a new product for Docker and containerized applications. Previously, Alexis was Head of Product for App Suite & Real Time Intelligence at Pivotal, where he led commercial vFabric products that moved to Pivotal from VMware, including open source projects Spring, RabbitMQ, Redis and Tomcat.

Along with Weaveworks, Alexis is a co-founder of four companies, including Rabbit Technologies Ltd. (RabbitMQ), Cohesive Networks and MetaLogic Oy. He has also been active in the cloud and web standards community, as a co-founder of CloudCamp, co-chair of OCCI (Open Cloud Computing Interface), a member of the AMQP (Advanced Message Queuing Protocol) working group, and a contributor to Google's PSHB open protocol.

In a previous life, Alexis worked as quantitative trader in fixed income derivatives after a misspent youth studying and teaching mathematics at Oxford University.

×

18:45

End of CloudNative London - #CloudNativeLondon Party!
Kasper Nissen shares the story of Lunar Way's journey towards Cloud Native!


I am very excited to be presenting at this year's CloudNative London where I will be sharing thoughts, challenges, and experiences on our Cloud Native journey at Lunar Way so far.

Lunar Way is a money-app, our vision is to rethink how you interact with money and define a completely new category where handling your personal finances becomes a joy rather than a boring burden.


We started out as many before us, with a monolithic Rails application. It was great at first, simple and fast. But it quickly grew, and coupling became a real issue. Instead, we took on the journey of building small decoupled services besides our monolith. The number of services has grown steadily for the past 8 months and today we are operating around 30 services in production orchestrated by Kubernetes. This presentation will focus on our experiences from this journey. How Kubernetes, Prometheus, fluentd, and other Cloud Native projects are helping us become more productive. This also covers topics such as DevOps, organizational changes, continuous delivery amongst others.

At Lunar Way we have been active in the Cloud Native community in Denmark, where our HQ is located. We co-founded the Cloud Native DK Slack Community along with the Cloud Native Aarhus meet up. We enjoy sharing our experiences and learn from others and their journeys embracing this new world of Cloud.

---
Peter Mechlenborg shares how to do Logging with Kubernetes and Humio!
Kubernetes is an interesting problem when it comes to logging. With all those containers created and destroyed, logs become the only dependable window into what's happening, but working with them becomes significantly more complex. Humio is all about getting straight to the most important detail in your logs, especially when those logs are generated in huge volumes. That's why we've created a integration between Humio and Kubernetes: kubernetes2humio.
You can read the rest of the article here.
Want to find out more about this years CloudNative London? Check out the program page here!
---
Sam Newman spreads some pre-CloudNative London excitement!


I am excited to be joining this year's CloudNative London where I will be sharing my thoughts on exactly what this whole cloud native thing actually is! At CloudNative London, I most look forward to learning about how other people are adopting these practices. For me, the thing I love the most are experiences from people using these ideas and technology in the real world. This really helps me formulate my own thoughts, and distill down the advice and guidance I give to others. Conferences like CloudNative are a great place to meet practitioners at all stages of adoption - I always come away with me head brimming with new ideas. I'm really hoping my opening keynote will help set the scene for the rest of the day, and give everyone a clear and shared understanding of what Cloud Native is (and isn't). It'll be interesting to see if the other attendees and speakers agree with my own take on it! I think the most anticipated/exciting development for the Cloud Native community over the next 12 months will be seeing how the hype around the technology actually matches up to real-world use. I'm really hopeful that many of the ideas we'll be sharing with you during the conference will be incredibly empowering, but we'll see how true that is over the next year!
---
CodeNode
In August 2015, Skills Matter opened the doors to CodeNode, our new 23,000 sqft Tech Events and Community venue. CodeNode provides fantastic meetup, conference, training and collaboration spaces with unrivalled technology capabilities for our tech, digital and developer communities - a long held dream coming true !
With fantastic transport links and located in the heart of London's Tech City, we could not think of a better location for our 60,000 strong engineering community!
With seven event rooms, including a 300 seater lecture room, thousands more community members will be able to visit CodeNode to learn and share skills, code and collaborate on projects.
CodeNode features a 5,000 sqft break-out space, complete with fully-licensed bar, plenty of power sockets, meeting and collaboration spaces and entertainment areas.
CodeNode will also see the opening of a permanent Hack Space, stacked with microprocessors and the latest tools and devices to play with. A community film studio will be opening too, which you can use to record any tutorials or demo's you may want to share with our community.
If you're interested in hiring CodeNode for your upcoming event, check out more details here.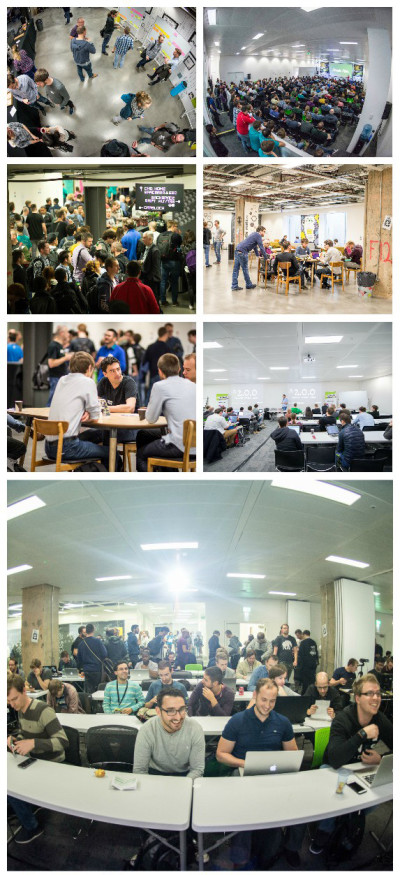 Volunteer at CloudNative London!
Interested in Cloud Native applications, and eager to learn the latest news? You have the chance to get a free ticket to CloudNative London 2017! All we need from you is some help in setting up the conference, and some hours of your time on the days of the conference! You will be free to attend the conference for the remainder of the time.
Are you ready then? Email us at conferences@skillsmatter.com and we will put your name down as a volunteer for CloudNative London 2017! Shifts and detailed info will be confirmed closer to the conference.
Whether you are seeking to improve visibility of your tools, devices or projects, or simply would like to support CloudNative's passionate community through your engagement, our team will be able to help you select the best sponsorship package for you! Email sponsors@skillsmatter.com or phone 0207 183 9040.
Available Packages
To discuss sponsorship opportunities please contact the team:
Hold tight, skillscasts coming soon!
ContainerSched 2017 - The Conference on DevOps, Cloud, Containers and Schedulers

Two days in London

ContainerSched 2017 will focus on the current interest around both containers and schedulers, DevOps, Cloud, DataOps, ChatOps and SecOps practices, approaches and technologies, and aims to explore the core technologies and associated areas of interest such as networking, storage and security.

microservices orchestration devaut cloud kubernetes docker devops containers schedulers

ContainerSched 2016 - The Container & Scheduler Conference

Two days in London

Over the last few years there has been a huge growth in interest in Container technology. ContainerSched 2016 will focus on the current interest around both containers and schedulers, and aims to explore the core technologies and associated areas of interest such as networking, storage and...

calico container scheduler weave paas storage clusterhq flocker data unikernel xd xd-container xd-singlenode cloud borg kubernetes mesos docker devops

ContainerSched 2015 - The conference on DevOps, Containers & Schedulers

Two days in London

Would you like to learn Google's approach to Cluster Management and the underlying concepts of Kubernetes? Or find out how Uber uses Docker to give service owners more control over their environments? Keen to learn what you need to make microscaling work, using Containers for a radically...

cloud borg kubernetes mesos docker devops containers schedulers scaling