COURSE
Invitation to Systems Thinking with Jessica Kerr and Kent Beck
&nbsp 5 days
English &nbsp
Are you frustrated with how illogical the world is and baffled by how smart people and well-written software can do wrong things?
If you long for the days when programs were correct and people believed rightly, well sorry, we can't help you. But if you're ready to find new ways of making sense of the world, and discovering new tools for acting in the world as it is right now, this workshop is for you.
In this online course Kent Beck and Jessica Kerr will guide you through an introduction to systems thinking. Using examples from software and from life, and concepts like feedback loops, leverage points and propensities, we will step through the basics of seeing and changing systems.

Come with your questions, leave with new (and maybe even better?) questions.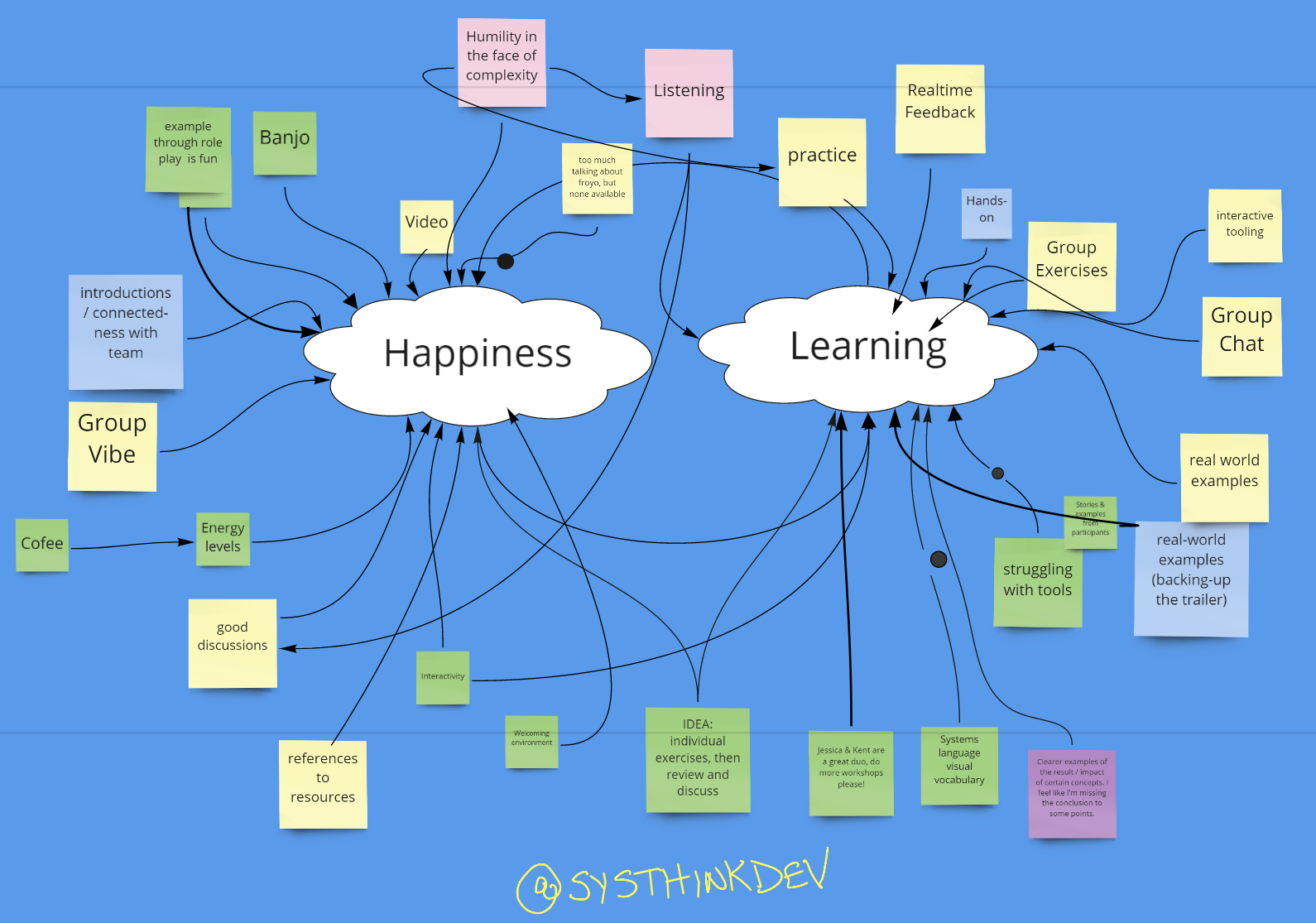 This course is run virtually over 3 days on Monday, Wednesday and Friday. Each day will consist of two 90 minutes sessions with an hour break in between.
Our virtual courses offer the same expert-led, hands-on experience we've offered since 2013 — accessible from the comfort of your own home (office).

Jessica and Kent and participants from around the globe in a virtual classroom where you'll utilise collaboration tools like Zoom and Slack to start their journey in system thinking.
Learn how to:
We will resolve paradoxes like "Theseus's Ship" and "The Chicken and The Egg", gain insight into distributed systems and symmathesies, and answer questions like, "Why is romantic love so powerful?" and "Why does software get harder to change over time?" and "Why will your enterprise never let you self-organize?
Available dates
Dates coming soon

Can't make it on any of these dates?

Our team is happy to discuss other options with you.

Contact us at

sales@skillsmatter.com

and mention ref:

SYSTHINK-KB-02

.

Private tuition and large-group discounts are also available. Find out more

here

.
Who should take this course?
This course is for people in software, from managers to architects to senior devs.
Prerequisites
Frustration with an existing system.
Course Outline
The course covers:
Examples of systems thinking in software, software teams, and life
How to draw systems with Gerald Weinberg's Diagrams of Effect
Natural vs deliberate effects
The difference between events, behaviors, and structures
Donella Meadows's points of leverage for changing systems
Intervention and perception
A dozen patterns of systems thinking, such as:

Influence instead of control
What do you ask-about?
Changing information flows
Spew, then edit
Noticing is a measure
"Nothing we do is working"
Many cheap long shots
Care about future-us
What is actually needed?
Invitation to Systems Thinking with Jessica Kerr and Kent Beck
Dates coming soon