Sales of Codenode Space & Event Services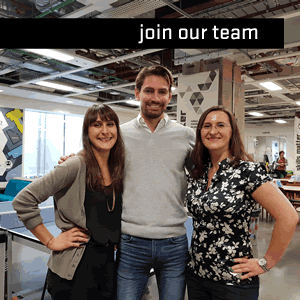 Are you a a creative, quick-thinking graduate looking for a sales and marketing role in our fast growing scale-up? A people person, highly social and naturally curious?
If your answer is yes, we'd love you to join our team!
Codenode was designed as a specialised venue for Tech events, complete with 7 fantastic lecture spaces, a funky 5,000 sq ft break-out area and licensed bar, an experienced and passionate Events team, fast and reliable WIFI, the latest AV technology and a funky look and feel.
We're looking for ambitious self-starters to develop business with existing and new clients in need of a superb tech events venue, through lead generation, prospecting, sales, networking, venue tours and account development activities.
For this never-two-days-the-same kinda job, we are looking for a great communicator, with a good understanding of social media, a natural sales ability and a passion for creating an awesome event experience for everyone joining us at Codenode.
if you are...
Creative and a quick-thinking graduate with a natural sales ability;
A people person, both flexible and fearless, who can talk to anyone and can also listen;
Someone with an entrepreneurial spirit and willingness to roll up your sleeves and do whatever needs to be done;
Able to assume responsibility and ownership of delivering awesome events for our customers;
Highly curious and keen to learn; and you are
Looking to channel your creativity and natural sales ability into a product and team that helps some of the world's amazing tech companies create an awesome experience for their event attendees.
...then we would love to hear from you!
Join our team and grow into SuperSalesStardom - we would love to support your career aspirations!
about the role
You will develop business for our Space & Events team, by helping innovative tech businesses, small and large, who are in need of a great venue for their tech events, a venue with quality services, where everything 'just works'. Your sales achievements will be rewarded through an excellent compensation structure with uncapped commission. In addition, we offer great opportunities to develop and grow your skills and career as we grow the company.
You'll join a talented and creative team of highly social and creative collaborators, who are ready to share their skills and experience with you. We're a growing team of fun people who love what we do. When we are not busy supporting our clients, completing projects or developing our skills, we love playing a game of ping pong, watch a movie together or just have a relaxed couple of drinks with each other, to celebrate the end of a busy week...
Our team is based at Codenode as well. It is a fantastic space listed by Time Out as a great place to check out as a space with 'a laidback vibe and with the fully licensed Space Bar, surrounded by ping pong tables and seating, it's a great place for networking drinks with a bit of added fun'.
Interested?
If you'd like to join our truly awesome Space & Events Team, send us your CV with a short note explaining why we should want that too.
Contacts