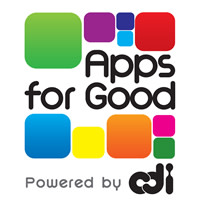 Overview
Apps for Good is an award-winning programme where young people learn to identify problems in their everyday lives and create imaginative mobile apps that solve them. CDI Europe, the organisation behind the programme, is a global non-profit whose mission is to empower people through digital inclusion, entrepreneurship and community action. Apps for Good is the brainchild of non-profit organisation CDI Europe (part of the CDI global network), in partnership with Dell YouthConnect and supported by people and businesses in the tech and creative world including Orange, Talk Talk and Ogilvy.
CDI Europe
During April- June 2010, CDI Europe successfully ran the first pilot course with 9 unemployed young people aged 16-25 at High Trees Development Trust in South London.
In September 2010, an Apps for Good programme for secondary schools launched at the Central Foundation Girls School in Tower Hamlets, East London and will be launching in more schools across England in 2011. Apps for Good aims to:
Ignite a passion for technology and social enterprise in young people in the UK Encourage young people to use technology to tackle problems for social good Increase the entrepreneurial skills and confidence of young people Bridge the gap between young people and the business networks and knowledge that can help them Build a connected world of young people, business volunteers and educators, inspiring each other to solve problems and succeed through the wonders of mobile technology During the Apps for Good course, students go through a kind of entrepreneurial process whereby they identify what is wrong with their world before designing a way of fixing it with a mobile app. We combine a broad range of areas in the course, giving young people a foundation in entrepreneurship, community involvement, problem-solving and team work, as well as design and some technical skills. Learn more about the course
Apps for Good develops talented and employable young people in an industry with plenty of room for creativity, prosperity and employment.
What makes us different We do not set agendas or themes but use radical bottom-up innovation processes to allow young people to come up with the issues they worry about in their lives and in their communities. The Apps for Good approach goes beyond simple, basic training, and no journey through Apps for Good is the same for any individual. Student ownership of both issue and solution is what makes a lasting difference. The course style and structure follows a peer-to-peer, problem-centred learning model inspired by the work of the influential Brazilian educator Paulo Freire. This learning model is at the heart of all CDI programmes across the network. You can learn more about CDI's model and our global network on the CDI Europe website. If you are looking for Applications For Good, the platform for supporting and promoting mobile applications for social good in U.S., please visit ApplicationsForGood.org.
Past Events
First

« Previous

Page 1 of 1

Next »

Last