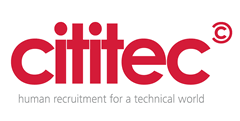 Overview
Cititec is a global recruitment company, we specialise in sourcing expert technical professionals
In a world that demands technical skills, we provide the human touch - We're recruitment specialists for technology and business change. We work in the financial (insurance, banking, financial asset management), digital and pharmaceutical & life sciences sectors and we've been providing exceptional professionals for our clients since 1998. We're based in London and Amsterdam but thanks to our international network, our capabilities are global.
We're the fifteenth fastest-growing recruitment business in the UK. We've grown rapidly during the past two years, defying the economic conditions and outperforming the sector as a whole. We're an ISO-compliant business and have reached an annual turnover of over £60 million.
We believe that a key factor in this success has been the value we place on people and relationships. It's a philosophy that we call 'human recruitment for a technical world'. It means that we prioritise client and candidate care and that we cultivate a strong, cohesive team culture. Our in-house support team provides operational stability, helping our consultants to deliver the excellence and results that our clients need. It's an approach that seems to work.
Past Events